Driven: 2014 Jaguar F-Type V8 S Convertible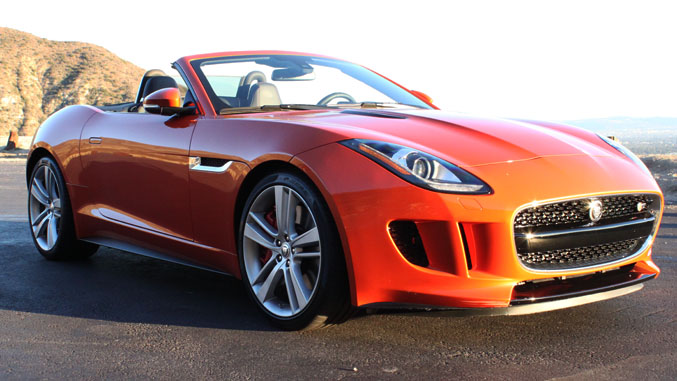 Last year, Jaguar gave us a the opportunity to get some
seat time
with both the V6 S and V8 S models of the F-Type drop top. While spending a few hours with a car on a predetermined route can offer a fair bit of information about what it's like to drive in certain situations, spending an unsupervised week with it provides you with a better idea of what it's like to live with in the real world. As an added bonus, it also gave us a chance to record some footage with one of the most raucous and intoxicating exhaust notes this side of pit lane.
What is the F-Type Convertible V8 S?
Perhaps it's low hanging fruit to trace a path between the E-Type of the 1960s and the new F-Type. With more than fives decades separating the births of these two cars, along with a vast array of new regulations dictating everything from bumper dimensions to fuel economy, any shared DNA between the two is present here sheerly in spirit. While that may not allow for the F-Type to go down in history as a classic for the ages in the same manner that the E-Type has, it's clear that the latter weighed heavy on the minds of Jaguar's designers when they began to hash out this new sports car. Fortunately, the years have been kind to automotive enthusiasts in other ways, and the F-Type V8 S benefits from a number of them. The result is a stunner of a ragtop which is bound to crane necks where ever it goes while also laying down sub-four second 0-60 sprints and actually, you know, starting when you ask it to do so.
Who is it for?
From its relatively diminutive stature in comparison with the rest of Jaguar's portfolio and its sport-focused mechanicals, it's clear that Jaguar is looking at the Porsche 911's market share with lust in its eyes. Still, with its motor at the opposite end of the car and being nearly seven inches wider than the 911, a direct A-B comparison of the two is a somewhat dubious affair. A more apt pairing might be had between the F-Type V8 S and the C7 Corvette, though at nearly 3700 pounds, the F-Type V8 S convertible carries a fair bit more weight around with it than the convertible C7 does. The F-Type counters that with a level of comfort and refinement that the C7 still can't duplicate, but the price tag in turn reflects it.
What's it like to drive everyday?
On a day-to-day basis, the F-Type is surprisingly comfortable to live with. Our tester was provided with the optional Performance Pack which included, among other features which we'll also get to, Jaguar's performance seats. Comfortable on long drives and offering ample and adjustable bolstering, these are some of our favorite sports seats available today. Legroom is surprisingly abundant, even for your author's 6′ 3" frame, likely due in part to the lack of a 2 + 2 layout.
Another notable inclusion in the Performance Pack is the user-selectable active exhaust system. If the exhaust mode is left in Normal, the Jaguar maintains an understated low profile, and with the top up, road noise is admirably kept to a minimum. However, once set to Dynamic, the exhaust baffles allow the F-Type's 5.0-liter supercharged V8 to unleash sound and fury unlike anything we've ever experienced in a road-going Jaguar before. It's a raspy, crackling, visceral affair, and it will almost certainly lead to superfluous throttle lift shenanigans and unnecessary downshifting. It's a howlingly fantastic soundtrack, and entirely ungentleman-like in the best kind of way. (Be sure to check out our POV video at the bottom of this review to hear it for yourself.)
The Jaguar's Adaptive Dynamics suspension allows the driver to choose between Normal and Dynamic modes while making its own damping adjustments up to 500 times a second. In our experience, even in Normal mode, it's a somewhat jarring ride, communicating more about the potholes of Los Angeles than we'd probably like to know during a typical commute. However, Dynamic mode is properly stiff and keeps things very flat and composed during spirited driving sessions. The V8 S is surprisingly balanced considering the substantial powerplant over the front wheels, but that weight in the front will make its presence known in the form of brake dive when slowing things down in a hurry. And hurry it will, as the bite from the Jaguar's Super Performance braking system is outstanding and never showed signs of fade as we continued to call upon them through the twists and turns of Angeles Crest Highway.
In Normal driving mode, the steering is light and essentially effortless, though steering weight is dialed up a bit when Dynamic mode is selected, making the steering feel a bit more precise and increasing our confidence to push the car with a bit more vigor through the bends.
Also of note is that the F-Type utilizes the very capable ZF 8-speed automatic transmission, but does not offer a manual transmission as an option. If rowing your own is a must-have, the closest you'll be able to get with the F-Type is the SportShift on the console, which provides the ability to upshift and downshift via the gear selector lever. In practice, the lack of the tactile "ca-chunk" of physically changing gears and the absence of a third pedal meant that the more intuitive paddle shifters were still our go-to method of manual gear changes.
How is the design?
Beauty is, of course, in the eye of the beholder, but we'd venture a guess that most will agree with us that this is one of the best looking cars Jaguar has made in decades. If turning heads is on your docket, the F-Type will certainly get you noticed, though we'd wager that the active exhaust and the particularly fetching Firesand Orange Metallic paint probably play a big role in that regard on our tester. Still, there isn't a bad angle on this one, and it's one of the few cars made today that genuinely appears to have been designed from the get-go with a convertible in mind. Yet somehow, the
coupe
might prove to be even sexier. We'll have to wait till we can get our hands on one of those to make a definitive call, though.
Bottom line:
Exceptionally fast, comfortable, and genuinely thrilling to drive, the F-Type V8 S convertible makes for a great road car. We suspect that perhaps the V6 S would offer slightly sharper handling and its power is probably more in line with the chassis, but the growl that this 5.0-liter V8 makes is the stuff that dreams are made of.
It's probably still a step or two behind some of its competition in terms of sporting prowess, but we hear that much of those concerns are addressed in the F-Type R coupe, which makes sense as convertibles are typically a compromise of capability for the sake of a sense of occasion. And if the F-Type V8 S convertible is what compromise will get you, we're perfectly OK with that.
2014 Jaguar F-Type V8 S Conertible
Price: $92,000 ($100,370 as tested)
Engine: 5.0-ilter V8, supercharged
Output: 495 horsepower, 460 lb-ft of torque
0-60 MPH: 4.0 seconds (est)
Weight: 3671lbs.
On Sale: Now