Driven: 2014 Chrysler 300 SRT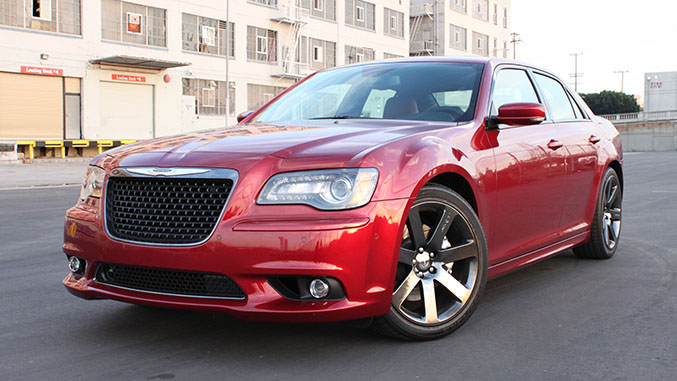 Nearly a decade after the car first made waves when it was reintroduced for the 2005 model year, the 300 – and Chrysler's LX platform as a whole – have earned their fair share of both praise and criticism. Due for a major refresh for 2015, we spent a week with the current car to see what works, what doesn't, and what we'd like to see updated when the new 300 makes its debut later this year.
Style
Whether it suits your particular tastes or not, the 300's big, muscular demeanor is a huge part of its charm. The automotive equivalent of a hitman in a well tailored suit, the 300 strikes a great balance between aggression and understated cool, especially as equipped here in SRT trim with the optional Black Vapor package, which applies a black chrome finish to the 20-inch wheels, moldings, trim, and grill.
In terms of its size, the 300 stands alone amongst American rear-drive offerings, with Ford's Panther platform having gone the way of the Dodo and GM's Zeta platform which underpins cars like the Chevrolet SS yielding a noticeably smaller footprint. This can be seen as an advantage or a drawback depending on your preferences and needs, but from a sheerly visual standpoint, the 300's size is a significant factor in achieving its aesthetic character.
With that said, the 300 has remained largely unchanged since the 2011 model year update and the design is starting to show its age. We look forward to next year's major refresh, which should sport new front and rear fascias, lighting, wheels, and probably some minor body tweaks to bring the 300 into a more contemporary look.
Comfort
Another place where the 300's dimensions are advantageous become obvious when you get inside. With full-sized SUV levels of room in every direction, the 300 feels properly comfortable and spacious, even for taller individuals like your author. Interior quality and design were a big item of contention with "old" Chrysler, so when the new 300 emerged post-bankruptcy, the brass at Fiat-Chrysler made sure the interior got the attention it deserved, and it shows. Our tester was outfitted with both the Leather Interior Group and Laguna Leather option packages, both of which serve to ratchet up the 300's material quality significantly. Of course, that's to be expected considering that together they account for nearly $4000 of the 300's as-tested price.
Drivetrain
When Chrysler's 392 cubic inch V8 debuted across the SRT line for 2011, it received widespread acclaim for the copious power it offered across the rev range due to its big displacement and naturally aspirated configuration. With 470 horsepower and 470 lb-ft of torque on tap you're never lacking for grunt under any normal driving circumstances, and the mid-range pull generated by the big 6.4-liter is downright addictive. It has the potential to make a hooligan out of nearly anyone, as simply matting the throttle from standstill with traction control disengaged will result in a pair of black marks left on the tarmac that would make any muscle car enthusiast proud.
While the transmission used in the 300 SRT has earned a reputation for bulletproof durability and bragging rights for its use in the Mercedes-Benz SLR McLaren, its 5-speed design is downright archaic in 2014. It's the same automatic gearbox that's been used in the SRT-trim 300, Charger, and Challenger since their respective debuts, and while it works well enough, it's long overdue to be put out to pasture in favor of a faster shifting, more modern alternative. Fortunately, Chrysler is expected to address this for 2015 with the ubiquitous 8-speed ZF transmission that's slowly making its way across the lineup, and we expect to see a notable improvement in both performance and fuel economy because of it.
Ride and Handling
The 300 SRT occupies a difficult space in the market in which a car is expected to be both sporty and luxurious, soft yet dynamic. To solve this conundrum, Chrysler has fitted the 300 SRT with a two-way adaptive damping system, offering both Normal and Sport suspension settings. Because the 300 is ultimately a luxury vehicle, Chrysler has tuned the Normal setting to ride as such, but in our experience, it's just simply too soft. Bumps and undulations cause the 300 to float, dive, and rock back and forth in a way that does not instill confidence when traveling at high rates of speed. Perhaps Chrysler is trying to evoke the cloud-like ride quality of the big sedans of yore, but considering the sheer velocity the SRT is capable of in short order, we found ourselves using the Sport setting just for added stability during everyday driving. Sport mode quells the aforementioned ills, but it's not quite stiff enough to be truly sporty and not quite soft enough to be pleasant for everyday street duty.
The steering is a similar story, with an overboosted feeling that's ostensibly devoid of weight and feeling. It makes for an effortless cruise, which the 300 does admirably, but any thoughts of this 300 having aspirations as a real track star go out the window the first time you point its flat-bottomed steering wheel into a fast corner. We'd love to see variable-weight steering make its way into the refreshed model, because without it the 300's handling can be imprecise and lacking in terms of engaging the driver.
Brakes
With Brembo supplying the braking at all four corners of the 300 SRT, bringing this big sedan to a stop in hurry was handled with aplomb. Four-piston 44mm calipers supply the clamping power up front, and four-piston 32mm units are equipped at the rear. In tandem with the SRT's slotted rotors and functional brake cooling ducts, stopping power was never anything short of excellent throughout our week with the 300, with good pedal feel and no signs of brake fade regardless of the situation.
Technology
It may be hard to believe for some, but Chrysler's Uconnect system is quite literally one of the most advanced and user-friendly infotainment systems in the automotive industry today. For some inexplicable reason, many luxury automakers are resistant to adopting a touch-screen interface, instead opting for a plethora of buttons and dial-based console navigation that's both cumbersome and distracting to use while in motion. Not so in the 300. Menus are laid out logically, the system's 8.4 inch touchscreen is responsive and quick to react to button presses, and its Garmin-based navigation system works beautifully.
The 300 was also equipped with the optional 19-speaker Harman Kardon Audio group, bringing the audio quality to home theater levels of volume and clarity. At nearly $2000 one should probably expect that, but having experienced other luxury brands' optional stereo offerings – many of which cost double or more than this Harman Kardon system – we're happy to report that this system is unlikely to disappoint any buyer who would opt for it. We can't say the same for some of those other uprated audio systems.
This particular 300 was also equipped with the SafetyTec package, which includes blind spot detection, adaptive cruise control, and forward collision warning. A rear-facing parking assistance camera comes standard.
Value
At a base price of $48,900, which includes the 6.4-liter motor, 20-inch wheels, standard navigation system, adaptive HID headlights, and Brembo brakes, the 300 SRT seems like a bit of a bargain. However, start checking some options boxes and you can quickly find yourself over the $60,000 mark – our tester was $61,570 as equipped. That changes the playing field a bit, and starts to make cars like the BMW 5-Series and Mercedes-Benz E-Class seem like viable alternatives. But if you're a fan of big power in big cars, getting this level of grunt from those German options will require significantly more cash than a fully loaded 300 SRT commands. And while the Chevrolet SS is about $5000 cheaper than the SRT and offers similar performance, its styling might be too rental fleet-esque for some and it doesn't offer the same level of luxury that the 300 does. Taking all of that into consideration, if you're in the market for a fast, comfortable cruiser, you could do a lot worse than the 2014 Chrysler 300 SRT.
Bottom Line
As with many Chrysler vehicles, much of what draws people in or pushes them way is found in the company's heart-over-head approach to design. Is the 300 too big? Maybe for some. For others, those dimensions are one of the car's most compelling attributes. There are signs that the LX platform itself may not live to see another update beyond the upcoming refresh, as CAFE standards see many brands scaling down in favor of light, fuel-conscious designs, neither of which aptly describes the full-sized Chrysler vehicles which share these underpinnings. But that would be a shame considering all the things this 300 SRT does right, and we have every reason to believe that next year's model will build upon the strengths of this car while also ushering in much of the modernization we've been waiting for.
2014 Chrysler 300 SRT Premium
Price: $48,900, $61,570 as tested
Engine: 6.4-liter V8
Output: 470 horsepower, 470 lb-ft of torque
0-60 mph: 4.5 seconds (est)
Fuel economy: 14 city / 23 highway / 17 combined
On sale: Now