Driven: 2013 Volkswagen CC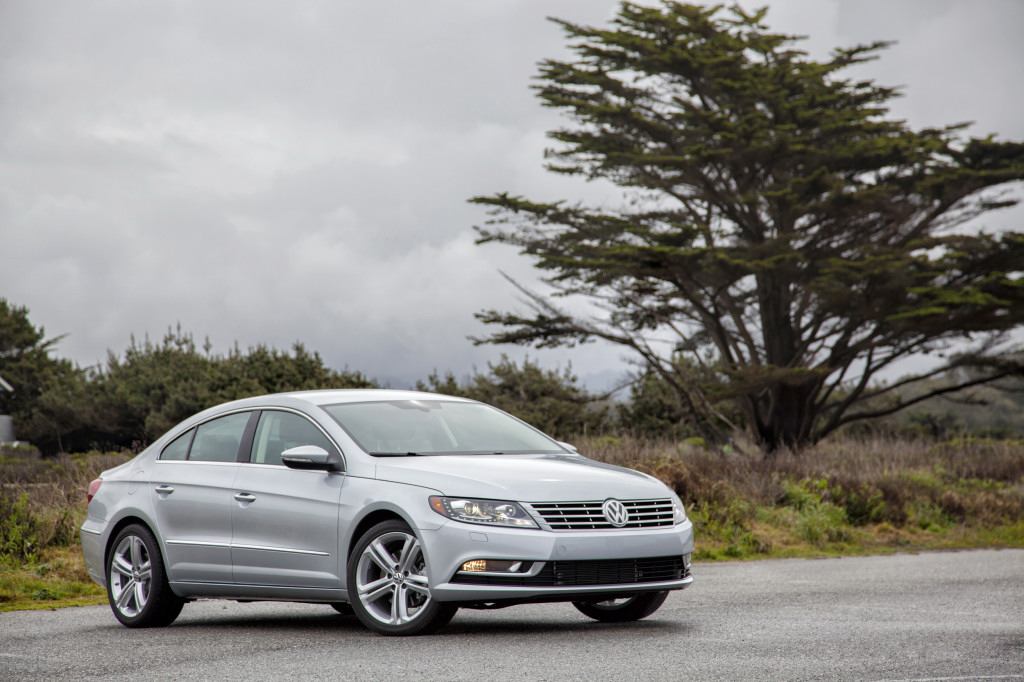 —Half Moon Bay, California
The Volkswagen CC, introduced four years ago and
refreshed for 2013
, lives in that rarefied part of the market that we might call "Niche vehicles that don't make sense to a lot of people." Of course, niche vehicles by definition don't have to make sense to a lot of people, though they do need to make sense to a few (quite a few, if we're talking VW).
Fortunately, having recently participated in the launch of the new CC, we are among those few to whom the CC seems like a good idea, well executed.
By way of explanation, the CC recipe mixes four-door sedan practicality together with a sleek European design, reasonable fuel economy, all at an affordable price. That's a lot of desirable stuff and would seem to be the basis for widespread popularity. If you think of the CC as a
Camry
or Accord for the design-conscious set, you can start to see how VW's product planners were thinking.
We think the CC succeeds admirably at this mission. Upon approach the CC looks good, in a classical way. It isn't quite voluptuous, but it is clearly designed with care rather than appearing to be the byproduct of a cost-engineering exercise. On the inside this feeling repeats itself, especially in the available Euro color combinations. The metalwork is clean, with attractive fit, and the materials are good. As is common on so-called four-door coupes, the rear headroom won't work for passengers above six feet in height, but otherwise the seating is quite comfortable in the firm Germanic oeuvre.
On the road the CC's driving dynamics are much less flaccid and wooly than either of its market-share-leading competitors. The suspension feels taut, with good anti-roll characteristics and pretty high damping levels for a luxury car. (And we do see the CC at least straddling the line between mainstream vehicles and luxury vehicles, based mostly on content and execution versus price.) Steering is precise and controllable, though not very communicative. This latter element, while a weakness for enthusiasts, may fit well with the desires of the target market.
The four-cylinder turbo is more than adequate for the CC. We like the handling with this engine, and a turbo torque curve fits well with real-world luxury car driving. A V-6 is available, but we would only look at that motor if we had to have the available 4Motion all-wheel-drive system. Otherwise, the 2.0T saves both money and fuel, and is entertaining to drive.
If there is a fly in the ointment, it is in the CC's ride quality. As veteran sports car drivers, we were quite happy blasting across California's modestly pockmarked rural roads. But the true connoisseur of luxury might find the CC's suspension to be slightly brittle as the going gets rough. The CC communicates sharp bumps and pavement edges with slightly too much bite to be confused with a BMW or a Mercedes-Benz product.
But we don't think that is the source of whatever discontent we've heard about the CC. The issue non-buyers have seems to come from two areas. First, there is some cognitive dissonance around the idea of a luxury car that wears the VW badge, especially one that communicates the idea of luxury via design. However, we know plenty of folks who want the design and driving goods but not the triumphalism of an upmarket badge. We think VW has built a car that fits this latter market well.
The other source of confusion comes with the CC's price. At a base of $30,610 the CC appears rather expensive to those who aren't actually in the market. But for those who are, this is about the average price of a vehicle sold in the US, and is certainly less than a BMW, or Mercedes, or even an Audi will typically sell for, though not always by a lot. Some will say, "For close to BMW, or M-B, or Audi money, the VW doesn't have the BMW, or M-B, or Audi badge!" To which, noting the argument above, we say, "Exactly."
We think the CC is a nice design, with good driving characteristics and a reasonable value proposition. We wish we could say that about more mid-size sedans.
VS: Kia Optima Turbo
The Kia is swoopy, drives well, has good interior space and sports an anti-elitist chic badge. The turbocharged version boasts a significant horsepower and torque advantage as well, with 274 horsepower and 269 pound-feet of torque compared to the VW's 200 horsepower and 207 pound-feet. That, and the Kia is about $5000 less.
Still, it isn't quite up to par in the area of euro design language, while some will be uncertain of its Korean origins. And, counterintuitive though it may be, the price delta keeps the VW in the niche realm, while the road is increasingly covered with Optimas.
VS: Lexus ES350
Starting around $36,000, the Lexus ES350 is a bit higher in terms of pricing, although we doubt that it's a big enough price gap to rule it out as an alternative to the CC. Like the Optima Turbo, the V-6-powered ES packs a similar horsepower advantage, with 268 horsepower and 248 pound-feet of torque. The delivery is far different than either of the turbocharged mills we've discussed so far. Where both 2.0Ts are quick revvers, the 3.5-liter V-6 in the Lexus is more relaxed, and less eager to be pushed.
That lack of eagerness shows through in the handling as well. The ES is way too soft to ever come across as involving, although this isn't necessarily a bad thing. The CC, as we said, is a bit too choppy to really be hugely luxurious. With these two, the determining factor may end up being simply what sort of ride is desired.This might be one that we'll need to revisit when the 2013 ES hits dealerships later this year.
2013 Volkswagen CC Sport
Engine: Turbocharged inline-4, 2.0 liters, 16v
Output: 200 hp/207 lb-ft
Weight: 3392 lb
Fuel Economy, City/Hwy: 21/31 mpg
Base Price: $30,610
On Sale: Now