Driven: 2013 Subaru XV Crosstrek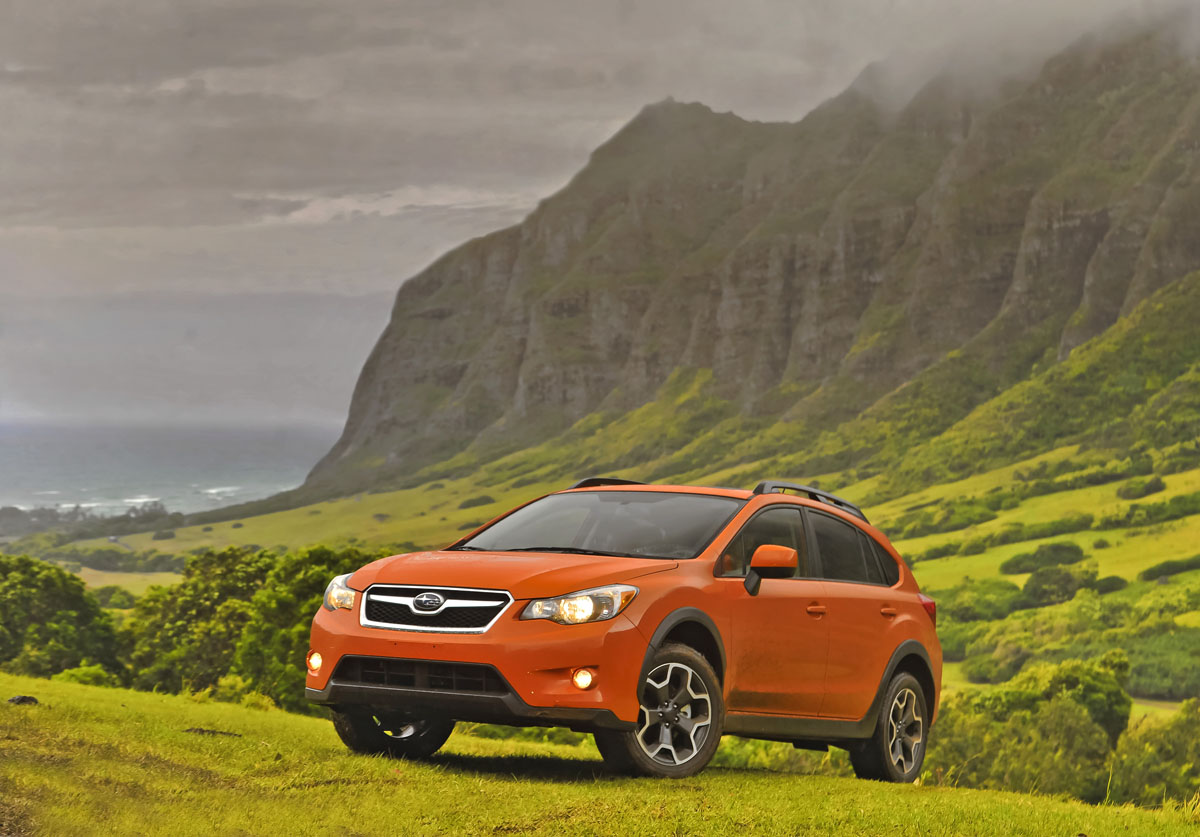 —Turtle Bay, Hawaii
Who says that automotive enthusiasts don't get what they ask for? As a group, we readers and writers of car stuff, both online and in print, spend quite a bit of time and effort complaining about the sorts of cars that we'd love to buy if they existed in our country. We beg for more cars to be made available with manual transmissions. We pine for more options for station wagons—especially the compact variety. We ask for cars that have good driving dynamics, and flexible space, that are reasonably priced (not everyone can afford a
Boxster
or a
CTS-V Wagon
, we say).
Already a strong force in the enthusiast-car space, Subaru believes that it has just the thing with its new
XV Crosstrek
. Built up on the
all-new five-door Impreza
, a car that we quite like, the Crosstrek promises the utility of a small, five-door wagon, genuine off-road capability, respectable fuel economy figures, and a fun-to-drive style.
As you could probably guess just by cruising the photo gallery, the XV is not, shall we say, a truly vast departure from the Impreza five-door. The butch Crosstrek has a goodly 8.7 inches of ground clearance; that's about three inches more than offered by the Impreza. The XV is instantly recognizable as a separate model from that added ride height, some fairly aggressive body cladding, and a signature set of black wheels. You're also likely to see quite a few of these decked out in the two signature colors for the car, a bright-but-not-unlikeable shade of orange, and a sort of khaki that blends beige and gray (in a way that's actually a lot more attractive than that description would make obvious).
The rest of the XV package, though, is very close to that of the Impreza. With the lone exception of a different seat fabric, the interior of the Crosstrek is identical to that of the donor vehicle. We're happy to report that this similarity extends to the driving character, too.
With so much lift added to the vehicle, it would be natural to expect that it would offer a bit more lean in the corners, with a softer feel overall. Our day of on-road driving was limited, to a certain extent, by the less-than-exhilarating roads that trace the coastline of Oahu, but we did find a fast corner or three along the way. When pushed, we'd say that the taller XV does roll a touch more than the lower Impreza, though hardly as much as we'd feared. Subaru has stiffened the chassis of the car, and added a thicker front stabilizer bar, which accounts for this good reaction to the bendy bits of the road.
In terms of ride quality, we'd say that the XV stays on par with Impreza, too. We felt a fair bit of the road coming through the seats and floorboards of the car, and the ride was more active than anyone seeking a cushy cruiser would like. On that same note (a loud one), the XV is certainly no refined thing acoustically, either. The stereo is loud enough (if a bit thin at higher volumes) to drown out the considerable road and wind noise that we heard at 70 miles per hour on the highway, which is good. That Subaru is hoping to sell these cars to young, active types that play their music loud is probably a good thing.
When revved hard, one is certainly able to hear the typically enervating growl of Subaru's flat-four, as well. The 2.0-liter engine is willing enough, and doesn't feel hugely hampered by the extra thirty pounds or so the XV has added to the Impreza equation, but it's certainly fair to say that this is no sporting thing, either. We found ourselves shifting the five-speed manual transmission down into fourth gear to make quick passing maneuvers on the highway, and we were not thrown far back into our seats when we floored the throttle from a standing start. 148 horsepower and 145 pound-feet of torque allow for very modest thrills once you're underway in the car, but few at the top and bottom ends of the accelerative spectrum.
We do still like the five-speed trans, however. We had a little bit of time in the CVT, but spent most of our day with the stick shift, and were happy for that. The box feels very basic, in a good way, with short throws and a mechanical feel between the gates. Having a sixth ratio would certainly seem to be a good fit here, but we weren't dying for its lack on our drive.
The North Shore's utterly jaw-dropping Kualoa Ranch was our base of operations for the very satisfying off-road portion of our drive. Movie buffs may recognize that place name as the setting for many a tropical looking film, as
Jurassic Park
,
Godzilla
,
50 First Dates
, and many other flicks were shot, at least in part, in and around this verdant valley. Subaru mapped out what we would deem as a sort of "mild to medium" level of off-roading course. There were rocks aplenty, one deep stream to ford, and a few steep pitches along the way. To put it in perspective, your average Jeep driver would consider this trail a walk in the park, though you'd be wise to think hard about taking your
CR-V
up the trail.
As you might guess, Subaru's XV performed admirably on the course. Our biggest concern was with the lack of torque on some of the steeper parts. The engine pretty easily ran out of steam in second gear on those stretches. Still with a few tall boulders, big washouts, and generally tough-going dispatched with little drama thanks to Subaru's symmetrical all-wheel drive (with 50/50 torque split for the manual transmission car), we've no doubt that the car will work from most buyers. Certainly in the heavy snow and ice that many Subaru owners deal with, the XV will provide a legitimate benefit versus the lower Impreza. What's more, the Subaru does feel a world more durable than competitive small crossovers like
Juke
,
Mini Countryman
, and
CX-5
. We'd have to test this theory with some head-to-head off-roading, though, to be sure.
For our money, the toughest competition for the XV may be
Subaru's own Forester
. The larger Forester starts at about $1400 less than the $21,995 MSRP of the XV, and offers more cargo space, with roughly similar passenger room. We suspect that the better-looking, hipper XV may play well with a younger crowd, though, and many people will be more than willing to trade the extra power from Forester's 2.5-liter engine, for the better fuel economy of the XV. What's more, with a nicely capacious rear cargo area (51.9 cubic feet with the seats down) and the ability to tow a little bit (1500 pounds) the XV feels very much like a good compromise. Certainly, if Subaru's marketing materials are to be believed, the surfing, rock-climbing, skateboarding car buyers of the world will be clamoring to stow their various sporting boards on the standard roof rack, and get to driving.
We kid, of course, but we do believe that Subaru has something pretty good with this tall XV Crosstrek. The funky styling will no doubt age poorly—that's almost a Subaru trademark at this point—but we'd bet on the car being just as tough and long-lasting under hard use as the products that the automaker built its reputation on. Small wagons tend to do well in the hearts and minds of enthusiast drivers, and this one, for all its mild performance, seems custom-made for many a car geek out there (whether they wear board shorts, or not).
2013 Subaru XV Crosstrek 5MT
Engine: Flat-4, 2.0 liters, 16v
Output: 148 hp/145 lb-ft
0-60 MPH: 9.0 sec (est.)
Weight: 3087 lb
Fuel Economy, City/Hwy: 23/30 mpg
Base Price: $21,995
On Sale: September 2012