Driven: 2013 Nissan Pathfinder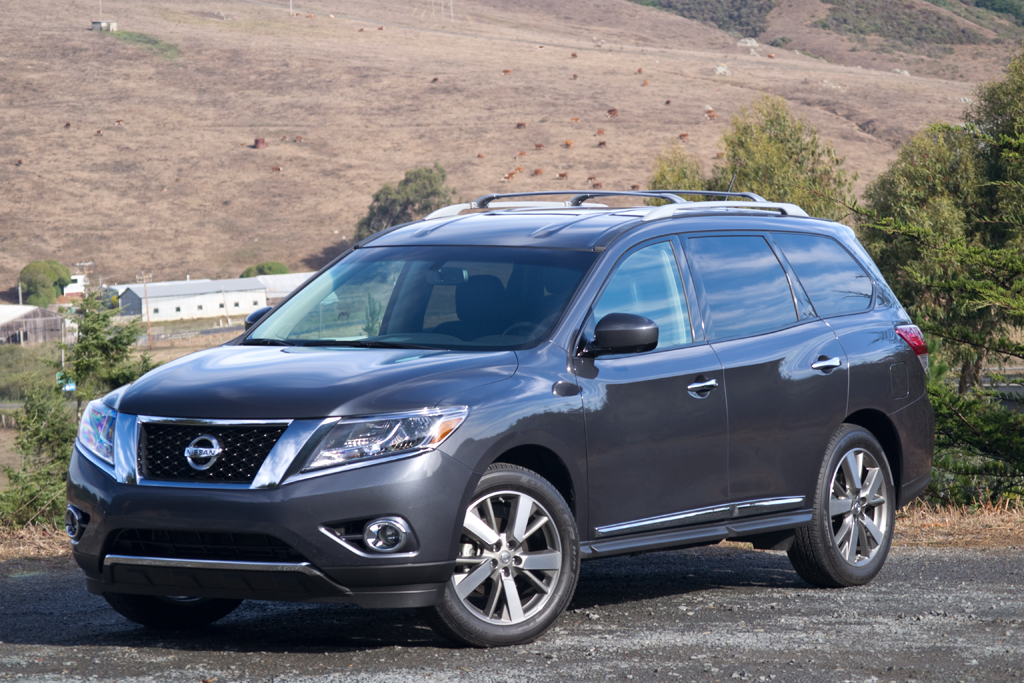 —Calistoga, California
Being late to the party has its advantages. This was as true in college as it is in adult life. It's especially true in the auto industry, where the buying public can be quite merciless in its criticism of outlandish or groundbreaking ideas (anyone remember BMW's original iDrive?). Nissan has been quite late to the party with its Pathfinder SUV.
Over the past several years, its competitors have all made the transition from the traditional body-on-frame construction to a unibody platform, most recently with the
Ford Explorer
in 2010. With that change in construction, we've also seen a shift from large-displacement V-8s to an engine range consisting almost exclusively of six-cylinder engines (with the occasional turbocharged four- or six-cylinder powerplant).
For 2013, Nissan's caught up with the competitors by bringing its three-row Pathfinder up to spec. First and foremost is the new unibody platform. The effects of this shift are pretty big.
For a start, the Pathfinder loses three inches of height for 2013, which reduces the 2012's 8.6-inch ride height to 6.5 inches. The Pathfinder's wheelbase has been stretched by two inches, while it is 4.6 inches longer overall. Topping it all off is a 4.3-inch increase in width.
This correlates to a huge increase in interior space. While the 2012 Pathfinder offered a mere 100.6 cubic feet of interior space, the 2013's increased exterior dimensions result in a 57-percent improvement in interior volume or a total of 157.8 cubic feet. Cargo volume sees marginal changes, with 79.8 cubic feet with the second and third row down, and 16 cubic feet with the back seats up, compared to 79.2 and 16.5 cubic feet in the 2012.
Despite these increases in space, it does feel smaller than one would expect inside. It's not necessarily a bad thing, feeling cozy rather than cramped. Still, the effect might make buyers lean towards a more cavernous-feeling offering like the Ford Explorer.
Indeed, the interior feels fit for family hauling. The materials on the dash are a reasonable mix of soft and hard plastics, while our Platinum tester featured some faux wood on the center stack and doors. The layout of said center stack will be familiar to anyone that's driven a well-equipped Nissan over the past few years. The touchscreen display sits on top, while a secondary bank of buttons sits below it. There are additional entertainment controls below that, and finally the HVAC system sits on the bottom. It's easy to learn, logically laid out, and mildly attractive.
The seats are comfortable, with wide bolsters and a well-cushioned bottom. Adjustability is average, with a tilt-telescopic steering wheel making life a bit comfier. Visibility is good from most angles, although the A-pillars are a bit on the big side, making it difficult to see around some turns. Overall, though, there are certainly vehicles with larger blind spots. Speaking of which, blind spot monitoring isn't available on any Pathfinder, not even our top-trim Platinum.
Despite this improvement in size and space, the lower ride and seating position result in a smaller-feeling vehicle. It feels car-like and agile in a way that the big Pathfinder of yesteryear never did. Part of this change is down to the 500 pounds Nissan's engineers managed to shave off for 2013. The bulk of the weight savings is down to the new unibody construction, while various drivetrain components, interior trims, and other items have been modified with an eye towards lowering the Pathfinder's overall mass. We'll dive into what this weight savings means for the ride and handling in a moment, but first, let's talk about what's under the hood.
This lighter SUV no longer needs the big 4.0-liter V-6 or 5.6-liter V-8 from 2012 to get it up and about. Instead, Nissan's trusted VQ35 3.5-liter V-6 delivers the power. This is an engine that we know and love, having powered the
Maxima
,
Altima
, and 350Z, along with a bevy of other offerings. It's a stout, solid, and reliable powerplant, packing 260 horsepower and 240 pound-feet of torque.
Yes, those numbers are low relative to the competition. Ford's 3.5-liter V-6 pumps out 290 horsepower and 255 pound-feet of torque, while the refreshed Chevrolet Traverse comes out swinging with 288 horsepower and 270 pound-feet of torque. Hell, Nissan's own 4.0-liter from the 2012 Pathfinder chucked out 266 horsepower and 288 pound-feet of torque.
But when you've trimmed approximately two Roseanne Barrs off the chassis, you don't need quite the same level of power. In practice, the Pathfinder's speed is wholly acceptable for the segment. It pulls well and true at low rpms, chirping its front tires when we were overexuberant. Mid-range punch was adequate, but hardly shoved us back into the seats. For passing maneuvers, either on a two-lane or at freeway speeds, the Pathfinder has no issues getting out of its own way. It's this low-end strength, though, that really defines this new Nissan. Peak torque may sit at 4400 rpms, but it feels far more accessible than that number might indicate.
This is partly down to the state-of-the-art continuously variable transmission. Bemoan these trannys all you want, but as
John Beltz Snyder found when he drove the Altima
, Nissan's brought its A-game out in terms of transmission technology. This new Xtronic CVT cuts down on internal friction by up to 40 percent, and is the first use of this technology in the segment (excluding hybrids, we're assuming). The resulting powertrain is more responsive than past iterations (for reference, we're using the current Nissan Maxima as a bogey, which uses the same engine), feeling more compelling and better able to keep the revs low.
With a gear ratio that ranges from 2.413 to 0.38, the revs remain low under anything but heavy, wide-open throttle. This is just one of the many characteristics that contribute to the Pathfinder's 20-mile-per-gallon city and 26-mpg highway rating (all-wheel drive drops those numbers by one mpg, respectively). That's seriously impressive in a segment where most V-6s struggle to return 18 mpg in the city.
Jump on the throttle, and the CVT/V-6 combo work well together, with the revs shooting up accordingly. The Pathfinder doesn't sing as sweetly as the Maxima, but the inherent silliness of a CVT and a V-6 makes for a fun driving experience.
We drove a Pathfinder Platinum, the most luxurious model, and opted for a two-wheel-drive variant (we did a spot of "off-roading" with the all-wheel-drive Pathfinder, though). It weighed in at 4330 pounds. That balances things out quite nicely, considering Ford's two-wheel-drive Explorer is 4534 pounds while Chevy's titanic Traverse tips the scales at a portly 4713 pounds. Will the Americans be faster? Probably, but not by much.
Comparing the ride and handling of a body-on-frame vehicle and a unibody vehicle is akin to comparing the taste of rotten halibut and a petite filet. The unibody will consistently deliver a more comfortable, planted, and responsive ride. That holds true with the new Pathfinder.
The secondary ride is hugely improved, with much better NVH over rough sections of road. There's some degree of vertical motion and seesawing over undulating roads, but not to the degree exhibited on a body-on-frame vehicle. Lateral motions are managed well, with roll only becoming an issue in very tight, hard corners.
What's remarkable is how quiet the Pathfinder is. Road noise and tire roar are quite muted (although this could be down to the silk-like roads of NorCal), while wind noise, even as we traversed breezy coasts, didn't interfere with the in-cabin experience. Impact and secondary noises are controlled, and can be drowned out with a healthy radio volume.
The steering offers a nice weight to it that builds progressively from center. It feels substantial and natural, not fluffy and video-game-like. This is important because it actually gives the sense that this big CUV you're driving has some substance to it. Feedback is quite limited, which is to be expected in this category, so we really can't complain too much.
Pricing for the 2013 Pathfinder starts at $28,270 for a base Pathfinder S with two-wheel drive. Adding four-wheel drive tacks $1600 onto the price. So for under $30,000, the Pathfinder comes with the aforementioned powertrain, 18-inch wheels, a six-disc CD player and six-speaker stereo, and tri-zone air conditioning.
Upgrading to the Pathfinder SV will net buyers automatic headlights, Nissan's intelligent key, Bluetooth connectivity, satellite radio, a seven-inch color monitor on the center stack, and a rear-view camera/park distance control. Pricing on the SV starts at $31,530 for the two-wheel-driver and $33,130 for four-wheel drive.
The Pathfinder SL is expected to be the volume model, with remote start, heated leather seats (front and second row), and a power liftgate. It starts at $34,470 for two-wheel and $36,070 for four-wheel drive.
At the top of the range is the Platinum, boasting cooled front seats, 20-inch wheels, the Around-View Monitoring system with the accompanying eight-inch touchscreen, navigation, a 13-speaker Bose stereo, and the Trailer Tow Package.
Speaking of packaged content, there are three items: a $400 Trailer Tow pack, the $2650 SL Premium Pack, and the $2300 Platinum Premium pack. Those wishing to take advantage of the Pathfinder's 5000-pound towing capacity will want the Tow pack and its Class III receiver. The SL Premium pack includes the Bose 13-speaker stereo, dual panoramic moonroofs, and the Trailer Tow pack. Finally, the Platinum pack features a tri-zone entertainment system and dual panoramic moonroofs.
In terms of availability, we were only able to find a few dozen Pathfinders around the country. We'd expect that to change dramatically in the coming months as production ramps up at Nissan's Smyrna, Tennessee factory.
Based on our time behind the wheel, Nissan appears to have been well served by waiting for the competition to make their move in the switch to a unibody. It's built a car with the economy, style, comfort, and refinement that is (or is nearly) class-leading, all while offering buyers a reasonable sticker price. It's not a hugely exciting vehicle, but in this segment, that's probably a bonus. If you need a seven-passenger vehicle, you'd be well served by checking out the new Nissan Pathfinder.
2013 Nissan Pathfinder Platinum 4X2
Engine: V-6, 3.5 liters, 24v
Output: 260 hp/240 lb-ft
Weight: 4330 lb
Fuel Economy, City/Hwy: 20/26 mpg
Base Price: $39,170
On Sale: Now