Driven: 2013 Mercedes-Benz GL350 Bluetec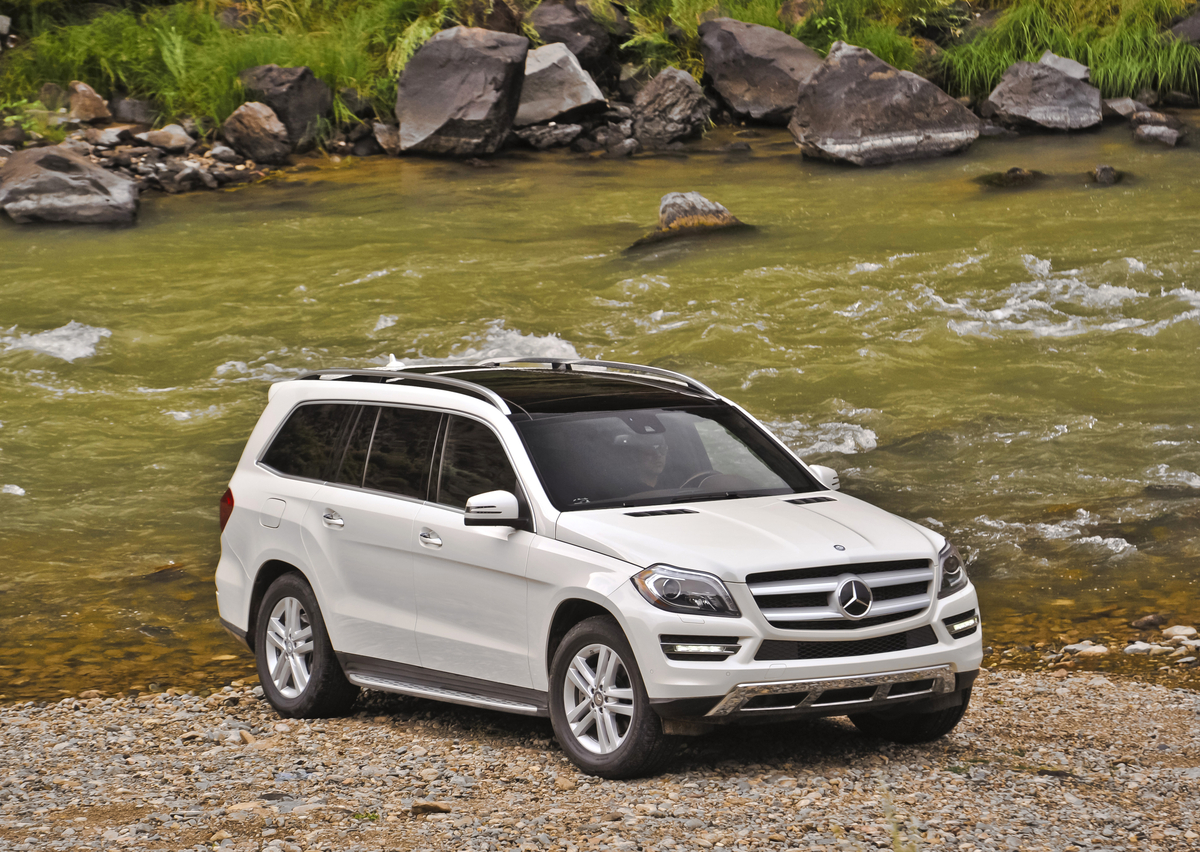 —Birch Run, Michigan
By our reckoning, the GL350 with Mercedes-Benz's excellent 3.0-liter, turbodiesel V-6 is the pick of the litter. Yes, there's much to be said for the GL's excellent V-8 options. Both the
GL450 and GL550
are powered by biturbocharged V-8s, with the 450 packing 362 horsepower and 406 pound-feet of torque and the GL550 offering up 429 horsepower and 516 pound-feet of torque. We'd also need to give a shout out to the bonkers (and completely unnecessary)
GL63 AMG
and its 550 ponies.
But during our time with the base diesel engine, we were never wanting for extra power. Sure, it delivers a modest 240 ponies, but it also packs 455 pound-feet of torque spread from 1600 to 2400 rpm. If that torque spread doesn't sound impressive, then you're probably forgetting about the 3.0-liter's 4750-rpm redline. This all means that, once spooled, you've got a very large swath of torque to exploit.
"Once spooled" is kind of the theme behind driving the GL. Unlike a
BMW X5 xDrive35d
, which sports a pair of turbochargers, the GL's six-pot has a single turbo to propel it along. It's not a bad arrangement all the time, but if you dive too deeply into the throttle from a standstill, there's a very noticeable pause before the GL's torque arrives. It's less of an issue at speed, although it is still noticeable. This nature manifests itself in the GL350's run to 60 miles per hour, which takes a leisurely 8.3 seconds to complete compared to the X5's 6.9-second run (the GL is still two-tenths of a second faster than the
Audi Q7 TDI
, though).
The GL's seven-speed automatic does an admirable job of keeping the 3.0-liter in its sweet spot. It's quick to find the right cog on downshifts, and manages upshifts with the smoothness we expect from Mercedes. Our tester featured a pair of paddle shifters, but we never had any reason to use them. The seven-speed did just fine without us mucking around.
We're happy to report that the Benz's turbo lag is pretty much the sole fly in the ointment. This is a ludicrously good vehicle for chewing up miles. Case in point: we spent our weekend with the GL doing some last minute Christmas shopping at the outlet malls of Birch Run, about a 60-mile jaunt each way.
The remarks of the day centered on the big GL's suspension. The standard Airmatic suspension does a good job on its own, adjusting the air springs based on the driving conditions. Spending an extra $3950 adds MB's adaptive dampers and Active Curve System, which take the GL's ride to another level. We plodded down I-75 at speeds ranging from 70 to 100 miles per hour and couldn't find a pothole or bump capable of disturbing the Benz. This might not be much of an accomplishment were we on the silky smooth home turf of Mercedes, the autobahn, but it's positively spectacular on the third-world roads around Detroit. Vertical motion, even in Comfort mode, was pretty much nonexistent, giving the GL a planted feeling that was sorely lacking the last GL.
And perhaps that's what was most intriguing about the way the GL350 rode. It felt nothing like the first-generation model, which was decidedly truck-like in its ride and handling. This new GL-Class felt nimble, poised, and shockingly comfortable. Impacts that would have resulted in a mess of secondary ride jitters in a 2012 GL were smoothly quashed in the 2013 model. Roll, squat, and dive were especially well behaved thanks to our tester's suite of suspension systems.
The GL is isolated in exactly the right way, in that it seems to know what sensations need to be transmitted to the driver and which ones can be eradicated by the suspension. You won't confuse this thing with a Lotus Elise or
Mazda MX-5
, but you also won't confuse it with a lumbering hulk like a Chevrolet Suburban, or more importantly, the
last-generation GL
. You can feel the weight transfer around the GL's chassis, and measuring grip levels is easier than we'd originally suspected. It felt like given a twisting piece of road, it wouldn't be a complete and total bore. That's a big accomplishment in a vehicle like this.
We'll admit to being geeks for car interiors. Upholstery choices are like a window into a person's soul. Seriously, think about it: would you rather go out on the town with someone who willingly drives a car with a cloth, beige-on-beige interior? Or would you want to hang out with the person that chooses the car with our tester's interior—someone who knows how awesome white, quilted leather seats are, and that if you're going to order wood trim, it damn well better be black and somewhat sparkly. Well, when it comes to partying, that's our guy.
So yeah, we're rather fond of the way our tester was outfitted. The disclaimer is that our GL featured Designo leather seats at the cost of $4800. These are the nicest, softest, smoothest hides Mercedes offers. In fact, we'd go so far as to say that these wouldn't look out of place in
Bentley's Mulliner catalog
. The seats themselves offer a lot of support and a great range of adjustability, thanks in large part to $1100 Multi-Contour option. Besides tacking on a massage function, the bolsters feature ten different adjustment levels, along with a hugely adjustable lumbar function. Perhaps our sole issue is that the bottom cushion's vertical adjustability is lacking, giving the feeling that the lower part of the seat is always angled down. It's annoying, but is likely something we'd end up getting used to.
The interior layout is reminiscent of the new Mercedes ML, which means it's logical, clean, and easy to figure out. The buttons on the center stack are all within reach, and are easily discernible from each other. The dash and door plastics feel quite good, and lack the creakiness or overly firm feel that we associated with the first-generation GL. The GL sits at the top of the Mercedes SUV hierarchy (no, we're not ignoring the G-Wagen, but when was the last time you saw a new one?), and should have fit and finish that equal the
S-Class
. For the first time, it does.
Now, part of the reason people buy diesel-powered vehicles is for fuel economy. For a 5400-pound vehicle, the GL doesn't disappoint, netting 19 miles per gallon in the city and 26 mpg on the freeway. 26 mpg is decent in most six-cylinder family sedans, so netting that number in a seven-passenger luxury SUV is remarkable. Those numbers match up well with the BMW X5, which returns identical figures. The Audi Q7 bests those figures slightly, returning 28 mpg on the freeway. Still, the GL is a fair bit better than its gas-powered competition like the
Cadillac Escalade
, which struggles to hit 18 mpg on the highway. The GL performed well during our shopping trip/test run, returning 23.5 mpg. During the entire loan, we netted roughly 21 mpg. Not stellar, but again, it's better than a gas-powered sport ute.
The problem we see is that these numbers could have been better. We've talked before about the fuel saving measures that are on new products from Mercedes, and heaped particular praise on the Eco modes and start-stop systems on vehicles with the three-pointed star on the nose. There's neither an Eco mode nor a start-stop system on the GL350. We'd guess that the already sluggish throttle response and the relatively lengthy start-up process of the diesel engine made these systems difficult to integrate on the GL.
Being a seven-passenger vehicle, we expect a fair amount of utility. With all three rows of seats up, the GL's trunk is depressingly small. Frankly, we're happy we didn't end up taking this Up North for the weekend (our original plans), as fitting six people plus their gear would have been exceptionally tough. Fold the third row down, and the cargo volume increases appreciably. The power folding seats work well in the third row, stowing inconspicuously and with the simple hit of a switch. The second row was a bit more fickle, relying on electricity to fold down and a manual latch to put back in place.
Earlier, we said we considered the diesel-powered 350 to be the model to choose if your heart is set on a GL. With a starting price $1500 lower than the base GL450 ($62,400 as opposed to $63,900), that position isn't likely to change. As is the case with luxury cars, it's very easy to lose yourself in the options sheet. Our tester was fitted with around $28,000 worth of extra equipment. Some of it we couldn't live without, such as the Adaptive Damping System/Active Curve System ($3950), while a lot of it was stuff that would be nice to have (we'd have a very hard time turning down the $4800 Designo leather seats). We included our tester's Monroney sticker
in the gallery
to give you a detailed breakdown of the as-tested price.
The original Mercedes-Benz GL didn't feel like a cohesive effort, lacking the level of refinement, fit, and finish that we expect of a product from Mercedes. We're happy to announce that the 2013 GL remedies these problems, while adding on a great diesel powertrain and a surprising level of economy. It's not a perfect SUV, but if you're seeking a seven-passenger sports ute, the GL may just be the best out there.
2013 Mercedes-Benz GL350 Bluetec
Engine: Turbocharged V-6, 3.0 liters, 24v
Output: 240 hp/455 lb-ft
0-60 MPH: 8.3 sec
Weight: 5467 lb
Fuel Economy, City/Hwy: 19/26 mpg
Base Price: $62,400
Price As Tested: $90,625