Driven: 2013 Honda Accord Sedan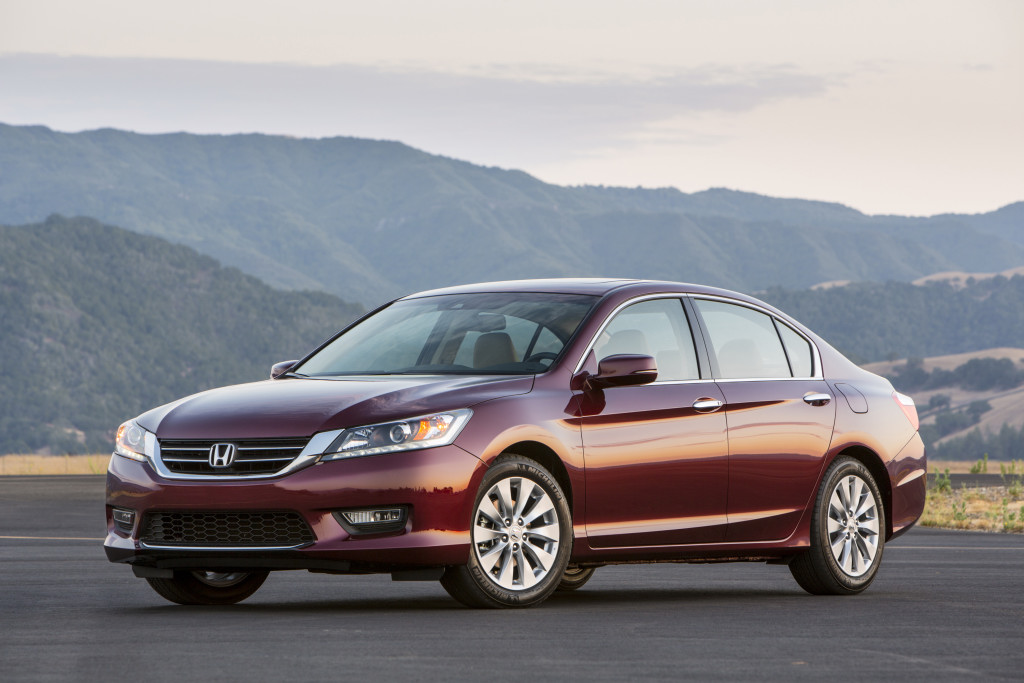 —Santa Barbara, California
The 2013 Honda Accord marks the 30th anniversary of the well-known nameplate. With an opportunity to commemorate this milestone with the best version of the car to date, well, we'll go ahead and spoil it for you and say that Honda has succeeded. If you're looking for a mid-sized family sedan that is high in quality, very comfortable, efficient, and (dare we say it?) actually fun to drive, this is the Accord you've been waiting for.
The Honda Accord sedan comes with a choice of two engines. First is an all-new 2.4-liter inline-four with direct injection, producing 185 horsepower and 181 pound-feet of torque (189/182 in the Sport trim). Certain models offer a six-speed manual transmission, but the one we tested was fitted with a continuously variable transmission. With the CVT, fuel economy is rated at 27 miles per gallon in the city, and 36 mpg on the highway, for a combined rating of 30 mpg—up by 3 mpg from the 2012 model.
The 3.5-liter V-6 is mated to a six-speed automatic transmission. This six-pot mill offers 278 horsepower and 252 pound-feet of torque. Fuel economy figures for this engine are 21 mpg city, and an impressive 34 mpg on the highway. This improved fuel economy is in no small part attributable to the V-6's Variable Cylinder Management (VCM) system. VCM allows the engine to use all six of its cylinders when the driver asks for more power and acceleration from the right pedal. The 2013 model ditches the four-cylinder mode from last year's model, and instead uses three-cylinder operation under a wider range of driving situations.
We spent most of our time in the V-6 model—an EX-L with navigation. Getting inside it feels markedly upscale, perhaps half a class above competition such as the new Nissan Altima. It offers a mature look and feel, and the interior is laid out in an organized way. Our tester featured an attractive center stack topped with an eight-inch display. Below that was a smaller touchscreen display, then HVAC controls, with redundant infotainment controls along the bottom, for those who prefer not to bother with the touchscreen while driving. Our tester was also equipped with Bluetooth connectivity, satellite navigation, and Pandora internet radio to make us feel as though all our bases were covered in terms of technology.
As we headed out onto the Pacific Coast Highway, we found the ride to be very comfortable, quiet and smooth, with very little noise from the engine, wind, or road making its way inside the vehicle. The V-6 was exceptionally well suited to highway cruising, we found. It tracked nicely, without needing a lot of input from the driver. Visibility is ample, which allowed us to confidently navigate highway traffic.
In addition to large windows, a low beltline, and narrow A-pillars helping visibility, the new Accord offers a small piece of technology we found to be particularly remarkable. The Lane View feature is pretty simple: a small camera housed in the bottom of the passenger-side mirror that points downward and to the rear. You can choose to leave it on (which might be a bit dizzying for occupants who might be watching it), or set it to activate when you use the right turn signal. It displays whatever is beside and behind the right side of the vehicle on the large display on the center stack. On the highway, this allowed us to change lanes confidently, certain we weren't encroaching on any driver that might be hanging in our blind spot. In the city, it allowed us to keep an eye on cyclists that might sneak up alongside us when making a right turn. Finally, of course, it was useful when parallel parking, allowing us to maintain a perfect distance from the curb every time. While it may feel like a bit of a novelty to some, we found it to be fantastically useful, and we hope to see this sort of thing catch on.
After driving for a while, we still felt comfortable in the soft yet supportive front seats. We never start to feel cramped, and were, in fact, quite impressed with the roominess of this cabin, as well as the well-thought-out ergonomics. Though we had plenty of space, none of the controls felt too far away. We had no trouble finding a nice seating position, with easy reach to the steering wheel and pedals, and we didn't experience cramping or fatigue as we piled on the miles. When one factors in the roomy rear seats, the Accord sedan adds up to be a really nice touring car. This opinion was even more firmly cemented when we found the posted highway mileage in the V-6 to be easy to achieve.
And we weren't bored to death, either. Not even close. The V-6-powered sedan is a decidedly quick car. It takes off eagerly from the line and accelerates aggressively to highway speeds. It is capable of easy passing maneuvers, and remains robustly powerful when you set the cruise control above posted speed limits. As we headed away from the highway onto long country roads that curved between hillside vineyards, it felt well planted in the corners. The steering offered up plenty of information about the road surface, but without adding too much vibration. The weight of the steering was nice and natural; it had a little bit of play on center, but weighted up progressively as we added more steering angle.
On these same back roads, we found the terrain to get much rougher than what we even usually find in Michigan after the snow melts in the spring. These were some bumpy roads, folks, patched and multicolored with uneven layers of tar spread across them. The Accord's suspension dispatched this sad, mottled tarmac like a champion. In most other vehicles, we would have been clenching our teeth if just to keep all our fillings in place. The Accord did its best to even out this terrain, and while we were able to hear the tires reacting to the rough surfaces, the motion that made its way into the cabin was minimal.
The only disappointment was in that, in our tester, there was no way to shift through the gears on our own. The console-mounted shift lever was your basic PRND setup, with no manual mode. The only addition was an S mode at the bottom, which offered a little bit more aggressive shift schedule, holding onto the gears a bit longer than it would in D. That said, the transmission doesn't take away from the smooth driving experience. It swaps gears quickly and quietly, making it difficult to notice when the change happens if you aren't paying attention. Fair enough, say we; if you're not going to let us get more involved in the driving experience, the next best thing is to keep out of the way.
So, after a long drive taking us through city, highway, and country roads, we were still feeling fresh and ready to drive some more. We managed to finagle our way into a four-cylinder EX-L CVT sedan (it helps to be the first to finish lunch on these events). Heading back out over some more of those choppy country roads, we found that the differences in NVH weren't really that noticeable. What little difference there was came from the combination of motor and transmission, and the sound they produced together. The song was a bit less smooth and pleasing as the V-6, but really nothing to complain about. In fact, we found this CVT and engine to function better than what we were used to, especially in terms of shift logic. The CVT didn't hold the revs too high, and seemed to sweep slowly up the ladder in a progressive, natural way. Even at the top, under full load, the motor didn't have that overwhelmingly buzzy and droning effect we've experienced so many times before in CVT equipped cars. The technology seems to be becoming more occupant-friendly, and the Honda Accord represents another step toward CVTs mitigating the sonic and experiential drawbacks the come with greater fuel efficiency. Welcome to the future; it's a quieter place.
Those who want to save some dough at the lot and at the pump may be wooed by the charms of the four-cylinder Accord. That car, with the CVT, starts at $22,480—a bit more than $10,000 less than the base V-6 model. From that point, the four-banger seems a greater value.
If you're more concerned about the price of living with it, though, think twice, especially if most of your driving is done on the highway. We experienced almost the same highway mileage in both cars. This is probably because we had to be a bit more aggressive with the throttle with the I-4 to compensate for the lack of power, while the V-6 was effortlessly quick.
If it were our money, we'd be leaning more toward the added power and amenities included with the larger motor. It's just that nice to use. Plus, if a navigation system is essential to you, the price between the two different powerplants shrinks to just over two-grand (29,995 for the 2.4 EX-L with navigation, vs. 32,070 for the same trim 3.5). At that point, it's a no-brainer. We'll take the extra 93 horsepower, thank you.
Either way, if you want a capable, roomy, high-quality sedan with hardly any faults to be found, you'll be doing just fine with this new Accord.
2013 Honda Accord Sedan EX-L V-6
Engine: V-6, 3.5-liters, 24v
Output: 278 hp/252 lb-ft
0-60 MPH: 6.2 sec (est)
Fuel Economy, City/Hwy: 21/34 mpg
Base Price: $30,070