Driven: 2013 Ford Mustang Boss 302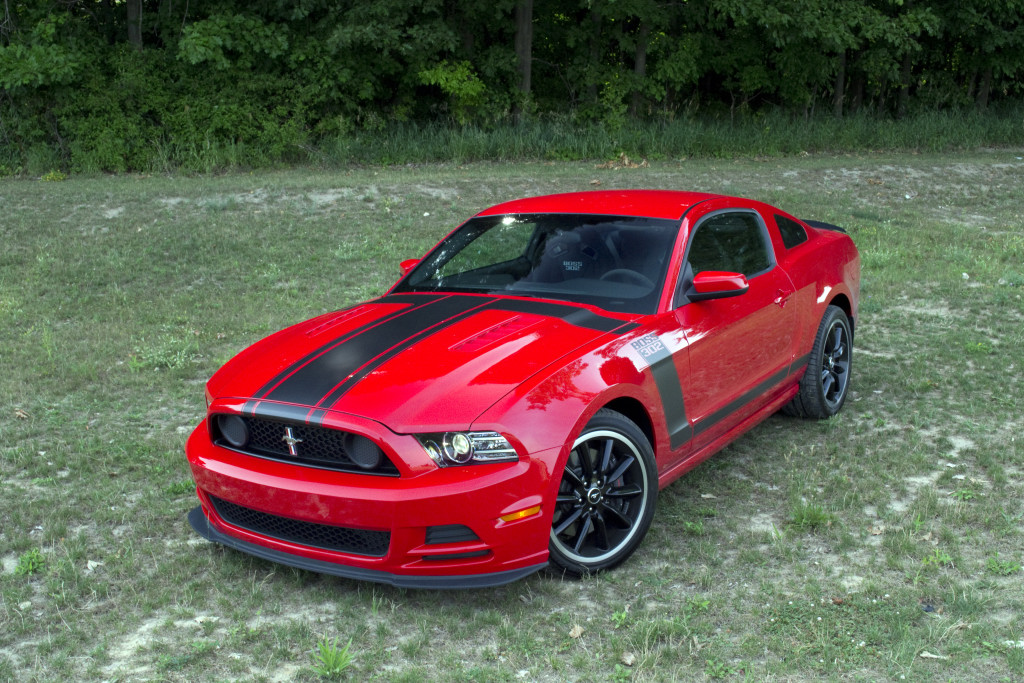 —Lake Orion, Michigan
"The Boss 302 is the perfect Mustang." That, friends, is extraordinarily high praise. It's made even more impressive by the fact that those words were uttered by our own Editor-In-Chief, Seyth Miersma, a man who's lanky Dutch frame finds its way into some seriously prime performance vehicles on a regular basis.
The thing is, Seyth is absolutely right. The Boss 302 is a
huge
improvement over the
standard 5.0-liter Mustang GT
, and it does so without coming across as overly brittle, uncomfortable, or noisy.
We could spout hundreds of words about appearance and stats, but come on, you want to read about driving the car. So, with a minimum of fanfare, here's the brochure info. Power comes from a
5.0-liter V-8
, modified from the standard GT. It produces 444 horsepower, 380 pound-feet of torque, and will sprint to 60 in around 4.2 seconds. Power is up 24 from the base GT, while torque is down 10. Power peaks jump from 6500 and 4250 rpm to a sub-orbital 7400 and 4500 rpm for horsepower and torque, respectively. We have ourselves a screamer.
Ford's 2013 sheetmetal refresh
looks good on the Boss, and the addition of some track-focused interior items (standard Alcantara steering wheel, black cue-ball shifter, and optional Recaro sport seats) give the cabin a feeling of purpose.
Now that that's out of the way, how was our time with the sharpest Mustang on sale today?
After a week with the Boss 302, we've come away with two very different approaches for it. We spent half our time driving it like we'd drive any other vehicle: in a civil, relaxed manner. This was needed, as one of the main questions
our fans on Facebook
asked was what the Boss 302 was like as a daily driver. We'll endeavor to answer that as best as we can.
The rest of our time with the Boss, we pushed it
hard
. We autocrossed it (a treat in and of itself), tore away from stoplights, hit the curving and narrow bits of tarmac we know, and generally tried to get as much out of it as we could. We treated it like a weekend toy, the kind of thing you'd take out to your favorite road. In general, we drove it the way you are supposed to drive a sports car.
Despite the racing pretensions of the Boss interior (Recaros, Alcantara, and such), this was still quite a relaxing place for a long drive. We really have to credit the excellent seats for that. The Recaros were big, tall, and wide, meaning it was quite easy for a variety of body types to get comfortable and stay comfortable over long stretches. Part of this was down to the cloth material that Recaro/Ford opted for. Even though we drove the Boss 302 in a typical Michigan July (hot and very humid), the fabric material kept our backsides dry and comfortable when motoring with the windows down. They also felt less pretentious and more functional than your typical leather-clad racing seat.
Despite the excellent thrones, getting ourselves positioned relative to the steering wheel and pedals wasn't easy. As we've discussed in past Mustang reviews, a telescopic steering wheel is the panacea for this problem. The end.
While the same racing aspirations that struck the interior were ever-present in the rest of the car, Ford did a brilliant job of tuning them out (except when you really want to go fast). The transmission, despite its carbon-fiber plates and short-throw shifter, was disturbingly easy to learn and use.
Unlike some other track-focused cars, like a
Porsche 911 GT3
, the clutch was light and easy to manipulate. There was plenty of feedback coming from it, and the broad catch point (along with the prodigious torque from the engine) made for an easy-going, first-gear experience. The short-throw shifter featured an excellent mechanical-feeling linkage between the gears. Rowing from first to sixth was a tactile experience that is normally reserved for more expensive cars, with all the little vibrations and feelings of the black, cue-ball shifter transmitted to our right hand. The gates themselves had some notchiness, but we'd argue that this added to the overall involvement (along with the aforementioned tactility), as it forced us to really focus on executing shifts well. If you were one of the folks that posted your concerns about daily driving this gearbox, trust us, you have nothing to worry about.
As we've said, the Boss 302 was powered by a high-revving, 444-horsepower, 5.0-liter V-8 that reached its peak horsepower at 7400 rpm, while torque had its crescendo at 4500 rpm. With such high power peaks, you'd be forgiven for thinking that this engine was only usable at the top of the rev range. You'd be wrong, though. Hell, we were wrong.
What the 302 delivered was a broad, manageable power curve, with a linear buildup of power as the revs climbed. This was not like a
Mazda RX-8
or
Honda Civic Si
that
required
us to redline it to reach freeway speeds. Even in sixth gear, dabbing in about half throttle got us up to speed in surprisingly short order. Moreover, simply upshifting at a reasonable 3000 to 4000 rpm was enough to get to the speed limit faster than just about everybody else. Throttle response was pleasantly sharp, but in no way unmanageable. There was decent feel through the rightmost pedal, allowing easy modulation of all 444 horsepower.
Acoustically, this engine sounded really great when accelerating. It's arguably one of Ford's best-sounding powerplants. Our only issue with it came at highway speeds, where it tended to drone slightly.
No review of a Mustang would be complete without mention of its solid rear axle. In short, it was a non-factor, and we'll explain why. The benefits of using such a well-traveled (old) technology like a solid rear axle is that the decades upon decades that have gone in to perfecting it. Is it as good as an independent rear suspension? No. But Ford has developed that big hunk of metal to such a degree that its downsides have been very effectively minimized.
Really, the ride quality didn't suffer too much due to the lack of an IRS. This was a very sportily suspended car. It was firm over bumps, but not uncomfortable. Vertical damping was well controlled, and there was no sense that the car was skipping over imperfections. Better still, the type of vertical float that typifies most Mustangs was absent. Impact noises were certainly felt and heard, but we'd argue that there are other, similarly priced performance cars with worse rides/NVH (
Mitsubishi's Lancer Evolution
being a prime example).
In short, there were a lot of performance vehicles that are not suitable for daily consumption. We'd argue that the Ford Mustang Boss 302 is not one of them. Like any car, there are compromises that come along with purchasing one. If you've got the coin sitting around, we don't think any of its niggles should be enough to dissuade you from purchasing a Boss.
Now, all that being said, people won't be buying this car because it's comfortable. After all, it's a performance car and should be treated as such; livable comfort is merely a bonus. So how does the Boss 302 shape up as a performance vehicle?
Fan-freaking-tastic. Really, a genuinely stunning piece of engineering and design, the Boss 302 is an exceptional performance bargain for a multitude of reasons.
Things start, as they usually do with Mustangs, under that long, slatted, bestriped hood. Sure, this 5.0-liter V-8 was a peach during the daily grind, but to really experience it, we needed to push it as hard as possible.
You have not lived until you've run this engine up to 7400 rpm, banged home an upshift, and felt that surge of torque as the tach needle lands right in the engine's sweet spot around 4000 rpm. It's invigorating. Screw Red Bull, give us a Boss 302.
Even though its power peaks were stratospheric, it never felt flat-footed at lower revs. Not that we spent much time at those lower revs, as the modified 5.0-liter V-8 revved very quickly. It climbed the tach fast but it didn't feel unmanageable in the process. There was never the sense that it'd run to redline so quickly that we'd miss out on a shift and hit the rev limiter.
It should go without saying, but the higher the revs, the more thrust this thing had. It was happier than a chocolate-addled preschooler above 5000 rpm, where the V-8 mill generated one of the sweetest exhaust notes we'd ever experienced on a Ford product. Plant a foot north of 5K, and the Boss really just catapulted forward. Outside of straight-line running, this engine performed admirably in the bends, as well.
That same throttle response we mentioned, that was manageably sharp? Well, we appreciated it a lot more when running the 302 hard. It was delightfully progressive and linear in its execution, and allowed us to easily dial in just the right amount of thrust to the rear tires. It was quite easy to balance this thing around turns with judicious application of the right foot. There was also something to be said for the way the Torsen limited-slip differential aided cornering grip, as it really allowed us to get on the power sooner and with more confidence while tearing around the autocross course.
Perhaps the one area where we'd have liked to see more improvement was in the steering. It was a weak spot in the Mustang's otherwise impervious armor. While there was an appreciable improvement in suspension feedback coming from the road compared to the standard GT, there was much less of a change in the way the steering communicated. Even in the most aggressive steering setup (Sport), it felt too light for a performance vehicle.
We're placing a fair bit of the blame here on the electronic power-assisted steering system. If we were drawing up our dream Boss, it would include a return to a standard, hydraulic rack-and-pinion steering setup. We'd happily trade a couple miles per gallon for the kind of feedback improvement that comes with a non-electric tiller.
In the tight confines of the autocross course, the overall balance was surprisingly neutral, with little in the way of understeer. Gassing it out of a turn would cause the tail to step out, but the whole affair happened in a predictable manner and was easily countered with the throttle and steering. Squat under acceleration was appropriate, and did more to tell us about rear-end grip than anything. As we said, feedback through the steering wasn't great, but the talkative chassis more than made up for it.
The brakes, big Brembos up front, were also quite impressive. On the brake-intensive autocross, we dived on the middle pedal hard, and were impressed by the amount of feedback transmitted to our right foot. Front-end grip under braking was abundant, and the pedal itself allowed us to modulate stopping power with a high degree of accuracy.
We often call cars a performance bargain, but that phrase is perhaps no more apt than when talking about the Boss 302. With a starting price $42,200, it's not quite ready yet. You really need to opt for the $1995 Recaro Seat/Torsen Differential package. It's the Mouton-Rothschild to the Boss 302s filet mignon; you can have one without the other, but you'll be missing the full experience.
The Boss 302 is a Mustang like there's never been. Not only is it pleasantly fast, but it also delivered the sort of handling confidence that the model has never quite had. It elevates the nameplate from mere muscle car to full-fledged sports car. The competition may be mounting (we've yet to have a turn in Chevrolet's track-focused Camaro 1LE, and
BMW's new M3
isn't too far off), but for the time being, there is perhaps no better trackable daily driver than the 2013 Ford Mustang Boss 302.
2013 Ford Mustang Boss 302
Engine: V-8, 5.0 liters, 32v
Output: 444 hp/380 lb-ft
Weight: 3632 lb
Fuel Economy, City/Hwy: 15/26 mpg
0-60 MPH: 4.2 sec (est)
Base Price: $42,200