Driven: 2013 Ford C-Max Hybrid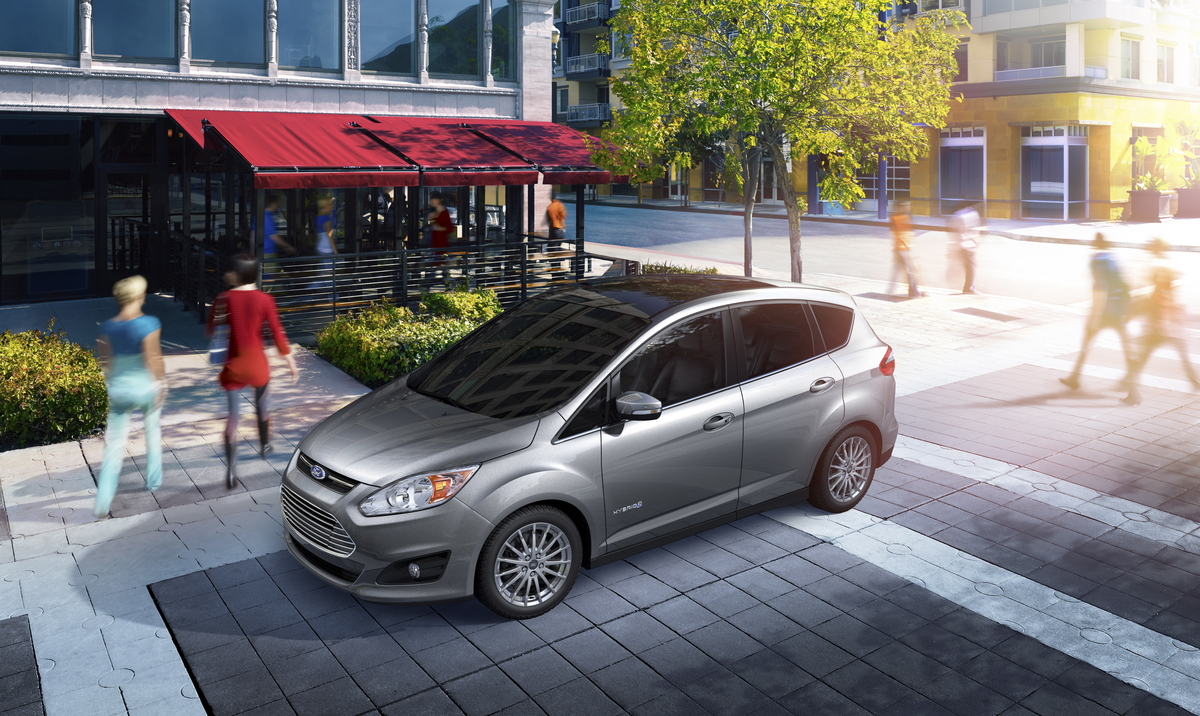 —Los Angeles, California
Every new car has some large portion of its design executed against a long checklist of consumer needs and wants. This approach, a simple necessity with a product as complex as a car, generally means that new models come across as at least reasonable attempts to satisfy the target market. That, in turn, means much of the discussion of competitors is more a discussion of fit with segment-specific desires than it is a comparison of good vs. bad or low vs. high quality.
Periodically, though, a carmaker establishes the checklist for a new model in a way that seems to elevate the entire design process and create something differentiated in the sense of being outright better. Such is the case with the new
Ford C-Max
, a car whose development checklist seems to have been benchmarked, not just drawn up. When you have challenging benchmarks for the right checklist items, and when you have the development budget to exceed those benchmarks, your car goes from good to at least very good. It isn't hard to notice the difference this makes.
The C-Max is part of a new Ford line that sits between the
Focus
and the
Escape
in size and price. The C-Max Hybrid is 174 inches long, riding on a 104-inch wheelbase, with a base price of $25,995. The
Toyota Camry
provides another size reference, with the Camry being about 15 inches longer than the Ford, but the Camry is also about 6 inches lower. So, C-Max is sized and shaped to have decent passenger and cargo room, but fit a little more easily into urban environments than a typical sedan.
All US C-Maxes will have hybrid (C-Max Hybrid) or extended-range EV (C-Max Energi) powertrains. That is, there will be no gasoline-only models. As a result, the head-to-head competitors for the C-Max come from Toyota's Prius line, specifically the
Prius V
. Ford's hybrid is slightly smaller and slightly cheaper (by about $1300) than the largest Prius.
The big number for the C-Max Hybrid, therefore, is 47. That is, it nets 47 miles per gallon in the city, 47 mpg on the highway, and 47 mpg combined in the EPA cycles. Those are impressive numbers, and exceed the EPA results for the Prius V, which delivers 44 city, 40 highway, and 42 combined mpg. For further reference, the smaller Prius (the
standard Prius "liftback"
, not the V or
Prius C
) gets 51/48/50 mpg, so the Ford slots neatly between the middle and large Priuses in mileage.
But excellent mileage specs aren't why we were impressed with the C-Max Hybrid. The impressiveness comes once you get behind the wheel. This impressiveness is a relative thing, in that it drives very much like a good, conventional car. That generally isn't the case with hybrids, and so we came to think of the C-Max as an achievement.
In that sense, the most impressive part of this Ford is the strain-free powertrain. Although the C-Max uses a continuously variable transmission (CVT) and a relatively small engine (2.0-liter four cylinder with 141 horsepower), it was able to accelerate pretty easily in urban traffic or on moderately steep grades in the mountains surrounding Los Angeles. This isn't the most demanding test possible, but frankly it is a tougher test than that presented by 90 percent of suburban US driving.
The big thing here is not just that the pace of the car can be managed in various environments, but that the car doesn't seem distractingly labored doing so. The C-Max is no rocket (188 horsepower driving 3607 pounds can only do so much), but it doesn't seem obviously underpowered either. Ford seems to have done its CVT homework and given the C-Max enough battery power to make it work in common situations.
Another attractive and impressive element of the C-Max Hybrid is the surprisingly quiet ambience of the cabin. It goes down the road not in luxury-car silence, but with a notably muted and peaceful demeanor. This quiet is, no doubt, also part of why the drivetrain seems not to be straining as much as we had expected. Turns out that Ford has applied its Active Noise Cancelling technology here, so instead of trying to put sound deadening blankets everywhere, with their inevitable weight and fuel mileage penalty, Ford uses the audio system to counter noises from the road or engine that are difficult to address mechanically. After this experience, we concluded that ANC is not only an efficient approach, but it may just be a more effective approach too.
The ride and handling package offered on the C-Max Hybrid adds to the list of impressive elements Ford has engineered into this car. Roll is controlled very well, especially considering that this is a rather tall car (though it would make a very short SUV). Add to that a very nice wheel with well-connected steering, and the C-Max is easy to direct over the road at normal speeds.
Aiding that sense of control is the superb view from the front seats. The hood seems to be rather low thanks to a slightly higher seating hip point. The windshield is large, yielding a rather panoramic scene in front of driver and passenger. For an aerodynamic car, the necessarily thick A-pillars (safety requires that the supports for the roof be strong) manage not to be distracting, unlike the bunkered perspective of so many cars. The wide-open view makes the C-Max easier to place in urban driving and simply lets you enjoy the drive a bit more.
You can tell that you are sitting a bit higher than normal not just from the view, but also due to subconscious cornering cues, yet the C-Max generally feels flat and stable in corners. The same technologies (proper damping, torque vectoring) that help with stable cornering also manage to yield a pretty good level of ride quality. Broken pavement is smoothed over enough that bad roads aren't annoying, though we did notice that the chassis makes a few minor sounds on such bumps that are inconsistent with the afternoon tea you may be serving in the rear compartment. Even more, the vertical damping is excellent so swales and rises in the road don't lead to that slightly seasick sensation on long rides.
So, we have a 47-mpg car, with a very usable drivetrain, in a quiet chassis with good ride and handling for $26K. For much the same reason that we've liked the
Volkswagen Jetta TDI
(especially the Sportwagen), we were impressed with the "just right" balance of attributes in the Ford C-Max Hybrid. The Jetta is certainly sportier, but gives up a bit of fuel economy. It also reveals two additional questions.
As much as we enjoyed our introduction to the C-Max, we think two factors will divide ultimate buyers from mere shoppers. The first is functionality. This Ford is designed to be useful, something that is clear from its five-door layout as well as the above average roof height. The front and rear seats are indeed amply spacious, with reasonable legroom (a little less than a Camry), good headroom for six-footers (a bit more than a Camry), and easy access through the doors thanks to a good B-pillar location and that slightly-higher-than-normal seating. If your reference is a crossover or SUV, the C-Max will seem a little tight; if your reference is a sedan, it will seem different if not downright better. Given how small the car really is, we'd consider either to be an accomplishment.
The rear seats in the C-Max fold flat and yield a flat load floor from rear bumper to front seats. In this folded configuration, the C-Max Hybrid has 52.6 cubic feet of cargo capacity. For reference, the Jetta Sportwagen we mentioned earlier has 66.9 cubic feet of capacity with the rear seats folded. The difference lies in the area behind the rear seats, where the Ford has 24.5 cubic feet of space, whereas the Jetta Sportwagen has 32.8 cubic feet and the Prius V has 34.3 cubic feet. The differences aren't huge, but might be a deciding factor for some people.
The other area where the C-Max will capture some buyers and lose others is in design. While that's true of almost every car, Ford's strategy here is worth stating. Ford has chosen to give the C-Max a look related to other Fords (as VW does with the Jetta diesel), but with a slightly distinctive and clearly more functional profile. Toyota, in contrast, chose to make the Prius look different from other Toyotas, almost as if Prius were a sub-brand like Scion or Lexus. Toyota has also chosen to make the Prius look futuristic or at least distinctively like a hybrid, while Ford built the C-Max to look like a normal car.
Picking up on that theme, Ford has gone the extra mile in designing the interior materials and finishes, which are quite high-quality, while Toyota seems to have done the Prius interior with one eye on being different and the other looking at cost minimization.
Like many a current car, Ford's electronics seem a bit scattered. The styling is attractive, in keeping with the interior materials, but the user interface is slightly inscrutable. The car data relating to mileage and power usage is very laden with layered menus and multipurpose buttons, reflecting a philosophy that we hoped had died with BMW's and Mercedes's ill-fated first-generation electronic dashboards. In addition, the Sync system and the dashboard seem to have been done by separate groups, an issue Ford says will be addressed with a new software release about 3 months post-launch. That release should also rectify the limited information available on the main screen, which for fans of "play your hybrid like a video game" may help make the C-Max more fun.
Quibbles aside, the C-Max is a very good car. It does the most basic automotive things well, and in fact does so many of them well that it reminds you how many cars fall short in at least one basic area.
2013 Ford C-Max Hybrid
Engine: Inline-4/electric motor, 2.0 liters, 16v
Output: 188 hp/129 lb-ft
Weight: 3607 lb
Fuel Economy, City/Hwy: 47/47 mpg
Base Price: $25,200
On Sale: Now