Driven: 2013 Ford C-Max Energi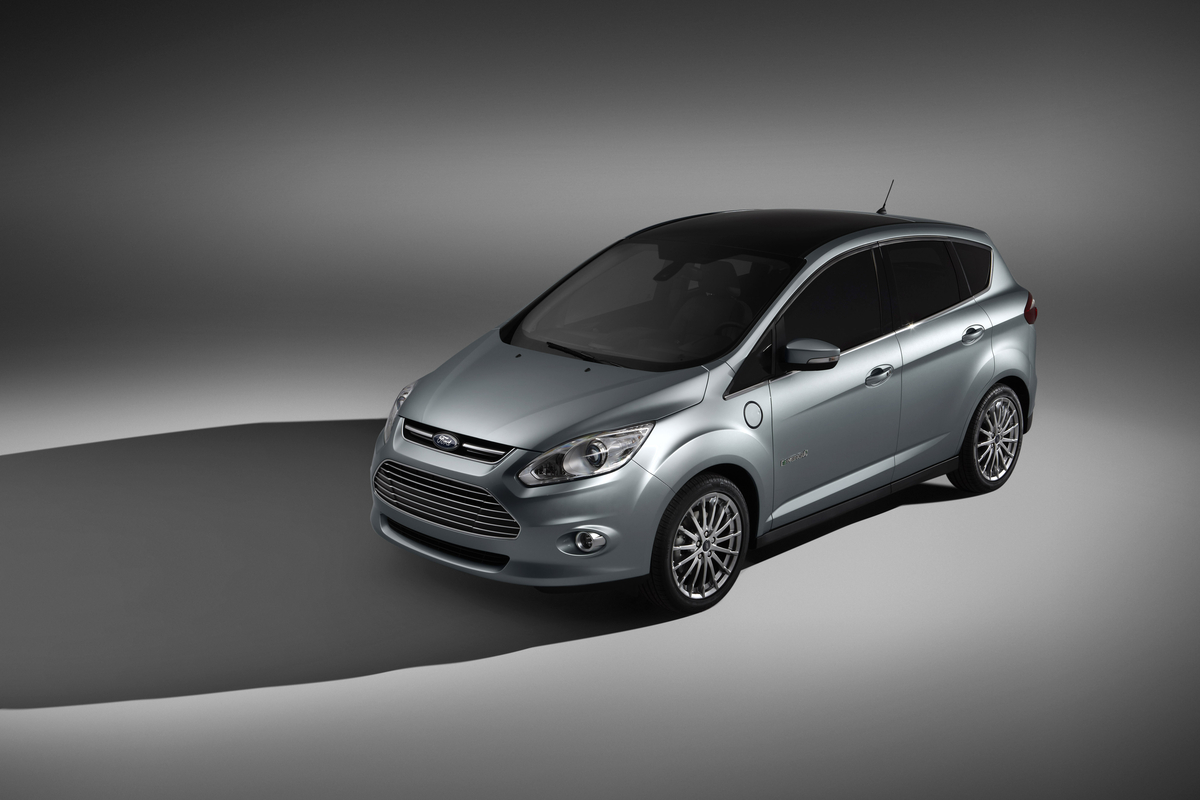 —San Francisco, California
There's a very real chance the Ford C-Max Energi won't be for you. Frankly, that's okay, as this isn't a car that's meant to appeal to the masses (at least not yet). Instead, it's a car for pioneer consumers—those who need to be on the bleeding edge of what's possible in four-wheeled motivation. So while not everyone's going to love the C-Max Energi, it's likely to develop quite a dedicated following.
But what is a C-Max Energi? Well, you should be familiar with the
C-Max
by now. For the uninitiated, the C-Max is Ford's European five-door multi-person vehicle. Packing two rows of seats and a rather well appointed trunk, you'd be forgiven for thinking it nothing more than a standard hatchback, albeit one that's a bit taller.
Where the C-Max layout excels is in interior space. Compared to a five-door Ford Focus, the CM boasts an extra 1.9 inches of front legroom, 3.3 inches of rear legroom, and a bountiful amount of extra headroom. Seriously, there's enough noggin space that both your six-foot, one-inch author and his driving companion, former
Winding Road
Editor-In-Chief and six-foot, five-inch Dutchman Seyth Miersma, had zero chance of bumping a noodle on the glass roof of our tester. This is all done in a wheelbase that's identical to the
Ford Focus hatchback
(104.3 inches), while being only two inches longer. So, in terms of actual utility, it's an appealing concept.
Being a European MPV, you'd be forgiven for thinking there's some small-displacement gas engine (or even a diesel) under its short hood. Instead, Ford's made the C-Max the first member of its Energi range. Cars wearing the Energi badge constitute the Blue Oval's entry into the growing plug-in hybrid market. In fact, the C-Max is Ford's first production plug-in hybrid (it'll be joined by a Fusion Energi before too long).
"Now," you might be asking, "what makes the Energi any different than the C-Max Hybrid?" The answer is the junk in the trunk. Well, it's not junk so much as it is a big-ass battery. It's a 7.6-kWh monster that is the primary reason the Energi loses about 5.3 cubic feet of cargo volume.
Other than the beefier coppertop, the Energi shares a 2.0-liter, Atkinson-cycle four-cylinder and a 118-horsepower electric motor with the standard Hybrid. Actual performance is similar. Both vehicles deliver 188 system horsepower while 129 pound-feet of torque is available from the engine.
Despite these similarities, the efficiency of Energi and Hybrid couldn't be much different. First and foremost is fuel economy. The C-Max Hybrid boasts a respectable 47 miles per gallon (city and highway). It'll cover 570 miles on a full tank of fuel. The Energi, meanwhile, gets a gasoline equivalent of 108 mpg in the city and 92 mpg on the highway, for a combined figure of 100 mpg. It'll cover 620 miles on a full tank of fuel. 21 of those 620 miles can be covered solely on electric power and at speeds of up to 85 miles per hour.
Based on those numbers alone, the Energi holds a significant advantage over the
Toyota Prius Plug-In
. The standard bearer for the hybrid movement and the first significant production plug-in hybrid can only cover 11 miles on EV power (less in our experience), while delivering a gas-equivalent 95 mpg.
Of course, the C-Max does make sacrifices to get those impressive numbers. We've already mentioned the lack of trunk space, but there's also the small matter of charge times. Whereas the Prius Plug-In will be fully charged in about three hours on a 120-volt outlet (about 90 minutes on a 240-volt plug), the C-Max takes about seven hours on a standard plug and 2.5 on a 240. These numbers aren't enough to put a huge crimp in our day, but it's a factor worth considering, especially if you're the sort that never stays in one place for too long.
We mentioned our experience with the Prius Plug-In's EV range, and how it generally failed to meet expectations. There was no such problem in the C-Max. As we drove across the Golden Gate Bridge towards the hills around Sausalito and on to the small town of Olema, the mileage ticked down, until we'd covered a full 18 miles (our tester was only charged to 19 miles when we started driving). Of course, we'll need to conduct a more extensive test of the Energi's mileage claims when we get one in the office, but it seemed promising after our initial stint.
There was a number on the C-Max that had us worried. With a curb weight of 3899 pounds, this was a very heavy vehicle for its size, and we were uncertain what impact, if any, its weight would have on the driving experience.
Despite its porkiness, acceleration felt rather brisk, thanks in no small part to the instant-on torque afforded by the electric motor. Off the line, the C-Max would happily chirp its low-rolling resistance tires. Running along the hills of the Pacific coastline, this instantaneous torque allowed the C-Max to easily dispatch even some of the steeper grades. This quality was a real testament to the usability of hybrids. Even at nearly 3900 pounds (well over 4000 with this passenger and driver combo), the C-Max Energi rarely felt out of breath or lackluster. Last we checked, the Prius Plug-In didn't haul quite like this. In fact, we'd argue that few hybrids scoot along like the Energi. Its torque delivery was so similar to a pure electric that we couldn't give serious consideration to buying an EV (like the
Focus Electric
) without taking a turn in the C-Max Energi.
The big thing that separates the Energi from the competition is its three EV modes. These settings allow the driver to optimize how the EV mode and hybrid powertrain interact. EV Auto leaves things in the hands (Wheels? Fenders?) of the car, letting it decide when it should tap the battery power and when the hybrid drivetrain is needed. EV Now overrides the car, and will fully deplete the battery before the engine kicks to life. This is the mode to be in for city driving, as it makes the best use of the electric power. EV Later forces the car to stay in hybrid mode, saving the EV mode for later use. This is perfect if you have a full charge and are heading into the city, but don't want to waste an electron at highway speeds. This level of versatility is really unmatched in the segment. It's not just some Sport/Eco button, but something that allows the driver to tell the car how they want to use the power.
Handling was less of a bright spot. As well engineered as this car was, it cannot break the basic laws of physics. An object in motion will stay in motion unless acted upon by an outside force. That force, in this case, was a set of screaming low-rolling resistance tires that were doing their damnedest to keep us on the road. The C-Max had a fairly low handling threshold that came up rather quickly. Body roll seemed decently managed, but did little to deliver actual feedback.
In fact, overall feedback was rather poor. The C-Max, both through steering and suspension, felt isolated and numb. This wasn't unexpected, though. In the grand scheme, it felt more talkative than a Prius, but less so than a Focus Electric or even a Chevrolet Volt.
It was still quite comfortable, though, as we found during our brief time on the streets and highways around San Francisco. It felt poised and planted, only feeling properly disrupted on very large imperfections. There was a fair amount of road noise, which we found disappointing due to the overall quiet nature of the hybrid drivetrain.
The steering did have a decent heft to it, artificial as it may have been. It added substance to the driving experience, and made us realize the level of weight we were pushing through a corner. Still, the lack of chatter from this tiller was a bit of a turn off, regardless of how much we liked the weighty steering wheel.
Of course, this review wouldn't be complete without a mention of our fuel economy. We'll preface this with the following: we were driving quite enthusiastically on some excellent mountain roads that featured constant elevation changes. We spent maybe 10 percent of our driving time in typical city/highway traffic. In short, we'd hardly call our economy numbers representative of what the C-Max Energi will achieve in the real world. Former EIC Miersma netted 65.7 mpg, while your author (who didn't have the benefit of a significant battery charge) netted in the upper 30s. Those certainly aren't great numbers, especially with the claimed 100 MPGe rating. Take this with a grain of salt, though, as we're guessing that number will improve significantly once we're able to test one in the real world.
Buyers of the C-Max Energi receive a five-year subscription to the MyFord Mobile service. This smartphone app allows drivers to monitor charge status and search for charging stations, along with remote locking/unlocking of the doors, and receive alerts if the car isn't charging when it's supposed to or if charging is interrupted. We didn't have a chance to play with this at the event, but will hopefully get to mess about with it when we get a C-Max Energi at the office.
Pricing for the C-Max manages to hit a sweet spot. With a starting price of $33,745 (including $795 for destination charges), all Energis come with a $3750 federal tax credit, which knocks the net starting price down to a more respectable $29,995 (including freight charges). With the Prius Plug-In starting at $32,000 and tacking on a $760 destination charge, it is cheaper than a C-Max Energi. Then again, the Prius only nets a $2500 tax credit, giving it a net starting price of $30,260. Really, that's not enough of a difference for us to choose one over the other.
Where C-Max pulls ahead is in its option pricing. The Prius is available in two trims: base Plug-In and Advanced. The Advanced adds fog lamps, LED headlights, an auto-dimming rear-view mirror, navigation (with Toyota's Entune infotainment system and a JBL stereo), adaptive cruise control, and a heads-up display for $7525.
The C-Max offers three equipment groups. The first, 301A, adds navigation with SYNC, a nine-speaker Sony stereo, and HD radio for $1195. The creatively named 302A group adds everything from the 301A group, plus a hands-free, power liftgate for $1695. The 303A adds everything from the previous packages, plus Active Park Assist and Ford's Front Sensing System for $2495. Fitted with the 303A pack, the C-Max will run $32,490, which seems like a serious bargain relative to the $37,785 Prius Plug-In Advanced (although we'd miss the adaptive cruise control and LED headlights from the Prius).
C-Max Energis are just starting to arrive at dealerships, so it may be difficult to get behind the wheel of one in the near term. As always, Ford's consumer website is an excellent resource (we managed to find a few Energis in Metro Detroit, but the vast majority were C-Max Hybrids).
Ford's C-Max Energi is just the sort of car that this growing segment of the hybrid market needs. It's an appealing, comfortable and supremely economical vehicle, but it's also a reasonably affordable vehicle for day-to-day ownership. We said it's not a vehicle that'll appeal to everyone, but with a sub-$30,000 starting price and such excellent economy, it certainly appeals to us.
2013 Ford C-Max Energi
Engine: Inline-4 with electric motor, 2.0 liters, 16v
Output: 188 hp/129 lb-ft
Fuel Economy, City/Hwy: 108/92 MPGe
Electric Range: 21 miles
Weight: 3899 lb
Base Price: $32,950