Driven: 2013 Dodge Dart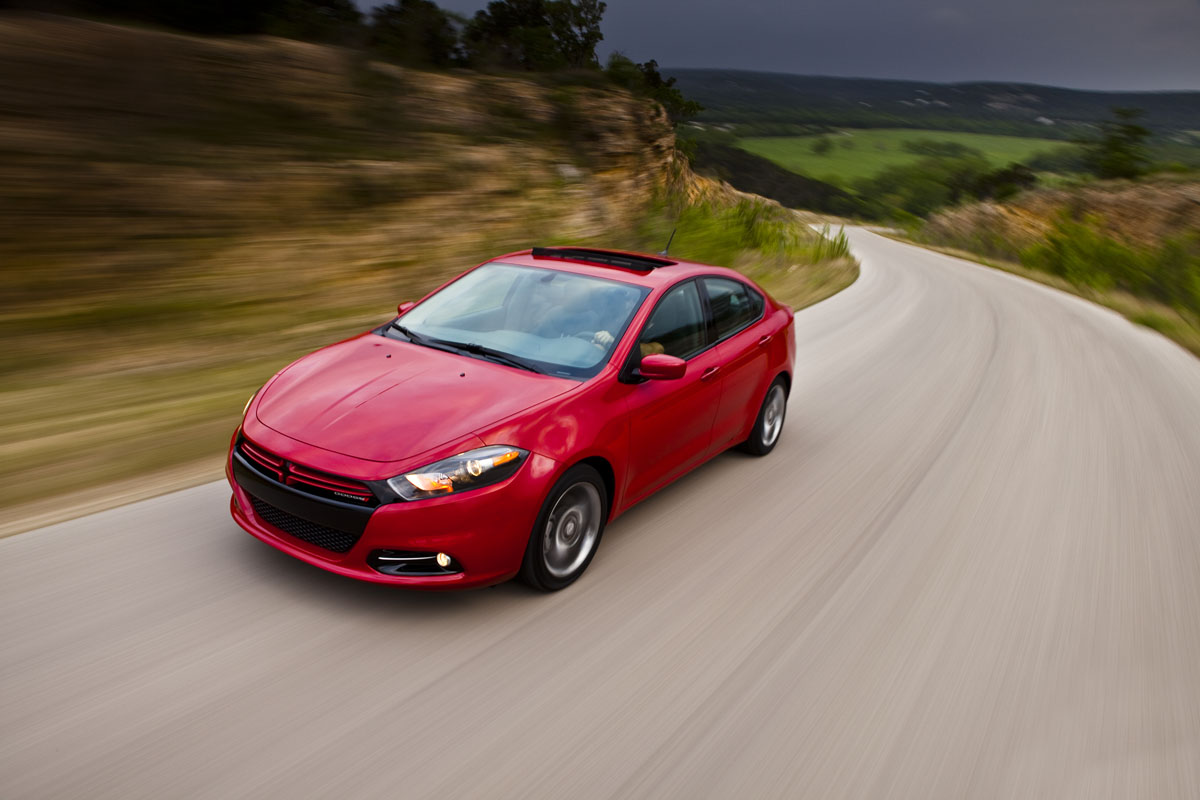 —Austin, Texas
We recently recently completed a survey of the Winding Road readership, showing the following:
1. You guys actually buy cars. Year after year, statistics show that the average car buyer is fifty-something. That may not jibe with image presented by the throbbing-bicep-wielding, kayak toting, first-shavers that populate so many car commercials, but our advertisers dig it.
2. You generally remember how to drive cars equipped with manual transmissions. In fact, in many cases, you seem to actually prefer the experience to that of even the slickest auto/dual-clutch/CVT/other newness on the market.
3. Your attention spans are longer. You might, for instance, read an introduction to a new car review that doesn't even mention the car for the first 300 words or so.
4. You have years of buying/driving under your collective belt, have long memories, and therefore have a great deal of context with which to analyze new offerings in the car market. You probably also have some pretty strong opinions about the past, present, and future of small cars sold by Dodge, which brings us to our point.
Before the first sale is transacted, before the first set of tires roll off of a dealer's lot, and before we're finished writing and you're finished reading this review, Dodge has got an uphill battle ahead of it with its all-new Dart.
As you'll read, the fierceness of this battle doesn't really have anything to do with the Dart as a vehicle—the car is, in simple terms, as good as or better than just about everything in the compact car segment right now. But, it has everything to do with the sheer mass of bad small Dodges that come before it. Even if you've got positive memories of the original Dart, a list of motive names like Aspen, Aries, Omni, Shadow, Neon, and Caliber is likely to evoke more pathos than passion in you.
Now, we know this is hard, old dog, but forget about all of that.
Not only is the Dart better than the kinsmen that barely helped Dodge make it to 2013 as a still-going concern, but it's actually a fair bit better to drive than the sexy-as-hell Alfa Romeo on which it is broadly based. (Your author, who spent his honeymoon
rocking a Giulietta
around Spain and Portugal, is particularly well placed to make this observation, for the record.) Not good enough? The Dart is far more entertaining than the million-something cars that were sold last year with names like Civic, Sentra, Corolla, and Elantra on the decklid. We'd argue that it's better looking than most of those, too, but will leave it for you to make up your mind on that front.
Let's start—as is ever appropriate in Mopar products—with the powertrain. While we drove cars fitted with Dodge's new 2.0-liter "Tigershark" four-cylinder engine and six-speed automatic— and finding that combination generally pleasant—the clear gem for enthusiasts is the turbocharged 1.4-liter/six-speed manual combo that can be had with SE, SXT, and Rallye trim levels.
The 1.4 motor is familiar to us from its use in Fiat's 500 Abarth, though for Dart duty it gets an extra 14 pound-feet of torque, for a total of 184, to go with its 160 horsepower. Dart is obviously bigger and heavier than the razor-sharp Fiat, but the easily accessible turbocharged torque is still hearty enough to afford the car borderline exciting accelerative properties. Row through the nice six-speed manual transmission all you want—light, longish throws with good clutch feel—but you'll be hard pressed to find a spot on the torque band that will leave you flat when you need to move.
Dodge is giving its most overtly sporting Dart, the R/T, exclusive access to the 2.4-liter version of the Tigershark engine, and a subsequent hat-tip to that configuration as the "top" of the range. There were no R/T models available for us to test, but we want to believe that there's still a strong argument to be made for the tinier motor as the better of the two overall. Again, with the manual trans, we found the turbo Dart to far more exciting than, for instance, the blown Chevy Cruze, but less palpitating than the pocket-rocket class of turbos headlined by the Mini Cooper S (arguably). It's not a "fuel economy" application of turbocharging, per se, but it's not a complete performance play, either. In short: it's interesting.
This blending of the performance/mainstream message continues in the Dart cabin, where, depending on your tastes, you can find furniture that wouldn't look out of place in a Hyundai Elantra, or that which would make a typical Honda Civic Si feel dowdy. As a general rule, the dark-finish cabins were much more dramatic and showy than the lighter colors.
All models share some things that are uniquely pleasing: very sculptural seats (which provide remarkably good support in hard driving), a lovely instrument panel with a "floating" bezel that feels downright high-end, contrast stitching in whimsical colors (a sort of neon green for the tan seats—better than it sounds, we promise), and hidey-holes all over the place (a super-deep glovebox, storage bin under the passenger seat cushion, pockets on both sides of the center stack, etc.). Surface finishes and textures, overall fit, and perceived quality were pretty good, too. To be fair, after driving just about every car in this segment, at every trim level, the biggest difference for Dodge here is a styling one—nothing felt of wildly better quality than you'd find in any other compact competitor. Clearly the strong styling statement will draw a lot of customers in, though it's fair to speculate that it'll push just as many back into the herd.
Unlike the rather polarizing interior and exterior design, and fun turbo powertrain, the ride and handling profile of the Dart is pretty much "industry standard." There appeared to be roughly average levels for the following traits: body roll and grip in hard cornering, overall ride compliance over rough surfaces, quickness of steering response, overall feel and feedback from the steering wheel, nose-heavy balance over a complex of corners, braking power and feel, and quietness in the cabin.
That's a lot of "average" behavior in one fell swoop, we'll grant you, but if you consider that most similarly sized front-wheel-drive vehicles handle in roughly the same manner, you'll understand when we say that it's no bad thing that this Dart mostly just follows suit.
To add a bit more detail and context, we'd put the Dart in with the top of the class (Civic, Mazda3) in terms of steering response, with perhaps a bit more weight in the rack than either of those. The Dodge is slightly worse in terms of noise, vibration, and harshness than is the Hyundai Elantra, but makes up for it by feeling more lively in lively driving. The closest competitor, overall, is almost certainly Ford's new Focus, with the Dart being ever-so-much more involving to the driver, and the Focus feeling slightly more refined.
Fuel economy isn't much help for differentiation, either, as Dart's 39 miles per gallon highway figure (for the 1.4) is roughly in line with the high 30s/low 40s number that every new compact car now can boast of.
All this closeness with the rest of the competition, with respectful (gleeful) notice paid to the fun factor from the turbo engine, gets to the heart of the problem with this new Dart. With the small car pedigree from Dodge being so weak, and the competition so consistent, the biggest positive differentiator that the Dart can manage is one of styling. That's a good start, but is it enough to lure customers out of their next Civic? Are the looks good enough to garner conquest customers from brands and nameplates that they've been buying for decades? Is Dart's fashion sense the right flavor for the very important woman buyer in the compact segment? It's hard to say.
We can't predict the future. We can say that we like driving this car—as much or better than anything else in the same orbit in terms of size, performance, and price. If time bears out that Dodge has fixed and/or made great strides in terms of build quality, and that it doesn't ruin the long-term value of the car with a deluge of fleet sales, we'd say that this is a car worth owning. It might even be that this Dart marks the start of a turnaround for Dodge small cars. Those are pretty big ifs, we'll grant you, but from the bottom of our hearts we'll say that we hope that the American-Italian car makes good on the promise it showed over our test.
What's more, we predict that the Dart has got bigger and better things in store for the enthusiast driver of small cars. SRT will have its way with this one, and the results promise to be invigorating, to say the least.
VS: Ford Focus
The Focus is right on track with the Dart in terms of price, but it lags behind in interior volume, torque (down almost 40 pound-feet), and fuel economy if we're comparing manual-transmission cars. The Focus has it over Dart in terms of ride quality and in-cabin quiet, but only by a hair.
For the enthusiast driver, the new Dodge product is the obvious winner. A more exciting power plant with a far better-to-use transmission makes the Dart the better car to push on your favorite road.
Those seeking true versatility will probably opt for the Focus though, as it's available hatchback can't be had with the Dart platform.
VS: Chevrolet Cruze
At first blush, Cruze versus Dart seems like a naturally great comparison test. Both cars offer 1.4-liter turbocharged engines. Both have nice six-speed gearboxes. Both offer subtle and spunky handling. And, if we're honest, we're interested enough to want to drive these two back to back.
There are more than a few knocks on the Chevy when you really dive in, though. For starters, the Cruze's 1.4 only makes 138 horsepower and 148 pound-feet of torque, hugely shy of the Dart on both fronts. It doesn't gain much of an mpg boost for its lack of power either, as it's actually less efficient in both city and highway figures (26/38 mpg for the Cruze, 29/39 for the Dart). Cruze 1LT with the turbo motor is $400 less than the Dart Rallye to start, but has a lot less content for that price.
2013 Dodge Dart Rallye 1.4 6MT
Engine: Turbocharged inline-4, 1.4 liters, 16v
Output: 160 hp/184 lb-ft
Weight: 3191 lb
Fuel Economy, City/Hwy: 27/39 mpg
Base Price: $18,995
On Sale: June 2012
***
2013 Dodge Dart Limited 2.0
Seyth's experience with the Dart in 1.4-liter turbo manual form covers much of what is relevant for the 2.0-liter normally aspirated car. We'll spend our time on a few differences, but first let us reinforce key points about this car:
1. The styling is one big deal here, because the car drives pretty well (and we can't predict reliability with one or two samples) within the context that cars in this class are on the bland side dynamically.
2. We like the exterior look and so did many of our consumer panelists when they looked at it (the Dart isn't radical enough to be a head-turner).
3. Similarly, the interior design is better than that of many competitors. The materials aren't quite up to the level of the design, but it is still better than having the mediocre materials and design that many players in this price range offer.
4. The Dodge brand is not a strength, in the minds of some people, to put it mildly. That is too bad in a way, because the car is exactly what Dodge needs to change people's feelings.
Now, the 2.0-liter engine, which has the same 160 horsepower as the 1.4-liter turbo but 36 pound-feet less torque, is almost bound to deliver a less inspirational total package. You generally can't reduce power and make drivers happier, though it can happen. But with the Dart, the 2.0L is definitely on the tepid side. The automatic may not help either, but since it is the choice almost all buyers will opt for, it makes sense simply to view it as part of the deal. The Dart doesn't seem outright slow, but it isn't a sports sedan either. The bigger aspect from the perspective of the target market is that the low torque and the automatic gearbox add up to a car that whose throttle is a bit hard to modulate smoothly. Not a huge issue, but it is part of the character of the car you may want to assess on a test drive.
Fuel economy is perhaps the upside of this engine because it is pretty decent. We averaged a little over 30 mpg in a mix of city and suburban driving. The EPA rates the Dart Limited at 25/36/29 miles per gallon city/highway/combined at that seems very believable.
Finally, value is in the wallet of the beholder. Our loaded tester came in at $24,965 with delivery, which seems high until we remembered it had a slew of luxury features including leather, navigation, blind spot information, keyless start, heated seats, rearview camera, fancy wheels, SiriusXM. The most basic Dart rolls out of the showroom just under $17K, so there is some pricing flexibility based on configuration.
—Tom Martin
2013 Dodge Dart Limited 2.0 6AT
Engine: Inline-4, 2.0 liters, 16v
Output: 160 hp/148 lb-ft
Weight: 3242 lb
Fuel Economy, City/Hwy: 25/36 mpg
Base Price: $19,999
Price As Tested: $24,965