Driven: 2013 Chevrolet Malibu LTZ 2.0T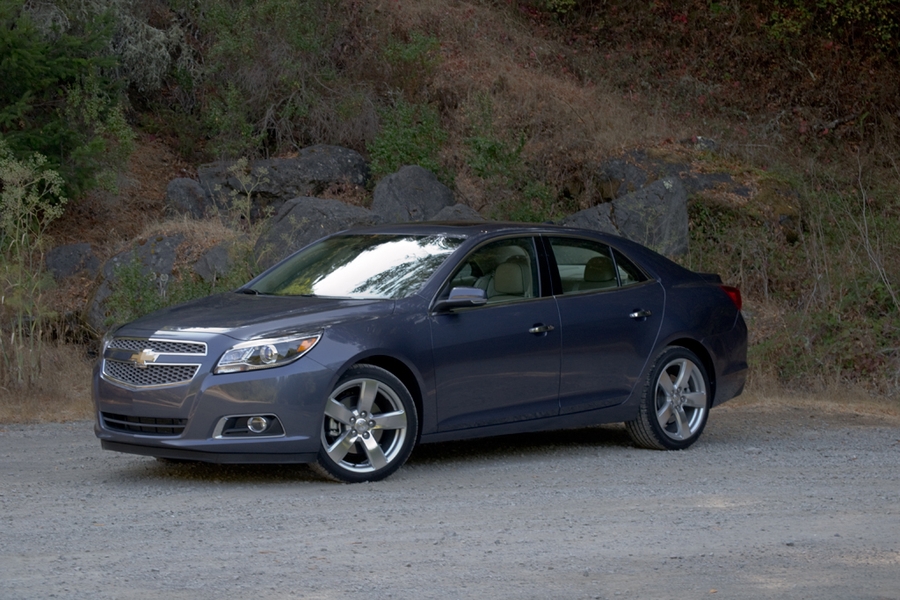 —San Francisco, California
The family friendly, mid-size sedan segment can be split pretty cleanly into two classes. On the one side, we have the traditional V-6, powering stalwarts like the
Honda Accord
and
Toyota Camry
. The six-cylinder engine has been the standard for some time, but has recently seen competition from small-displacement, turbocharged four-cylinders. Volkswagen has been in on the game for some time, offering its excellent 2.0-liter, turbocharged, direct-injected four-cylinder in the Passat, but that engine never produced the kind of power expected of a V-6 (and besides, VW has offered a V-6-powered Passat for some time).
Turbocharged family sedans didn't really take off until Hyundai dropped a GDI turbo four in the Sonata. That engine punched out a hardy 274 horsepower and 269 pound-feet of torque, while netting 34 miles per gallon on the freeway. Numbers like that opened the floodgates, and before long Hyundai's corporate cousin, Kia, jumped on the bandwagon. On the American side, Ford's upcoming Fusion has gone four-pot only, offering a 2.0-liter EcoBoost as its top powerplant along with a turbocharged 1.6-liter mill. Now Chevrolet has stuffed a 2.0-liter Ecotec turbo under the sculpted hood of the Malibu.
The results are impressive: 259 horsepower, 260 pound-feet of torque, and 30 EPA-estimated highway mpg. Not as impressive as the Hyundai, you say? What if we told you this was a version of the 2.0-liter turbo that powered the
Cadillac ATS
that Senior Editor Snyder was drooling over not so long ago? Or that it offered a massive 90 percent of its peak torque (that'd be 234 pound-feet) from 1500 to 5500 rpm? Or that it'll snap to 60 miles per hour in 6.3 seconds and top out at 155 miles per hour? Glad we have your attention.
Until now, Chevy only offered its Malibu as a
mild-hybrid Eco
and a rather tepid 2.5-liter four-pot. The arrival of the 2.0T delivers a healthy power boost to the Bowtie's bread-and-butter sedan.
The interior and exterior see only mild tweaks when going from a lesser Malibu to the turbocharged model. 18-inch wheels are standard, although our tester sported a tasty set of 19-inch hoops that filled the exterior of the car out nicely and gave it an attractive, mildly sporty stance. Besides the wheels, our Atlantis Blue tester looked like a pretty standard Malibu.
The cabin of the Malibu is largely unchanged. Whether this is good or bad is largely in the eyes of the beholder. We happen to find the interior to be too busy, with too many different materials and colors happening at once. That being said, we heard more than a few remarks as to how impressive the Cocoa Fashion trim of our tester looked. Ignoring the color choices, the materials do look and feel rather good, and the controls have a real feeling of quality that would have been unheard of in a Malibu of ten years ago.
Now, just because this Malibu sports forced induction doesn't mean it's a sports model. The seats and steering wheel are largely carryover items. That means a comfortable, if not overly supportive, set of heated leather thrones. We found the bottom to be too flat in particular, and found ourselves hanging on to the steering wheel for dear life on the twistier bits of mountain road on the other side of the Golden Gate Bridge. On a comfort scale, though, the seats were quite plush, with plenty of padding and soft, supple leather. The eight-way power seats gave us a lot of flexibility in finding a seating position, keeping our limbs from feeling strained on longer stretches of road. This would make an excellent long-distance cruiser.
That last point was further enforced by the Chevy's ride. Really, we have to give it up to the suspension engineers; this thing is comfy. It felt planted over rougher stretches of road, lacking the waterbed feeling that typifies other smooth, large sedans. At the same time, it wasn't so firm that rougher roads would pull it off its intended path. Bumps were soaked up very well, without much of an impact delivered to cabin occupants. Likewise, road and wind noise were very well sorted, with neither interfering with the car's overall comfort.
The problem posed by the excellent ride is that handling, and in particular feedback, suffers. It's quite tough to get a sense of what's what through the chassis, largely because the suspension does such a good job of isolating the cabin occupants from what's going on on the road. Chassis feedback is limited, with the flat cornering not doing much to inform of lateral grip levels. There wasn't much rotation to be felt either, as the Malibu preferred to remain pointed straight. An autocrosser this is not.
The steering is, as is the trend these days, electric. It's not great. That being said, it doesn't feel worse than the majority of electric tillers we've tested in the past. On-center feedback was quite limited and didn't build up much as we turned the wheel, making proceeding through turns a bit of a guessing game. There was a limited level of weight on center as well, and it didn't do much to increase as we turned the wheels, feeling rather flat in its heft. On the bright side, the EPAS system gave the Malibu a real feeling of stability on the highway. We weren't forced to make small corrections to keep the car in the lane, which is certainly a quality we look for in long-distance cars.
Of course, you're reading this to hear about that new blown engine, right? Well, it's a good'un. That torque curve is wider than the Golden Gate Bridge, and the use of a twin-scroll turbo meant that lag was largely mitigated (we'd say it's no worse than any of the competitor's engines). Nailing the throttle, we were treated to the pleasant feeling of being pushed back into the leather seats. We often talk about "usable power" as something that's limited in quantity: that's just not the case in the Malibu. You can jump in most anywhere in the rev range and get plenty of gusto from under hood.
There are powertrain issues here, though. This is not a sweet-sounding engine like BMW's new 2.0T or the aforementioned VW/Audi mill. It's rather buzzy, giving an acoustic note that doesn't match the quiet, composed character of the car as a whole. At steady highway speeds, there was nothing to complain about. It was when we really dipped into the throttle that we noticed the high-pitched note climbing with the revs. Not a good sound here.
The other issue we had was with the transmission. It suffers from the same problem as the engine note. In relaxed driving, it's very good. Upshifts happen with some degree of speed, although this isn't a DSG by any stretch. More importantly, the timing is appropriate, keeping the engine right in the midst of all that glorious torque. Downshifts, though, are the weak link. It tends to hunt for gears on sudden throttle inputs in a way that's rather off-putting. We're actually going to go ahead and blame this on the engine: it just feels so eager and produces so much thrust that any interruption in that process feels infinitely longer than it actually is.
There is a manual mode, but in what we see as a rather big mistake, Chevy has opted to not fit the Malibu with paddles. The solution is a rocker button on the top of the shifter. Slot the gear lever into M, and manual mode is worked through this button. It's not a particularly intuitive system, and feels largely disconnected from the driving experience as a whole. Paddles, as silly as they are on this kind of car, feel much more natural, allow the driver to keep both hands on the wheel, and are just a lot more fun. Manual mode does eliminate the transmission's tendency to hunt for gears, though. So if you want instant power, just drop down to M and do it yourself.
Pricing for the Malibu seems quite reasonable. The turbocharged engine is only available on the mid-grade LT and the top-spec LTZ. Lowest cost of entry is $27,710, while the LTZ starts at $30,925. Our tester added a sunroof ($1000), an Advanced Safety Pack with lane departure warning and forward collision alert ($395), and the LTZ Entertainment Pack with backup camera, Pioneer stereo, and 19-inch wheels ($1350), along with a few other bits and bobs. Total price was $33,820.
The Chevrolet Malibu, regardless of its turbocharged engine, is not a sports sedan. We're sure we've made that abundantly clear. What it is, though, is a very, very good family sedan. The usable power here is simply excellent, and the ride and NVH are some of the best available at this price point. We'd have no qualms recommending this over a comparable V-6 sedan. Where the issue comes is with the current flock of turbos. Kia's Optima and Hyundai's Sonata aren't as smooth or comfortable as the Malibu, but are considerably more fun to drive. They are also more economical and slightly more powerful. Most importantly, both of those cars are cheaper, starting at $26,800 and $24,895, respectively. On the higher end, we suspect Ford's pricey Fusion 2.0T EcoBoost to offer a real alternative as well. If sportiness isn't as much of a concern for you, though, then we think you'll really like the relaxed pace of this turbocharged Malibu.
2013 Chevrolet Malibu LTZ Turbo
Engine: Turbocharged inline-four, 2.0 liters, 16v
Output: 259 hp/260 lb-ft
Weight: 3660 lb
Fuel Economy, City/Hwy: 21/30 mpg
Passenger Volume: 100.3 cu ft
Base Price: $30,925