Driven: 2013 Cadillac XTS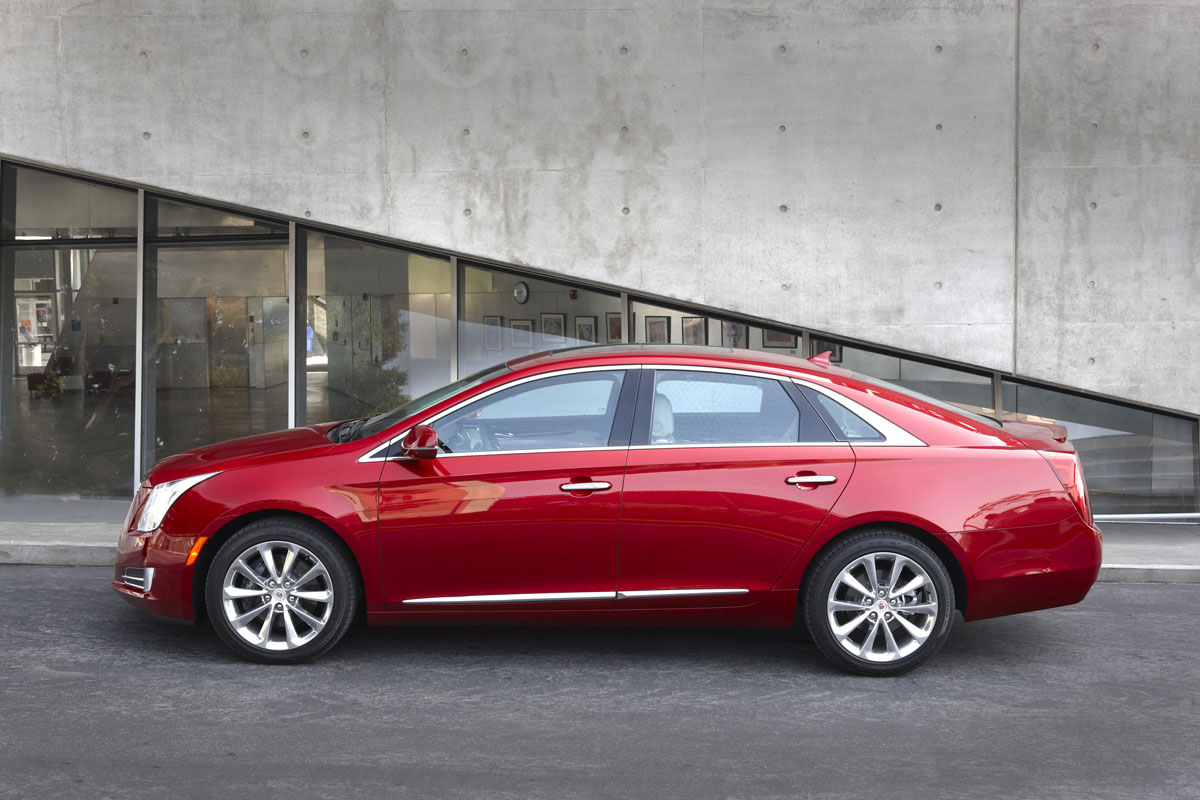 —Los Angeles, California
With a lineup that has, for years now, focused on variants of the mid-sized CTS and the
hot-selling SRX crossover
, we're happy to report that, by the time you read this, Cadillac's first all-new large car in eons will be just days away from your local dealership's showroom window. Better news: the new large car, the 2013 Cadillac XTS, is a fine automobile.
It is important to note, right off the bat, that this XTS sedan can be had as either a front-wheel-drive or all-wheel-drive vehicle. Critically, it is not a rear-drive sedan in the mold of a larger, plusher CTS. Both front-drive and AWD cars were on hand for our morning blast from the heart of Hollywood to the hills of Malibu and back, but our drive time was limited to an XTS AWD Platinum.
With its front-drive configuration, a very capacious cabin, and exterior dimensions that would only put it on the long side of the mid-size segment, the XTS slots nicely above the CTS overall, while still leaving room for a potential rear-drive, full-size/long-wheelbase, six-figure flagship model to arrive. The Cadillac team members that we spoke with declined to reveal anything detailed on future product plans, but they did hint that there was space in market segments above the top price point of the XTS.
XTS product planners made it very clear that the goal for the car in terms of driving character was overall "confidence" rather than outright "performance." We think that the engineers executed on this plan flawlessly, though it's easy to say that the result is not something that we'd ever mistake for a driver's car. Engine, transmission, and chassis/suspension all work together to make driving seamless, confident, and safe, but none particularly drive us to head for our favorite handling road.
Power and torque figures (304 horsepower and 264 pound-feet) from the Caddy's 3.6-liter V-6 are respectable. With a curb weight of around 4200 pounds for the AWD car, there's enough power throughout the rev range to get the XTS moving with pleasant quickness, if not visceral speed. (For reference, an AWD CTS 3.6 weighs only about 100 pounds less than the XTS, and offers just a few more horsepower.) Left in standard Drive mode, the six-speed transmission doesn't add much to the driving fun, though it proved largely invisible while we were plodding though mid-morning LA traffic.
On a much more positive front, not only does the automatic trans offer a Sport mode, but it's also accessible via honest-to-God paddles on the back of the nicely trimmed steering wheel. For those of you that haven't paddle-shifted a GM product of late, these paddles replace the small, hard-to-use "buttons" that serve for shifting duties on the current CTS, Camaro, etc. The new paddles aren't big enough to be in any way obtrusive, but did prove to be much easier to get a hold of when we wanted a quick downshift, heading into a tight corner.
Moving the central gear lever into the Sport mode doesn't only allow for manual shifting, it also selects a more aggressive setting on XTS' standard magnetic ride suspension. Thusly sportified, the trick suspension (as seen in the Corvette lineup, on the CTS-V, and other performance products) firmed up the XTS ride pretty appropriately for the application; we felt far less suspension travel over both potholes and undulations in the road surface, with less roll through the corners, too.
In fact, we were downright pleased with the way the all-wheel-drive XTS acquitted itself on the very aggressive canyon roads of Malibu. It was simple to take a line and hold it, at fairly high speeds, through aggressively angled bends, and with interesting camber changes happening with the road surface. The car didn't feel especially snappy in turn-in or rotation on these technical roads, and there was practically no road feel through the light-as-air steering experience, but neither did it float or wallow in a way reminiscent of old-school luxury barges.
If we're very honest, though, the strength of the XTS doesn't lie anywhere within the realm of driving dynamics. The new Caddy does an acceptable job of not getting in its own way when being driven hard, but no one will buy this car for the driving thrill.
No, they'll buy this car because a) it has one of the more spectacular interiors we've seen in a while (Audi included), and b) it has fantastic, easy-to-use technology.
No kidding on this XTS cabin, guys, it's downright brilliant. Cadillac made a big deal of telling us how much it sweated the details for the interior, but that's a speech we hear at almost every new car launch, and rarely is the final product this compelling. Leathers of one kind or another (there are at least three distinct types of cow hide in the Platinum instantiation) are lavished on just about every non-metallic or wooden surface in the car. The black and cream colorway of the interior we experienced was elegantly set off with purple French stitching—we know a lot of will shudder at the thought of purple stitching, but trust us, it looks amazing. Large, flowing pieces of metal trim the driver and passenger spaces in the front of the vehicle, while wood-that-feels-like-wood-because-it's-real wraps the center tunnel and adds accent elsewhere.
The cabin is functionally perfect, given the character of the car, as well. For starters it's unbelievably quiet at speed in there. We had easy, normal-volume conversation, from the front and the back seats, at highway speeds and in dense traffic, with no trouble at all. The front seats are a little bit flat, but otherwise massively adjustable and super cozy. Every seat in the vehicle offers leg room and width to spare, although we did feel as though the headroom was a little bit tighter than we'd like in a car this size (At least with the optional, huge sunroof installed).
And the icing on the XTS cake is the nearly ludicrous level of technology that can be had with the model. We found Cadillac's new CUE infotainment system to be lovely to interface with and ultra-fast to react to our commands. The speed at which the system paired with our iPhone and downloaded all of our contacts, for instance, was better than in any other system we've used to date. CUE is a rich and complex system that we don't particularly have room to detail here (to give you some idea, Cadillac is giving an iPad with the CUE tutorial to each XTS buyer), but you should expect a full review of the system when we have the car in our office.
Equipped with the optional Driver Awareness Package ($890), our XTS also excelled at keeping us informed about the traffic situation around us. The car offers lane departure warning in the form of small "buzzers" in the sides of the driver's seat, that vibrate for just a second (on the appropriate side) if the car senses you drifting out of your lane. The car also monitors both of your blind spots, warns you if you're approaching a slow-moving or stopped vehicle at too high a rate of speed, and has a backup camera and front/rear proximity sensors to help you squeeze in and out of tight parking spaces.
When all is said and done, this is a car that other luxury players would be well advised to take note of. With pricing that ranges from an aggressive entry point of $44,075 for the base model, up through $60,385 for the AWD Platinum, there are plenty of flavors to suit a wide range of luxury customers, too.
Not a car that will challenge the AMG and M vehicles for performance dominance, the 2013 Cadillac XTS is nevertheless a luxurious piece for the laidback driver.
VS: Mercedes-Benz E350 4Matic
The V-6-powered version of the all-wheel-drive E-Class is pretty close in power, performance, and price to the new XTS. The Mercedes has rear-biased driving dynamics that we prefer, by quite a lot, as well as a lower curb weight and shorter overall length that really do make the German a better handling machine.
The Cadillac certainly has it over the M-B in terms of advanced technology, though, and we think the XTS interior is nicer overall.
Bottom line, we'd rather drive the Mercedes, but would rather be driven in the Caddy. Hope that helps.
VS: Audi A6 3.0 Quattro
Like the E-Class, the A6 has a far more compelling performance story here, and would no doubt be an easy winner in any Winding Road-style comparison test with the XTS (a comparo focused on driving joy, in other words).
That said, many real-world, laidback drivers may like what Cadillac has to offer if they're already considering the sexy A6.
The XTS is no less designer-friendly than the Audi product, though its design, inside and out, shouts "American" far louder than the subtle A6 shouts anything. If we ever run a cabin-versus-cabin comparison test, these would be two of the cars to have. Our guts tells us that we still find the Audi interior just a tiny bit better looking, but the Cadillac just barely wins out in terms of technology.
2013 Cadillac XTS AWD Platinum
Engine: V-6, 3.6 liters, 24v
Output: 304 hp/264 lb-ft
Weight: 4215 lb
Fuel Economy, City/Hwy: 17/27 mpg (est)
Base Price:$60,385
On Sale: June 2012