Driven: 2013 Buick Verano Turbo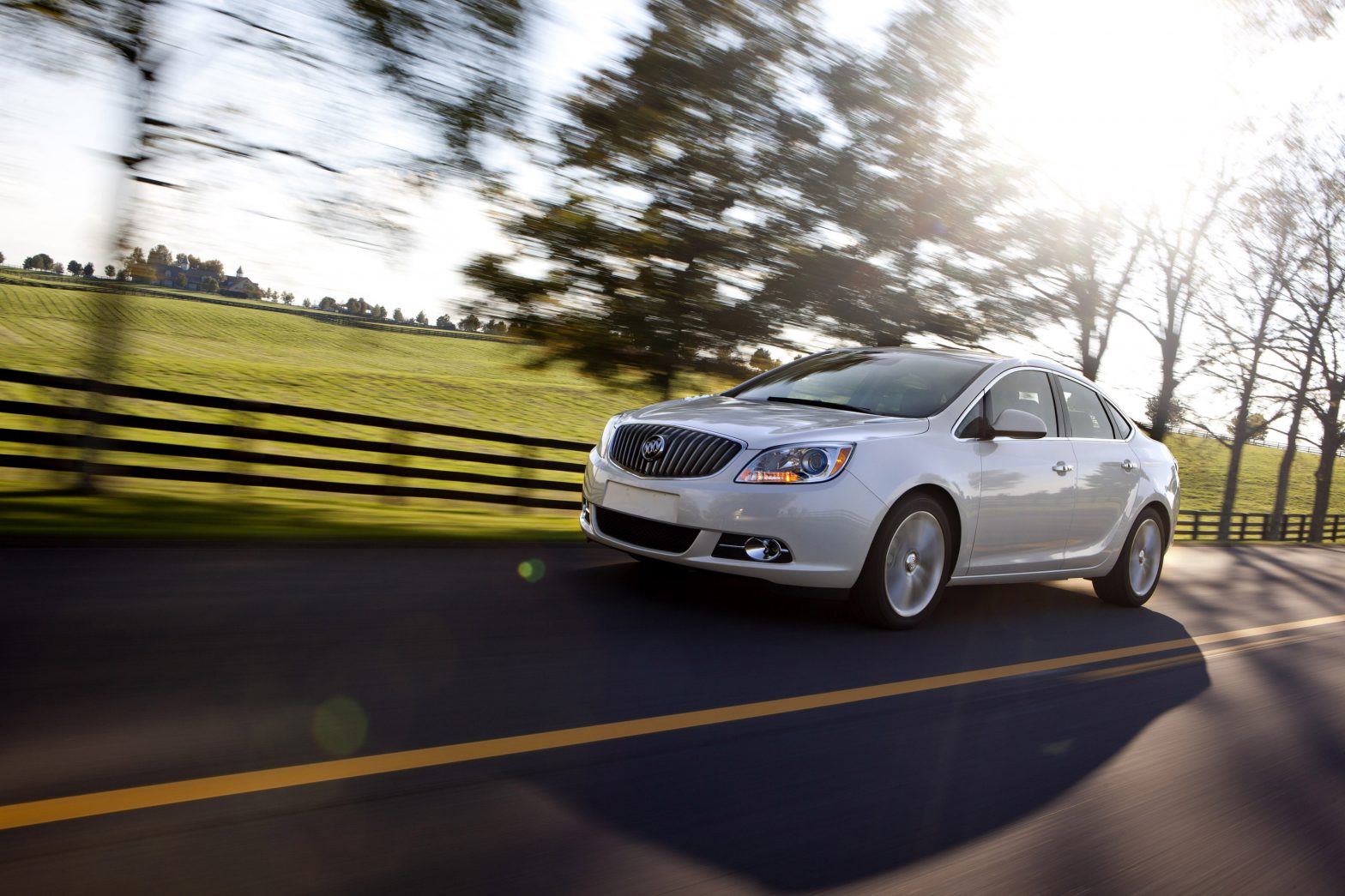 —Lake Orion, Michigan
When an automaker announces a more powerful version of one of its vehicles, it usually makes us quite happy. Generally (but certainly not always), more power means more fun. So it was with some joy that we greeted the news of Buick's new turbocharged Verano. With a 2.0-liter, turbocharged four-pot under its handsome, portholed hood, it packs 250 horsepower and 260 pound-feet of torque.
Those aren't hugely impressive numbers until we take note of the Verano's size and heft. Based on the bones of the
Chevrolet Cruze
, the Verano is classified as a compact. It's still a heavy weight in its class, tipping the scales at 3300 pounds, but it's a far cry from the nearly 3700-pound Regal Turbo.
So, taking into account the aforementioned power and weight figures for the Verano, it might seem like the Regal Turbo is just a bit redundant (which it is). While that's bad news for Regal fans, it's great news for Verano buyers. In fact, it's great news for
Regal GS
buyers who may be looking for a vehicle that's nearly as much fun but not nearly as visually extreme.
And in fact, that's one of our favorite things about the Verano Turbo. With the exception of a subtle spoiler and a pair of exhaust tips, it looks just like every other Verano on the road. Buick passed on the GS styling treatment for this car, and that's a good thing. The design is clean and attractive, and any overtly sporty touches wouldn't do it any favors.
The cabin is largely unchanged from the standard car, which is fine by us. In the realm of sub-$30,000 vehicles, there's no touching the Verano. The leather is soft and feels authentic, while the pieces that are plastic are devoid of creakiness or other unpleasantries. It looks clean and high-class. Moreover, it feels warm and inviting, like a place that we'd want to spend a lot of time.
This isn't just a leisure suit that you throw on each day, though. The Verano's interior feels equally adept at contributing to an enjoyable driving experience. The largish steering wheel feels classy, and the thick rim features soft leather and plenty of padding. It's one of the few items in the cabin that feels deliberately sporty and engaging. The seats are comfortable, but not necessarily supportive. While we understand where Buick was going in creating a car that's stylish and comfortable first and sporty second, we think an optional set of sporty seats would do the Verano some good. The shifter (yes, it's a six-speed manual) falls neatly into our right hand and feels like it's just the right size for some quick stick work.
Before driving the Verano Turbo, some tempering of your expectations is required. In the car world, there are sports models and models that simply boast more power. The Verano is the latter. It feels much, much quicker than anything Buick makes (except for the Regal GS), but the driving character is still relaxed, poised, and comfortable.
Like we said, this is a speedy car. At the same time, it feels like Buick's engineers really worked on making the power delivery as composed and calm as possible. This is partly down to the relaxed throttle response. It requires a fairly committed right foot to really kick the revs up, which isn't good on a sports sedan, but is just fine on something as staid and comfy as the Verano.
Still, if you want to drive like a hooligan, there's a broad torque curve that's just waiting to be exploited. Low-end power comes on strong, and there's just enough torque steer to remind you that this is a bit more potent than the standard car. It's not an experience-ruining thing, though, and can easily be dialed back by easing off on the throttle. Mid-range punch is abundant as well, as evidenced by our 70-mile-per-hour/sixth-gear highway passes. The Verano felt eager enough that we were comfortable making a pass without shifting. That's mighty impressive in a 2.0-liter Buick.
Speaking of shifting, we'd like to formally accuse Buick of making a deal with the devil. This shifter is just too good. It features an extremely smooth, almost Honda-like action. The gates do feel just a bit vague, though, which costs the Verano points. Still, it feels good enough that we were upshifting and downshifting just for the fun of it. It's paired up to a clutch with a broad, easy-to-manage catch point. If you're a beginner when it comes to manual transmissions, a Verano isn't a bad vehicle to practice on. It's easy to manipulate and modulate, making it quite good to live with in areas with heavier traffic. As usual, Buick continues to surprise us.
You'd be forgiven, at this point, for thinking that the Verano Turbo is a bit sportier than we're letting on, at least after the praise we just heaped upon the engine and transmission. Here's the part that sets it firmly in the comfort camp, though.
Where the Verano excels—and in fact, where all Buicks excel—is the way it isolates the cabin from the outside environment. Sometimes this results in an isolation box, like we see in the Enclave or LaCrosse. Other times, it works out and delivers a comfortable, luxurious experience that is still capable of being fun on a twisting stretch of road. That's what we see with the Verano.
This is a soft suspension, but it's not floppy or ill mannered. Hit a pothole, and the Verano absorbs the impact and carries on. There's no porpoising up and down like an intoxicated bottlenose, and there's no spine-shattering jolt transmitted into the seat. In fact, there's not much of anything at all. Maybe a dull thud, but that's about it. On smooth roads, the Verano feels effortlessly comfortable.
Like we said, though, it'll still dance if you want it to, with a few drawbacks. Roll is a bit of an issue, in that there's so much of it. It doesn't give the Verano an unstable or uncontrollable feeling, but it does necessitate slower entry speeds. The handling is very much biased to the front, and as a result, the Buick isn't really willing to rotate all that easily. It's not an autocrosser, but it does a decent impression of one.
Perhaps our favorite thing about driving Buicks is the way they eradicate exterior noise. The Verano Turbo starts below $30,000, but it's still extremely quiet in the cabin. Road noise and wind noise are there if you drive with the radio off and listen. Intently. In normal circumstances, like driving with the radio on or chatting with a passenger, you'll barely notice road or wind noise. Of course, the downside to this is that you'll also barely hear engine noise. The 2.0-liter is a pretty ear-pleasing engine, but unless it's above 4000 rpm, it doesn't really deliver much of an aural experience. Were we buying a Verano Turbo, we'd have a cat-back exhaust waiting to go on once we got home.
Now, would we have a Verano Turbo? Well, yeah, without a doubt. The Verano Turbo starts at $30,000, and in addition to the turbocharged powertrain includes everything found on the top-spec Leather Group Verano, which starts $27,650. So there's a $2350 premium for the 2.0-liter turbo. That works out to just $33 per horsepower. Not a bad deal.
It's an even better deal when we compare it to the Regal Turbo. The base Regal starts at $29,910, with a naturally aspirated four-cylinder. A Regal Turbo starts at $31,530, and a well-equipped model will crest $33,000 with ease. When we consider that a Verano Turbo offers 30 more horsepower and nearly as much torque for less money, the choice seems pretty obvious.
The last thing we'll say about the Verano Turbo is this: the primary competitors listed on Buick's media site are the Lexus IS250,
Acura ILX
, and Audi A3. We'd take the Verano over all of them. Yes, we passed up a Lexus, an Acura, and an Audi for a Buick. Perhaps there's no higher praise for the brand than that.
2013 Buick Verano Turbo
Engine: Turbocharged inline-4, 2.0 liters, 16v
Output: 250 hp/260 lb-ft
0-60 MPH: 6.3 sec
Fuel Economy, City/Hwy: 20/31 mpg
Weight: 3300 lb
Base Price: $30,000