Driven: 2013 BMW Alpina B7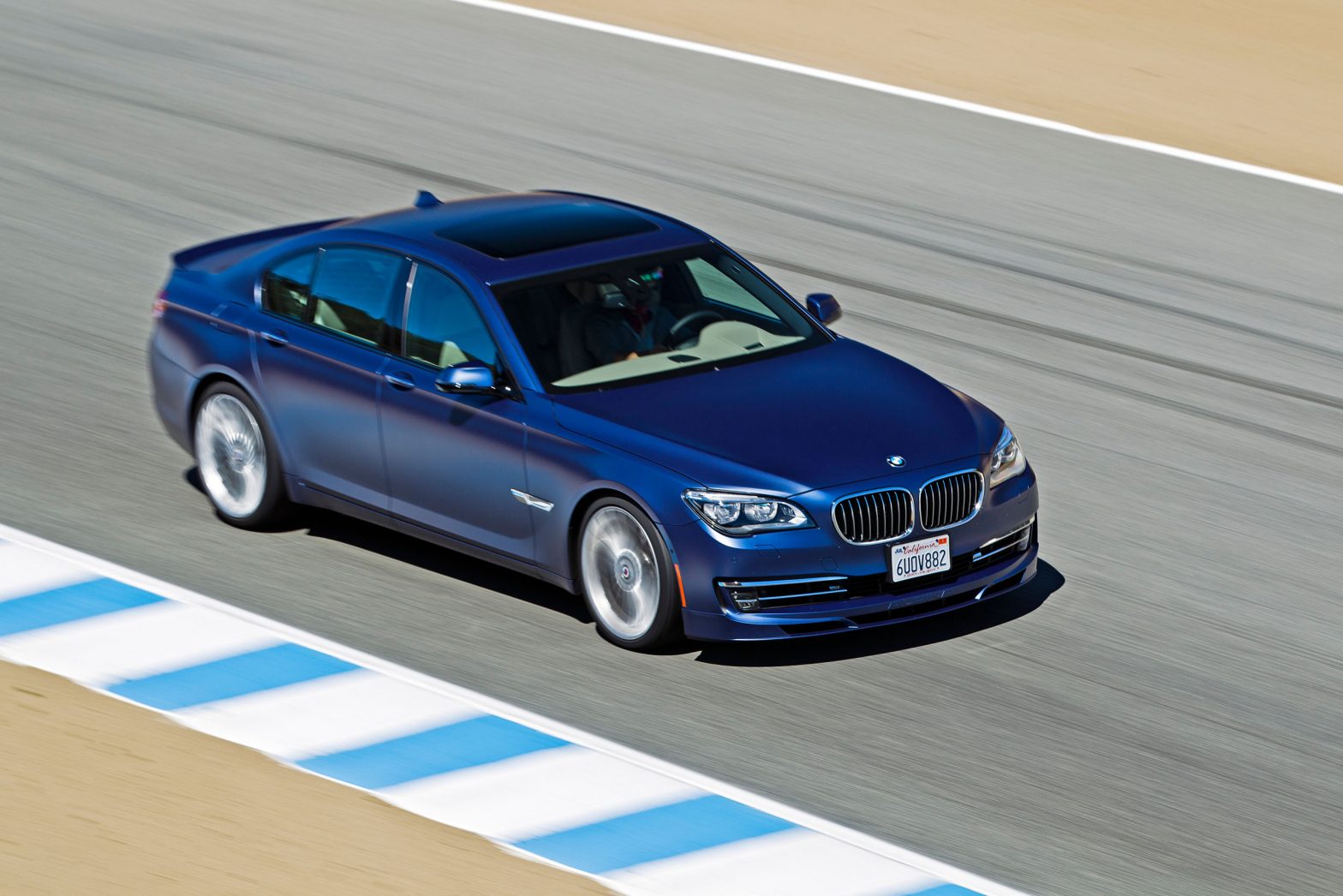 —Monterey, California
The refreshed, 2013 version of the BMW 7-Series is important news, to be sure. But the significant changes to the exterior and interior appearance, powertrain, and iDrive software are really only "exciting" for those people who've been holding their 7er purchase until the new model year—sort of an iPhone 4S announcement, if you take our meaning.
Of course, the newly advanced full-size BMW has brought along with it one piece of hotness, too. There's a new
Alpina B7
for 2013 and it's a car that's worth getting excited about, no matter which version of infotainment software it comes calling with.
Alpina has been in the business of turning out hotted-up Bimmers for half of a century now. The tuning-house-cum-racing-outfit has maintained its independence throughout that time, though, never becoming a slightly different flavor of M car, for instance. That independence, and subsequent spirit, is as clear in this new B7 as it has been on Alpinas we've tested in the past. There is a character and feeling to this 7-Series that is, at once, different than what we'd expect from a theoretical M7, and far deeper than a set of cool wheels and blue gauges. (For the record—we do dig both of those things.)
To put it succinctly: the steering, handling, power delivery, and controls all set the B7 apart from other versions of the sedan, and help to create a car that is both exciting to drive and very refined.
One of the more remarkable features, given the size, presence, and market placement of this car, is the speed with which its engine spools up when one gives it the full boot. It may be true that the large-scale turbocharging of BMW's current lineup takes some of the uniqueness away from the Alpina's 4.4-liter biturbo V-8 mill, but the overall experience of the powertrain is still largely removed from that of other 7-Series. Power delivery is punchy from a standstill, but feels really exceptional when called up at around 3000 rpm. Just a toe-tap of throttle at those middle engine speeds will send the Alpina moving forward in a passable impression of a new M5, for instance.
The Alpina effort doesn't stoop to roaring for attention, however. The engine/exhaust note feels carefully tuned to offer just a moment of roar at the very top of the revs, while spending most of its time as a mere whisper of menace and potential. The B7 doesn't blat and howl in deep tones à la the M cars' more familiar song, instead offering a higher pitched tune of fast-spinning turbos and urgent exhaust that reminds us that its time to shift up. There's a little more to listen to than with your bog standard 7er, but Alpina stays fairly true to the mission of an executive car that just happens to be as fast as stink.
Even the operation of the car's eight-speed automatic transmission straddles the line between opulence and enthusiasm. Alpina has fitted the car with shift-buttons on the back of its thin-rimmed leather steering wheel—units that are about the size and shape of gumdrops, and offer a satisfying "click" when depressed. In just about any other application we'd complain about the relative difficulty in reaching/using these micro shift buttons, but their delicate size and mechanical feel are too iconoclastic for us to diss. Actual shift speed/response is decently quick, if a world removed from the action of BMW's seven-speed DCT.
Steering effort itself is light, and a bit thick, and only quick when compared with other cars of this size (which is fair). We'd put it up there with our favorites in this class (arguably a Jaguar XJ of one kind or another), though it's certainly not transcendent, nor does it redefine enthusiastic steering for the 7-Series community.
Driven in a normal manner, the B7 doesn't actually feel like a huge departure from a typical 750i. But up the pace, either on a wide-open stretch of bending back road, or on a track like Laguna Seca, and the added power and grip afforded by Alpina become quickly obvious. The wide rubber shod on those huge wheels offers a high level of stickiness at high speeds, and the car will change directions with a quickness that's atypical of this vehicle class. Those high-performance shoes, in concert with all 540 horsepower, will propel the B7 to a top-speed of 194 miles per hour, too. That speed is, well, that's damn impressive. We don't usually do a double take when maximum speeds are tossed out, but creeping up on 200 mph in an executive limo is pretty badass, we'll admit.
By the spec sheet, and in real life, this Alpina is one impressive machine. The car operates in an atmosphere that is quite rare, and arguably pretty desirable for the car guy that has one of everything already. Compared with BMW's own new M5 and M6, for instance, even this refreshed interior treatment and suite of technology don't feel completely cutting edge, though. Certainly every finger brush of leather and metal is met with a satisfying feeling of quality, but anyone who sits in a 2013 M5 before testing out the B7 will feel as though they're getting an older generation of vehicle (of course, they are).
The ultra-high performance, overall size, and $128,000 price tag put the B7 in competition with the likes of the Jaguar XJ Supersport, and Mercedes-Benz S63 AMG. The M-B offers similar overall power and speed, for an extra twelve grand or so, while Jag's ultimate supercharged XJ is just a bit lower of output, as well as being less expensive at around $113,000. We'd say that, while you won't make a misstep by buying any one of these beautiful and ultra-quick sedans, the Alpina does offer some level of exclusivity and mystique that the competition don't totally match. Maserati's Quattroporte might be a better comparison in terms of a high-character car, but it can hardly compete with the Alpina in the critical areas of fit, finish, quality, and overall performance.
Before this 2013 model year has run its course, Alpina will have found homes for just a few hundred examples of the B7 in North America. Those lucky enough to posses the combination of cash and car-geekery to appreciate what a tremendously capable and unique car the Alpina B7 is, will be part of a happy tribe, we're sure.
2013 BMW Alpina B7
Engine: Biturbocharged V-8, 4.4 liters, 32v
Output: 540 hp/538 lb-ft
0-60 MPH: 4.4 sec
Top Speed: 194 mph
Weight: 4655 lb
Fuel Economy, City/Hwy: 16/24 mpg (est)
Base Price: $128, 495
On Sale: Now (special order only)