Driven: 2013 Bentley Continental GTC V8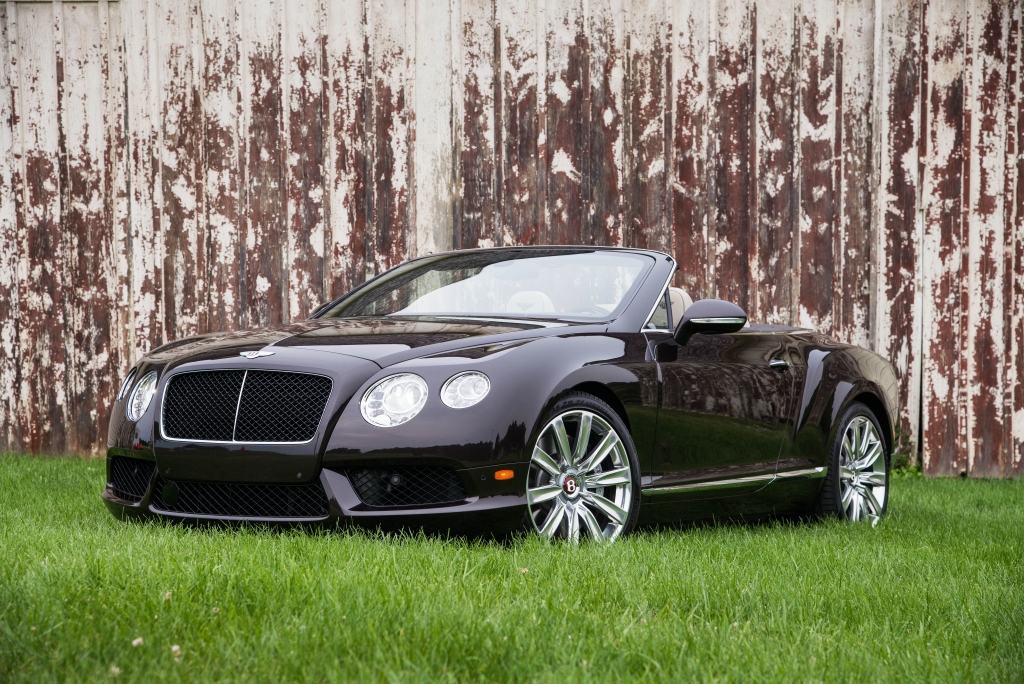 —Rochester Hills, Michigan
We'll admit to being nervous when news of an
eight-cylinder Bentley Continental GT
broke earlier this year. See, the Continental, with its huge, biturbocharged W-12, was renowned for its sheer wall of torque and extremely smooth character.
This effortless power was its calling card, and along with its beautifully crafted interior, velvety smooth suspension tuning, and understated but fetching exterior, it became a favorite GT car among the Winding Road staff.
A V-8 simply seemed like too big of a change, but one that was ultimately necessary in a world where even exotic cars need to curb their appetites for 65-million-year-old compressed dinosaur.
The stats, for the most part, were promising on this Audi-sourced, 4.0-liter, biturbocharged V-8. 500 horsepower was peachy, and only represented a 67-horsepower drop over the good ole W-12.
The big piece of good news came from the amount of torque on offer—487 pound-feet (a drop of just 27 pound-feet from the W-12), the vast majority of which was available between 1700 and 5000 rpm. Considering the new Conti V-8 had a redline around 6200 rpm, this was promising.
Moreover, the new engine is significantly smaller, lighter, and less thirsty than the W-12. Shaving four cylinders and in turn reducing displacement two liters tends to do that, we suppose.
The V-8 is 126 pounds lighter than the W-12, which in turn takes a bit of weight off the car's nose, improving the weight distribution to 55/45. Meanwhile, fuel economy is up from 12 miles per gallon in the city and 20 mpg on the highway to 14 mpg city and 24 mpg on the interstates.
With this knowledge, it should come as no real shock that the V-8 Continental is nearly as quick as the W-12. It now takes 4.7 seconds to get to 60 instead of 4.4 (we'll be thunderstruck if these aren't sandbagged numbers—both engines feel considerably quicker than indicated), and the top speed has dropped from 195 miles per hour to just 187 mph. In the real world, those are meaningless numbers, though. For most drivers, the new Continental GTC V8 will be every ounce as good as the W-12.
On the road, the
GTC
wasn't quite so freight-train-like as a full-tilt W-12 or Speed model. Don't be mistaken, the wave of torque that this engine could produce was admirable and easily accessible. But, the V-8 wasn't as prone to flattening us to our luxuriously upholstered seats as it was to gently pressing us back under hard throttle.
Driven with the same degree of aggression that makes the W-12 so much fun, the V-8 responded with more noticeable levels of turbo lag. It required a more sensible foot to generate its power smoothly, which we suppose was the biggest negative of the smaller engine. And really, it wasn't so big of an issue that we'd write off picking up the V-8 over the W-12. It just required some adjustment as we were expecting similar grunt to the bigger engine.
Part of the appeal of the new eight-cylinder was its song. It was classic V-8, with a beautifully brutal growl that was at once smooth and very aggressive. With hints of World War II bombers and American muscle cars, the deep, bassy note is one you must hear to believe. Moreover, it only appeared when asked for. Judicious use of the throttle came with whisper-quiet performance, while a half boot or more delivered full song.
Mated to the V-8 was—surprise, surprise—ZF's 8HP eight-speed automatic. We joke that something is so good it should be in every car, but it seems that the luxury manufacturers of the world are actually taking us seriously. There's not been a car that we've tested with this transmission that hasn't been excellent, and that record isn't about to change with the Bentley.
In full auto, it had a telepathic ability to select the right gear for the situation, seamlessly dropping cogs and getting the engine into its very large sweet spot. Upshifts were nearly invisible except for the small gear readout in the instrument cluster.
Like the last-generation Continental, our tester featured a pair of column-mounted shifters that stick out to the very edges of the steering wheel. They looked and felt odd in their placement, but were fairly intuitive to use. That said, they were one of the very few items in this cabin that didn't feel supremely luxurious. With every surface covered in deep-pile carpet, soft, smooth leather, real walnut, and solid aluminum, these shifters felt a lot less special than the rest of the cabin.
In practice, manual mode did deliver somewhat faster shifts, although we'd have been perfectly content leaving the Big B's transmission in Sport and letting it do its own thing.
Despite pesky things like the laws of physics, the Continental was an agile car. We could feel all its weight through the corners, but with exceptionally well mannered body motions, it wasn't a difficult vehicle to work down a twisting road.
With four modes for its adaptive dampers, ranging from buttery smooth Comfort mode to the firm-but-compliant Sport, we could tailor the ride to the conditions. In the default mode (which leaned towards overall comfort), the ride was smooth without feeling detached.
We could hear bumps and ripples in the road, but even the worst crags had little impact on the car's body motions. Full Comfort mode took things down a notch further, delivering a startlingly quiet ride and imperceptible body movements.
The two higher settings, the unnamed third damping level and full Sport offered up a ride that was decidedly more sporting with little overall compromise on comfort. We could feel bumps, ripples, and potholes, but much like a patient fresh out of surgery and doped up on Valium, we just didn't care very much.
The handling in the firmer settings was markedly flatter, inspiring more confidence through the bends. This was an aspect that Bentley has done well on, engineering the GTC to be, as Crewe claims, the most rigid convertible in the world. This rigidity also had a positive effect on cowl shake, of which there wasn't really any.
The reduction in body roll did not, however, come with an equal decrease in squat and dive. This is where Sir Isaac Newton came into play. The Continental is a very heavy car, and no amount of damping power will stop it from dipping its bulbous, chrome-clad nose under hard braking.
Still, there was never the sense that digging too deeply into the brake pedal was going to radically unsettle the car. Under most circumstances, the Bentley felt very sure-footed, and with the grip from the giant Pirelli PZero tires, confidence was assured.
Those same brakes were nothing less than Herculean—and no, these were not carbon ceramics. The nearly 16-inch front and 13.2-inch rear rotors were grasped by eight-piston calipers. And with a full suite of electronic braking nannies (electronic brake-force distribution, ABS, and hydraulic brake assistance), bringing the 5400-pound GTC to a stop was a drama-free procedure.
Adjusting to the firm brake pedal required a few miles, as it forced us to really be committed to the cause before putting pad to rotor. Still, once acclimated, the brakes were easy to modulate and inspired plenty of confidence.
Not surprisingly, the Continental GTC was not what we'd call a communicative car. The finely tuned suspension saw to that. It was an equal opportunity killer of sensation, erasing the good and bad stuff without discrimination. Those subtle vibrations and the Jedi-like sense of grip that travels through the seats in a proper sports car were nonexistent in the Conti. While we'd normally bemoan this level of isolation, the sumptuous ride is worthwhile.
Don't hope for extra feedback from the steering rack. Picking up details about the road surface or the grip of the front tires was frustratingly difficult. Still, the steering, more than any other part of this car, felt solid. The weight was spot on, balancing assistance with a reminder of just how much mass this thing had.
But this talk of performance and handling largely misses the point of the Continental. It's a grand tourer, and a fantastic one, not just because of its power or smooth suspension but because of the environment it cloaks its driver in.
Every surface—and we mean every surface—was beautifully crafted and taken from the highest quality materials. The subtle touches of brushed aluminum sprinkled about the cabin felt solid, and made a delightful metal clink when we tapped on it with our fingernails. Knocking on the real burr walnut that adorned the dash, center stack, and door inserts felt as solid as knocking on a 100-year-old tree. There was no creakiness in the cabin, no sense that every single thing wasn't exactly where it's supposed to be.
The deep-pile carpets were so nice we wanted to take our shoes off and dig our feet into them, and the leather that was seemingly everywhere was some of the softest we've ever experienced. There was enough of the stuff in the cabin to give a devout vegan a stroke, but it was so supple and fine that it seems a waste not to lather the interior in it.
The same could be said of a lot of expensive, exotic cars. But where the Bentley differs is in the way it works. The most idiosyncratic thing about the Continental is where you insert the key. Otherwise, everything just made sense.
The satellite navigation and the display in the instrument cluster used Volkswagen software—yes, we recognize this is sort of like wearing a tailored Armani suit with a pair of Birkenstocks—which is designed for the common, average driver to understand. It's not some bespoke system, but rather a logically laid out and attractive setup.
While people might bemoan its Volkswagen roots, the infotainment system was a clear example of the lengths Bentley has gone to in engineering a car that just makes everything a little bit easier on its driver. Things are done for a reason, and it's this degree of thoughtfulness that makes living with the Conti such a joy.
Unlike the Aston Martin Vanquish we tested a few months back, the Bentley is largely without major, equally priced competitors. There isn't a single car that is this comfortable, this beautifully crafted, this quick, and this solid, available for this price. The addition of its new V-8 has just made the overall formula better and more accessible.
$191,400 is a lot of money to pay, but unlike many exotics, it's a price we think is totally worth it.
2013 Bentley Continental GTC V8
Engine: Biturbocharged V-8, 4.0 liters, 32v
Output: 500 hp/487 lb-ft
0-60 MPH: 4.7 sec
Top Speed: 187 mph
Weight: 5445 lb
Fuel Economy, City/Hwy: 14/24 mpg
Base Price: $191,400
Price As Tested: $231,535