Driven: 2012 Volkswagen Jetta GLI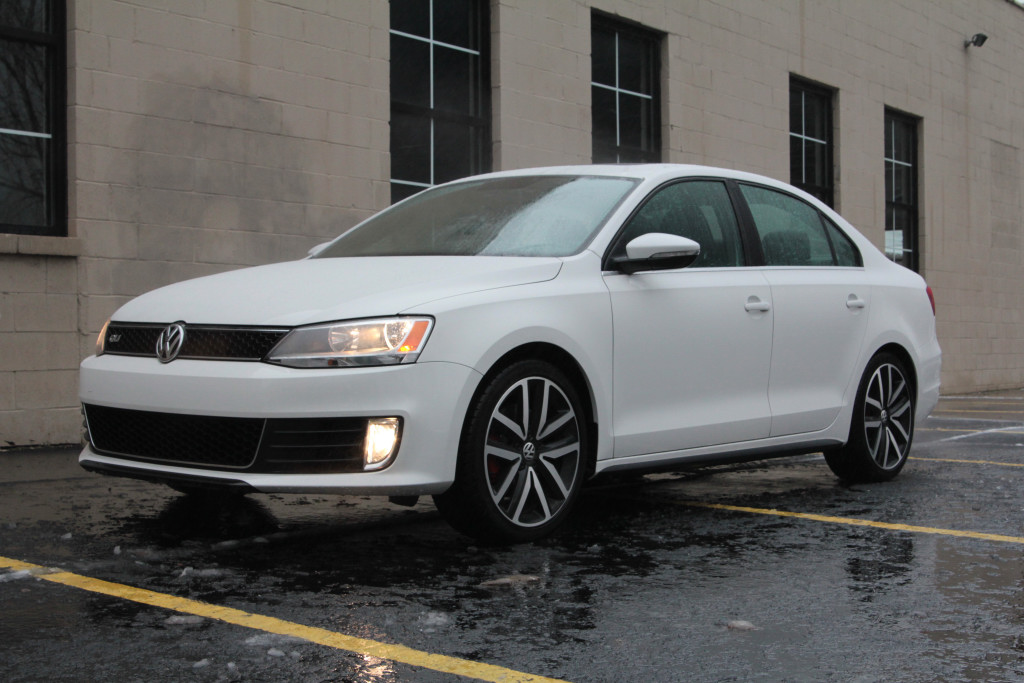 —Ann Arbor, Michigan
It was Presidents' Day, an official Winding Road day off (long story), and your writer's best chance in weeks to get a good old-fashioned do-nothing day under his belt. Then the Volkswagen Jetta GLI showed up, with crisp white paintwork gleaming attractively against the pale blue of a sunny Michigan winter's day, and we knew we'd be headed out for a drive. We'll admit it; work and play do mix at times with this car-writing gig.
It was our first chance to take a spin in the brand new GLI, after all; how could we pass it up? We've always been a fan of this hot Jetta in spirit—a car that proposes most of the fun of VW's halo GTI, but with much more of a sleeper vibe thanks to the Jetta's well-known, and undercover bodywork.
Actually, that "most of the fun" part quickly became a little bit of a misleading thought as we really dug into the facts and figures of the GLI relative to its more-famous GTI kin. Of course both cars have the same 2.0-liter turbocharged four-cylinder engine, good for 200 horsepower and 207 pound-feet of torque, and both give you the option of a six-speed manual transmission or a six-speed DSG.
Less well known is the fact that the GTI is actually more expensive (starting at $23,995 for the three-door and $24,595 for the five-door) than the $23,745 (MSRP) GLI. Even more interesting is the weight difference between the GLI and GTIs, which is almost no difference at all. Volkswagen lists a base weight of 3034 pounds for both the GTI hatches. The GLI, meanwhile, gains only 90 pounds, for a total of 3124. While we're at it, the GLI has slightly better fuel economy at 24 city/32 highway miles per gallon, than the GTI can manage with 21/31 scores. And (we're almost done, promise) the 0-60 times stay even, at 6.8 seconds apiece. Wait, which is the sportier car again?
Newly stoked by the impressive tale of the tape, we took the GLI out for a mid-afternoon holler at our favorite local driving road, and found that the car held up pretty well there, too. The GLI is, by and large, very happy to be thrown around a great driving route at medium-fast speeds, without very much evidence of bad behavior.
The overall feeling from the steering wheel was lacking in feedback, and a touch slow to respond to inputs, but still brought the car's nose around in plenty of time for a good time on our very tight test road. (The longer wheelbase of the GLI versus the GTI is felt here, and was probably the most notable dynamic difference we observed throughout the day.) We really were not able to elicit much understeer from the sedan either—our guess is that the GLI will start to plow through turns a bit at higher, racing-level speeds, but the tuning for spirited driving on public roads is very balanced.
The chassis and suspension had the Volkswagen executing crisp corners without much body roll, and just a bit of progressive give through the shocks. Quick changes of direction—we noticed this first when swerving to avoid some debris in the road—did tend to create somewhat of a wobbling sensation, something that we would be tempted to put down (perhaps) to slightly softer-than-ideal suspension bushings.
Ride quality was decent for a sedan in this compact class, but better than average for a sports-tuned machine. There wasn't much more feedback from the floorboards than we found from the steering wheel, but we also weren't searching for our fillings after bottoming out in a pothole, either. You take the good with the bad. We're really very curious to see how the GLI would stack up against the new Honda Civic Si sedan, as that car's slightly softer nature and newly torque-rich engine would seem to make it a dead-on match for the VW.
Our test car was equipped with Volkswagen's very good DSG gearbox, which was just peachy to get along with. The manual mode is about as quick as you need it to be for this medium-hot car, and, frankly, the Sport automatic setting is usually as good as we are at picking the right gear. There is, without a doubt, a big boost moment in this turbo engine, and it's fairly high up in the rev range at just under 4000 rpm. With that said, it wasn't hard to keep this fast-spinning motor on the juice, and the turbo lag never felt intrusive when we were paying attention to the tach. (With the transmission in D, and on the highway, there were some times when we had to wait to pass, thanks to the slower transmission program, and that spooling of the turbo.)
Beyond the slight lagginess, our biggest gripe with the GLI is that which is shared with the whole of the 2012 Jetta range thus far. Interior pieces, be they GLI special bits or standard Jetta interior components, often look and feel cheap. The metallic plate over the shift-lever moved around when we wiped up a drop of spilled coffee; the faux-leather V-Tex seating was both too flat and kind of waxy to the touch; the plastics on the doors and dash are not our favorites. Again, a wheel-to-wheel comparison with the likes of a Civic Si, for instance, could diminish these qualms a bit.
Overall, it's hard to argue that the GLI isn't a good to very-good entry-level enthusiast car. With more room, and just a bit more practicality overall than its GTI sibling, only the car's slightly less keen handling holds it back from being our go-to Volkswagen, in fact. It certainly made our Presidents' Day a lot more interesting—we'll take a handling loop to a white sale, any day.
VS: Honda Civic Si Sedan
Honda's four-door Si is a pretty perfect matchup for the GLI from the perspectives of price and performance (as noted in above), though the cars could hardly be less similar in terms of character.
Fans of turbo torque and easily accessible power will certainly feel right at home in the GLI. Despite its rather lofty boost moment and narrow power band, it's not that difficult to wring power out of Volkswagen's turbo 2.0-liter.
The
Civic Si
, on the other hand, makes you work a bit for all 201 of its horsepower. The new Si's 2.4-liter four may be more accessible than the high-revving screamers of Honda's recent past, but you'll still need to keep your foot in it to feel the full fury of this motor.
Balance the fact that Honda's manual trans is much slicker than VW's, with the knowledge that the GLI's DSG is far superior to Honda's, um, nonexistent automatic option (we expect to see one, though, in the next model year). Too close to call without a back-to-back drive.
VS: Subaru WRX
For a few grand more than the base GLI, you could take a look at a much more intense, faster
WRX
, that offers a wildly different character. Both cars are certainly of the sport-tuned variety, though the Subie's bigger power (65 more horsepower) and all-wheel grip make it a harder-edged performer. Um, a lot harder-edged.
With that said, and if you can deal with front-drive, the GLI is certainly exciting to drive, and does present a far more balanced package. Its superior fuel economy, better ride quality, and subtler, more premium-feeling appointments shouldn't be lost on shoppers.
2012 Volkswagen Jetta GLI DSG
Engine: Turbocharged inline-4, 2.0 liters, 16v
Output: 200 hp/ 207 lb-ft
0-60 MPH: 6.8 sec
Weight: 3124 lb
Fuel Economy, City/Hwy: 24/32 mpg
Base Price: $24, 845