Driven: 2012 Ram Power Wagon 4X4 Crew Cab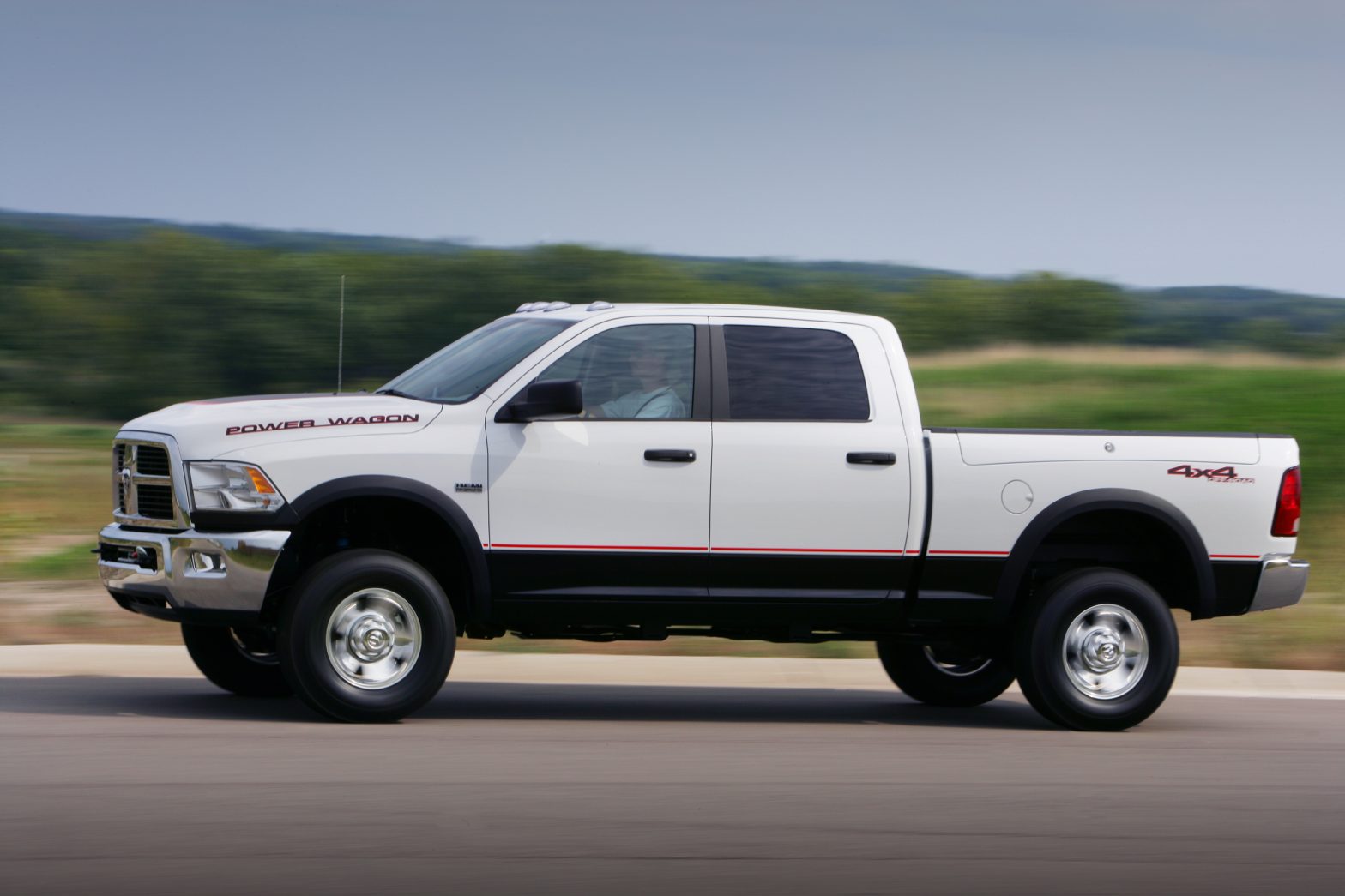 —Austin, Texas
Just in case you're wondering, the mighty Ram Power Wagon was a commanding presence in the parking lot at Winding Road's Austin, Texas offices, where it stood long and tall—literally and figuratively towering over the other cars and trucks found therein. Seriously, the Power Wagon is a big truck, not only in terms of length and girth (where other trucks are equally large), but also in terms of height, where the Power Wagon creates the impression of riding higher above the ground than most. At one point, for example, we spotted a teenage athlete standing alongside the big Ram, only to discover that the top of his head just barely cleared the hood line of the Power Wagon. We're talking a size XXL vehicle, here.
What makes a Power Wagon a Power Wagon? Well, you start out with a Ram 2500 Crew Cab SLT 4X4 platform, which gets you a 5.7-liter, 383 horsepower Hemi V-8, with a six-speed automatic, plus full four-wheel-drive running gear. Then, you add a 4.56 rear axle ratio, Tru-lock front and rear axles, a Warn electric winch, a front disconnecting stabilizer bar, skid plate shields for the fuel tank and transfer case, a 180-amp alternator, the Power Wagon Off-Road Group, and a number of distinctive trim touches that let the world know you sprung for this very intense Ram package.
Among truck aficionados, the Power Wagon is considered one of the most off-road capable vehicles of its type, representing a nice blend of utility and off-road moxie—a reputation it has the credentials to support. There are, however, some downsides.
Owing, we suspect, to the 4:56 rear axle ratio, fuel mileage for the Power Wagon is poke-me-in-the-eyes-with-a-sharp-stick awful. Despite the fact that we drove the truck with the gentlest possible throttle touch through most of its time with us (which kind of runs against the grain for most Winding Roaders), this big boy averaged between 12.9 – 13.1 miles per gallon. Ouch. And trust us on this, if we had routinely put the stick to the Power Wagon as manly men and amazon women would be wont to do, the gas mileage would have been even worse—possibly a lot worse. As one passenger said during one of our very few full-throttle 0-60 mph runs, "You can almost hear the fuel injector nozzles squirting away like shower heads." Our point: The intoxicating rumble of the Hemi comes, in this case, at a price.
Interestingly, both maximum towing capacity (10,800 pounds) and payload (1,880 pounds) are lower in the Power Wagon than for regular Ram 2500 SLT's (where the figures of merit are 15,400 pounds and 3,080 pounds, respectively). Still, the Power Wagon offers plenty of utility; out tester came with the now-familiar and very useful Ram Box lockable storage chambers on either side of the box, a spray-in bed-liner (which many consider a must for preserving the bed in harsh climates), and a cool, unfolding, bed extender for use with the tailgate lowered. (A feature we found very helpful when transporting an oversized kayak in the Ram.)
The interior is more rugged and spartan in appearance than in some luxo-liner trucks (e.g., the Ram 2500 Limited or Longhorn models), as befits a truck that begs for serious off-road use. Seats were fabric-trimmed and floors were covered not in carpet but in durable textured rubber. Our tester came equipped with plenty of technology options (nav, trick audio system, etc.) that were, thankfully, integrated in subtle, understated ways, so that we always had the sense from the driver's seat that the Power Wagon was all about being a truck first—not a rolling entertainment center that
happened
to come packaged as a truck. This, in our view, is exactly as things should be.
Is the Power Wagon fun to drive? It can be, if you set aside any pro-sports car/sport sedan biases you might have (and we have a bunch), and just take the Ram for what it is: a big, honkin' truck with off-road leanings. The upside of the 4.56 axle ratio is that the Power Wagon can launch with surprising alacrity as full-size trucks go and the sound of the Hemi spinning up is, as always, deeply satisfying in a chest-thumping "Tarzan-rules-automotive-jungle" sort of way. Steering feel is somewhat better than average, and tracking and stability also seemed better than in many trucks we've driven (body motions are more progressive and well damped, with fewer abrupt leaps and bounds to cause the truck to lurch off-line).
Visibility is, as you would expect, terrific (you are, after all, way up in the air), except—please note—in tight parking lot environments where the Power Wagon's height works against you, largely because the truck towers so far above obstacles that you lose sight of them when you get up close. Candidly, we'd love to see pickup truck makers steal a page from the Infiniti playbook and fit their vehicles with 360-degree cameras, so you could see where the extremities of the vehicle are in relation to the puny cars, shopping carts, and concrete barriers outside.
Our thought is that the $53K Power Wagon could be cool, if you seriously wanted to take a truck (as opposed to, say, a Jeep Wrangler) off-roading. But otherwise, and thinking purely in terms of trucks as 4X4 beasts of burden, there are significantly less expensive Ram 4X4 solutions that could do most jobs as well if not better than the Power Wagon. What they wouldn't have, though, is the Power Wagon's immense "swagger factor," which we have found can be a profound influencer in the truck universe. Are we overemphasizing this "swagger" stuff? No, sir, not at all.
Here in Texas, where trucks are beloved, the Power Wagon won an astonishing amount of unsolicited praise from admirers and passers by, but the most telling gesture of all came on the first evening we drove the tester home from the office. A neighbor spotted the Power Wagon coming up the street, ran out into the road pointing and grinning at the huge Ram, and then began doing the ubiquitous, "we're not worthy" bowing down routine as we approached. Here in truck country, you can't make this stuff up.
2012 Ram 2500 Power Wagon 4X4
Engine: V-8, 5.7 liters, 16v
Output: 383 hp/400 lb-ft
Cargo Capacity: 74.7 cu ft
Towing Capacity: 10,800 lb
Base Price: $45,795