Driven: 2012 Nissan Versa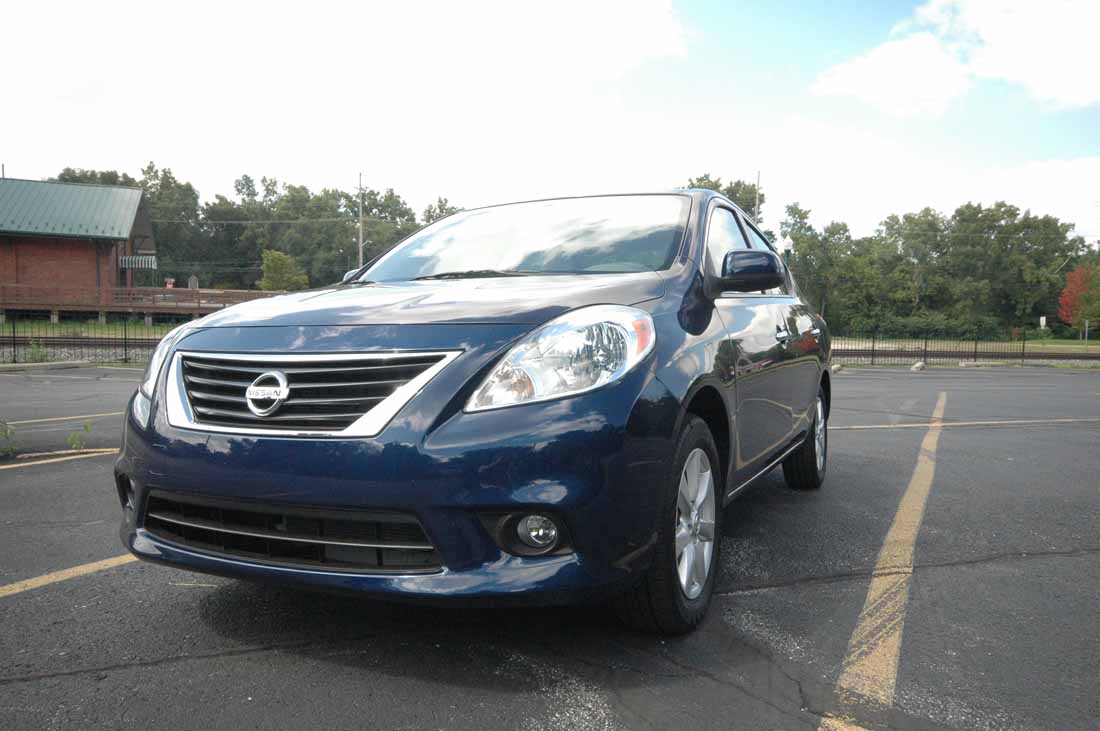 —Rochester Hills, Michigan
As a small car, the Nissan Versa does everything it needs to do. It features oodles of room for three people in the back, is exceptionally affordable (base cars start at $10,990), and delivers admirable fuel economy (38 highway and 30 in the city). Opt for the SL trim (which is what we've been testing) and you even get steering-wheel audio controls, an iPod interface, and an optional navigation system. As a pragmatic means of transportation, the Versa is truly hard to beat.
It is not, however, a driver's car. With only 109 horsepower, 107 pound-feet of torque, and a 2459-pound curb weight, we knew the Versa would be slow, and we were okay with that. What we weren't okay with was the way the continuously variable transmission distributed the power. Off-the-line acceleration was decent, but tapered off quickly, as the CVT kept the engine pegged at the top of the rev range. In the upper reaches, the 1.6-liter four sounded buzzy and unpleasant. Engine noise infiltrated the cabin too easily, disturbing what was actually a fairly quiet ride for an economy car.
The speed-sensitive steering also limited fun in the Versa. It was too light, and felt rubbery and uncommunicative in most turning situations. What little bit of road feel we had came from the suspension. Lateral damping could have been considerably stronger, as the car seemed to pitch from side to side, making it difficult to handle sudden directional changes. We'd also like to see less dive under hard braking. Rear-end squat under acceleration was less of an issue. The ride it self was quite soft, but wasn't too floaty over bumps and other imperfections.
We also took issue with the Versa's driving environment. The cheap-feeling urethane steering wheel was too big, although we appreciated the large buttons, which were a nice departure from Nissan's previous steering-wheel-mounted controls. The couch-like seats didn't deliver enough support, especially for the lower back. The bottom portion of the seat was quite comfortable, though. The seating position itself felt too high, which kept us from getting comfortable in the cabin. This lack of comfort wasn't helped by the Nissan's lack of a right arm rest, a feature that used to be mounted to the seat in the old Versa, and that we appreciated over longer hauls.
So, no this isn't a driver's car, but then it isn't really expected to be. It's meant as an affordable, spacious form of transportation for the pragmatic sorts that aren't focused on driving pleasure. And in that regard, it succeeds.
VS: Ford Focus Sedan
The problem with the Versa is that it straddles two different classes, making it difficult to draw up a good comparison. An example of that is when we compare it to the Ford Focus. The Focus is more expensive, better equipped, more powerful, and is all-around better to drive, but it only boasts an extra seven-tenths of a cubic foot of passenger volume. What's more, the Nissan actually has more cargo room, with 14.8 cubic feet of trunk space compared to the Ford's 13.2 cubic feet.
The Versa also features a more comfortable back seat, thanks in no small part to an extra 3.8 inches of rear leg room. That may not sound like a great deal, but it's likely the difference between the kids fruitlessly flailing their feet and actually kicking the back of your seat on a long drive.
VS: Chevrolet Aveo
While the Focus and Versa were close in size, we need to look at the lowly Chevrolet Aveo for a true price competitor. A base Aveo sedan starts at $11,995, or just over $1000 more than a base Versa. Despite that extra $1000, the Aveo doesn't come with air conditioning, a CD player, anti-lock brakes, stability or traction control, and it has less power (108 horsepower and 105 pound-feet of torque compared to 109 and 107 for the Versa).
Moving up to our Versa SL means checking out the Aveo's top-spec 2LT trim. At this price point, the Nissan is about $200 more expensive, yet the standard equipment more than makes up for that price discrepancy. The Nissan comes standard with an automatic transmission, Bluetooth, steering-wheel audio controls, a trip computer, traction and stability control, and anti-lock brakes, all of which are not available or are an optional extra on the Aveo. The Versa is also lighter (2459 pounds versus 2579 pounds) and more fuel-efficient (30 city and 38 highway versus 25 city and 34 highway).
This just proves what value the Versa is among already affordable cars.
2012 Nissan Versa SL
Engine: Inline-4, 1.6 liters, 16v
Output: 109 hp/106 lb-ft
Curb Weight: 2459 lb
Fuel Economy, City/Hwy: 30/38 mpg
Cargo Capacity: 14.8 cu ft
Base Price: $15,560
On Sale: Now