Driven: 2012 Nissan NV2500 HD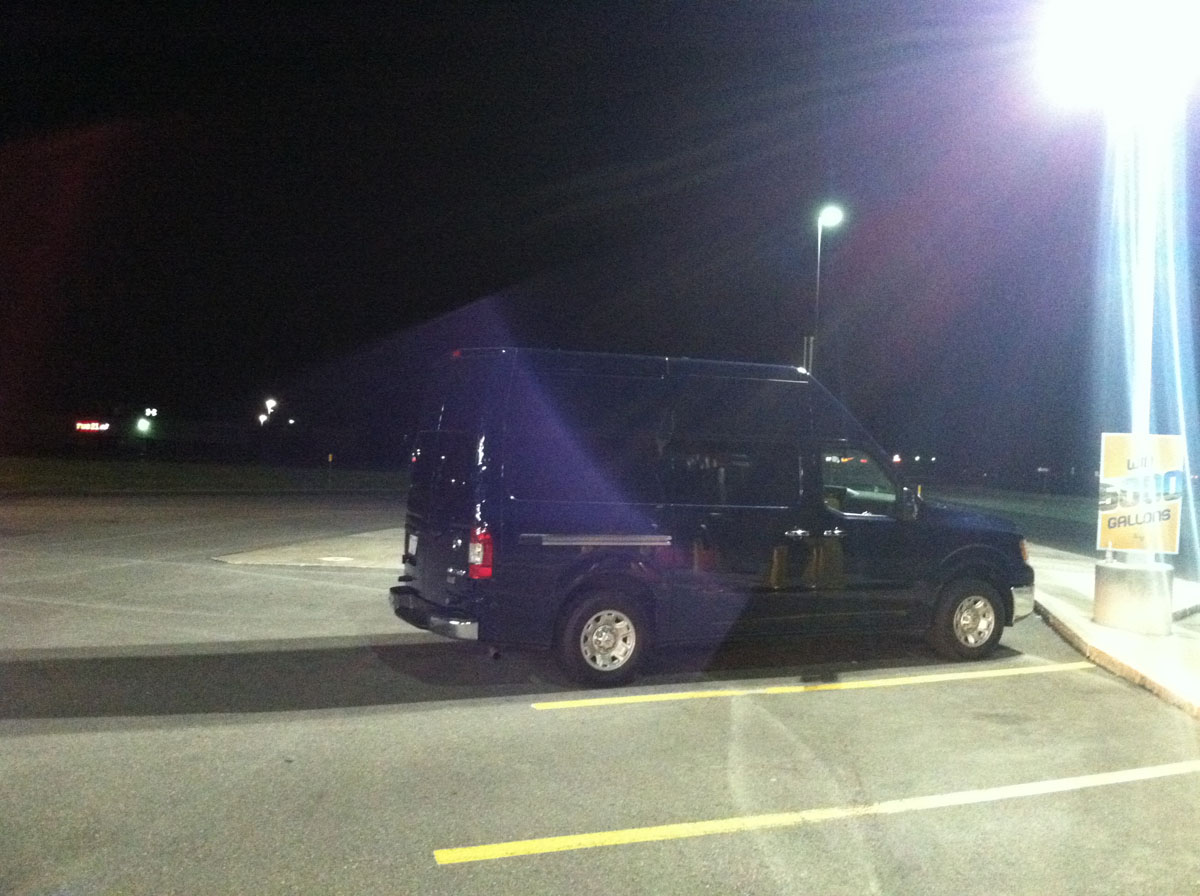 —Lovell, Maine
Road trip or no, week of vacation or no, great New England mountain roads or no—sometimes you just need to drive a damn van.
For the last five years or so now, your author and his wife have made a summer event of driving from Michigan to Maine to hang out with family, hike, kayak, grill out, and drive some fine roads between stops. While usual Going To Maine vehicle choices have been rather sporting, this year presented a completely different brief in terms of needs. Instead of a fast, sexy, good-handling GT car, this trip's main goal would be the moving of a large quantity of early-inheritance furniture.
Of course, taking home a load of antique bureaus, chests, lounges, and such is no bad thing, but the vehicle required for transporting such is generally less than sporting. What's more, when your author put in a request for "something big" to fleet-managing guru Brandon Turkus, he'd expect something along the lines of a Nissan QX, or a Cadillac Escalade. Turkus decided to go all in on the "big" part, and within days of the intended road trip, a bechromed Nissan NV2500 SV High Roof rolled in to say "Hi"—with all 323 cubic-feet of storage capacity ready to make the long trip out east.
To say that we were disappointed with the NV as our road-trip ride would be not completely correct. Ever since our first experience with the Mercedes-Benz Sprinter van (first tested with a Dodge badge still out front), we have had a pretty good time when piloting commercial vehicles. The Sprinter and Ford's right-sized Transit Connect are both interesting drives, and certainly have the goods to get hauling jobs done. The NV, likewise, was clearly the right tool for the transportation job at hand, we just weren't convinced that the charm of driving a three-ton, nine-foot-tall, twenty-foot-long, rolling battleship would hold up over two-thousand miles and seven states.
We were a bit reassured then, when our test NV showed up with nearly every creature comfort that one could hope for from a vehicle in this class. The driver's seat was powered and adjustable in eight distinct ways; we had our run of modern technologies like a navigation system (with ludicrously tiny five-inch display), XM radio, USB hookup for our iPhone, and Bluetooth phone connectivity; the rear doors even had (optional) windows in them. Throw in the chromed out trim package, a rear sonar system for help parking/maneuvering, and enough tie-downs to batten a bevy of hatches, and the as-tested price of almost $32,000 seemed pretty reasonable for this Nissan juggernaut.
Of course, one major option that our NV SV did not have was a V-8 engine. Power for our van came courtesy of a 4.0-liter V-6, with output figures of 261 horsepower and 281 pound-feet of torque. As we weren't envisioning many high-speed blasts on this trip, anyway, and considering that we'd be aiming for maximum fuel efficiency (or as close as an automotive journalist can ever come to such a thing), we weren't overly bothered by the V-6. In fact, though the 4.0-liter mill didn't have anything like the torquiness that we'd remembered from the lighter, diesel-powered Sprinter, our first run up to highway speeds in the Nissan was pleasantly undramatic. The aural fury that was unleashed when we mashed the throttle was, to put it kindly, raucous, but the engine note faded away when the five-speed automatic thankfully kicked itself into top gear.
NVH levels in an empty, high-roof commercial van are obviously far courser than in even the most plebian economy car, though we'd reckon that they're not too far off what we've experienced in some HD pickup trucks (at least the kind of HD pickup trucks that don't have a herd's worth of hides covering the interior surfaces). It's the echoing that truly throws a driver off at first, though. We were shocked, when we first started up the NV, to hear a small echo in response to inserting the key into the ignition (true story). As you can imagine then, on our way out to Maine, badly surfaced roads and expansion joints were met with a truly booming resonance from the hindquarters of the van.
Sound wasn't the only thing coming from the hindquarters, either. The heavy-duty suspension out back—a solid axle, formidable leaf springs, and a stabilizer bar—was clearly engineered to preform at its peak with a pretty sizeable weight on top of it. Driving the van empty resulted in quite a lot of vertical motion from the back of the NV when we hit big dips in the road surface or the not-so-occasional pothole. This action from the back section matched nicely with a front end that leaned like a hangover in church every time we presented it with a corner ("nicely" may be the wrong word). In all, the NV is a vehicle that's full of soft springing and body roll, but we'd hardly expect anything different.
And, we should point out, that on the straight and narrow of highway driving none of the ride and handling experience was awful to live with over the long haul. The steering was pretty light, and did require a lot of tiny corrections to keep pointed straight, but for the most part it was easy to settle into a rhythm of painless driving. What's more, when we had the cargo hold loaded down with 500 pounds of furniture, some of the boundy behavior was tamped down.
While it's difficult to pin down solid data on fuel economy numbers for this class of vehicle (the EPA doesn't require the typical reporting be done for commercial vans of this size), hunting around online shows us that "typical" returns for diesel Sprinters can range from 17 to 20 miles per gallon combined. Domestic commercial vans, like Ford's E-Series and Chevy's Express Cargo, and GMC Savana Cargo (to name a few) do make up the bulk of the volume here, but don't have the same high-roof options, and their economy numbers vary even more wildly based on configuration and use. With so much unknown then, we wanted to get some good fuel-use numbers from our test.
Unloaded, save for two adult human beings and a few suitcases worth of luggage, we managed bang on 17 mpg for our trip from Michigan to the East Coast. About half of that first leg was done on large interstates, with the cruise control set between 65 and 70 miles per hour, and with light traffic for almost the whole way. As we moved into eastern New York, Vermont, New Hampshire, and Maine, the roads got narrower, and crossed much greater changes in elevation. On the return trip, loaded down with furniture, we dipped into the high-15-mpg range, with our total economy number for the 2000-mile trip ringing up at 16.3 mpg.
Considering that the drivability of the Nissan NV V-6 is pretty good, both loaded and unloaded, we'd say the V-8 is probably only required by those customers that intend on hauling very heavy loads on a regular basis. The added torque would have been a small kick on our long drive, to be sure, but the resultant drag on fuel econ wouldn't have been worth it for van driving.
Having been singing the praises of both Sprinters and diesel engines for years, we fully expected to not like Nissan's first ever commercial van nearly so much as we did. But the truth is that, while the Mercedes-Benz may still be a bit nicer to drive overall, and easier to maneuver like a normal-sized vehicle (the NV gets pretty ponderous in small parking lots, for instance), the relative price of entry and creature comforts might be enough to push us over to the Nissan side of the fence if we were hunting for a really large van.
These things can be optioned in a thousand different ways, but consider the basics: the starting price for a V-6, high-roof NV is $28,600, while the bare-bones Sprinter 2500 CDI high-roof runs $38,645. Now, in a class of vans like this, that $10K difference may be made up in improved fuel efficiency pretty quickly, it's true. But ten grand is nothing to sneeze at, and diesel itself is pricy compared to the regular gas you'd be pumping into your big-nosed NV. Food for thought.
In the end, our road trip was made more memorable—not less—for our Nissan NV companion. We got as much attention wherever we went as we ever had in a sports car (one kindly German hotelier called the NV, "a beautiful van" about a dozen times in two minutes), we came home with more antiques than we have house for, and we learned a little about an underexplored part of the new vehicle spectrum in the process. (We also killed approximately 250,000 insects.) Throw in a few stops for lobster rolls and the general thrill of the open road, and who could ask for a better ride?
2012 Nissan NV2500 HD SV V-6
Engine: V-6, 4.0 liters, 24v
Output: 261 hp/281 lb-ft
0-60 mph: 11.2 sec (est)
Fuel Economy: 16.3 mpg (observed)
Cargo Capacity: 323.1 cu ft
Base Price: $29,590