Driven: 2012 Kia Soul !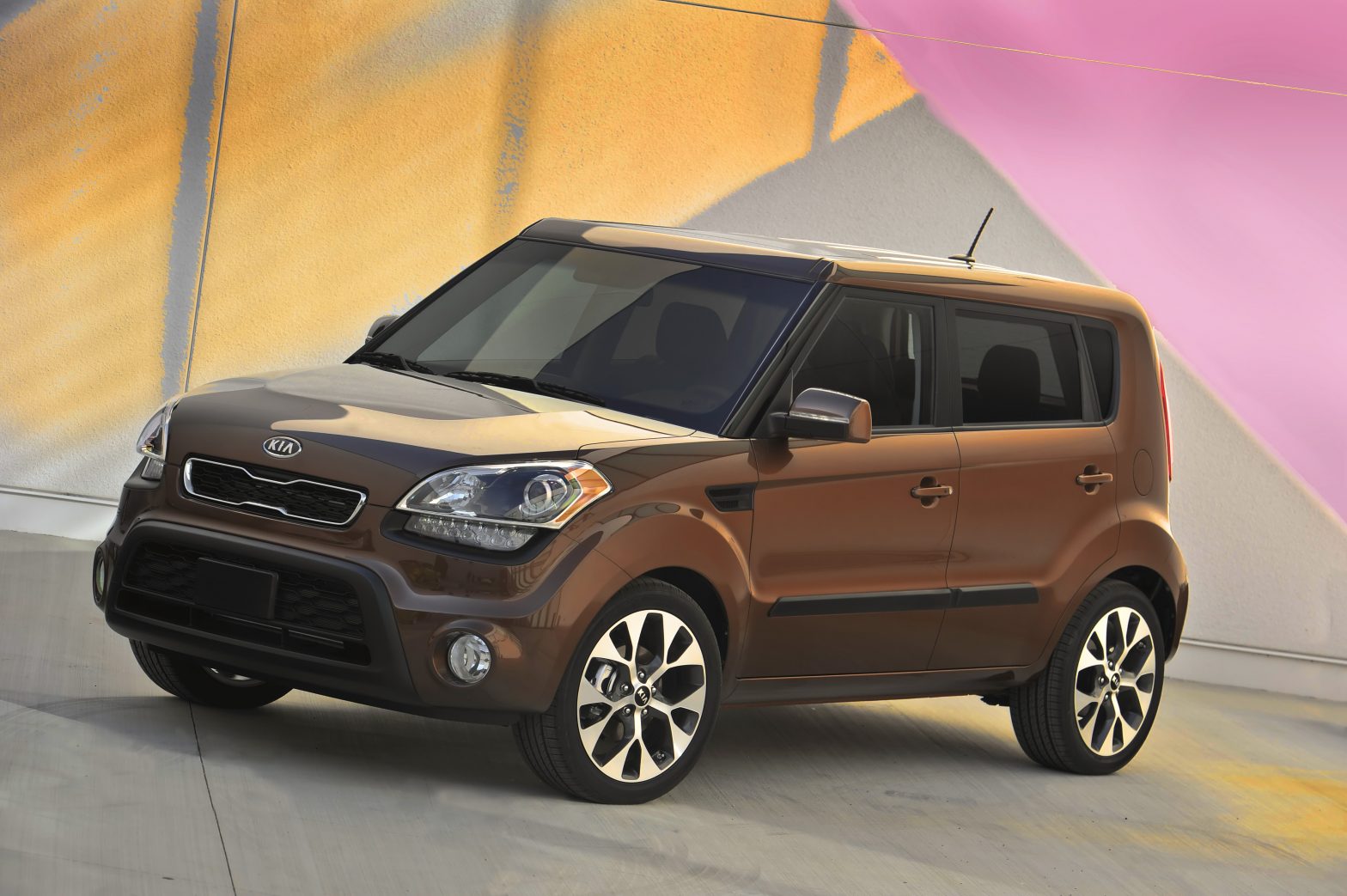 —Austin, Texas
Since its inception, Kia's Soul has been near the forefront of a movement toward what might be called "hip, utility vehicles" (HUVs). Other examples would include
Nissan's Cube
or
Scion's xB
, to name just two. Not surprisingly, hipness is an essential ingredient in any HUV, meaning they've got to have plenty of attitude and style, tempered by underlying practicality.
To this end, most HUVs wisely go with variations on the box-on-box styling theme made popular by Scion's iconic first-generation xB. In place of curvaceous swoopiness, HUVs instead offer up a certain dare-to-be-square utilitarian swagger that proclaims, "Hey, man, beauty is as beauty does—so deal with it!" To this basic recipe, the Soul adds a generous splash of kim chi-grade spiciness in the form of a wedge-shaped rear pillar, a beltline that slopes downward from the rear of the car to the front, and a face that combines a touch of bulldog-like persistence with puckish charm. As a result, the Soul is not simply a cube, but a cube that looks like it is leaning forward, straining against its leash, and begging to be taken out for a ride.
In terms of practicality, it's tough to beat the Soul's cube-shaped passenger and cargo spaces, the latter accessed via a large rear hatch. But an essential part of the HUV formula calls for cars that are at once spacious yet compact—the better to navigate densely packed urban streets. Accordingly, the Soul's front and rear overhangs are kept to a minimum and its tightly drawn lines make it feel maneuverable and right-sized for urban use.
Inside, the Soul offers a surprisingly spacious cabin with adequate room for genuinely big guys, both front and back. One enduring beauty of cube-shaped cabins is that rear-seat passengers never get shortchanged on headroom, as happens many of today's compact coupes and sedans. We found the cargo area sufficient for many types of errands (e.g., grocery runs, toting suitcases to the airport, etc.), but to handle larger pieces of gear you'll need to engage the Soul's split, fold-flat rear seats. One cool touch is that the cargo area floor swings up to reveal a partitioned storage chamber that's deep enough to hold things like soccer balls or six-packs of bottled water standing upright. As you can imagine, this covered compartment is perfect for stowing valuables (e.g., cameras) that should not be left out in plain sight.
Up front, the driver confronts a pleasant but fairly standard-looking instrument binnacle, a nicely shaped 3-spoke steering wheel, and a slick-looking central HVAC/Nav/Audio pod that curves away from the driver, eventually rolling over to a point where it rests almost flat with the top surface of the dashboard. What audio enthusiasts will really appreciate is that the central pod not only includes a well executed Infinity sound system, but that it also contains a center speaker to complement the left/right front stereo speakers in the doors. You read that right: the Soul's sound system (at least in the Soul ! model we tested) has a center-channel speaker just like you'd find in today's better home theater systems. The result is a much more evenly balanced soundstage that sweeps from the left side of the car to right—with no nasty sonic "hole in the middle."
Seats were firm but comfortable and well proportioned, even for big guys, while interior materials looked good but felt just a bit hard to the touch. One distinctive feature that may provoke controversy is the Soul's light-show speaker system, which can fire up multicolor lights that surround the left and right front speaker grilles. When the feature is turned on (at night, of course), the interior gets bathed in soft shades of red, blue, green, or other colors of "mood light" that fluctuate with the music. Our take on this was that the "light speakers" were ultimately more distracting than fun, so we turned the lights off, but you might love them.
This seems as good a point as any to mention that Souls can be had in three grades: the base Soul (called simply the "Soul"), the middle model (called a "Soul +"), and the maximum-supreme model we tested (called the "Soul !"). The sticker price for our 2012 sample, which came with Kia's popular Premium Package, was $22,850; the equivalent 2013 model sells for $23,175. Here's what springing for the Soul ! plus Premium Package options buys you: the bigger 2.0-liter, 164-horsepower, four-cylinder engine; the electronically controlled, six-speed automatic transmission; 18-inch alloy wheels; special Soul !-specific trim; projection-type, auto-off headlights with LED positioning lights; a leather-trimmed steering wheel, shift knob, and seats; heated seats; an upgraded and Bluetooth-enable sound system; automatic climate controls; pushbutton start; a navigation system with SIRIUS traffic features; and basically every other convenience/luxury touch Kia knows how to put in a Soul.
If $23K (give or take a bit) seems like a lot to drop on a Soul, bear in mind that the Soul ! model goes out of its way to coddle you with luxury features, while base-level Souls with manual transmissions start at about $14,400. When shopping for Souls, you can easily control the price of entry by dialing in as many or as few amenities as you need or want.
What was the Soul ! like to drive? Well, for starters, the ride was quite firm though not unduly harsh, but with the body showing a fair amount of fore-to-aft pitching when the car was driven over rippled pavement surfaces. We suspect this is the result of the car having fairly stiff springs (probably a good idea when dealing with the tall, somewhat boxy body structures most HUVs tend to have), coupled with shock absorbers that provided perhaps not quite enough damping. This doesn't mean the car bounced around a lot or was in any way difficult to control, but it does mean there was a bit more body motion (again, a sort of hobby-horse-like pitching motion) than some drivers would find comfortable.
Steering was very quick and the car offered decent turn-in response, albeit with a fair amount of body roll, but one thing we didn't like was that the steering was seriously over-boosted. In practice, this meant it took just a light flick of the wrist to get more turn-in than one bargained for, with not a whole lot of road feel passed through to the wheel. Higher effort steering with greater road feel would be nice.
The 2.0-liter engine supplied more than adequate oomph to launch the Soul ! from stoplights while also giving it a calm, relaxed demeanor when cruising at highway speeds. EPA estimates for the model are 26 miles per gallon city and 34 mpg on the highway, which seemed fairly realistic based on our drive experiences. Our only small gripe would be that the engine sounded a little "agricultural" (as opposed to sounding "hearty" or "musical") when spun up higher in its rev band. With this said, though, let's remember that the Soul's mission places much more emphasis on utility value, which Kia's 2.0-liter four offers in spades, than on sportiness. Even so, we can't help but wonder what would happen if Kia ever decided to shoehorn the 274-horsepower turbo four from its Optima SX into the little Soul platform. We suspect the result of that hypothetical marriage would be big, dirty fun to drive.
At bottom, the Kia Soul ! is a highly viable competitor in the HUV class. First, it looks the part and offers more power and/or better fuel economy that most of its direct competitors. Second, it offers Kia's vaunted 10-year/100,000-mile warranty, which rightly carries weight with many consumers. Third, it offers a generous helping of fun to go with your order of utility. Finally, it's the chosen ride of Kia's adorable hip-hop hamsters; who wouldn't like that?
2012 Kia Soul !
Engine: Inline-4, 2.0 liters, 16v
Output: 164 hp/148 lb-ft
Weight: 2778 lb
Fuel Economy, City/Hwy: 26/34 mpg
Base Price: $19,600