Driven: 2012 Kia Sorento EX AWD Seven-Passenger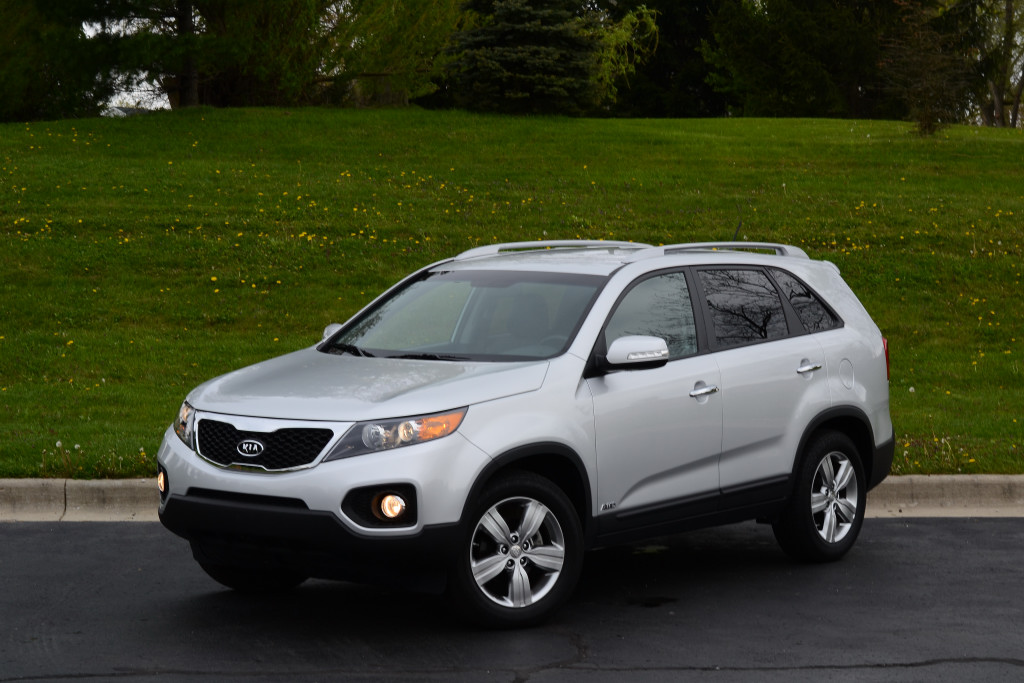 —Ypsilanti, Michigan
Look, we'll get this part out of the way first. Seven-passenger CUVs, in general, are not terribly involving. That's fine, as long as they excel in some other area. Take today's subject, the Kia Sorento. While it's not what we'd call fun to drive, it is a seriously comfortable family hauler, with good looks, decent fuel economy, and an unbelievably reasonable price tag.
So with that said, this'll be the only bit you read about involvement.
The Sorento's 2.4-liter four-cylinder produces 191 horsepower and 181 pound-feet of torque. With a curb weight of 3878 pounds, owners will need to accept that they won't be getting anywhere terribly fast. Still, with an EPA-estimated 28 miles per gallon on the highway, it should prove relatively easy on the wallet. There's also a V-6 Sorento available for those with deeper pockets/heavier right feet.
The steering is light, and rather numb, although we'd say it's merely average in the context of this market. The ride is on the soft side, with a fair amount of body roll. Vertical movement is nicely controlled, though, making the Sorento feel plenty stable on the freeway.
Okay, now that we've got the involvement stuff out of the way, let's talk about where the Sorento really stands out.
This is great way of transporting a lot of people, in real comfort, for a reasonable price. With the driving position set for a long-legged six-footer, we had no issues sitting in or getting in and out of the back seat. Even the third row wasn't oppressively cramped, at least for a short drive. Getting back there isn't the most graceful of activities, though, as the back seat merely folds down, rather than slides forward. This means you'll be climbing over a folded seat, rather than squeezing through an opening between the second row and the C-Pillar. This seems poorly thought out, especially when vehicles like the Mitsubishi Outlander and proper minivans make getting in and out of the third row relatively simple thanks to sliding second row seats or second-row captain's chairs. At least you can adjust the second-row backrests.
The driver's seat is supportive, although we found the bottom cushion to be a little too flat. This won't be an issue around town, but we could see longer drives wearing on the driver's posterior.
As we said, the ride is decidedly soft, which allows the Sorento to soak up all but the biggest impacts without much complaint. Road noise isn't much of an issue, which we'd put up to Kia's decision to avoid some ridiculous twenty- or twenty-one-inch wheels, in favor of a classy set of eighteens. Wind noise, even at highway speeds, is nicely controlled as well.
The Sorento is an easy vehicle to adjust to. The cabin is logically laid out, with an easy to understand navigation and HVAC system. To the left of the steering wheel is a bank of buttons that handle functions that, while not used often, still need to be easily accessible (hill descent control, center diff lock, etc.). The setup results in a cleaner, less button-centric cabin, which is something we can really get behind.
If after reading this, you are saying "Why not just buy a minivan and be done with it?", well congratulations, you are a pragmatist. Yes, a minivan is far more usable and versatile than the Sorento. But besides being inferior (if only marginally) to drive, there is, and has been for some time, a stigma attached with minivan ownership.
The Kia Sorento, and vehicles like it sacrifice some of the minivan's functionality for a wrapper that is more pleasing to the eye, and a driving experience that isn't so compromised by a big, boxy shape. Whether you buy a traditional minivan or a style-forward CUV will depend on what you value most: do you want ultimate functionality/versatility or is style and driving experience more important. If you chose the latter, then the Sorento is for you.
There's a lot to like about the Sorento, from the sheer size, to the overall comfort, to the reasonable starting price. If you ever find yourself wondering why Kia (and its sister company Hyundai) is doing so well, it's because of vehicles like this.
VS: Mitsubishi Outlander SE AWC
The
Outlander
, in SE and all-wheel-control trim is more affordable than our Sorento EX AWD, with a starting price $24,845 (our third-row-equipped Sorento is $31,500). Unlike the Sorento, the Outlander is also a seven-passenger vehicle across the board, not requiring a cost option to add a third row of seats. While the price is nice, there are some sacrifices made here.
The Outlander is smaller than the Sorento in most measurable areas. There is drastically more room in the second and especially third row of the Kia, particularly when it comes to leg room. The Sorento has only about an inch more legroom in the second row, but a massive 3.5 inches more in the third row.
The Sorento is also just a nicer place to spend time. Material quality is better, and the overall layout of the systems is quite easy to learn.
On the performance front, the four-cylinder Outlander is only available with a CVT, while the Sorento gets a very competent six-speed auto. Based on this and everything above, we're really quite fine paying the extra coin for the Kia.
VS: Mazda5 Grand Touring
There's an immediate strike against the
Mazda5
; it can't be had with all-wheel drive. If you want a three-row vehicle with AWD from the Mazda family, plan on ponying up to the much larger, more expensive, and V-6-powered CX-9.
If you can get by without all-wheel drive, though, the Mazda presents a fine alternative. It's not quite as powerful, with only 157 horsepower and 163 pound-feet of torque, but is over 400 pounds lighter than our all-wheels-driven Sorento. It can even be had with a manual transmission (outside of the Grand Touring trim). This tradeoff means it delivers similar acceleration, but is far more agile than the heavier Kia.
It is quite a bit smaller on the road though. Where the Kia drives like a bigger vehicle, the 5 feels like a slightly larger small car (which it kind of is). It's almost four inches shorter in height, three inches shorter in length, about five inches narrower, and has a wheelbase that is three inches shorter. This could be an issue for those who want the higher seating position and vehicle size that comes with a CUV/SUV.
Despite having a smaller footprint, the 5 has plenty of passenger space. It's has more headroom for all three rows, while second row leg and hip room is superior to the Kia. It should also be noted that third row access is much better in the Mazda.
The Mazda is a fine cabin, but it doesn't feel quite as classy or nearly luxurious as the Kia. The material quality is slightly lower, and there's more road noise as well. It's also a firmer riding vehicle than the Kia, thanks to its shorter wheelbase and stiffer suspension.
There's also a price argument to be made here. The top-spec Mazda5 starts at $24,025, making it much cheaper than the $31,500 Sorento. It comes with much of the same equipment at that point too, including navigation and heated leather seats.
If you can get over the lack of all-wheel drive (largely dependent on where you live and your preferences), the slightly less refined cabin/ride, and the smaller stature on road, Mazda's small family hauler might be for you.
2012 Kia Sorento EX AWD Seven-Passenger
Engine: Inline-four, 2.4 liters, 16v
Output: 191 hp/181 lb-ft
Weight: 3878 lb
Fuel Economy, City/Hwy: 21/28 mpg
Cargo Capacity: 37.0 cu ft
Base Price: $31,500