Driven: 2012 Honda Civic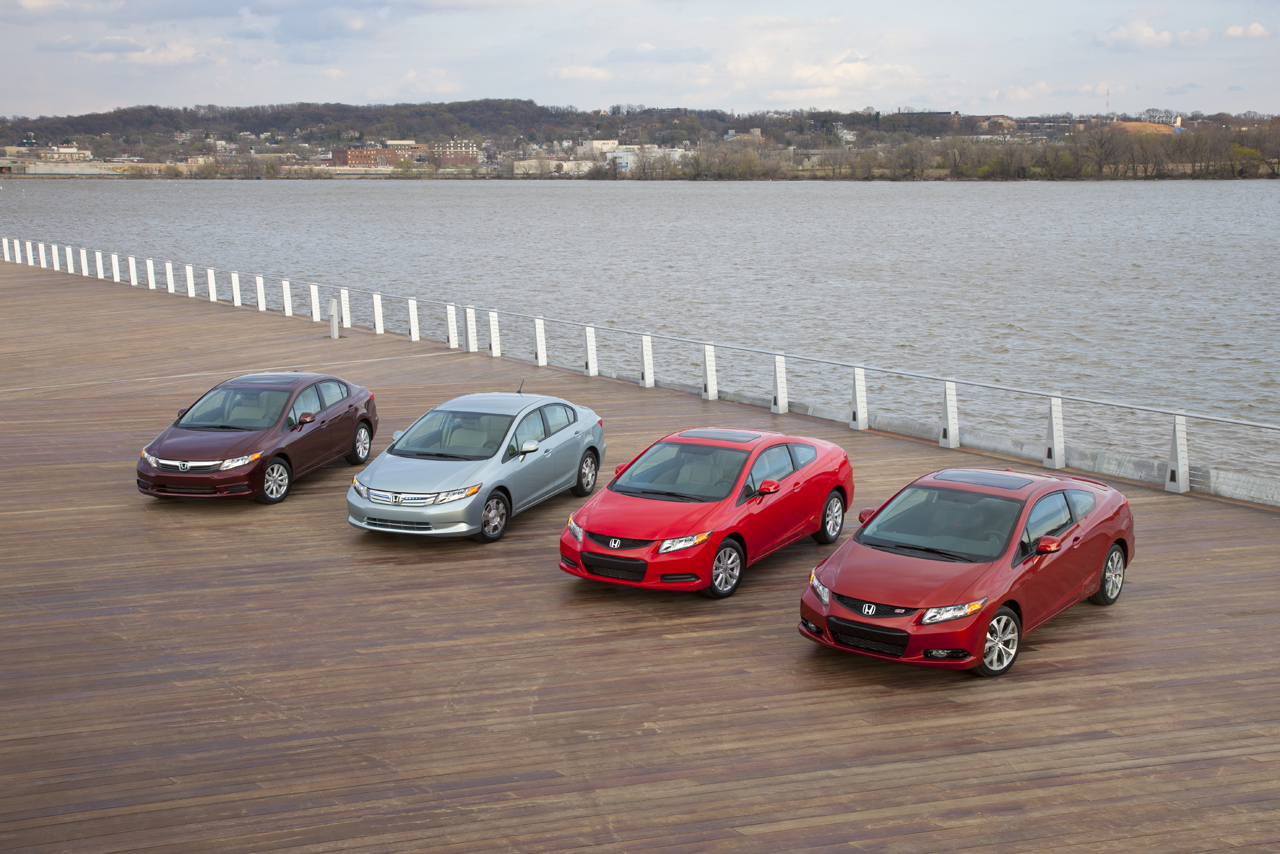 —Washington, D.C.
Though hardly a return to the salad days of the pre-2008 North American car market, things have been looking slightly rosier in terms of car sales in this first part of 2011. Access to credit has loosened up, people are becoming just slightly less scared about losing their jobs, and, let's face it, we Americans can only handle saving our pennies for so long. The time, it seems, is right for many people to get on with getting a new car.
And yet, the car buying public isn't quite ready go off the deep end, either. Case in point here is Honda's current generation, 2011 model year Civic sales. No doubt helped along but the advertising of compelling incentives, and by recent fast rises in gasoline prices (with worse to come, we're told), Honda tells us that overall Civic sales are up nearly twenty percent in 2011 versus the same period last year. The fact is that the current, eighth-generation Civic has been a winner for the company; with a concert of looks, quality, residual value, and fuel economy that Honda is loath to mess up with a new model.
And thusly is the 2012 Civic born; with an unspoken mandate from the public to be better in every way than the outgoing car, and the fear of screwing up a good thing foremost in the minds of the Honda brain trust. No one wants to kill the cash cow, when the prospect for future milk money is so very bright. That conservative mindset helps to explain why this new car looks so much like the old one, too. But don't be fooled by the evolutionary appearance, Honda has revised the gen-nine Civic in almost every tangible way.
Set-up for our visit to Washington, then, was just about every new instantiation of the new Civic model line. Honda aptly pointed out that Civic is basically a brand unto itself at this point (one slide in the marketing presentation showed that Civic sales alone would make it the 12th biggest brand in the US), and there were, therefore, many models for us to get to know, with very little time to do so. We've summarized our experiences with each of the major variants for you here, though you'll notice that we dug a little deeper with the house favorite Si (would we be Winding Road if we didn't?). Note that, while Honda is bringing back its natural gas-powered Civic—now called simply "Honda Civic Natural Gas" instead of the outgoing "GX" trim—it didn't have one on hand to test drive. Similarly, we weren't able to take a normal drive route with the Hybrid, having a hypermiling challenge course for that car instead. Not to worry though, we'll surely have deeper review content on all of these Civic models as we get more time with them in the months to come.
Civic Si Coupe
The Si is not only the most driver-focused Civic in the range; it's the car that Honda considers the flagship model, as well. As in the previous generation, Honda will make the Si available in both Coupe and Sedan body styles, though only the coupe was on hand at the test venue for us to drive this time. Still, we expect the four-door version of the Si to be every bit as much fun as the two-door, with a big dose of Honda practicality to go along with it.
What's New?
The outgoing Si was most prominently characterized, for better and for worse, by its utterly unique 2.0-liter four-cylinder motor and six-speed gearbox. That emotive mill made its 197 horsepower in a frantic and gleeful run up to a nearly 8000 rpm redline, though it did seriously want for torque—a meager 139 pound-feet were available at 6100 rpm. Of course, while an avid driver did have to pay close attention to the rpms to keep the car boiling, the six-speed gearbox was so sublime—light, precise, and accurate—no one really complained all that much. Or so we thought.
With the 2012 Si, Honda has bumped up displacement of the motor to a healthy 2.4 liters, increasing horsepower marginally (201 horsepower) and torque significantly (170 pound-feet) in the process. That power and torque is more accessible in normal driving situations, too, with max power being available at a more reasonable 7000 rpm, and peak torque coming at a downright low-key 4300 revs.
The gearbox we loved so much has been replaced, too, but thankfully the new six-speed manual is even a smidge better. The new box is just slightly more mechanical in feel, but every bit as precise and quick as the old one. There's a new, larger, and easier to grab a hold of shift knob, as well.
In addition to getting all of the new in-cabin technology that's available throughout the Civic range (more on that in just a bit), Honda has equipped the Si with a rev indicator bar, just to the left of the digital speedometer, and just above the tachometer. This indicator lights up a series of three yellow circles as the engines revs rise from 5200 to 6350 rpm, with two red lights following to indicate 6700 to the 7000 rpm redline. The result is a really quick snapshot of where you are in terms of engine speed. Similarly cool, though probably less useful, is a "Power Monitor" display that shows, via a bar graph, just what percentage of total engine power you're using at any moment.
As with the outgoing car, seats, body kit, wheels, and badges are all Si specific, and cooler than the equipment you'll find on the more pedestrian Civic trims.
What's It Like To Drive?
Though it may look very similar to its predecessor, new Si actually offers a very different on-road experience. Those differences can be pinned largely on two factors: steering tuning and the new powertrain.
As we discussed above, this is a bigger, torquier motor than the Si has ever had before. That extra torque makes the car feel a lot faster in terms of low-speed acceleration—perfect for the sort of suburban driving we did on our slightly claustrophobic drive route outside of DC. Just as Honda planned, fattening up the powerband by way of added displacement makes this i-VETC much more user-friendly than any of the instantiations that have come before it.
And that's a good thing, if what you want from your Civic Si is easy power.
The problem here (a medium-sized one for us, and potentially a very large one for the Si enthusiast community) is that the new motor is not very like the rabid, revving, manic thing that we've come to love with this performance car. Honda has revised the exhaust to go along with the new motor, and the sound is very compelling, but it's not the shrill scream that we've come to expect either. Toque is good but character is important. So while this new car feels very fast, it doesn't remind us instantly that it is a Civic Si, which is sort of a pity.
Steering presents another hurdle for the avid driver. Honda's goal with the car was to make steering effort increase with greater linearity as cornering forces got stronger—in an attempt to exorcise that too-light-mid-corner feeling that we sometimes felt in the old car. In search of this linear feel, Honda changed the steering ratio and switched to a rigid mount for the steering gearbox for more stability. (These changes were made across the Civic range, not just for the Si.) The result is, indeed, a more confident weight under cornering loads, with just a small loss of quickness overall. Our biggest gripe though, especially for the Si, is that the engineers have also managed to dial out what little road feel through the steering that the car had to begin with. Driver's may be able to sense what's happening underneath the Si via the suspension, but don't expect much communication from this new tiller.
On the positive side, the new Si is as good a handling car as has yet worn the badge. After driving both on public roads, and very aggressively through an autocross course that Honda set up for us, we can say that weekend racers won't be disappointed. As ever, the Civic felt more neutral and balanced when cornering than a front-engined, front-wheel-drive car has a right to, with loads of grip and very little understeer until the speeds get downright silly. Overall rigidity through the body is very high, and the suspension struck a better comfort/handling balance than ever. Not all of the roads we traversed were ribbon-smooth, but the Si didn't feel crashy, even on the worst of them. And yet, we were never able to make the car lean enough in the corners to be concerned with roll through the suspension.
Overall, this is a far more grown up version of the Si than we'd expected, and one that is likely to appeal to a broader customer base than ever before. We mourn a bit for the loss of the boy-racer car we've come to love.
Civic Sedan/Coupe
The bread and butter of the Civic range is the four-door car. With better fuel economy, better road manners, and a really good suite of technology, we think that Honda has created a well-balanced upgrade for the successful outgoing model. Again, new looks won't rock the boat, as sheet metal changes here are far less dramatic than most full-model changeovers. If you like looks of the last one, you're bound to like this one, too.
What's New?
Even if the exterior of the car has you wondering if you're looking at a 2012 or a 2011, no one will mistake the cabin of the ninth-generation Civic for the older version. From the driver's seat there are a host of changes that are readily apparent—most of which we really like.
Honda has taken the basic placement of the speedometer from the last model (right under the windscreen, and conveniently inside of your forward field of vision), adding in a new display that should allow you to keep your eyes on the road. Dubbed Intelligent Multi-Information Display or IMID, this five-inch screen allows for unbroken concentration on driving while operating the basic systems of the car. The IMID screen shows audio controls, phone information, turn-by-turn directions in navigation-equipped cars, fuel economy/range information, and more.
Of course, having a multifaceted display handily inside of one's field of vision doesn't do a lick of good if the controls for it are hard to use, or badly placed. The Civic makes use of its new steering wheel to solve that issue, with two thumb-operable switches. These switches will be pretty immediately comprehensible to anyone who has ever used a video game system (pretty large demographic there, and getting larger), as they offer up/down, left/right functionality that mimics the ubiquitous "D-pad" of game controllers. With just a few other buttons surrounding these switches on the steering wheel, we were able to quickly and simply make or way through most of the Civic's critical system menus, all without looking down, or taking our hands off of the wheel.
The rest of the new interior treatment is a mix of mostly upgrades, with a few disappointments. In the high trim level cars the interior feels a good deal more premium than in last year's top Civics, with leather quality, trim fit, and overall refinement very high. Cloth seats in the lower trim levels are nice enough (no weird or offensive patterns or colors here), but deleting the navigation screen leaves you with a pretty unappealing looking gray and black plastic panel at the top of the center stack. We also miss the distinctive automatic gearlever of the outgoing car—the new one would be utterly unremarkable if it weren't for the cool design of the old unit—and cars equipped with five-speed manuals must make do with a bad-looking shift knob and boot.
Considering that Honda has retained basically the same powertrain for its core Civic—a 1.8-liter four mated to (mostly) a five speed automatic transmission—the fuel economy gains that have been made are impressive. EPA ratings of 28 city and 39 highway mpgs are up significantly from the old car's 25/36. How is it done? Small improvements across the board make it possible—reduced weight, reduced brake drag, reduced rolling resistance, improved aerodynamics, improvements to the transmission, and a more efficient combustion cycle for the engine.
What's It Like To Drive?
With a slightly shorter wheelbase than the sedan, and after driving the two cars back-to-back, we can say the coupe did feel just ever so much more chuckable, with slightly better rotational ability than the sedan. With that said, these cars share a powertrain and are within just a few pounds of each other at similar trim levels, and have nearly identical driving characters. Choice between sedan and coupe should be made based on personal style and packaging needs, and not much more.
One note on those "packaging needs" though. Tall drivers are advised to take a nice long test drive in the Civic coupe before purchase. Your tester's six-foot, five-inch frame was perfectly accommodated by the sedan body style, but wanted for headroom in the slightly snugger coupe (mostly when a sunroof came into play).
Honda is convinced that its core Civic customer isn't concerned with adding gears to its automatic transmission offering. Offer up gains in fuel economy and keep the price steady, say Honda execs, and the typical buyer will never think twice about that 5AT on the window sticker. It's hard to argue with the fuel economy results—though both Hyundai's six-speed Elantra, and Chevrolet's (manual only) Cruze Eco have better EPA ratings. But a stickier, more somber point is the feeling that Honda could do better, and with the engineering brilliance that is currently at its disposal, probably should to better, too. For a technology-driven company, that is routinely heaped with praise for its brilliant manual transmissions, we can't help but feel that a six-speed automatic with some form of individual gear control isn't something that should be out of reach. Great cars are built by companies that have the vision to build what the customer will want, not necessarily just what they've already asked for (or simply not complained about, yet).
With all of that said, the autobox works just fine for this application. We found the transmission really willing to hold the gear for us when the throttle was wide open, and the ratios seemed well spaced—there wasn't much hunting going on as we modulated our pace. Still, being able to access more of the engine's 140 horsepower via a selected downshift would certainly come in handy on the highway, as well as adding a good dose of involvement into the package.
It's worth noting that all of the coupe trim levels and all non-EX sedan trim levels have a manual transmission option, too. The manual trans in question here is a five-speed (not the Si's six), and it's typically good to use. Less than five-percent of Civic buyers will opt into the manual car, which is a shame, because we found the DIY gearbox to add just enough spice to this mainstream car to keep things really interesting. Throws aren't much longer than in the sportier Si, and clutch action is light and straightforward. As we pointed out before, the gearlever looks pretty ugly, but that's nothing that a trip to the parts store of your choosing can't fix in an afternoon.
Other than being a bit boomy when accelerating hard, the new Civic is really nicely sorted for NVH, with a really quite cruising speed ride. Wind, tire, transmission, and engine noises are all kept in check.
Handling is light, but very stable, and confidence inspiring. As in the Si, we never felt much wobble through the chassis or suspension. Better yet, a newly opened up glasshouse (front three-quarters view in particular) gave us a great view of the road, and easily allowed us to place the car where we needed it.
Civic HF
The new HF, or High Fuel Economy Model, is a pretty nice middle way between the already frugal sedan, and the more expensive hybrid Civics. The HF makes good use of traditional fuel saving strategies, without having to resort to exotic powertrains or alternative fuels. It strikes us as a very Honda-typical strategy, and one that we think will resonate with many customers that are returning to the brand.
What's New?
There actually wasn't an HF model in the previous generation's lineup, but Honda has offered a high fuel economy version of the Civic many times in the past. The third-gen Civic offered and HF model, while gen-five had a similarly minded VX, and generations six and seven touted the HX. You get the picture.
What's cool about this newest HF is that you really aren't asked to sacrifice much versus the standard sedan—not much at all. Where previous high-mpg Civics made due with smaller, less powerful engines, or smaller, lighter bodies, this HF is pretty no-compromise.
Fuel economy figures rise to 29 mpg in the city and 41 on the highway, thanks mostly to improvement in aerodynamic performance, and low-rolling resistance tires. In fact two of the contributing factors to the HF's low coefficient of drag also make the car easy to pick out of a crowd: the subtle lip spoiler found on the truck lid, and the HF-exclusive low-drag wheels.
What's It Like To Drive?
We actually quite enjoyed the refinement of the HF versus the standard Civic sedan—the added aero add further quiet to a car that wasn't very loud at speed to begin with. What's more, low-resistance tires seemed to offer up a bit less roar at highway speeds.
The downside to those tires is, of course, a lot less grip. At least in theory. We only were able to take one short loop in the HF sedan, and Honda frowned on the idea of a lap on the autocross track, so the handling compromise presented by the less aggressive tire is still more of an open question. Suffice it to say that we'll get back to you on it when we have a chance to drive the car out of our own office.
With a quieter profile, usefully better fuel economy, and a lower sticker than the hybrid likely (Honda won't give us pricing figures until the day that this issue of Winding Road launches, sadly), the HF would seem to be a great choice for long-range commuters, especially.
Civic Hybrid
Honda has retooled its IMA system for this newest Civic Hybrid, added an EV driving mode, and generally made the car better at its core goal in life—consume gasoline slowly.
What's New?
A lot of technological advancement and hard-work engineering has gone into the 2012 Civic Hybrid, but the number on thing that potential buyers will gravitate towards is the EPA rating on the widow sticker. Good news then, that mpg ratings have gone up to 44 mpg in the city and a matching 44 on the highway, too. The current car is rated at 40/43, city/highway.
One of the biggest reasons for these improvements is Honda's switch to a lithium-ion battery in place of the old nickel-metal hydride affair. In addition to adding a bit of torque overall (output figures are up to 110 horsepower, and 123 pound-feet of torque for 2012), the li-ion unit is lighter, smaller, and more efficient. In fact, Honda has taken out weight, and increased both efficiency and durability for the whole powertrain—1.5-liter engine, electric motor, and CVT transmission included.
In a move that adds a little bit of driver involvement, Honda has also developed a virtual "coaching system" for Hybrid drivers, too. Colored light bars on either side of the speedometer change from blue (bad) to green (good), as drivers get closer to the optimum throttle/gear position for great fuel economy. You may not get to grow a garden of leaves, as in Ford's Fusion Hybrid system, but the lights seem like a decent hypermiling primer, anyway.
This Civic Hybrid will also make a full EV drive mode available, when the car is in what Honda calls "low-cruising speed." Depending on state of charge, throttle inputs, etc, that speed can range from about 11 to 43 miles per hour.
Our group of journalists was asked to complete a ten-mile fuel economy challenge, with some pretty impressive results. Top honors for the day went to Car and Driver's Tony Quiroga, who managed a remarkable 62 mpg over the course. Averages were in the mid-fifties, though guessing by the hail of horn honking from local drivers, that miserliness won't be attainable by any but the hyper-dedicated on a regular basis.
2012 Honda Civic EX-L Sedan
Engine: Inline-4, 1.8 liters, 16v
Output: 140hp/128 lb-ft
Weight: 2795 lb
Fuel Economy, City/Hwy: 28/39 mpg
Base Price: $21,995
2012 Honda Civic DX Coupe 5AT
Engine: Inline-4, 1.8 liters, 16v
Output: 140hp/128 lb-ft
Weight: 2659 lb
Fuel Economy, City/Hwy: 28/39 mpg
Base Price: $16,405
2012 Honda Civic Si Coupe
Engine: Inline-4, 2.4-liters, 16v
Output: 201 hp/170 lb-ft
Weight: 2877 lb
Fuel Economy, City/Hwy: 22/31 mpg
Base Price: $22,205
2012 Honda Civic Hybrid
Engine: Inline-4, 1.5 liters, 8v, electric motor
Output: 110 hp/127 lb-ft
Weight: 2853 lb
Fuel Economy, City/Hwy: 44/44 mpg
Base Price: $24,050
2012 Honda Civic HF
Engine: Inline-4, 1.8 liters, 16v
Output: 140hp/128 lb-ft
Weight: 2698 lb
Fuel Economy, City/Hwy: 29/41 mpg
Base Price: $19,455