Driven: 2012 Fisker Karma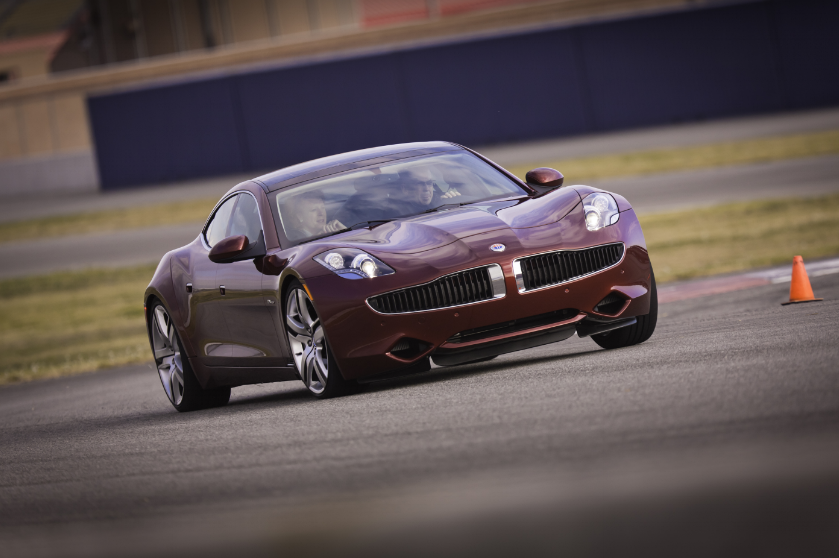 —Fontana, California
Soon after this hotly anticipated first drive of the 2012 Fisker Karma at the infield handling circuit of California Speedway, we met up with Fisker Automotive principals Henrik Fisker and Bernhard Koehler on the floor at the recent Geneva Motor Show. They had various overseas publications opened to articles of their car strewn across a couple of back office coffee tables at their stand.
"What pleased us most when you and others came to drive the Karma," designer and CEO Fisker tells us, "is that before you each got in it you were universally sort of skeptical or apprehensive. It was as though the Karma was just smoke and mirrors." Admittedly we can include ourselves in this group of the initially enthusiastic but pragmatically reserved.
"But then it was great," Fisker goes on, "to see each of you experience the car firsthand and have so many good things to say. It was almost as if you were all relieved that we actually have a serious car that's fun to drive, luxurious, well built, and environmentally significant." How foolish of us to doubt that it would be anything less than those first three; Fisker, after all, has designed the Aston Martin DB9, V8 Vantage, and the BMW Z8 Roadster in his past life. It's this fourth ingredient, green credentials, that is new to his portfolio.
Where It All Began
One of the boldest and best moves made by the Danish-German team of Fisker and COO Bernhard "Barney" Koehler occurred in 2007. The pair switched focus completely from the humble Fisker Coachbuild—founded in 2005 after the two had had it with the slow processes of big companies at Ford's advanced design studios in Orange County—to the far more ambitious Fisker Automotive. In a bit of a quandary over how to move ahead at the time, Fisker came across the shelved plans for a US military hybrid-electric stealth vehicle called "Aggressor," created by Quantum Technologies and driven by their innovative Q-Drive plug-in electric-with-extended-range powertrain.
The two companies came together along with various private investors' capital, and in January 2008 we saw the unveiling of the Fisker Karma show car at the Detroit auto show. That's when the really tough part started for the new Fisker Automotive, because soon after that the worldwide (and still ongoing) "Great Recession" struck. Luckily, the Karma's private investors mostly stood by the company through the worst of it and, in the meantime, the mild Toyota Prius-fueled excitement over green alternatives mushroomed into a massive industry-wide trend.
Then came the approval by the US Department of Energy in September 2009 to loan $529 million of your and our stimulus money to Fisker Automotive, and the franchise suddenly had nearly $1 billion in total capital and a concrete business plan to fulfill.

The Premium Plug-In Plunge
As we approach the Fisker Karma near-final prototype to drive it, then, there's a palpable sense in the air around the pit garage that both Fisker and Koehler have been through far more drama and diligence than they ever thought possible back in 2007. We tell them we promise not to break it, we all laugh a little, and then it's just us and the Karma.
Aesthetically, the Karma four-door gran turismo has always been an eyeful, and certainly beautiful enough to at least 5000 well-off buyers per year at the entry-level EcoStandard trim price of $95,900 (minus a minimum $7500 in incentives). Go for the mid-level EcoSport, as we tested here, and the pre-incentive price is $103,900, while the highest-lux EcoChic starts at $108,900.
The slinky and hunkered down GT stance of the Fisker Karma is shamelessly emphasized by the long-legged 124.4-inch wheelbase—longer than that on the Jaguar XJL on a car with an overall length almost equal to the Jag XF. The second greatest impact is had by mounting the Karma standard with twenty-two-inch, Fisker-designed Circuit Blade wheels, while the all-season wheels are twenty-one inches. Nothing smaller is offered.
So far as basic practical notes go on the overall packaging of the design for human use, the only thing negative that crops up is that snappy ducktail right in back of the rear cabin pillar. Said detail cuts the Karma's trunk space to an ultra-limited 7.1 cubic feet. That's less than the quoted usable storage space in a Ferrari 458 Italia. Getting in or out of the low, 52.4-inch-tall sedan, either in front or rear, is easy compared to the heavily compromised Aston Martin Rapide, for instance. Sitting and traveling in the four-seat interior is perfectly spacious, too, on par with the Porsche Panamera or Jaguar XF.
Situated in the driver's throne, a foot goes on the brake pedal and we press the On button. In the default full-EV Stealth mode, a few pretty lights blink on in front of us, but really nothing eventful happens. In this world of Stealth, the direct-injected, 255-horsepower, 2.0T Ecotec four-cylinder engine from GM, mounted longitudinally by our feet is left completely out of the equation, sitting there like an anchor.
The 20-kilowatt battery voltage "fuel" is cycled within the 606-pound, 315-cell array of lithium-ion supplied by A123 Systems of Massachusetts, and it is attached lengthwise within what would normally be the transmission/prop-shaft tunnel, much like on the Chevrolet Volt. After that, the electric power all goes to the rear axle via two 201-horsepower electric motors that sit immediately fore and aft of the single-speed rear differential. The overall possible distance to be covered and total remaining battery charge can be seen on central binnacle readouts.
Action Figure
We started around the spirited little circuit in Fontana, staying in Stealth and just feeling the new feelings while rolling along. While switched on and either sitting still or while traveling at any rate up to 30 miles per hour, Fisker hits the outside world with its "signature Fisker external sound." This is the Karma's solution to letting all pedestrians and domestic animals with hearing hear the normally silent sedan. It was a surprise take on this concern, and we liked it more and more as the day's driving progressed. The buzzing, high-pitched, electric-sounding hum (it's not simple to describe) matches well with the Karma as it tools around town.
Speed from the 402-horsepower Karma is limited to 95 mph in Stealth in order to prolong the energy range of the roughly 4000-pound car (exact curb weight to be shared later this spring). Driven conservatively, a 50-mile range in pure EV drive is possible. In Fontana, we saw close to 90 mph on the modest back straight, and the estimated acceleration time of 7.9 seconds seems about right, maybe even a touch conservative. And, yes, the Karma battery-to-motors-to-axle torque reads 981 pound-feet right at 0 rpm, but having only the 4:1 single-speed transmission means that actual torque hitting the pavement is not felt as it is felt on a Bugatti Veyron.
What is most exciting here—besides rocketing silently along in such a well done cabin—is the dynamics setup of the Karma. First, the twenty-two-inch wheels and Goodyear Eagle F1 tires do not transmit an excessive amount of road noise or roughness to the steering wheel or seat of the pants. What comes through is a sensation not unlike that of driving a Maserati Quattroporte Sport GTS. With any traction or stability assistance switched off, the Karma coyly slides a tail out in certain selected curves, confidently allowing us to cut some corners over rumble strips.
This sportier luxury setup feeling continues as we enter the several very technical curve combinations on the circuit. And what a wonderful surprise that was because, aside from the tiny, and low, and thoroughly impractical (albeit hilariously fun) Tesla Roadster, every single alternative-propulsion-scheme car we have driven is a compromise dynamically within its respective segment. In short, they all tend to handle like sea elephants once the real curves and weight transfers start.
The Fisker Karma—we're quite willing to stretch our neck out and say it—is at least equal to the best handling luxury sport four-doors of this segment, Porsche Panamera Turbo in Sport Plus mode and Maser Quattroporte Sport GTS in Manual Sport included. In short order, we started tossing the Karma around at will, and the entire package held up to the treatment with real moxie. The tremendously stiff, all-aluminum chassis is given a very satisfying universal damper calibration, while the structure itself is all-aluminum double wishbone at all four corners. So, the steering wheel may be a little over-designed for our taste, but the action at the wheel while at maximum stress levels is outstanding. We also enjoy the fact that where we see the hood at its highest while we're piloting around is exactly where the front corners (dynamically speaking) are placed. This let us understand immediately what we could get away with spatially and in terms of where to point for the ideal line.
Brakes used are ventilated lead Brembo discs at 14.6 inches front and 14.4 inches rear, and energy recuperation can happen in three levels by pulling the right-hand "Hill" paddle of the steering wheel. We were wondering why no carbon ceramic discs, not even as an option, and Henrik Fisker himself chimed in, "They'd cost about one fifth the base price of the car, so we decided against them." The good news is that these standard huge platters stop the Karma with impressive authority all day long. The other reality is that the Karma is really meant for stylish green touring in and around cities, not for track day in Fontana. "Our typical client," says Fisker, "doesn't intend to drive the Karma more than 15 percent outside of urban areas, and probably even less."
Hey There, Sport!
The next level for all of this is to press the Sport button, whereby the range-extending 2.0T engine—seen last in the long-gone Pontiac Solstice GXP and Saturn Sky Redline—is invited to the dance. A major point to make clear is that the 255-horsepower/260-pound-feet-of-torque GM engine does not ever send juice directly to the rear axle. What it does is help create electrical energy by driving only the 175-kilowatt generator directly behind it. The thus-powered generator then supplies fresh energy to the lithium-ion battery pack for powering the rear axle via the two electric motors.
In Sport, which is found by a pull of the left paddle at the steering wheel, the top speed is let out to 125 mph, and we can accelerate to 60 mph in 5.9 seconds, while overall maximum range theoretically should be 912 miles before the 9.5-gallon fuel tank goes dry. Also theoretically, the batteries in this sport/range-extension mode could, in perfect energy-sipping conditions, go 300 miles prior to absolutely having to plug in for a six-to fourteen-hour charge-up. (Depends on your voltage.) Stomping into this world of Sport to see first about the 5.9-second dash revealed something else about the Karma setup that we personally find to be a bit of a blind spot.
The 2.0-liter Ecotec motor is, first of all, placed as far rearward in the chassis as practicable so as to help with fore/aft weight distribution, which stands at 47/53 percent. Then, seeing as all of the electrical and cabin packaging needs left no place to route exhaust pipes out back, the Ecotec's two pipes exit down low at the back of the front fender on either side of the car where we see the attractive heat extractor vents. This is beautiful to the eye but painful to the ear. We don't want to know that we just paid close to $100K for a GM four-cylinder that free-revs up to 6300 rpm and fills the cabin with its revving in very unsophisticated fashion. It needs to have at least a much lower voice and certainly be muffled in more premium-car fashion. The Fisker team assured us that there is, in fact, a new muffler on order to be installed apparently prior to start of deliveries to customers in May of this year.
The New All-American Car Built In Finland By A Dane And A German
All of the Karma lineup's history for this first generation will be lived out at the Valmet Automotive factory in Uusikaupunki, Finland, where both the Porsche Boxster and Cayman will be built until the start of 2012. Given the years of high build quality standards demanded by Porsche, we're not at all surprised to find excellent build quality all over the Karma. Both the exterior sheet metal, paint coverage, and interior materials crafting are at the top of their games. After the mid-year launch of the Karma four-door, the two-door Karma S convertible hardtop will be added in 2012. A third Karma configuration—set to debut at this September's Frankfurt show—could show up for sale in the middle of 2012.
One final item to mention is the onboard computer and touchscreen referred to as the Fisker Command Center—developed in conjunction with Visteon. The standard haptic screen is 10.2 inches diagonally and, from our admittedly limited first encounter, is quite clear to understand, and possesses graphics that are intuitive, fast, and cleverly designed. This onboard monitor governs climate control, entertainment, navigation, plus other sub-functions. One of its best graphics is used to show how the standard solar-paneled roof is doing at collecting free energy—up to 200 free miles annually we're told.
On the Geneva show stand, the two men are talking with us like kids as they tell us that first customer Karmas have started their final build in Finland. Total annual capacity foreseen at Valmet is 15,000 cars between the three planned Karma variants, and that rhythm is expected to be achieved already in 2012. Plans for the ex-GM plant in Delaware are for the project Nina EVer ("electric vehicle extended range") smaller car that should cost half the sticker price of the Karma and be built at a 100,000/year pace once fully up. Just to clarify this other tender point: all of the $529 million DOE loan money is to be used exclusively on the Delaware Nina project; the Karma has been realized using the original private investor capital.
Thus the lion's share of secrets to Fisker's success depends heavily on the United States—both for sales as well as all capital being wisely invested. The regional breakdown is 45 dealers in the US, 45 in Europe, and 25 in China. When Nina comes online, those numbers will double. Sales percentage distribution between the three regions reads 40/40/20, respectively. For the US, the standard warranty is a new-vehicle limited bumper-to-bumper contract for 50 months or 50,000 miles.
We're truthfully willing to bet that Fisker Automotive and the Karma will realize most of their vision. Pre-orders are just over 3000 for now, and many more than that are needed. We're rooting.
2012 Fisker Karma EcoSport
Engine: Lithium-ion battery, two electric motors, 2.0-liter, inline-4 gasoline electric generator
Output: 402 hp/981 lb-ft
0-60 MPH: 5.9 sec (est)
Top Speed: 125 mph
Weight: 4100 lb (est)
Base Price: $95,900
On Sale: May 2011