Driven: 2012 Dodge Durango Citadel AWD 5.7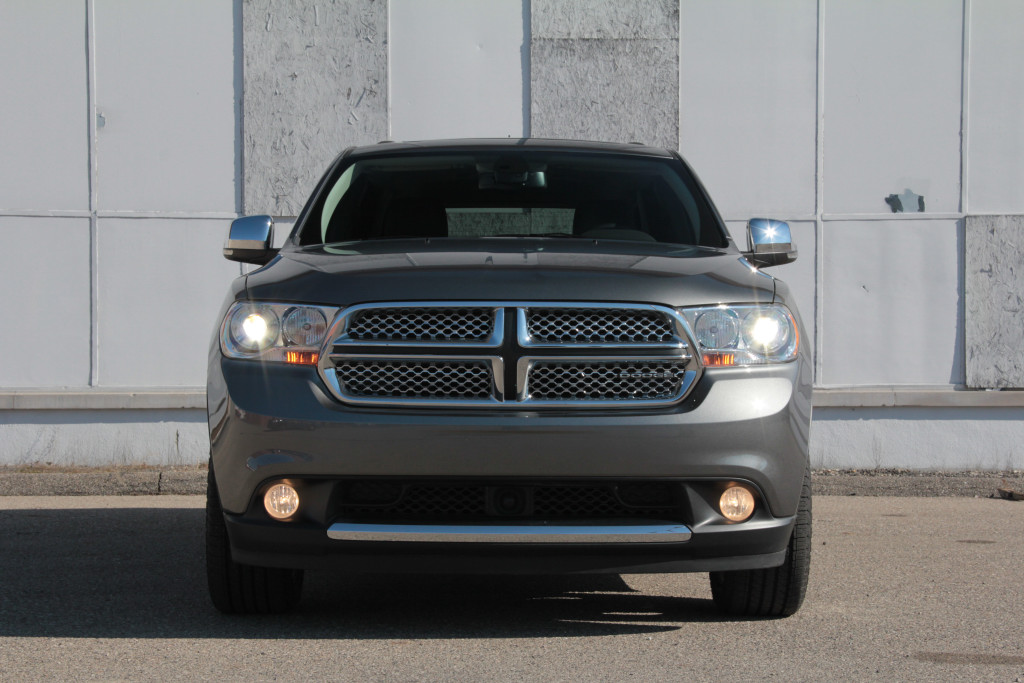 —Rochester Hills, Michigan
Dodge has built a fine three-rower with its new Durango, featuring all the things we expect of a modern SUV. It features a unibody construction (as opposed to the body-on-frame build of old-school SUVs), and a six-speed automatic transmission. It can be had with a rear-seat entertainment system, so the kiddies can be mesmerized by The Teletubbies (or whatever innocuous children's entertainment program is trending right now). It even offers heated and air-conditioned seats, satellite navigation, and adaptive cruise control.
At the same time, the Durango is a bit of a throwback. It's a throwback to the days when a three-row SUV meant V-8 power. When the only two-wheel-drive option meant that that V-8 engine sent power to the rear wheels, and having four-wheel drive meant having a two-speed transfer case at your disposal (even if it is an electronically managed unit, with a little knob instead of a dedicated lever).
It's this combination of old and new that really makes us like the Durango. The fact that it's a decently entertaining way of hauling seven people doesn't hurt either. That V-8 engine is Chrysler's 5.7-liter Hemi V-8, and produces 360 horsepower and 390 pound-feet of torque, meaning the three-row Dodge can really scamper. We didn't run any performance tests, but we'd feel comfortable estimating a sprint to 60 miles per hour in the seven-second range. Not blistering, but plenty quick for a 5400-pound vehicle.
The engaging thing, though, is the way the Durango goes about delivering its speed. We tested this same engine in the
Dodge Charger R/T
, and came away impressed with its sound and power delivery. That hasn't changed here, with low and mid-range power coming on strong. Despite the hefty curb weight, we were never really in a situation where we needed extra power. Freeway passes were easy to execute, and sprinting away from traffic lights elicited giggles not heard outside of proper muscle cars and sports sedans. Having that V-8 power also means a best-in-class tow rating of 7200 pounds (7400 pounds if you ditch the all-wheel drive).
Part of the accelerative glee came from the sound that emanated from the dual chrome exhausts. This is pure, American V-8 here, with a deep, bassy note in the low end, climbing into a pleasant, but not overpowering, roar in the mid range. The note at the high-end wasn't as acoustically pleasing as at lower rpms, but there was still no mistaking this for a large-displacement V-8.
Channeling that power to all four-wheels is a new-for-2012 six-speed automatic. Although it won't be replacing the five-speed auto in the V-8-powered sedans, it's the new go-to tranny for Chrysler's eight-cylinder trucks and SUVs. The addition of the extra cog was immediately noticeable on the freeway, as it kept the V-8 at lower rpms, resulting in a quieter ride at higher speeds than we experienced in the Charger R/T. In terms of shift speed, we'd call it comparable to the five-speed box, with decently quick upshifts but somewhat ponderous downshifts. Often, switching to manual mode was enough to make downshifting more responsive.
We haven't mentioned much about the Durango's relationship with the two-row-only
Jeep Grand Cherokee
, with which it shares powertrains, some interior trim pieces, and an assembly facility. It isn't a Grand Cherokee though. Its wheelbase has been stretched five inches, and it's ten inches longer overall. This extra size retains the Jeep's spacious second row, but gives the Durango a surprisingly comfy third row, that'll seat two close friends without too much complaining.
With the third row up, you get a cargo area of 17.2 cubic feet, which is about half what the Jeep has. Fold that third row down though, and you get a sizable cargo space, able to swallow 47.7 cubic feet of stuff (compared to 35.1 cubic feet in the Jeep).
The Durango drives, for all intents and purposes, like a bigger, heavier Jeep. Its wheelbase is about five inches longer, and it weighs around 200 pounds more than a comparable Grand Cherokee in Overland trim. That means you get a slightly more comfortable ride and a greater amount of roll through the turns. We also noticed a bit more vertical movement than in the last Grand Cherokee we drove.
Still, there's a decent amount of feedback through the suspension and steering, along with nicely tuned fore/aft damping. There is a bit more tire noise and crashiness over bumps and imperfections, thanks to the twenty-inch chrome wheels on the Dodge. The decrease in ride quality isn't so great that we wouldn't be buying the slick looking twenties ourselves though.
If your three-row SUV needs V-8 power, and you don't want to move up to the size and expense of one of GM's GMT900 SUVs (Tahoe,
Yukon
, Suburban, or
Escalade
), than the Durango is really your sole option. With a 7200-pound tow rating, a decently sized third row, four-wheel-drive stability and capability, and all the amenities expected on a $40,000-plus vehicle, the Durango has a multi-purpose nature that you just don't see in this price and size class.
VS: Ford Explorer Limited AWD V-6
If you want V-8 power, than the Dodge is the way to go. Neither the
Explorer
, nor the Acadia we discuss below, can be had with an eight-cylinder engine. In the Explorer's case, the top-flight powerplant is a 3.5-liter V-6, with 290 horsepower and 255 pound-feet of torque. Those numbers are about equal to the Durango's base V-6, while they represent a 70-horsepower and 135-pound-foot drop from the Dodge's Hemi V-8. The Ford's saving grace is that the all-wheel-drive version weighs 4731 pounds, making it over 600 pounds lighter than our Durango.
The Explorer's lower power output also has a negative effect on its tow rating. While the Dodge can haul 7200 pounds, the Ford can only handle 5000 pounds.
The power difference might be tolerable if you are concerned about fuel economy. With 13 miles per gallon in the city and 20 on the highway, the Dodge is absolutely stomped by the Explorer's 17 city and 23 highway ratings (opting for the V-6 Durango Citadel is an option though, as it nets a similar 16/23 rating).
Pricing for the top-spec Explorer Limited with all-wheel drive starts at $40,680, without features like HID headlamps, navigation, adaptive cruise control, air-conditioned seats and blind-spot assistance (all of which are standard on the Durango). To get a comparable Explorer, you'll be looking at spending $48,275 (which includes $1995 for a rear-seat entertainment system like the Dodge's). The Explorer's nice, but if we're spending that sort of money, we'd like a V-8 and some towing ability with our comfort.
VS: GMC Acadia Denali
With 288 horsepower, 270 pound-feet of torque, and a curb weight of 4925 pounds, the GMC Acadia Denali sits uncomfortably between the relatively featherweight but low-powered Explorer and the chubby but fast Durango.
The Acadia, despite having a pretty decent interior, still feels a touch behind the Dodge. The material quality isn't up to snuff, and many of the styling features are just starting to feel a bit old, especially when compared to the still-fresh Durango.
Its trump card is the sheer amount of space it offers. It's larger in nearly every major dimension than the Durango, and it all adds up to an extra 14 cubic feet of passenger volume.
The all-wheel-drive Acadia Denali starts at $45,680. As is standard with Denalis, there aren't a lot of options you can tack on. It pretty much goes tit-for-tat with the Citadel. The only extras that needed to compete with the Dodge are navigation and a rear-seat entertainment system, $1890 and $1445, respectively. That adds up to $50,820, for a comparable Acadia. That's fair chunk of change, especially compared to the more powerful Durango. Of course, the Denali does come with a lot of chrome, so it's got that going for it.
2012 Dodge Durango Citadel AWD
Engine: V-8, 5.7 liters, 16v
Output: 360 hp/390 lb-ft
Weight: 5397 lb
Fuel Economy, City/Hwy: 13/20 mpg
Towing Capacity: 7200 lb
Base Price: $42,995
As Tested: $47,235