Driven: 2012 Buick Regal GS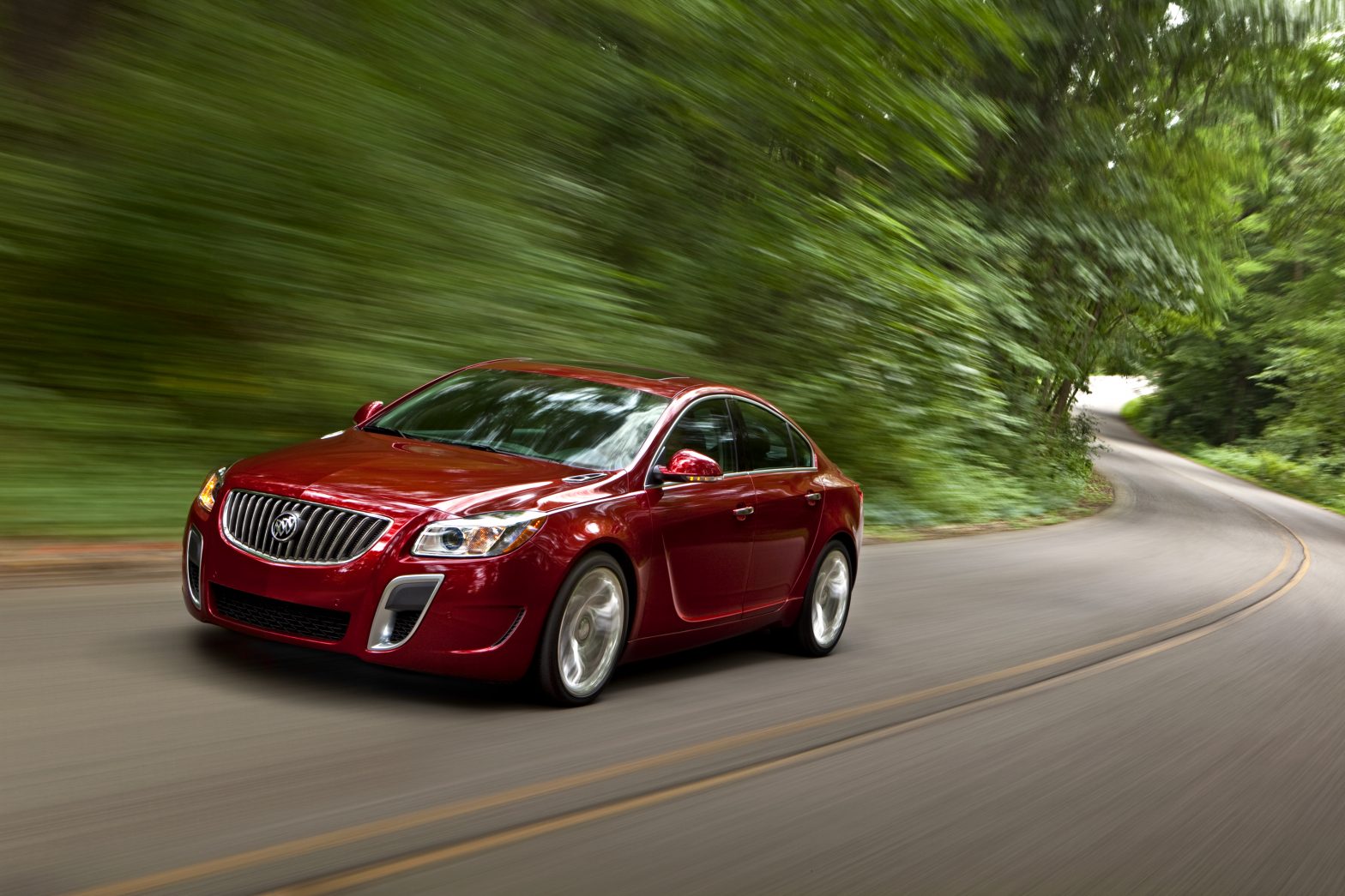 —Traverse City, Michigan
Since our very first go-round with this most recent Buick Regal, we've been fans of the car. Regal's crisp and clean interior/exterior styling and competent handling have seemed to us to make it a very reasonable competitor for other entry-level luxury products. Priced below name-brand small luxury cars like the Acura TSX, Lexus IS250, and BMW 328i, the Regal has been inserted into a quasi-premium space that is currently held down by the Volkswagen CC.
From the perspective of the avid driver, though, the Regal, even in turbocharged trim, has always been a bit too weak to get our hearts thumping. Drama-free cornering and a very supple balancing of ride and handling have always been strong, but the lesser Regals did lack guts. Thankfully, Buick was far from done with the basically good Regal platform, which will quite likely end up with at least four variants (more on that in a bit), including this go-fast GS model.
Considering the juiced up motor that powers the thing, the Regal GS has remarkably subtle styling cues to show the world what lurks beneath the hood. From the outside, you'll have to spot the larger dual exhaust pipes, the very subtle badging, or the flash of a Brembo brake from behind the wheel. Oh, and there are the wheels themselves—nineteen- or twenty-inch shiny ones—those are less subtle, to be sure.
Also in the "less subtle" category is the six-speed manual transmission we found inside of our GS test car. In fact, had we been dogged enough about looking, we would have found a stick shift lurking in every car available at our launch event. That's not because Buick is planning a manual-only strategy for this Regal—there'll be six-speed automatic available a bit later on—but it did serve to send a strong message to the assembled motoring journalists, and their I-know-your-car-before-I-even-drive-it attitudes. Buick is serious about building a sports sedan.
The seriousness starts with one very well endowed Ecotec 2.0-liter turbo. The blown four is good for 270 horsepower and 295 pound-feet of torque, making it the bearer of the highest specific output of any engine ever offered by General Motors (and GM has built an engine or two in its day). Better still: all of that torque is available from just 2400 rpm, and up through 4900 rpm (at least about 95 percent of it is), meaning the GS can boot you back into your seat in many average driving situations.
If you're thinking that nearly 300 pound-feet of torque is too much twist to send through the front wheels, well, you're actually wrong. But we don't fault you for the guess, as that was our initial thought, too. Buick engineers were clearly very concerned with reducing torque steer, and not turning the GS into some kind of more civilized Mazdaspeed3, and came up with a new High Performance Strut (HiPerStrut) system for the front wheels as a result. The revised geometry of this new strut is intended to help deal with torque steer, maintain negative camber during cornering, and generally reduce the feeling of front-driverness for the Regal. The result, especially in terms of front-end hop, is remarkable. Even full-throttle starts didn't cause the steering wheel to jump around in our hands, as dead-ahead torque steer was reduced to just a bit of minor vibrating. Hit the throttle while cornering, and the surge of torque can be somewhat more disruptive, but nothing like what we'd anticipated by looking at the power figures. (This is why we drive the cars.)
The downside of the HiPerStrut system, and the sometimes-too-aggressive stability control, is that the GS never does feel quite so fast as its specs indicate it should be. Launches feel controlled but a step slow, anyway, though we have to admit that the pulling power from medium speeds is very good.
We're also pretty thrilled at the first six-speed manual we've used in a Buick in a lifetime. The Opel-sourced transmission allowed us light, precise throws at speed, and a very naturally weighted clutch pedal, too. No one who craves a hyper-mechanical feeling gearlever will be too terribly excited, this isn't that, but we enjoyed swapping gears the more we used this unit. Certainly, we were able to keep the turbo spinning at just the right speed to keep the power up, which made our day of driving fast and fun.
GS makes use of active damping control, with the high-performance model adding an appropriately titled "GS" mode that stiffens things up a bit more than "Sport." The difference between both modes though, in terms of ride quality, is almost negligible, which is great as far as we're concerned. Road harshness was dialed back to just a bit of feedback through the floorboards and seats.
In fact, all of the sweet handling nature we expected was on display for the GS, too. Turn-in was quick, but not abrupt, and we found more than enough grip on hand for some pretty high-speed driving on the roads around the Leelanau Peninsula. Body motions were well controlled, too. The overall picture was very much like a front-wheel-drive BMW-type car, with the same sort of excellent balance in the corners.
Where the GS falls down is in the relationship to its speed relative to its overall involvement as a driver's car. The steering effort was too light, and the wheel itself offered precious little to compensate for the lack of suspension feedback—too isolated overall. (BMW's 3-Series, for instance, doesn't have a lot of road feel available through the wheel, either, but it makes up for it by delivering seat-of-the-pants information.)
Also troubling was the lack of overall volume for this performance-tuned Buick. We didn't expect the GS to howl like a racecar, but there's practically no aural indication that you've got a beefier engine under the hood here, which is sort of a bummer when you are taking the time to throttle the car (and capably) on a nice road.
There's a tension in this Regal GS, one that doesn't exist elsewhere in the Regal line, nor seemingly many other places in the marketplace today. The car is fast and rewarding to drive in many ways, but dialed back, and less enthusiastic than you'd expect in others. We want to put it in the same category as cars like the BMW 328i and the Audi A4 2.0T, but it has clearly got a performance edge over both, while still being slightly less cohesive than either. Quick and smooth sedans like the Volvo S60 and Lexus IS350 are probably closer comparisons, though neither is quite right in terms of price. The GS package will appeal to a younger, richer, and more adventurous buyer than Buick has seen in quite some time, but we're guessing that we're still a full generation of Regals away from seeing the brand's stodgy image shift substantially. Give it time.
If the Regal isn't aggressive enough for you, you may still be interested to know that Buick's translation of the Opel Insignia OPC may yet still be on its way to the US. Without confirming the all-wheel-drive, turbocharged V-6 variant with certainty, we were told with a nudge and a wink that there were more Regals in the pipeline. Stay tuned for a yet faster Buick-badged sled.
VS: Acura TSX V6
With more power and less torque, front-wheel drive, and nearly identical price points, the V-6-powered TSX and the Regal GS are natural enemies. The TSX feels quicker from a standstill, but a lot of that feel has to do with the drama of torque steer, which the Regal wants no part of. We like the Buick's six-speed transmission so much (no stick shift is available on the V-6 TSX) that we'd give it the driver's car edge, even though it's a bit more isolated. This one probably bears a real comparison test, though—it's close.
To our eyes the Buick looks a world better than the awkward Acura…just saying.
VS: Volvo S60 T6 AWD
The Volvo offering has a little more power and the comfort of all-wheel drive for just a dab more money. You'd go this route if you simply abhor the idea of driving the front wheels, but like everything else the GS stands for. Again, the fine 6MT of the Buick, and the S60's lack, give an edge to the traditionalist driver.
2012 Buick Regal GS 6MT
Engine: Turbocharged inline-4, 2.0 liters, 16v
Output: 270 hp/295 lb-ft
0-60 MPH: 6.7 sec (est)
Weight: 3710 lb
Base Price: $35,310
On Sale: Fall 2011