Driven: 2012 BMW M6 Convertible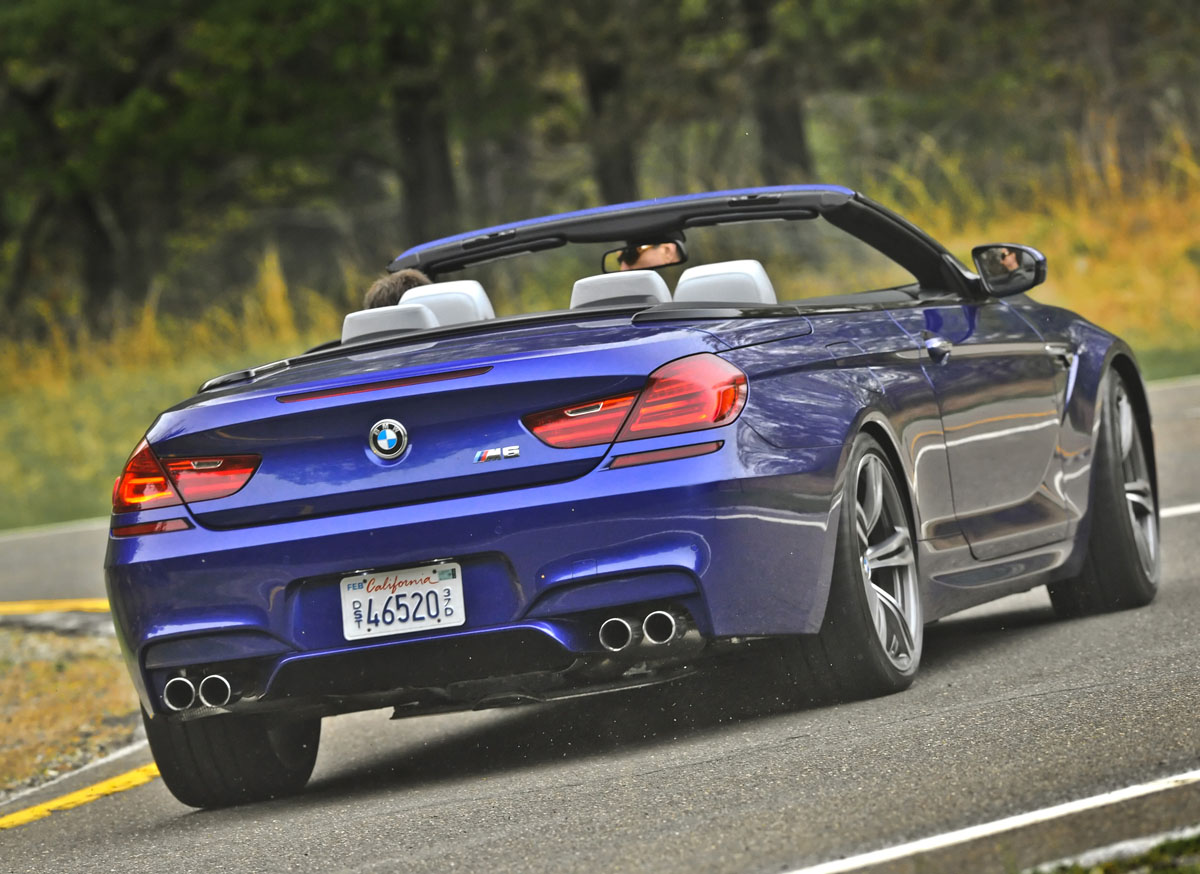 —Santa Barbara, California
We've been going on new car launches for more than six years to this point, you'd think that we'd have learned most, if not all, of the basic lessons for attendees of these things. Here are a few of the more important ones (we're sure you're fascinated).
1. Pick a driving partner as early as you can. Journalists are typically teamed up in pairs, and split a day of driving (usually) a few hundred miles—this is a lot of time to spend in a car with someone you don't like particularly well. So, if you don't get on the stick early, and team up with someone you know, or like, or at least seem to share an interest with ("This guy is wearing a Motörhead t-shirt to dinner, and I'm wearing my Motörhead t-shirt to dinner too!"), you have a high probability of being stuck with a dud. Far be it from us to call out any of our car-writing colleagues as having legitimate "dud" status, but let it suffice for us to say that, some of the more aged, futsy, and/or overly well-upholstered members of the media are a pain in the neck to drive with. (They require a lot of stops for peeing and eating.)
2. Grab keys first. Most automakers try to have at least some variation of vehicles available—hopefully representative of the cars that will ultimately be on sale. While this is a good thing in theory, in practice it often means that someone is stuck driving the stripper/automatic/sixteen-inch-wheel car for all 165 miles of Leg 1 in the route book. Here's the pro tip: hit breakfast fast, get out to the cars first, and get the keys to the vehicle you'd really like to write your story about first.
3. When you're reviewing a fast car, sign up for wave 1. Typical driving events are organized into "waves" of journalists. Groups of media come in, typically for about 48 hours, drive the cars, meet the PR folks, and then fly home to write their stories. The advantage of being on the first wave then, is that, typically, the local police departments haven't yet realized that their valiantly patrolled highways and byways are about to be trafficked by dozens of hooligan journalists. By wave two, the police are on high alert, and the tickets are liable to start flowing.
We screwed up on number three.
There are plenty of excuses to be made, reasons to be proffered for why it happened, but the cut-and-dry version is that we ended up on a later wave, when the local constabulary was at threat-level red. In fact, the day previous to our drive day, some eight or so of our fellows had been documented as driving above the posted speed limits—one nicked while moving very deeply into triple-digit speeds.
Informed of the rabid police presence over gulps of coffee, and with near-tearful looks from the BMW folks, who selfishly wanted to leave Santa Barbara with zero of their M6s in the county impound, we were forced to take things a little bit easier than we otherwise might have, given that we were driving 560-horsepower near-supercar convertibles.
In retrospect, though, driving this M6 Convertible at less than eye-bleeding pace for the first part of the morning (eventually we got out of effective range for the local police) was a great idea. This is true because the M6, by its very nature, should be as well equipped to cruise comfortably as it is to lap a circuit at speed. A BMW convertible, even an M-Powered one, and a 6-Series at that, should have tools at its disposal to make the driver feel luxuriously relaxed, after all.
And swathed in luxury you will most certainly feel, should it ever be your good fortune to drive this lodestar of European cool. The M6 takes the already opulent confines of
the new 6-Series
up a notch, with velvety leather neatly upholstered on most every surface we could touch or sit on from the driver's chair. Non-hide surfaces are typical of new-wave Bimmers: brushed metals, lacquered carbon fiber, and a small amount of plastics that are either tastefully done, or almost invisible. Important controls seem pleasantly damped, basic interfaces are uncluttered and easy to find, and the new M-specific steering wheel gets one excited to drive even before the starter button has been pushed.
This M6 is willing to offer a plush ride, at reasonable speeds, to match its cosseting interior, too. Where more and more cars are offering some level of "sport mode" to compliment the default ride quality/handling profile, BMW offers an amount of experience customization that is pretty mind-boggling. With variable damping, shift logic, steering effort, HUD information, and more, the M6 driver will have no problem selecting just the right configuration of settings for any road he or she may encounter. We're intimately familiar with the way in which previous M cars could rapidly change character, from "normal" to "intense", with the touch of a button, but this level of granular variability is new, sophisticated territory.
So, turn the car on and begin to drive in a laidback manner, and the M6 will drive a lot like the 6-Series convertible that we've tested on a few occasions. Ride quality is not noticeably diminished with this Comfort setting, but still pretty smooth-riding over bad surfaces. The car doesn't feel particularly tense, the engine is obviously quite responsive, but not overwhelming, and the steering feels a little on the light side for a car this big and heavy.
Turn all dials to the very most aggressive settings, however, and you'll find that a far different, entirely more beastly thing will come to life. (Even The Beast can be configured in a few ways, too. BMW gives us two "M" buttons on the M6 steering wheel now, the idea being one M setting can offer quick access to a sort of sporty driving mode, and the other [which requires a further driver confirmation] to access full-track driving mode.)
Most of our M6 driving (after moving out of the cop zone) was done with the damping and steering as firm as they'll go, and the stability control systems tuned to their least-intrusive settings (but not all the way off). The result of these modifications, on deserted roads that ranged from technically bending to wide and straight, was remarkable. The purist driver in most of us does not want to believe that a convertible, some 16 feet long and weighing in excess of 4500 pounds, can be this nimble on challenging roads, but the fact is that the M6 proved a wonderful tool for carving corners. It's true that its long body doesn't allow it to rotate as quickly as we'd like, but this BMW offered staggeringly quick bite when we turned aggressively into a corner, and was totally unruffled when said corner lead into another, and another, and another. Successive switchbacks—and we saw lots of them—were dispatched with flat, quick cornering, and utterly smooth reapplication of power upon exit.
Feedback about tire behavior was a little light, both from the steering wheel and from the seats of our pants. But, in point of fact, we were likely so far from the proverbial "edge of the performance envelope" that such feedback would largely be unneeded for any fast driving outside of a track scenario (which isn't to say we wouldn't want more road feel, you understand).
From the handling point of view, as well as most other views of driving this monster, it's better to understand the M6 as a kind of robot designed for supernatural conveyance across the face of the Earth than it is to expect a bit more nuance in the way it interacts with you behind the wheel. It's probably trite to say at this point, but there's very little chance you're "better" than this car.
And we haven't even gotten to the engine yet.
Holy smokes, this is some kind of powerplant, guys. Of course, with the Bimmer's big-and-beefy curb weight, you'd expect the car to require a lot of power to live up to the M reputation for speed. On that front, output figures of 560 horsepower and 500 pound-feet of torque are enough to impress all but the drag-strip set as to the seriousness of the M6 mission. And, certainly, a mark of 0-60 miles per hour in just 4.2 seconds is nothing to scoff at. But the truth is that none of those number quite do justice to just how %!&*ing fast this car feels when you lay into the throttle on an open piece of road (sorry for the language, Mom). Throttle down from a dead standstill, from cruising speed, or from 100 mph-plus, and the M6 response will be roughly the same: instant acceleration. The twin-scroll turbo is so quick to respond, and the 4.4-liter V-8 so fast to spin up, that the car seems to never lack for urge to go.
The brutality with which this new M will lunge forward is created by the very real acceleration that's happening, but it's certainly spiced by a few other factors as well. For one, and unlike some very nearby Mercedes-Benz competition, the M6 doesn't encase the driver in otherworldly quiet with the top down. The wind noise and buffeting aren't off-putting below, let's say, 90 mph, but at "track speeds" there's a riot of whooshing wind—don't forget some eyewear.
The wind isn't the only thing making thrilling high-speed noises, either. The M6 engine note starts as a low tone, almost inaudible at suburban speeds, moves into a higher, growling issuance that rises above the wind noise, and finishes as a peaked howl that wouldn't be missed by the guy ten cars back with his windows up and the radio on. There is a complex concert of good noises happening when you start moving quickly in the M6, a layering of engine and exhaust sounds that make our heart happy, and our right foot heavier.
In the actual practice of driving the M6, both casually and aggressively, we found BMW's new seven-speed dual clutch transmission to be a perfect match to the heroic engine and overall techy nature of this super convertible. The Sport and Sport+ automated modes step nicely between sporty reaction to throttle input, and really trying to hold the revs at an optimal level, and the manual mode executes up- and downshifts far faster than we'd be able to in a lifetime's worth of stick shift practice. Really the manual mode is just excellent, without even the low-speed jerkiness that many other DCTs seem unable to resist, and often the worst part of the technology.
With that said, it almost seems as though BMW is purposefully obfuscating something as simple as shift-level operation at this point. The stubby gearlever doesn't operate like any other of its breed, even from BMW. There's a right push needed to engage drive and sport, a left/up pull/push needed to find reverse, and no mention of a "park" setting in what feels like an annoyingly snide reminder that, "This isn't an automatic transmission." We'll grant you, it's not that hard to learn, once given a bit of time. But, considering the price point, the general positioning of the car (super-fast convertible), and the exceedingly high likelihood that this M6 'vert will be the second, or third, or fourth car in its owner's stable, wouldn't it make sense to, at least, follow BMW's own gear-lever conventions?
Ah well. In part we feel compelled to include our own annoyance with the gearlever, because, in all honesty, there's not much else to say that's negative about this insanely capable new addition to the highly awesome M family. With a bigger body, more mass, and a smaller engine with fewer cylinders, this M6 manages at once to be impressively faster, more fuel efficient, better riding, and a more complete driver's car than the outgoing model. Most new models are better than those they replace, but BMW sometimes seems to make quantum leaps that most automakers would be pleased to achieve in two generations, not one. Perhaps even more impressive is the transformation made over the base 6-Series convertible in terms of driver joy, where a quick but kind of uninteresting car has been turned into a real rager.
Though its $113,000 price tag makes it largely unobtainable for the working stiff, it's nevertheless amazing at how this M6 shrinks the gap between the "true" supercars in terms of feel and performance. It can't be considered an outright performance bargain in a world filled with Corvettes and souped up STIs, but its combination of luxury, technology, and crushing speed sure look like half-price supercar stuff to us. Just don't tell that to the cops around Santa Barbara.
2012 BMW M6 Convertible
Engine: Turbocharged V-8, 4.4 liters, 32v
Output: 560 hp/500 lb-ft
0-60 MPH: 4.2 sec
Top Speed: 155 mph
Weight: 4508 lb
Fuel Economy, City/Hwy: 14/20 mpg
Base Price: $113,100
On Sale: June 2012