Driven: 2012 BMW 1-Series M Coupe (Prototype)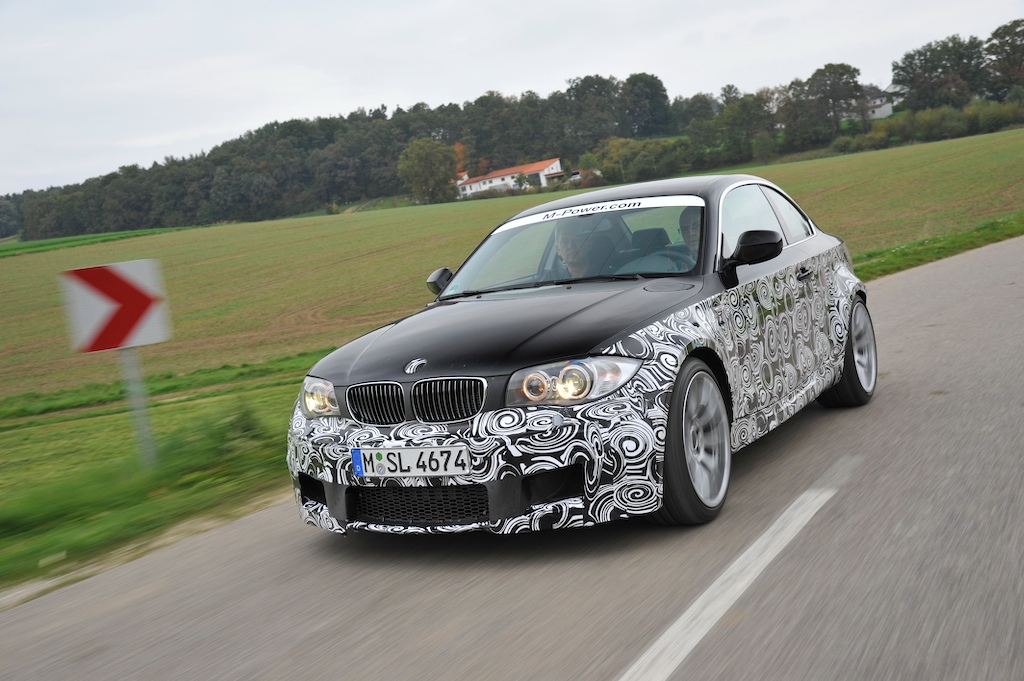 —Garching, Germany
We'll always have a simmering adoration for the original M3 that brightened our world back in 1985. That M3 had nearly ideal proportions and still looks so tempting to the eye. It remains a blast to drive, too. That is, whenever BMW lets us take out one of its perfectly maintained museum pieces and tells us to have at it. The five-speed manual configuration, with first gear being toward us and finishing right on the driver's right thigh, is fantastic. We appreciate the old-fashioned roll in harder corners, modicum of support from the seat bolsters, copious body English needed, and sensational big-window visibility all around.
Today, though, high performance expectations have changed a lot, and we want something much steadier and supportive when we're toying with spending anything over $50,000 for a new, quick car. We have loved the 135i Coupe, but it reveals itself on a closed circuit as not being quite the best match to the task. Let's say that the "driving pleasure," quoting company taglines, is close to "sheer," but that it falls just short of truly being the "Ultimate Driving Machine." She comes off too heavy and a bit soft during occasional aggressive curve attacks.
So, in effect, with the 1-Series M Coupe, BMW now offers us a total M handling package for the car, while other important things like horsepower and torque increase some, along with other changes. We were frankly skeptical of this M, with just 34 more horses and 37 more pound-feet of torque on tap. But the project team looked at us over our plate of wienerschnitzel and simply told us, "Give it a drive and then see what you think."
We think we like it. A lot. Even the paisley test mule camouflage could be forced upon us and we'd still want this car.
First off, there's the engine—the same version of the 3.0-liter "N54" inline, biturbo six-cylinder used in the most recent Z4 sDrive35is. Thus saddled with 336 horsepower and 332 pound-feet of torque (and weighing right near the 135i's curb mass of 3,439 pounds with manual transmission), an estimated acceleration time to 60 miles per hour stands at about 4.7 seconds. Compare that to 5.1 seconds for the 135i, even when using the DSG gears, launch control, and all 7000 rpm.
The only transmission coming on this 1 M is the very latest version of a ZF six-speed manual also seen on the Z4 sDrive35is. Even under the specific stresses of more technical track-like sections of road filled with tight bend after tight bend, the manual shifts do not risk getting at all vague—a nice upgrade versus certain implementations of previous generation, near-great BMW/Mini six-speed manuals.
More nice additional touches to this sports notchback are wider front and rear tracks (1.2 inches front, 1.6 inches rear), a totally modified suspension calibration with a chassis set four-tenths of an inch lower than the stock 1-Series coupe, a limited-slip differential included as standard, freshened aero kit all around, and non-run-flat Michelin nineteen-inch rubber. Brakes included are the M compound brake disc set. The new four-tip exhaust system uses a front half with faster heating catalysts, with the rear half being from usual M-car supplier and general rabble-rouser Boysen.
On our bombing run over many miles of Bavarian countryside, we were fortunate to have as our co-pilot M Division engineering boss Albert Biermann. Herr Biermann talked a bunch regarding the specific suspension rethink for the 1-Series M as we explored up and down the well-conceived six-speed shifter. "We are aware of what you say about the 135i suspension being perhaps a little more set toward comfort than sportiveness," he said. "This setup, I think you'll agree, is totally new. There's more speed and less roll through every curve."
The doktor is right, too. Compared to the still occasionally blousy movements of the expensive Z4 roadster, this less pricey ($55K, roughly) 1M Coupe is a handling star. Sitting almost half an inch lower between the noticeably wider tracks. Bookended by nineteen-inch Michelin treads—245/35 ZR19 front, 265/35 ZR19 (98Y) rear—the car handles its added oomph through the chassis exactly as we would want it if they had dared name the car M1. Biermann cannot resist chiming in as we transition between curves, "The current M3 really has trouble putting this car in its rear-view mirrors."
In fact, the 1M Coupe is quicker around the Nürburgring than the stock E46 M3 ever was, though Biermann hesitated giving us actual numbers yet. The stability of this 1 at highest speeds is exceptional, too. Our skepticism about the car melted away as the non-adjustable suspension setup proved flypaper-good and resilient on all road surfaces we scorched during the day's drive. Losing the run-flats does an amazing amount of good, as does having the M compound brake set. Specifics for the suspension that they could tell us on this special advance drive are: stiffer springs that lose the 0.4 inch of height, dampers with less travel, some key bushings change from rubber to ball-joint, and the strut braces front and rear come from the E90/92 M3.
And there's an M Drive button on the steering wheel, too. These pre-set sportier calibrations are also non-adjustable, and involve a more responsive mapping for the engine-throttle connection and higher base thresholds for both Dynamic Traction Control (DTC) and Dynamic Stability Control (DSC). This M setup was a better choice on the day with sweaty pavement on skinny farm roads, as opposed to holding down the DTC button for several seconds to detach all traction and stability nannies.
You may recall the BMW 1-Series Coupe-based "tii" concept at the 2007 Tokyo motor show. This 1-Series M citizen-racer version of the coupe takes some inspiration from that well-received concept, but, alas, there will be no carbon-fiber hood offered here, and no special materials really at all from some M Sport catalog. This is a bummer for us, though we can easily see some German, Japanese, and US tuners having their way with this car. The M team also denies any rumors of a monomarque racing series using the 1-Series M or any Clubsport version. Though, again, privateers will absolutely have their way with this raw material that works so well and with a price that doesn't peel our eyelids back.
Exact volumes have not been set, as well as no fixed timeframe for 1-Series M Coupe production at the Leipzig factory. There will be no other body variants offered, according to the BMW M team. After the car's world debut at this January's Detroit auto show, North America-bound coupes start arriving in May 2011. Around 50 percent of all 1-Series M Coupe production is destined to be delivered to the United States. Yay!
2012 BMW 1-Series M Coupe
Engine: Biturbocharged inline-6, 3.0 liters, 24v
Output: 336 hp/332 lb-ft
0-60 MPH: 4.7 sec (est)
Weight: 3440 lb
Fuel Economy, City/Hwy: 17/24 mpg (est)
Base Price: $55,000 (est)
On Sale: May 2011