Driven: 2011 Toyota Sienna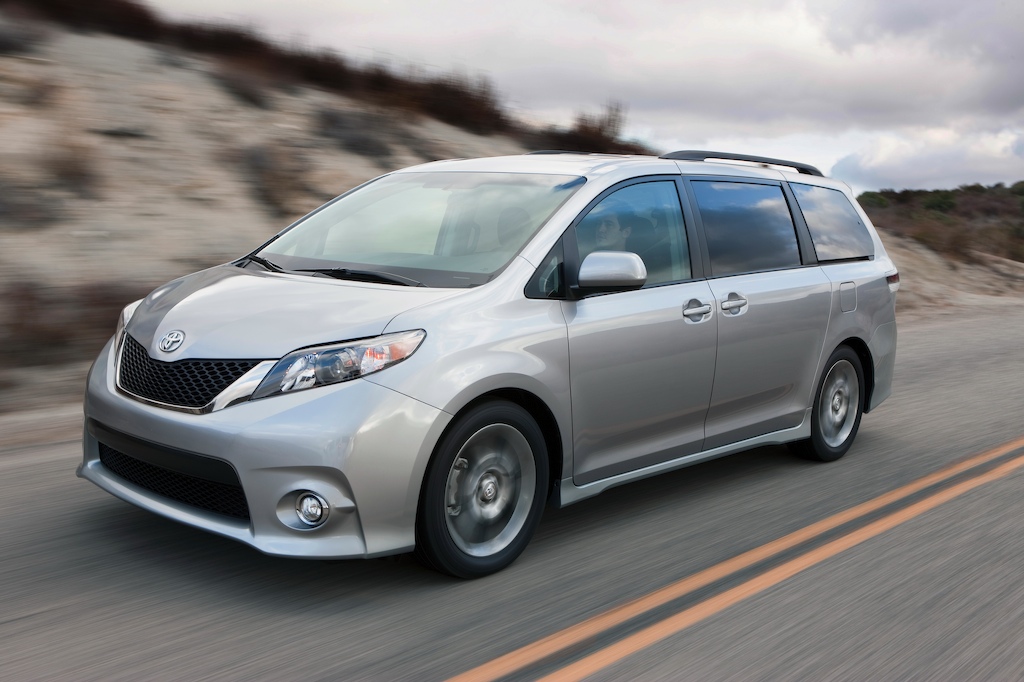 —Dana Point, California
The select automakers that are still competing in the minivan segment seem to be facing a challenge that becomes more difficult, model year after model year. Put simply, minivans aren't particularly cool, and nobody really wants to drive one. That "nobody" part might be a bit hyperbolic, but it's certainly closer than ever to being really true.
After suffering a SUV-induced shock to their collective sales numbers throughout the last two decades, the minivan segment has been further decimated in recent years by the rise in popularity of the crossover. The minivan is old enough now that many of today's young parents were ferried around in a Caravan or Aerostar when they were growing up, and might be particularly sensitive to the perceived image associated with driving something in that mold. Seating for seven and room for groceries is one thing, turning into your Mom and Dad is quite another.
With all of that said, Toyota still understands that there are some buyers for which only a minivan will suffice. These buyers need to transport lots of people, lots of the time, and they put a major premium on space and flexibility. With its new-for-2011 Sienna SE, Toyota is satiating those needs, while also hoping to lure customers with the promise of something a whole lot more interesting to drive, and good to look at, too.
The SE grade is a new addition to the Sienna lineup, and the model that takes dead aim at the young families Toyota is so feverish to attract. Company reps claim that the SE has been specifically styled and engineered to be the oft-discussed "cool minivan." A family hauler that won't be put to shame on a good road, or get young, hip parents laughed at by their young, non-parent friends. No mean feat.
So to start, the SE utilizes Toyota's 3.5-liter V-6 engine coupled to a six-speed automatic transmission. The powerplant makes 266 horsepower and 245 pound-feet of torque—more than adequate power to make the minivan feel pretty potent—while delivering reasonable (20 miles per gallon combined, estimated) fuel economy.
Even in the front-drive SE, we were happy to find that engineers have tuned out the sort of wheels-spinning, torque-steering behavior that is sometimes evident via the front wheels. Throttle response remains good at slower and medium speeds, despite this small, well-meaning muting of that at initial acceleration. Sienna owners will likely appreciate the passing power, but we doubt that they'll miss any smoky, front-drive burnout ability.
The V-6 also offers a rather surprising and energetic engine note, when you really get into the throttle—a nice touch for a vehicle that one might expect to be completely sanitized.
Now, the power, power-delivery, and exhaust note, nice as they are, are all available on any of the V-6 equipped version of the Sienna. So what, if anything, makes the SE the fun one? Well, there's a pretty aggressive wheel and tire package to get the ball rolling; the SE comes equipped with a really cool set if dark-finish, nineteen-inch alloy wheels and low-profile rubber. (The tires are just as wide as those on the less sporty looking eighteen-inchers, so overall grip stays equal.) The van has been lowered by about a half-inch as well, and rides on a slightly revised suspension setup, with stiffer spring rates. All of the flavors of Sienna we tested on the lovely Ortega Canyon Road exhibited decent road manners for such a big-bodied vehicle, and the SE's revisions have definitely firmed things up even more. There was a lot less lateral motion through the suspension in spirited corners, and the Sienna didn't show the sort of body lean that we expect from this segment.
SE's electric steering has also been tweaked from the rest of the Sienna crew, with a higher effort feel that is slightly more reassuring at speed. Road feel is still pretty minimal here, as one might expect, thought the steering rack was both quick to respond and pretty precise. We're not sure that the SE is exactly autocross worthy, but we'd be willing to give it a shot (your move, Toyota).
As you can see from the pictures (check out our huge, attached gallery) the Sienna SE also gets a cooler-than-standard grille treatment, smoked headlamp lenses, and clear rear lenses that all up the visual ante. Overall styling for Sienna is pretty trim to begin with—though we're not huge fans of the sloping, Prius derived nose—and the SE does nicely work as the best of show.
Has Toyota transformed its SE grade van into some kind of borderline performance Vehicle? Well, no, not really. But, the SE does deliver enough of a warmed up package to stake a strong claim in the Best Driver's Minivan Sweepstakes. Honda Odyssey and Ford Flex, you've got some new company.
Oh, and there's all that minivan stuff.
Not to be lost in our rating of the Sienna SE as a driver's tool, Toyota has also (and totally unsurprisingly) engineered a minivan that has a lot of really great stuff for the people who just want a good minivan.
Toyota's super flexible space will allow for seating of seven or eight (the eighth seat is stowable, and available on most grades), and has some nifty folding and long-sliding center seats. These central captain's chairs may not fold into the floor, but they do fold nearly flat vertically, allowing them to be nestled right up against the front seats when hauling capacity is needed. With the second row thusly folded and the third row folded into the floor, Sienna offers a significant 117.8 cubic-feet of space. (That's about 30 cubic-feet less than Odyssey offers, and 23 down on the Chrysler Town & Country, but still pretty capacious.)
The crowds at the Los Angeles Auto Show were pretty impressed when Toyota showed off some of Sienna's new toys, with the two most impressive being the second-row Lounge Seating, and the massive new rear entertainment system. The lounge chairs take away the option of the eighth seat, but they add two seats with extending footrests, and the ability to fold to a nearly horizontal position. These seats (standard equipment on the $38,500 Limited grade) are sure to be a hit with the kids whose parents shell out for them, but only the kids in question number fewer than three. When fully extended, the lounge chairs basically eliminate all legroom for the third row.
Further aggrandizing the rear accommodations is Toyota's new rear entertainment system, which features a sick, 16.4-inch fold-down LCD screen. The massive screen allows for a dual-view, meaning rear passengers can watch two movies at the same time, play a game and watch a DVD, etc. Optional wireless headsets offer separate audio for the dual-display. If the whole of the rear-seat riders want to watch together, the screen can be configured for a single, hugely wide picture (along with three other display sizes). We didn't have enough DVDs on hand to see if the full wide-screen display distorted the picture in any instances, but the on-hand test copy of The Dark Knight looked really good.
Sienna pricing will start at an MSRP of $24,260 for the base, four-cylinder Sienna grade van, and move up to $39,770 to start the Limited V-6 AWD affair. That's a wide range that reflects the large number of configurations available to potential customers, and competitive pricing for a vehicle that Toyota hopes will sell on the order of 100K units in its first year. Look for Sienna (V-6 powered Sienna, LE, XLE, and Limited grades) to arrive in dealerships by February of 2010, with the four-cylinder models and the sporting SE arriving something in April.