Driven: 2011 Smart ForTwo Electric Drive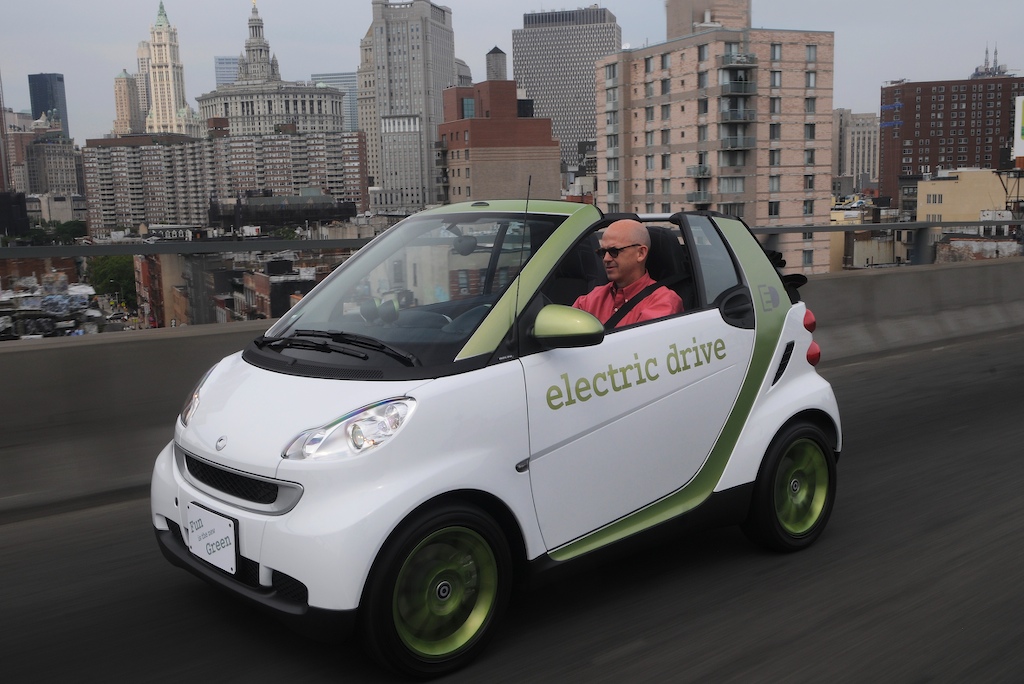 —New York City, New York
Globally and for every year since its inception, Smart has been a major bust in every business-case sense apart from spot markets like Italy, some southern German cities, London, and some Japanese cities. 2008 was a boom year for the brand in North America and the US was suddenly a top market with over 24,000 customer sales. Then 2009 hit and smashed the Smart sales charts to bits at just roughly 14,500 sales.
Everyone knows in their hearts that there has got to be a business model that will someday work for this car. Smart has always seemed such a damned good idea to thinking, fashionable, and mostly urban people. But, sadly, the only market that can save a brand fast these days, China, doesn't much care for the tiny tyke.
So, now we get the way-too-long awaited Smart ForTwo Electric Drive. Like a Chevrolet Volt, it's been talked about forever and has already lost most novelty power, so we actually doubt this electric chapter of the Franco-German company will help much in stabilizing the brand. Does it drive like a really expensive well built and crash-safe golf cart? Not literally, but we couldn't get the image out of our heads all the same.
And, of course, helping nothing at all here is the fact that only well-to-do and corporate fleets can actually humor playing around in a Smart ED (more on that in a second). This is a part of every single dragged-out EV strategy that we absolutely do not understand as it sends out exactly the wrong message. Hence why hybrids continue to crush any chance of full electrics mattering one bit to normal humans. It's a cynical and pretentious approach that could kill this recent EV trend in the bud. In fact, it probably has done so already.
We had the Smart EV for several parade loops around Brooklyn and Manhattan, and certainly the cars were 100 percent in their element here. Besides the smallness working to one's advantage, the launch characteristics when pulling off 40-horsepower kickdowns, hole-shot after hole-shot, are thoroughly right in such a scenario.
Apart from the 308 added pounds over the gas-driven ForTwo, nothing changes much regarding the physical orientation of the driver/passenger in the wee Daimler product. Looks like a Smart, handles like a Smart. We do completely adore the in-cabin sitting-at-the-wheel relationship; it's still near perfect and tremendously comfortable. The spatial attitude of the driver and our view out of the car are both near perfect in urban situations as well.
As there is now more weight on the front axle with a 40/60 mass distribution for the 27-horsepower electric motor to yank around (40 horsepower is the peak power number after kickdown, only available for two minutes max). The front springs there more robust, which is a big improvement in our opinion, offering a more substantial feeling at the wheel. Quoted torque—all available from a dead stop—is 89 pound-feet.
Acceleration to 37 miles per hour is quoted at 6.5 seconds, and top speed is capped at just 62 mph. That speed cap will keep drivers from routinely sucking the 16.5-Kwh, Tesla-Daimler lithium-ion battery pack dry, and thus falling way short of the quoted 82-mile range. The transmission is just an on/off switch really, with a single-speed system overseeing things. This automatically makes the ForTwo ED better than the gas-powered sibling, as the five-speed simplistic SofTouch automatic is, frankly, quite an awful experience.
Another mixed message: until the 2013 model year, these initial Smart ForTwo ED cars are available only on exorbitant 48-month leases at $599 per month. That's $28,752 total, but the federal income tax credit is bound to be for the full $7500 possible, thus bringing the take down to $21,252 or, in the end, about $4,000 less than the base Nissan Leaf.
Total production annually until 2012 is meant to be 1500, only 250 of these coming to the US and to be sent to markets like Portland (Oregon), San Jose, Orlando, Indianapolis, and the DC-to-Massachusetts I-95 corridor, all places where there will exist the added incentive of complimentary charging stations provided by Coulomb Technology. Other cities—Detroit among them—will follow in 2011. Daimler reveals it is also working on near-future cordless charging.
Our 250 units arrive here in October 2010 and you can bet they're all gobbled up.
Will the Smart ForTwo ED have a ripple effect that re-popularizes the small Euro runabout? We're not willing to say so or not, but this ED application does strike us as a more authentic manner in which to treat the ForTwo legend that is still struggling to get off the ground.
2011 Smart ForTwo Electric Drive
Engine: electric motor powered by lithium-ion batter pack
Output: 40hp/89lb-ft
Top Speed: 62mph
0-37 MPH: 6.5 sec (est.)
Weight: 2150 lb
Range: 82 miles
On Lease: October 2010