Driven: 2011 Saab 9-5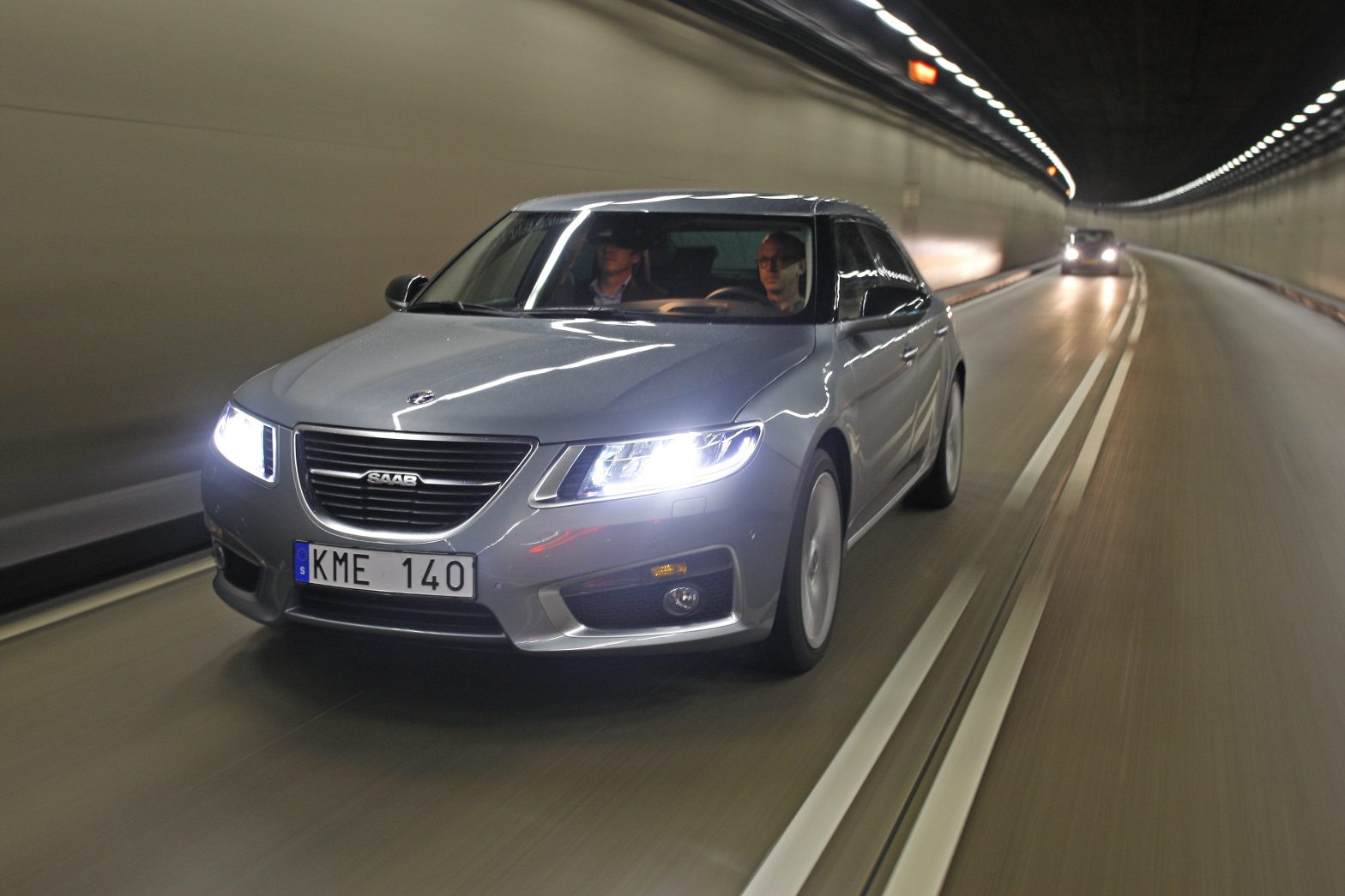 —Amsterdam, Netherlands
The first-generation Saab 9-5 had a thirteen-year shelf life, and stopped being produced in Tröllhattan, Sweden only when the suppliers stopped delivering all of the necessary parts back in July of 2009. And the suppliers stopped delivering parts because General Motors (with an embarrassing sense of near enthusiasm) had announced that Saab would be either sold or shuttered, sending Saab sales worldwide into a tailspin.
We were as shocked as many of you surely were. Just one more move in GM's long history of dubious achievements: the near eagerness to kill this hallowed Swedish brand which, by all accounts, it never even tried to understand adequately.
But we step into the lobby of our very 1970s-feeling Marriott hotel at Amsterdam's Schiphol airport to meet our collaborator on this stealth mission, the Spyker Saab CEO, Victor Muller. Joking, sort of, our host looks at us and says, "Crazy isn't it? To get the first 9-5, I had to go and buy the company."
Saab's new Dutch owner Victor Muller is an adamant, outspoken kind of car guy. Exemplifying this sometimes impulsiveness, while we were talking with him near the airport he handed us the key fob to his pre-production 2011 Saab 9-5, and said we could have a spin in it so long as he was our constant passenger.
Genuinely surprised, we did the right thing and accepted the offer. We've liked driving every GM world car (or former GM world car) that has been built on the global Epsilon II architecture, be it the Opel/Vauxhall Insignia (European and U.K. car of the year 2009), Chevrolet Malibu, or Buick Lacrosse. The Chinese got it, too, at the end of 2008 under the latest Buick Regal, and we saw this car on American soil finally at the latest Detroit show as the very handsome Regal GS. Now it has found its way to this decidedly more Saab-like second-generation 2011 Saab 9-5.
While gathering pearls of "the new Saab" wisdom from Mr. Muller as we drove his 9-5, it didn't take long for it to wash over us that Saab, in this new premium sedan, has a success on its hands, so long as it doesn't get all screwed up. The 2011 Saab 9-5 is a dynamic driver and looker, very well built, not quite yet at the Audi level of cabin refinement, but laced inside and out with that sturdy Scandinavian alternativeness that we've been missing in Saabs for some time now.
"Of course," adds Muller, "This 9-5, as great as it is, is not the 9-5 I know that we can create in Sweden for the third generation five or six years from now, but it's a bloody wonderful first product to have inherited right at the start of our ownership."
It's been a long and bumpy road to get to gen-two, even. Back in 2002, we visited the then new and now closed Saab/GM Advanced Design Studio just outside of Göteborg, Sweden, and on the wall there was a 1:1 full profile drawing of this very car, as created by the Saab advanced design team, that we were told to "not see." The 9-5 was basically ready to go way back then but, we won't go into how GM Europe screwed that one up.
Saab was told to settle for a semi-new (glorified mid-life-like) updo for the 9-5 instead. So, the first-generation Saab 9-5 has had this awkward-as-hell thirteen-year life cycle, while the rest of the premium executive segment has thundered ahead with new models and profits. The last 2010 Saab 9-5 rolled off the line in late July, and production of the finalized new 9-5 just started in mid-March.
Saab sales in North America dropped 35 percent between 2007 and 2008, with total '08 sales hitting just barely over 20,000. Then 2009 hit together with GM's overly excited announcement that Saab was history, and Saab's North American sales plunged a further 59 percent to just 8,680 vehicles. Not good for a market that should be buying at least 50,000 of your cars per annum.
While chatting with Muller, we couldn't help but notice that this 9-5 is a fully loaded Aero trim with the 296-horsepower, Holden-supplied, 2.8-liter V-6 as pumped up by a Borg Warner turbocharger, and fitted with the company's outstanding XWD that combines an electric limited slip rear differential, together with the Haldex all-wheel traction. Nice package, and we gunned it whenever we could just to watch the turbo gauge and hear the slight whistle of the turbine.
"It was so frustrating for Saab fanatics like me for so many years," says Muller. "Not only did we have to wait 13 years for this next 9-5, but we waited a ridiculous amount of time for four-wheel drive, while GM Europe took whatever profits Saab was making and threw them into an Opel/Vauxhall black hole." Muller will come out with these refreshingly honest statements all day long while his PR team squirms nearby.
"Now we're independent, our next four models are paid for," Muller goes on, "And I am committed to returning Saab to its roots, while at the same time finally bringing the brand up to the level of quality and respect that the Germans rightfully receive these days."
The 9-5 Aero interior is an honestly solid execution in taking the recent Opel/Buick/Cadillac high quality and making it Saab's own. The dominant color, apart from the soothing grays in the leather and dash of this tester on this cloudy Dutch day, is a vibrant, antifreeze green. All instrument needles, some touch-screen sat-nav buttons, and several ambient lighting trim bits around the cabin shine with this traditional Saab hue. We felt embraced in Nordicness as the cabin glowed soothingly around us.
There is no longer a standard key insert for the ignition by the driver's inboard thigh–let's just call it "that heritage anchor." It has been suitably updated to a push-button StartStop with tiny light slots that glow green, too. The old-time, space-hogging handbrake lever is gone as well, all 9-5s now being fitted with a discreet electro-hydraulic handbrake. Looking straight through the three-spoke Aero-design steering wheel, inspired by recent show cars like 2006's Aero X, you see a digital onboard data dial. Among other things, this little disc can show an airplane altimeter-style speedometer readout, which struck us as sufficiently cool.
As we've always felt in Saabs, the full leather and its stitching can still be made to be more upmarket. "Yes," agrees Muller, "We are going to be working massively on perfecting the Saab interior experience, and a big part of that is constantly improving the materials choices." Not long after the midsummer North American launch of the 9-5, in fact, Muller tells us there will be a premium-level personalization program offered in part to help solve the puckered-leatherette feeling of the current material. The Aero sport seats could be more sporting as well, as regards their overall support especially at the sides.
Any improvements to the outgoing 9-5's exterior looks are going to be better than what Saab's larger car was forced to live with in recent years.
This 9-5 at least starts to rediscover formerly shunned airplane fuselage-style sleekness and angles. The shape of the car is very clean, and looks good in this lighter silvery gray. All of the lighting elements deliberately take on a chilly feeling, particularly up front where the term "ice block" is being used by Saab to describe the slight blue tint. In back, a new look that will be part of all future Saabs is the bar of light running the width of the trunk—it's a distinctive touch we like.
Particular to the Aero look are the much meaner and larger front air intakes, nineteen-inch "turbine" wheels dressed in aggressive Goodyear Eagle F1 tires, adaptive cornering LED headlights, and the dual rectangular exhaust tips visible through the fascia. This exact car we got to drive, in fact, is the only model of the 9-5 initially arriving in North America. The 217-horsepower, turbocharged, 2.0T four-cylinder will arrive later in 2010, and the XWD and eLSD will be available as options for that motor, too. In a really evolved move, the new 9-5 Saabs for North America will all come available only with the 6-speed Tiptronic automatic. The manual shift linkage we've tried on European 9-5s and 9-3s is the worst we have ever had to live with in this century. Only if this standard and traditional setup is greatly improved should Saab think of bringing it.
The sort of driver involvement in the sportiest Aero Saabs has always been uniquely pleasing. We find ourselves employing more body English here and there as though we're autocrossing and being cheered on by Swedish fans. The Holden V-6, with intake and exhaust variable valve timing and most of its 10.9-psi, turbo-aided 295 pound-feet of torque ready between 2000 and 6000 rpm, gets this larger 9-5 to 60 mph in a decent 6.7 seconds. There's a minimum of turbo lag involved, although it will be better when a twin-stage biturbo setup comes along for a Viggen version. "The Viggen name should play a significant role in the future," Muller confirms.
Talking length, the 2011 Saab 9-5 is 6.8 inches longer at 197.2 inches than the outgoing car, with a wheelbase stretched by 5.3 inches. This makes it longer than both the Audi A6 and BMW 5-Series (seven-inches longer than the Insignia or Regal). Muller stands just over six-foot four-inches, and he set himself up in the driver's seat. We, at six feet, sat in back behind him, and there was a tremendous amount of space for knees and head. So, the 9-5 is sizeable, finally, and competitive in the part of the market it has been meant for all along.
The chassis control system, called here Saab DriveSense, works on a rheostat to the left of the automatic joystick. Set to Comfort, Intelligent, or Sport, the system controls the suspension feel, steering assistance, ESP threshold, and throttle/transmission response. Between the "C" and the "I", we felt little difference initially. But once Muller nudged us to put the foot into it, the potential difference in the Intelligent setup became clearer. In this mode, various dynamics parameters adapt at eleven different levels depending on how you're generally driving at that time. Saab chassis teams have improved the damper feel at lower speeds in urban areas and at speed over highway bumps to where there is less steering column vibration. We still wish, however, we could set up the suspension independently from the rest of DriveSense.
The steering wheel-mounted shift paddles that come standard on the Aero V-6 operate nicely, though Saab should play with their appearance and feel on the fingers a bit more. While at it, tightening the steering ratio to avoid too much hand-over-hand action wouldn't go amiss, either. In Sport of the DriveSense, things improve this way a touch, but the overall steering needed 2.7 turns, lock-to-lock, and doesn't yet feel Aero optimized, really. Forced on-center steering feels a bit robotic compared to others in this segment and with these aspirations, too. Again, we just had to push Muller's Saab harder to get at the less composed side of the Scandinavian persona. It's tradition, and we actually really do like it.
For years, Saab and Volvo both fell into the trap of believing they could charge just as much or more for their cars as the Germans. This error is being fixed, too. Though Muller really takes hard aim at the A6 with his thinking on the 2011 Saab 9-5, he knows he cannot quite yet go straight head-on with the A6 3.0 TFSI Quattro, even though on paper, in many aspects, he can do so comfortably. It would be a major coup to start the 2011 Saab 9-5 Aero Turbo6 XWD at $49,000. Get this worthy head of steam going, introduce long overdue improvements, and then the price can start creeping up to Audi territory.
Add Spyker Saab personalization packages, a Viggen, the 9-5 SportCombi wagon, a good looking 9-4X crossover in 2011, the outstanding turbo 2.0-liter motor, and now you're talking.
At least to us, Muller seems genuinely motivated to—as he has announced many times to the media—make Saab build real Saabs again.
He wrapped up our meeting and drive by showing us something on his iPhone. You know the Audi A3 and BMW 1-Series competitor Muller has mentioned as a next step to slide in below the next 93? It's about the size of the 9X concept car shown at Geneva in 2007, will be called the Saab 92, and it is stunning and exceptionally Saab distinctive.
And, yes, the dash between the numbers is being retired with the intro of the new Saab 93 in 2013, getting back to the pre-GM traditional naming pattern.
We are hoping this all works. Not just because our offices are in Michigan and Saabs are perfect year-round premium transportation, but also because we are shamelessly in love with the Saab we grew up with before GM came in and fixed everything that wasn't broken.
And because we like to see the confident Germans sweat a little.
2011 Saab 9-5 Aero Turbo6 XWD
Engine: turbocharged V-6, 2.8 liters, 24v
Output: 296 hp / 295 lb-ft
Top Speed: 150 mph
Weight: 4630 lb
0-60 MPH (est.): 6.7 sec
Base Price (est.): $49,000
Price as Tested (est.): $55,000