Driven: 2011 Saab 9-4X Aero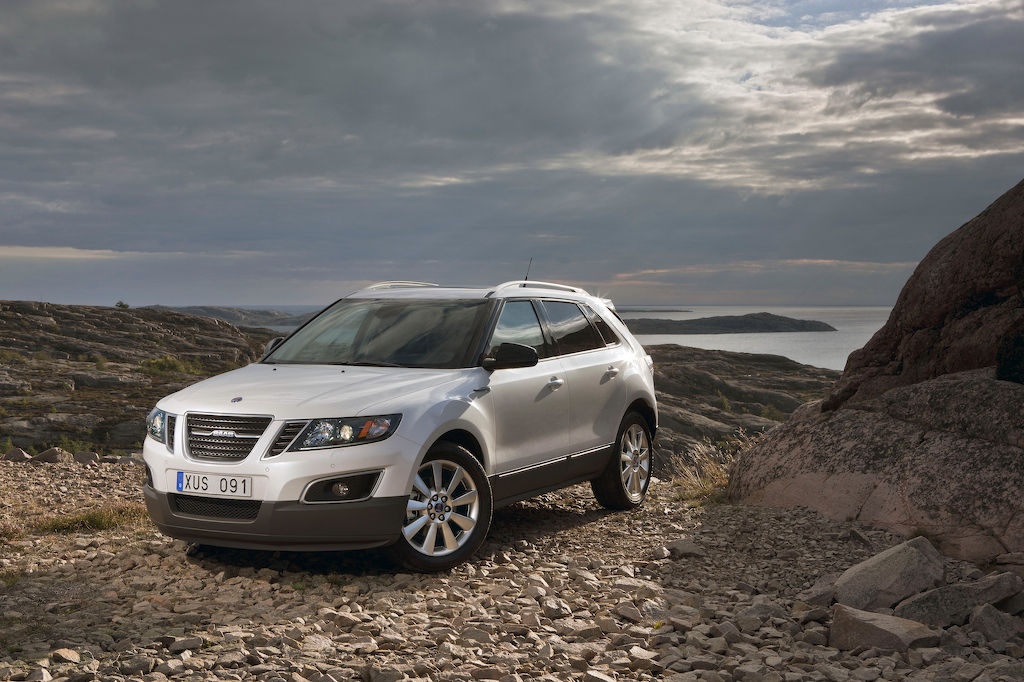 —Washington, D.C.
It seems that any car-loving person over the age of 35 has an opinion about Saab. You can find all sorts of discussion about whether Saab can make it without a large parent auto company (Saab is now owned by Spyker, the supercar maker, which is about as small—and committed—a parent as you can get). Like most business situations, the issues are complex, but certainly a cash infusion from Chinese auto distributor Pangda along with possible additional funds from Russian investors, totaling over $250 million, would help Saab in the short term.
There is also all manner of conversation about what a Saab should be and whether new models like the 9-5 are "good enough" and "Saab enough." In the long run, we like to think those questions will matter.
To address some of this, Saab recently invited us to Washington, D.C. to drive the new 9-4X and to hear from Saab executives about plans for the company. The 9-4X, for those not following Saab closely, is a mid-sized crossover, priced in the $34,000 to $48,000 range. It will arrive in US dealerships in mid-June.
Interestingly, in these turbulent times for everybody from Toyota to Fiat, the Saab team was impressively focused on the plans they have for new features and new cars. Cynics will say, "Of course they are; who would talk up the financial issues they face?" But honestly, we felt something different. Victor Muller, the CEO of Spyker and Saab, was very candid about the financial challenges the company faces. Even more than that though, you get the sense that the company is full of car people, not accountants and lawyers. That's a good thing.
In the event, though, a lot of that talk is speculative. Saab is making and selling cars today, and premium crossover buyers will want to know whether Saab has something interesting on offer. We think they do, but the distinctiveness of the 9-4X is subtle enough that you could miss it on a quick showroom visit.
What Is A Saab?
Let's start by outlining what a Saab is. Because a lot of the answer to the question, "Is the 9-4X is for you?" will come down to a) whether you want what Saab is trying to do and then b) whether Saab has executed well to that objective. If you don't really want what Saab is trying to offer, then the premium crossover segment has so many alternatives that there is likely to one that fits your needs, rendering the 9-4X moot. If, on the other hand, it turns out that you're looking for what Saab is doing, then we'll proceed to address whether they've executed in a minute.
So, what is a Saab? According to the Saab team, a Saab is a premium vehicle, with branding that is alternative, based on Scandanavian design and real-world technology. Saabs are fun to drive and are for people with active lifestyles. We've summarized this relative to other brands in a simple table below. These summaries aren't perfect because they're simplifications, but the comparison helps you see how Saab is distinctive.
| | | | | | |
| --- | --- | --- | --- | --- | --- |
| Brand | Social Branding | Design Branding | Drive Branding | Technological Branding | Lifestyle Branding |
| Saab | Alternative | Scandinavian | Fun | Real World | Active |
| BMW | Aspirational | Advanced | Performance | Advanced | Active |
| Mercedes-Benz | Traditional | Solid/German | Luxury | Advanced | Executive |
| Volvo | Prudent | Scandinavian | Luxury | Safe | Feminine |
| Lexus | Attainably Successful | Post Modern Conservative | Luxury | Advanced | Family |
| Audi | Alternative | Modern | Sporty | Advanced | Fashionable |
If you really look at the chart and think about it, Saab stands out from BMW, Mercedes, Volvo and Lexus pretty well. Saab stands out against these brands because of what a Saab isn't. A Saab isn't a BMW, Mercedes or Lexus with their social-climber attributes and it isn't a boring luxury car, like a Volvo, Mercedes or Lexus. Those at least are the views of the Saab buyer. It may be a little harder to distinguish a Saab from an Audi, though in reality a Saab is less somber and a better sticker value.
We're a little more circumspect about the positive definition of a Saab. We think the idea of "real-world" technology is an interesting one, but possibly too subtle. Certainly, defining safety in real-world terms is desirable if a bit hard to understand (it means that Saab has a systematic approach to designing safety features based on real-world crash conditions not just lab tests). But we think real-world electronics makes even more sense. The massive electronic feature set, complex user interface and modest operational quality in many cars leave something to be desired. We can easily imagine a group of buyers, who are frustrated by zillions of features that work only occasionally, being drawn to Saabs because Saab really tries to design workable electronics rather than stacks of gizmos. That's countercultural in a land that measures apps in the millions and denominates audio quality by the number of speakers and watts provided. But Saab wants to be countercultural, so it could fit.
On The Road
As for fun to drive, well now you're talking our language. We don't know if Saab will be able to impress people in the showroom, but the 9-4X, at least in the Aero trim we drove, is certainly good enough to pull it off on the right test drive. In our case, we drove the city streets of our nation's capital; the highways of suburban Virginia and the twisty back roads on the nearby hills to check out what Saab has done.
For those paying attention, the driving dynamics of the 9-4X are positively brilliant. The 9-4X has a smoothness and stability going down the road that buyers will find hard to beat. The genius here is that Saab does smoothness not by giving the driver a flaccid, mushy chassis, but by using a very stiff body structure and a carefully designed suspension. In other words, the 9-4X is firm and controlled over the road and at the same time, smooth and silky. The car feels refined, yet responsive.
The controls enhance this feeling of refined responsiveness. The steering has a well-chosen ratio with decent on-center operation. The brakes are firm, with a pedal feel that should be studied by some sports car makers. Best of all, the automatic transmission, especially in sport mode, anticipates the downshift you will need so that you seem to be in the right gear for acceleration much of the time. Shifts are smooth as well, and the supplied paddles operate with a high-quality feel.
The 2.8-liter turbo V-6 on the 9-4X Aero has a "just right" level of power. We wouldn't say that you're likely to revel in the quantity of thrust on offer, but neither will you be disappointed very often. Like many turbo charged engines, this one gives a healthy kick in the rev range (2500-3500 rpm) where you need it to get moving in a hurry. This works pretty well in urban environments and even better on the open road.
The genius here is that the car feels right operating under 0.5g (moderate cornering or going straight) and accelerating briskly but not at maximum throttle. Those parameters are where almost all owners will operate almost all the time, which we'd say is a pretty good definition of "real world" performance. Once you push harder, the 9-4X isn't as happy. It isn't bad, and is easily comparable to most of the competition, but if you really like to drive hard you want a different crossover or even more likely you don't want a crossover at all (e.g. you might prefer the 9-5 Aero sedan or wagon).
You could argue whether this real-world notion is translated as effectively into the electronics of the 9-4X. To be fair, Saab has inherited the electronics from previous owner General Motors. That doesn't make the electronics bad in our minds, it just means we may not have seen the full rendition of what Saab is trying to do here. In any event, on the plus side, the 9-4X has electronic functions that are mostly controlled by individual buttons, rather than confusing layers of menus. On the minus side, some of the buttons are rather smaller and undifferentiated, though we suspect most owners would master the setup rather quickly.
Finally, we also thought the 9-4X was attractively comfortable. The seats are well shaped (if a bit firm) and the rear seat head and legroom is generous. Even with such a capacious rear seat there is good room for gear or suitcases in the loading area.
VS: Audi Q5
The 9-4X has the same wheelbase as the Q5 but is nearly 10 inches longer and it feels a bit bigger, both outside and inside. On the road, the Saab feels more connected and will please those who enjoy driving more. We also found the character of the Saab's turbo V-6 more interesting than the Audi V-6. We'd rate the styling a tossup, not because the aesthetic oeuvres are the same, but because each fulfills its mission well.
VS: Mercedes Benz GLK350
The Saab is a noticeably larger vehicle, with more room inside. Handling on the GLK is excellent, but we would say the Saab is fully competitive. The Saab doesn't feel quite as agile, the GLK doesn't feel quite as smooth and connected. The Saab offers more power and torque, but pairs that with more weight; even so we'd say the Saab feels more athletic. From a design perspective these are apples and oranges, with the Saab based on sleek minimalism and the GLK based on mini-macho angularity.
2011 Saab 9-4X Aero
Engine: V-6, 2.8 liters, 24v
Output: 300hp/ 295 lb-ft
Weight: 4700 lb (est)
Fuel Economy, City/Hwy: 15/22 mpg (est)
Base Price: $48,835
On Sale: June, 2011