Driven: 2011 Nissan Murano CrossCabriolet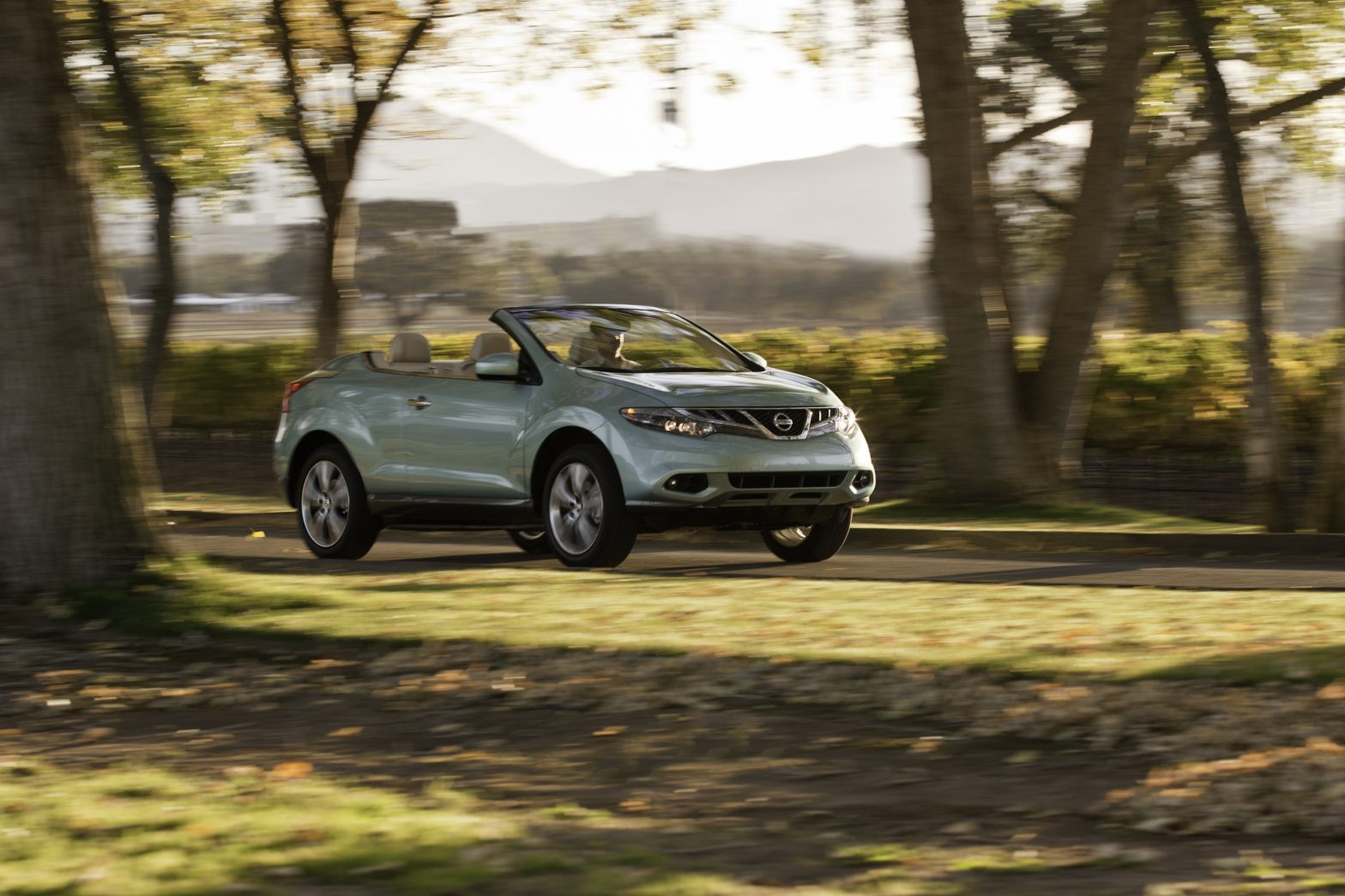 —Dallas, Texas
According to convention, convertibles are coupe-based. That's fine; we love a brisk drive in a sporty little thing, and being able to lose the top and enjoy the elements on a nice day is an adventure we seek out whenever possible. But what happens when we actually need to use the car? If we were to pack the bags for a summer weekend Up North, we're usually stuck either leaving the top up to make room in the trunk, or we forego the convertible altogether. And that, friends, is a crying shame.
Nissan presented a solution to this conundrum at the Los Angeles Auto Show with the Murano CrossCabriolet. The company took a popular crossover, chopped off the lid and two doors, did a huge redesign, and in a smart move, stuck with the well-known Murano nameplate. The result is a high-end, all-wheel-drive, four-seat convertible with a usable trunk. One of a kind.
Early naysayers call it too niche, claim it won't sell. Nissan, however, is being realistic about it. They know the CrossCab is in a niche market, and that it probably won't be a super high-volume seller. That's just fine, though. And maybe it isn't all that niche. Yes, it's unique to the market, but it'll probably capture a few convertible buyers here, a few crossover shoppers there, and probably pick up more than a few people who had wished all along for a big, roomy droptop, and wouldn't settle for a too-small vehicle they wouldn't be able to use. Nissan doesn't seem too concerned about volume, and we gathered that the CrossCabriolet would serve as a more supplemental element to brand sales as a whole.
When we first saw the vehicle with our own eyes, we realized just how different this looks in person than in photographs. It's not as awkward as on would think, and up close, there are a lot of styling details that really catch the eye (the glass inserts on the grille that look like sweeping extensions of the headlamps, the subtle speedster-esque humps on the rear of the car, the character lines that arc over the fenders and horizontally across the body). Here might be a good place to mention that, in research, the Murano CC skewed toward the female buyer. And—shucks howdy!—how the women loved it. The many female guests on our same trip heaped their praises upon it, and some of the lovely Texas ladies in other cars pulled up alongside us on our drive to give us a thumbs-up (ego boosted. Thanks, Nissan).
Whether you like the exterior or not, it's hard to complain once sitting in the cabin. The leather interior comes in three colors, beige, camel, and black, and it looks top notch in each. The seats and door inserts feature a really handsome diagonal quilting. Everything is pleasant to touch and behold. If we didn't know better, we could have easily believed we were sitting in something wearing the Infiniti badge. Opulent was going to be the flavor of the day, it was clear from before ignition.
The first thing we noticed upon starting the car was just how quiet the engine was. We could hear it fire up, but then it went quiet and we had one of those "Is this thing on?" moments. (With push-button ignition, though, grinding a flywheel by trying to start an already running car is not a worry.) Looking at the tachometer, we saw that, sure enough, the motor was running, idling at a calm 500 or so rpm. Even when accelerating, the noise from the 3.5-liter V-6 doesn't intrude much on the cabin at all.
More about the acceleration experience, it is remarkably smooth. We already know from cars like the Nissan Maxima that this engine delivers its 265 horsepower and 248 pound-feet of torque smoothly, and in the Murano CrossCabriolet, it is no different. The CVT keeps the revs from getting out of control, and even with the gas pedal floored, it never kicks down too far, and it keeps the CC from lurching forward and jarring passengers. While this does dampen the experience of acceleration a bit, it's unlikely backseat drivers will be complaining about motion discomfort.
Passengers won't be complaining about comfort or features in general. The CrossCab only comes in one trim level, which is essentially the equivalent of the top-of-the-line Murano LE. This means the aforementioned quilted leather seats, Bose sound system, Bluetooth connectivity (this also means fewer difficult and costly decisions at the dealership). The CC also features sculpted rear seats, with a decent share of legroom; we were able to sit in back without our knees touching the seat in front of us. With the top up, rear passengers also have a small skylight above their heads, which serves to bring in more natural light, but also allows the pop-up roll bars to function properly should the worst happen.
Comfort is also tuned into the suspension. The Murano CrossCabriolet almost seems to glide across the surface of the road, as though riding on a thin cushion of air like a hovercraft. It was still not overly springy, but it did have a bit of a floating feeling when driving over small bumps on the highway. And, even with the standard twenty-inch wheels, holes in the road were mostly filtered out both sonically and tangibly before they could reach the cabin to disturb the occupants. (The real test will come when we can drive it over our cratered Michigan roads back home.)
What gets traded for comfort in the CC, then, is communication and involvement. What is going on between road and tire is a bit of a mystery. There is no manual mode built in to allow us to "shift" for ourselves. The steering wheel is also not very talkative, and the front tires are just a bit lazy to respond to inputs. Throttle tip-in is far from sharp. Clearly, this isn't an enthusiast driver's car, but we need to take a closer look at the market for this vehicle before we label these all as bad things.
Nissan envisions the CrossCab buyers to be active, married couples with children in their teens. They're likely the type of people who enjoy relaxing daytrips and evenings out with friends or family. For them, the CC is probably a second car, which serves the purpose of shuttling themselves and the kids or perhaps another couple to the beach, the golf course, the movies, dinner. This convertible Murano allows them to create an experience of getting there, too. Who doesn't love a convertible on a sunny day? It is many a time we've heard convertible owners say, "It's a beautiful day to go with the Nelsons to the cheese festival, but not in the convertible. I'd feel horrible cramming Alice in that tiny back seat, what with her gout and all. And forget bringing home any smoked Gouda wheels!" Now, four people can (very) comfortably enjoy a top-down drive to their favorite activities, and still have room in the trunk for 7.6 cubic feet of artisanal cheese (12.3 with the top up!). Cargo volume is not quite as good as the Ford Mustang Convertible's generous 9.6 cubic feet with the top up or down (space that's sacrificed in rear legroom), but it beats the Lexus ISC's 10.8 (top up)/2.36 (top down) cubic feet or the Volkswagen Eos' 10.5/6.6. In other words, the CrossCabriolet is about as capacious as any other convertible, despite its ersatz functional form.
These buyers likely aren't concerned with hitting an apex in the Murano. They're going to be more concerned with how easy it is to have a conversation with the top down (not too hard), or that Alice and her gammy foot are comfortable if they have to drive down a dirt road (she will be). These buyers will also be fond of a lot of the standard features of the CrossCabriolet. They'll surely enjoy the heated seats and steering wheel, along with the hard-drive navigation system and touchscreen. They're going to like the elevated view of the road, and how easy it is to get in and out of the car, even the rear seats, thanks to its ride height and the buttons on the shoulder of the front seats that move them forward mechanically. They'll appreciate the simplicity of the convertible top, which has no latches to undo—just a button to hold. They'll like the peace of mind of having all-wheel drive on those seven days of the year it rains where they live, and all the dust and grime that's built up on the roads turn it into a giant Slip 'n Slide. And, despite our inner driver telling us that we should really be driving a brittle, rear-drive coupe with no cupholders, on a cool, sunny spring day in Dallas, Texas, we appreciate all these things too.

2011 Nissan Murano CrossCabriolet
Engine: V-6, 3.5 liters, 24v
Output: 265 hp/248 lb-ft
Weight: 4438 lb
Fuel Economy, City/Hwy: 17/22 mpg
Cargo Volume: 12.3 cu ft
Base Price: $46,390
On Sale: April 2011