Driven: 2011 Mini Countryman Cooper S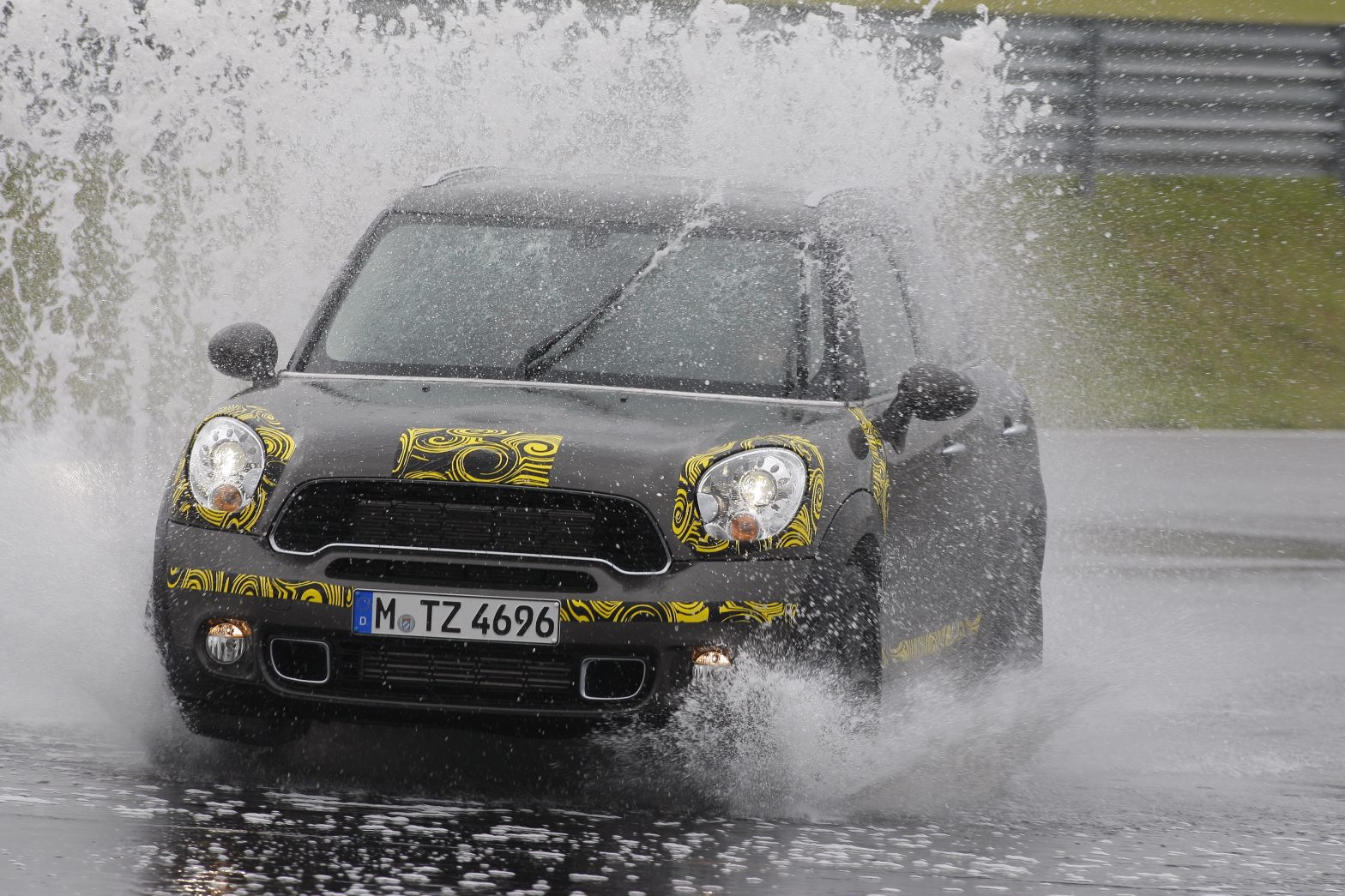 —Vienna, Austria
Well, here we go again, leaping into another car company's grand attempt to expand the niche into which we've niched it. Okay, Mini has definitely also niched itself, but we humans do have a habit of insisting companies can't change much or we'll get really angry and whatnot.
This is a big change. Just looking at the new Mini Countryman, albeit still mottled up with a few swatches of yellow psychedelic camouflage, we can definitely say it is a Mini. And in a way, that's at least half the challenge. Some of you will certainly never accept any Mini that's larger than Mr. Bean's commuter, and so the Countryman can't really care about you anymore; it's put a large part of that behind it and moved on to its new life in search of a lot of new clients.
Apart from being the first Mini with four doors and offered with all-wheel drive, the 161.8-inch long Countryman is as big as the soon-to-arrive Nissan Juke (slight pause here for one of the dumbest names in the history of cardom). We're talking the small SUV or crossover, which is as close as North America may ever get to the adored small station wagon culture that dominates European roads.
We drove these drab grey versions—dotted here and there with electrician's tape to cover zestier details—on wet and dry dynamic loops of the Wachauring test track outside of Vienna, and we were seriously shoving around these 3210-pound units. All our testers were top-trim Mini Countryman Cooper S models with the optional ALL4 all-wheel-drive differential mounted at the rear of the "R6x" chassis. The only serious option missing was the Aisin six-speed automatic with shift paddles included, but the Mini Getrag six-speed manual has certainly proven itself over these recent years, so no whining from Ypsilanti.
Our 184-horsepower Countryman Cooper S also had the Sport button, of course, plus the DSC/DTC stability control (the 121-horsepower Cooper cannot get DTC), and we toyed with all of it. In the wet parts, all is well, but we had dramatically quicker lap times with DTC left on. But switched off on water, there's way more fun—on a closed circuit, that is. With DTC left on, there is still play time in the hotter S, but even the wettest slides involve more full-lateral than oversteer. Either way, though, the new, weightier Mini family member comports itself nicely, feeling in the hands and seat of the pants exactly as we imagined it might be at first sight.
The ALL4 system is a nice 243-pound, all-season add-on and is honestly for nothing more rough than relatively groomed gravel estate paths or well-plowed ski area access roads. Ground clearance, also, is not meant at all to give you the illusion of Rubicon trail-crawling, though we're certain some inspired freaks will attempt such versions. The electromagnetic multi-plate clutch system by BMW working with GKN in Japan is neither Haldex nor Torsen, but something unto itself that is worked via the software programming of the DSC system. Default normal torque distribution is 98 percent front and 2 percent rear, though a 50:50 split is easily allowed under more stressful performance conditions like ours here. And then you can ask for 100 percent in back, too, if needed when you're stuck, just by knocking out the DSC altogether and appreciating your ALL4 option's raison d'être.
The "N18" 1.6-liter engine is the very latest version of the BMW-Peugeot-Citroën unit produced, in this case, at the Hams Hall UK Mini plant. Its central innovation is referred to as "TVDI" for turbocharged Valvetronic direct injection. That means the ultimate in current valvetrain and fuel-use flexibility so that the powertrain drives you a little quicker, drinks fuel with more discretion, and pollutes less. Though turbocharged, too, the compression ratio is allowed to stay relatively high and efficient at 10.5:1 thanks to the high-pressure direct injection.
Between the smooth yet brisk delivery characteristics of the 184 horsepower maxing at 5500 rpm and the terrific torque table of 177 pound-feet from 1600 to 5000 rpm—with the S's traditional 10-second overboost which is here 192 pound-feet between 1750 and 4500 rpm—this bigger Mini Countryman ALL4 with standard manual shifter can make it to 62 mph (100 km/h) in an estimated 7.9 seconds. In fact, if you like any of that typical Mini performance, the S is the only trim to go for, since the straight Cooper with 121 horsepower and just 118 pound-feet of torque at 4250 rpm can't get to 62 mph in less than 10.5 seconds.
Does it drive like a go-kart? No. But it gets as close as possible in anything resembling this style of taller, and more spacious, and heavier vehicle. We had a ball at the little test circuit, pulling off controlled slide after controlled slide without ever losing our competitive smile or feeling that pushing the Countryman like this was inappropriate. For these street-going credentials, our Mini Countryman Cooper S ALL4 is the funnest SUVXover yet built for sale by anyone.
Overall dynamics are great and the steering does its best to stay true to what we've gotten used to from our Minis. The braking action is right on the button, too, aided certainly by the almost non-existent front and rear overhangs.
But then we need to talk about design, that other large part of the equation in Miniland. For our part, we say it's just okay. It's not a whole-feeling design with particularly with the Cooper S with its overly busy face with frowning main grille, tall and stiff-feeling profile, then what they're calling the helmet roof with the downward squared section right in the back. But, again, it's okay and will most likely grow on us over time as our eyes and the Mini designers play with it a bit more.
Inside, we like a lot the fact that all that Mini kitsch seems less kitsch with the simple adding of space to spread it all out a bit. Space for passengers is really fine, including headroom for all. The new center rail look can run the length of the passenger area for a four-passenger setup as here, or you can no-cost option out to a rear bench style seat. Switchgear is better to the touch now and the typical inner panel circle theme at the doors has been made larger to take in the panels of both doors. It works and nothing popped out to us as incongruent or forced.
Wheels on our testers were all seventeen-inch Cooper S standard sets, but you can opt for eighteen-inch, and there's even an aftermarket approved nineteen-inch set. Cargo up to the legally suggested limit—bottom sill of the windows—starts at a normal 12.4 cubic feet and easily expand to a flat-floored 43.1.
Look for the Mini Countryman Cooper S with front-wheel drive to start at around $28,500 and the ALL4 version to begin bankrolling at around $31,000. Deliveries in North America start in February 2011 after initial European sales launch in September of this year.
2011 Mini Countryman Cooper S ALL4
Engine: Turbocharged inline-4, 1.6 liters, 16v
Output: 184 hp/177 lb-ft (192 lb/ft w/overboost)
0-62 MPH: 7.6 sec
Top Speed: 132 mph
Cargo Volume: 43.1 cu ft
Base Price: $31,000 (est.)
+ WR Classic Video: Mini Cooper S In Spain