Driven: 2011 Mercedes-Benz CL- and S-Class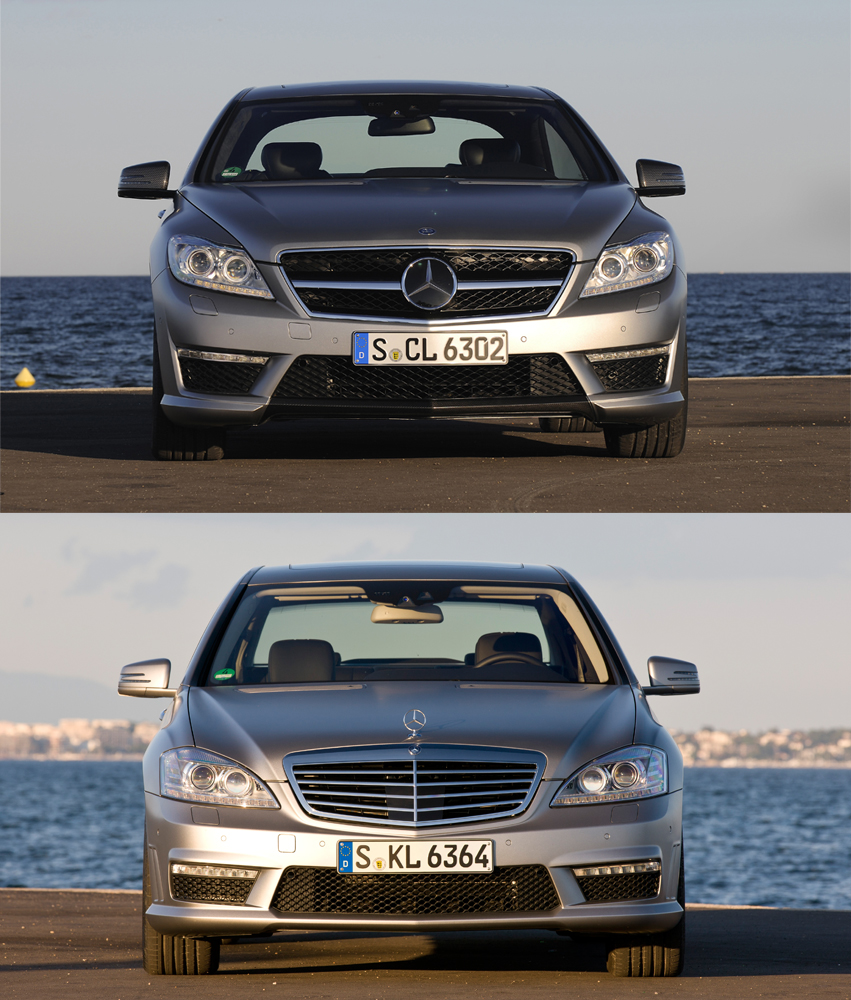 —Cannes, France
We've always wanted to be in love with the great big Mercedes CL proper 2+3 luxo-coupe, but it always ended up just sort of sitting there in the shadows of everything else going on around it in Stuttgart. It became such a wee niche that even the car's project leader Hans Multhaupt was in favor of renaming it the S-class coupe. Frankly? We were always in favor of it, too. Still are.
"Yeah, I was all thumbs up on switching the name since it made so much sense," says Multhaupt, "but the marketing people did all the research and studying that they do, and they came back saying that, no, we could not do this due to various brand risks." Humph.
Well, regardless, we just drove the latest CL-class coupe with the new BlueDirect 429-horsepower "M 278 DE" 4.6-liter V-8 biturbo engine and 4Matic all-wheel drive. This newly designed engine replaces the old fat-barreled "M 273" 382-hp 5.5-liter naturally aspirated V-8—a 12.3 percent power hike. And torque leaps from 391 pound-feet between 2800 and 4800 rpm to now 516 pound-feet between 1800 and 3500 rpm—a 32 percent increase. There's 50 percent more torque at 1600 rpm than with the previous engine.
And all the while fuel consumption and CO2 emissions for the CL550 in the combined highway/city average both improve by 22 percent, and by 16 percent for the S550 normal or long wheelbase version. By the time we were done driving all over the Provencal interior roads that take one's breath away, we were pretty certain that a CL- or S550 with the AMG Sport Package would do just fine instead of gouging for the CL- or S63 AMG with their new 536-hp biturbo V-8. Such has never before been the case. Add the Performance Pack to the AMGs, though, and we'd have to give them the clear nod.
The two heavily breathing Garrett turbochargers, down low either side of the 4.6-liter engine and in front, have a maximum boost pressure via the recirculated exhaust gases of 13.0 psi, and intake sides are supplied with crisp cool air by a single high-flow Behr intercooler placed right in the 90-degree V. Response in either Sport or Manual of the 7G-Tronic Plus seven-speed automatic is tremendous, while the Active Body Control does the instantaneous adapting that it has always done for us. The exhaust sound on our AMG Pack-equipped car was just the right balance between mild mannered and party crasher. The 19-inch wheels with Continental tires did just fine at the limits, while giving us more comfort than any 20-inch option can.
Dimensions-wise, hardly anything changes by much. Length of the new CL versus the former is up just 1.2 inches, width by half an inch, and height by just a breath. Wheelbase and track widths are unchanged. Meantime on the added technologies and dynamics fronts, nothing is really new or ragingly noticeable.
So, this new CL is about building and improving upon a good thing with a much nicer, nouveau CLS-influenced design and a fresh set of engines. The strategy works.
We drove all the big boys – CL550 4Matic, S550 4Matic, CL63 AMG, and S63 AMG (this last one for the second time). The funny part? The USA stands tall with just over 20 percent of S-class buyers being women. And if the emergence of China running the world wasn't already crystal clear enough, the US improved S-Class sales in the first six months of 2010 over 2009 by 27 percent to 6,400 total, beating the Lexus LS here for the first time ever. In China, there was a 42 percent improvement to 9,500 total S-Class sales. How's it feel to be a very distant Number Two, guys?
The halfway-new CL-Class starts deliveries in North America on November 10 with the re-engined S-Class showing up here at the start of 2011. Pricing in US or Canadian dollars is still unannounced, but all should come in around $5000 (US) more than the outgoing versions.