Driven: 2011 Lotus Evora S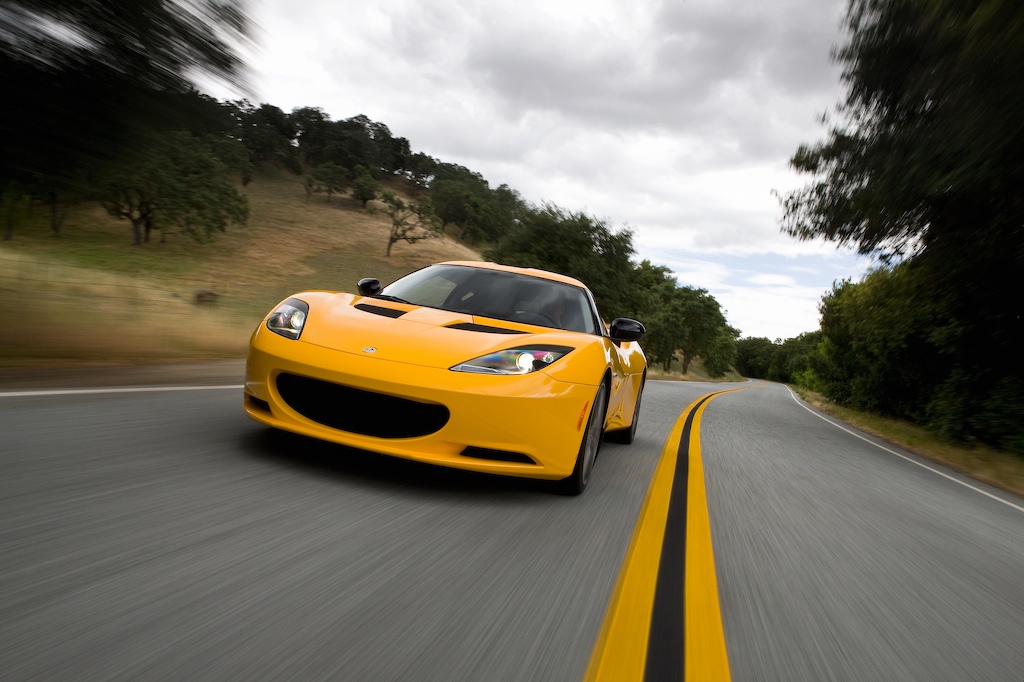 —Monterey, California
Lotus is different. And, if we're completely honest about it, Lotus is mostly better, too. Not better as a manufacturer, or as a "brand," or as a cultural force; though the company could probably make interesting claims on all three of those fronts as well. No, Lotus is better at building engaging, high-performing, exactly-as-you'd-build-it-yourself-if-you-could sports cars. The company may be heading down a hazy path with aims of higher volumes and more mainstream products, but for today, the day that sees us finish up our first drive of the supercharged Evora S, we can say that the reputation should remain sterling as far as enthusiasts are concerned. Here's why.
We tend to lick our chops when we hear that a car launch event is being held in and around Monterey. Not only is the region home to the stunning and historic Laguna Seca race track (no small draw for driving enthusiasts), but it also happens to be peppered with miles of back roads that measure roughly ten out of ten on the driver scale. In much the same way Laguna melds a potent mix of high-speed and tight corners, elevation change, and thrill-ride speeds, the roads we drove in Lotus's new flagship offered a huge variety of pace and character.
Better still, partly because the company is a small one with limited resources to spend on logistics like hired vans or transporters, and partly because its ties to motorsport make it determined to stand behind its new car on all levels, we drove the cars (hard) to the track and then on it, and then back again. We'll say this again, because it's important. The Evoras we tracked weren't prepped specifically for use at Laguna, with cars in reserve for the road drive. Nope, this was an old school drive-to-race deal.
As the most luxurious, grand-touring-oriented Lotus in the current lineup—not 100 percent removed from its Elise roots, but not much similar either—the track time was what we thought would provide the Evora with the biggest challenge to its reputation. We'd talked about the naturally aspirated base car as being less hardcore than, for instance, the Porsche Cayman in previous experience, so it seemed reasonable that this more powerful car might not be best foot forward at Laguna.
Not completely true, as it turns out. We lapped the famed track, mostly three laps at a time, for the better part of two hours, in both the Evora S and the standard car. The performance was massively impressive. Obviously the greater power and torque output of the Evora S (345 horsepower and 295 pound-feet versus 276 and 258, respectively) was an asset on the circuit, with that car offering unbridled thrust when climbing some of the taller sections of the track, significantly higher speeds towards the end of the main straight, and lots more pulling power out of low-speed corners.
Better yet, the extra weight of the supercharged car (123 pounds), while mildly noticeable, was never enough of a drag on handling to offset the advantage of the extra power it offered. We felt a small advantage when turning in and balancing mid-corner when driving the base car, but we were doing both at lower, more clear-headed speeds, too. What's more, the Evora S's slightly lighter-weight, more progressive clutch pedal made us far better able to execute quick, error-free downshifts at high speeds. That's a massive asset when you're staring down at a rapidly approaching Corkscrew, for instance.
Our Laguna drive also served to illustrate just how well the Lotus traction control system worked, as well as how good the car is with all aids switched off. We lapped happily for a while before feeling bold enough to challenge the course with no electronic assistance. For the record, Lotus tells us that "off" means "off" here—only ABS stays on at all times. With the control systems off, the Evora becomes a much looser, more sensitive device; and one that we, frankly, found harder to pilot with perfect accuracy around the track. Lifting a bit too early caused us to nearly lose the back end a few times, though the Evora proved forgiving enough to let us always recover with a dab of braking or small steering correction. All mistakes read as an indictment of our skills and not the car's ability, to be sure. The Evora felt nothing less than elegant in terms of balance. With the traction control on, we were able to push, play around the limits of the vehicle, make mistakes and not get into trouble, and still feel like we were having an organic, non-intrusive driving experience.
Beyond the revised clutch and gearbox (clutch master cylinder, cables, and linkage have all been updated, too) the powertrain offered serious thrust via the 3.5-liter V-6. Power is available immediately and continues to stack up nicely as the revs build. We made sure, after one trial run, to leave Sport mode engaged, as it offers a higher redline (7200 versus 6800 rpm), and makes the exhaust freer breathing and far more evocative to hear. The extra revs gave us greater flexibility on the track, and the louder exhaust just made us feel better about being alive. On full song the Evora S sounds like a stone-cold killer, for sure. Non-S mode is probably better for day-to-day driving, we guess, but we found little reason not to keep the car fully ramped during the bulk of our drive.
Of course, "day-to-day" driving in the Evora is far more likely to take place on the fabulous driving roads of the world than it is in hum-drum commuting—or at least that's what we'd like to believe. A good thing then that the newest Lotus comes finds its surest footing, and its most natural gait in that environment. By dialing down the at-the-limit speeds we hit at Laguna, the Evora began to feel even more aggressively quick to accelerate, and supremely willing to talk about what was happening under the tires. Communication here is probably 95th-percentile high, with only hardcore Porsches, other Lotus products, Ferraris, and that ilk coming close to delivering this level of feel through the steering wheel and the suspension. Grip limits and g forces were immediately evident by way of our pants' seat, and we felt most of the large road changes through our fingertips. Of course part of the brilliance of the Evora as a rather intense GT-type car is that it still doesn't batter its driver, despite this visceral connection with the environment. There's enough compliance in the suspension, combined with utter stiffness in the body structure, to afford a relatively smooth ride over bad roads without compromising the car much dynamically. A very linear steering effort, pedal feel, and suspension response all help to let us move the Evora naturally over the road at high speeds. Very sharp inputs to throttle or brakes can (and occasionally did) upset the spell that the Lotus casts over the road, but for the most part the car absolutely encourages smoothness. Very few other vehicles can boast this happy a ride/handling compromise.
Complaints? Certainly the Evora isn't perfect. At a starting price of $76,000 for the two-seater ($77,500 for the two-plus-two) this Evora hovers in and interesting space between the bottom level Porsche 911 and the top trim Caymans. Cayman S and Cayman R are roughly $14K and $10K less dear, respectively, while the 911 Carrera—with identical horsepower, a slightly slower 0-60 time, and a higher top speed—starts about $3000 over the Evora S. In that price range, arguments can be made for the Lotus or any of the Porsches, though we must admit that the Germans feel of a higher build quality, and by some good measure there.
Lotus cabin materials and finishes feel mostly very good, but significant items like the navigation system, switchgear, and seats don't compare well to these direct competitors. (We have to say that we actually quite enjoyed the Evora's front chairs, but a lack of adjustability and slight hardness overall won't suit all buyers in this segment.)
Fit and finish quibbles aside, there's little doubt that the Evora S moves the game seriously on for Lotus in this more upscale part of the world. The understated supercar looks will not go unappreciated by buyers or spectators, and the proposition for enthusiast drivers is superb indeed. If our very memorable road-track-road drive is any indication, we think that owners will end up with vastly more grins than gripes when the final tallies come in. Different, better, Lotus.
VS: Porsche 911 Carrera
You really have to pick your battles and define how you like your high-end sports cars to pick between these two, though we think that the Evora S does edge out the "base" 911 in terms of dynamic ability. The Lotus has the same horsepower pushing around less weight and offers better driver feedback overall, too. We probably don't even need to get into how Lotus has put the Evora engine in the "right place" do we? The Evora S is a better driver's car, and people shopping these coupes have that high on their list of priorities (we hope).
That said, the Porsche has better tech and a nicer interior, if comfortable driving in a fast car is more your thing. Taste is personal but we think the Evora looks better than the evolutionary 911, too.
VS: Porsche Cayman S
The 911 may be closer in price and power, but little brother Cayman S has the same mid-engine layout as the Evora, and is closer in spirit to the Lotus's race-bred driving dynamics. In a very close fight we may say that the Cayman is just a bit harder and more intense than the Evora, though dynamically not much separates this excellent pair.
Porsche has a very good reputation for build strength and durability, Lotus must still put the time in to get to that place.
Where the Evora S will win some hearts and minds, we think, is with its better ride quality and roomier cabin. Anyone looking for a car to drive frequently will care about both of these areas where the Lotus is noticeably stronger. It's probably fair to say that Evora is easier to drive fast, too, because of more forgiving suspension settings and a meatier motor.
2011 Lotus Evora S
Engine: Supercharged V-6, 3.5 liters, 24v
Output: 345 hp/295 lb-ft
0-60 MPH: 4.3 sec
Top Speed: 172 mph
Weight: 3166 lb
Base Price: $76,000
On Sale: Now