Driven: 2011 Hyundai Equus Stops By For A Visit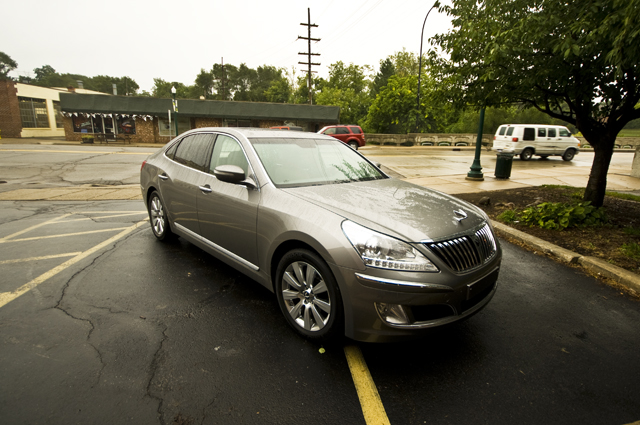 When Hyundai launched the Genesis sedan a last year, we were very impressed. They managed to create a car unlike anything else they've ever done that was not only good to drive and extremely well-equipped, but priced substantially less than the competition. To continue on in this saga, Hyundai recently announced that they will be selling their larger flagship sedan, the Equus, in North America. This car is positioned to do to the Lexus LS what the Genesis has done to the Lexus GS and Infiniti M. (Note: Equus is what the car is called in other markets, and the official U.S. name hasn't been decided upon at this time.)
A proper flagship sedan must accurately combine power, comfort, and style into a large, elegant package for it to succeed. We were given the opportunity to take a Korean-spec Equus out for a quick spin through Ypsilanti, Michigan, on what had shaped up to be a cold, rainy day — the perfect conditions for testing out a comfortable, luxurious, inviting flagship. And after only a short time with the Equus, we're happy to say that Hyundai has one hell of a flagship on its hands.

The facts about this car are rather simple. The Equus rides on a stretched version of the Genesis platform, is rear-wheel drive, and is powered by the same Tau 4.6-liter V-8 engine used in its baby brother. Rumors have cropped up about an all-new 5.0-liter V-8 being in the works, and while nothing official has been announced, we wouldn't be surprised if that new powerplant finds its way into the Equus upon its North American launch.
The driving feel isn't too far off from that of the smaller Genesis — there's good amounts of suspension response and the car feels very firm and stable on the road. The Equus even has an adjustable ride height function and a sport mode, which tightens up the suspension and lowers the body, and in both settings, the car is really pleasant to drive. The steering is light and doesn't offer the same sort of driver feedback that a 7-Series does, but it feels much better than a Lexus LS or Mercedes S550, which have some of the most numb steering racks on the planet. In terms of overall driving dynamics, the BMW still has the edge on sportiness, but the Equus proves to be perfectly capable in nearly every other aspect.
Inside, the Equus has all of the bits and pieces to properly position itself with the big boys. The cabin design is clean, simple, and elegant; and the materials used are really, really nice. The soft headliner, plush leather upholstery, and solid plastics are extremely upscale, while still looking very Korean. You could easily convince someone that this car is a Lexus, but if you tell them it's a Benz, they might question you. Our test car came equipped with loads of technological features like premium audio, power rear sunshades, lane departure warning, adaptive cruise control, front- and rear-view cameras, navigation — the list goes on. So in terms of equipment and comfort, the Equus is a solid contender. No, it's not as overly plush and elegant as a Benz S-Class, but it's still quite good.
Like the Genesis, the key factor for the Equus will be it's starting price when it comes to our shores next year. A fully loaded Genesis tops out at $42,500, so if Hyundai can offer this car at a starting price of around $50,000, this car will be an easy sell as being a better overall value than anything else in the class. Lexus LS, you should be very, very afraid.