Driven: 2011 Chevrolet Camaro Convertible SS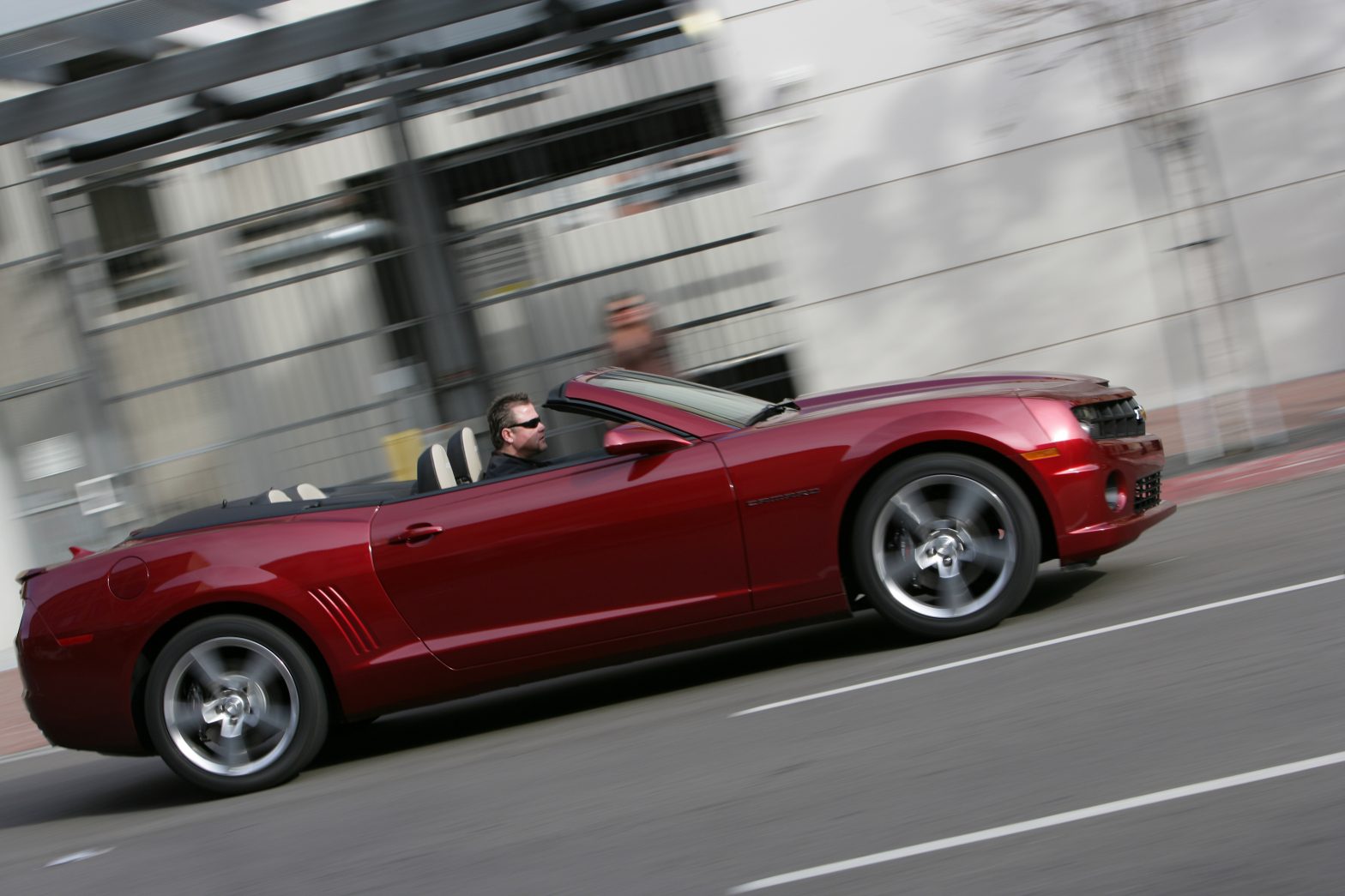 —San Diego, California
Ever since the fifth-generation Chevrolet Camaro hit dealer forecourts for the 2010 model year, we have wanted—truly tried—to love the thing. What car guy wouldn't?
That new version of the Chevy's evergreen pony car not only offered V-8 and V-6 engines that could put a hurt'n on cross-town rival Mustang, but also took handling very seriously, with the result being something much closer to an honest-to-god sports car than the nameplate had ever been before. What's more, the movie-star good looks made anyone who approached the thing predisposed to want to like it (no matter how much the let-down interior dissuaded you after you sat down behind the wheel).
Our problem was, is, and always will be that the rakish roofline, high beltline, and tiny glasshouse of the car—all combined with a seating position that has one's posterior nearly scraping terra firma—meant that seeing while driving was a bit of an issue. Visibility ranks pretty highly on or list of needs for a good driver's car and the Camaro's tomblike vision meant that we were never truly confident when pushing the otherwise excellent car.
Thank the motoring gods, then, that Chevy finally came to its senses and chopped Camaro's top. Heading into our first Camaro Convertible drive in stunning San Diego, we had nothing but high hopes that the 'vert conversion was going to be just the ticket for justifying our love.
There's no real point for a dramatic build up here; anyone can see from the pictures (or logically conclude) that there's a wild increase in visibility and subsequent confidence on-road, thanks to that convertible top. We pushed the pony car for hundreds of miles on mountain and desert roads that varied from widely sweeping, to tightly bent, and can safely report that this is a transformed vehicle. The high, rising hood line and low seating position still had us guessing a bit as to the exact position of the Camaro front end at speed, but the forward lateral view has been opened sufficiently to allow for far better cornering confidence, as well as passing behavior on tight two-lanes. Raise the remarkably quiet-at-speed soft top and you're back in the cave, we'll grant you, but convertibles are meant to be driven with the top stowed, say we.
The convertible top is an almost entirely automated affair—release one central mounted ceiling latch by hand and then it's push-button-go all the way down. Just a little less than twenty seconds is needed to put the thing up or down. That's not including the time needed to pack on the labor-intensive tonneau cover over the dropped top—a process that Chevy handlers did their best to keep us hacks away from because of its sheer fussiness. In fairness, the Mustang's cover is a hand job of similar difficulty, and the Ford's convertible top takes two latches to undo, instead of one. The other really direct convertible competitor, Nissan's 370Z Roadster, has a fully automated hatch to stow the top.
Overall vision and convertible conversion dealt with, then, the best praise we can heap on the SS 'vert is that it drives remarkably like—almost no different than—its coupe brothers. Chevrolet has gone to a great deal of trouble to keep the car as rigid as possible, and as free from the sort of cowl and body shake that have cursed large convertibles in the past. Their work was well done, as we didn't find a stray wobble to report on, nor movement in the front windshield or dash, even at stupid speeds on roads that were a bit rutted by wear. Better still, the Camaro was happy to be tossed liberally into hard corners, never with so much as a hint of flexing from the top-exposed body.
For all that confidence, engineers needed to add about 250 pounds of structure and bracing (underbody v-braces, transmission support, and a strut tower brace were among the adds). That's not an insignificant number of pounds in theory, and we were told that 0-60 times drop by 0.2 seconds in convertible trim, for both the V-6 and V-8, but the fact of the matter is that you'll hardly notice the weight gain in any but the most extreme driving. The LS3 V-8 is immediately torquey, and will punch hard in any gear save top, and from just about any speed. (Those opting for the six-speed automatic transmission will also have to make do with a slightly less powerful L99 V-8 that is, nevertheless, very fast.) The attendant six-speed manual gearbox is a ton of fun to use. It's just a little on the heavy and notchy side, but feels decidedly pleasant to slot into gear, especially, we found, when downshifting to pass normal-speed traffic in just a few heartbeats.
The utterly visceral, windy, and generally speed-drunk driving experience is only let down a bit by the V-8 exhaust lacking for volume and bite. We could hear the rumbling engine note better with the top up, as a matter of fact, thanks to the din of the wind rush being quieted.
All in, this is a thrilling, styling, hairpin-hawking, rumble-fest of a good time. You can bet your bottom dollar that we'll be asking for a second spin in the Camaro Convertible once the weather in Michigan turns nice again, as this promises to be a good-weather fun machine of near unmatched potential. Our guts tell us that it's a bit more pointy than the Mustang GT Convertible, and a little less high-strung than the Z Roadster—both theories that we'll be hot to test with comparative when the skies have gotten bluer. Until then suffice it to say that the fifth-gen Camaro has reached its apogee, at least to date, in this Convertible SS guise.
2011 Chevrolet Camaro Convertible SS 6MT
Engine: V-8, 6.2 liters, 16v
Output: 426 hp/420 lb-ft
0-60 MPH: 4.9 sec
Weight: 4116 lb
Base Price: $36,650
On Sale: Now