Driven: 2011 BMW 535i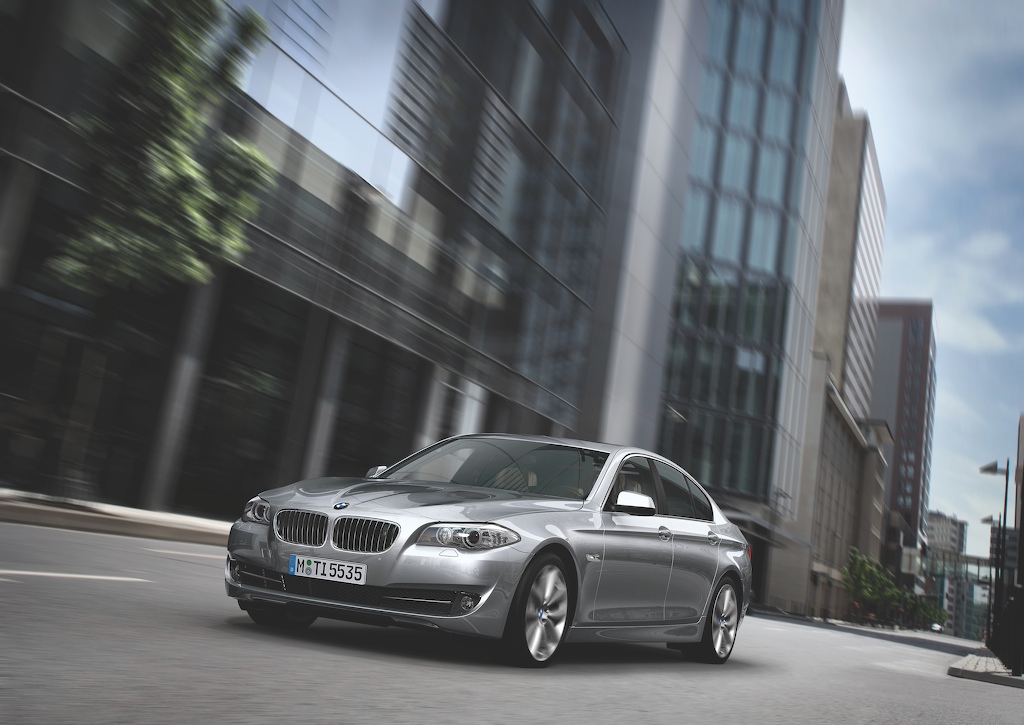 This gen-six Fiver has a lot to accomplish. We're hot from the driver's seat to report in first.
—Lisbon, Portugal
Portugal is an exceptional locale for thrashing out this new and crucial model that BMW will pretty much bank on to survive. The BMW 3-Series sells a lot, but the 5-Series is the kingdom of options whores and, therefore, gains healthy price increases per unit.
This F10 generation of the 535i sedan, which we just set loose over hill and dale around the squirrelly road system in and around Lisbon, Portugal, was up for whatever we flung it at.
Yep, there is a mountain of technology that can beg the hardcore German haters to go on and on about "over-engineering and so that's why they break a lot" crud-o-la, but only Lexus, Jaguar, and the Caddy CTS come even remotely close among non-Germans to stealing a significant number of sales from The King. This said, 2009 was the first time in five years that the 5 was dethroned in total worldwide sales for this executive segment—by the curvaceous Audi A6 range.
The 535i and 550i are the first North American models, and customers can start taking delivery on June 19 of this year. In either trim, the new cars weigh an estimated 180 pounds more than the outgoing, Bangle-rrific E60 model.
Looks-wise, we really like the walk away from the extravagance exhibited in the last generation. It's time to pull back to simpler tastes that are still handsome and strong. There are just a couple spots where we feel the pull-back may be too conservative, such as on the lighting units, both front and rear, as well as the slightly bulky-looking tail fascia. Other than that, the only other lament is an otherwise superior eight-speed automatic that still shifts itself at the redline when we're hammering along in Sport+ mode of the Driving Dynamics Control with the tranny in Manual mode. Why can't we linger at 7000 rpm on hard downshifts in those "golden moments" before heading into perfect curves?
All else is as it should most definitely be, and even better on many fronts. The interior is pretty identical to a lot of other BMW cabins, but, hell, it's a damned nice interior and we're not tiring of it. Standard ten-way adjustable electric front seating remains superb over endless miles and, yeah, there are cupholders. There's even more legroom, too, for the already comfortably accommodated rear seat passengers.
Standard wheel/tire size on all American 5-Series imports is now eighteen inches instead of the former seventeens—a great upgrade. Nineteen-inchers come with the practically necessary Sport Package, and even twenties are available for street stylin'. The steering and response and feel at the front axle strike us the way these similar improvements struck us in the latest C- and E-class Mercedes. It's double-wishbone, and more compact in front, with much more aluminum in the axle structure. The steering is EPS with variable Servotronic, and we are amazed that it feels as good as any BMW ever has. Aiding this is the new separation of the anti-roll bar attachments from the old strut configuration, now attached more appropriately to the hub mounts. The dampers up front are now free to damp and not put up with lateral forces from the hub carriers. Big, big improvement.
The optional Integral Active Steering that involves the rear wheels is a big dynamic help on this larger format car, as well. Below 37 miles per hour, the rears turn up to 2.5 degrees opposite to the direction of the front wheels, making slower maneuverability a joy. Over 37 mph, the rears and fronts turn in unison, and thus higher speed lane changes and such are lower effort, and rear passengers don't sway around so much.
The 535i gets to 60 mph in just 5.7 seconds via the all-new twin-scroll, single-turbo inline-six, which produces 302 horsepower and 295 pound-feet of torque. Not bad for a vehicle of this size and added weight, most of which is on account of all of this tech, as well as a 55-percent increase in resistance to twisting and bending forces in the body and chassis.
Good schtuff. Read all the highly detailed rest about it—some of it very surprising—in the next issue of Winding Road. Right now, we're back out onto the Portuguese asphalt.