Driven: 2011 Audi RS5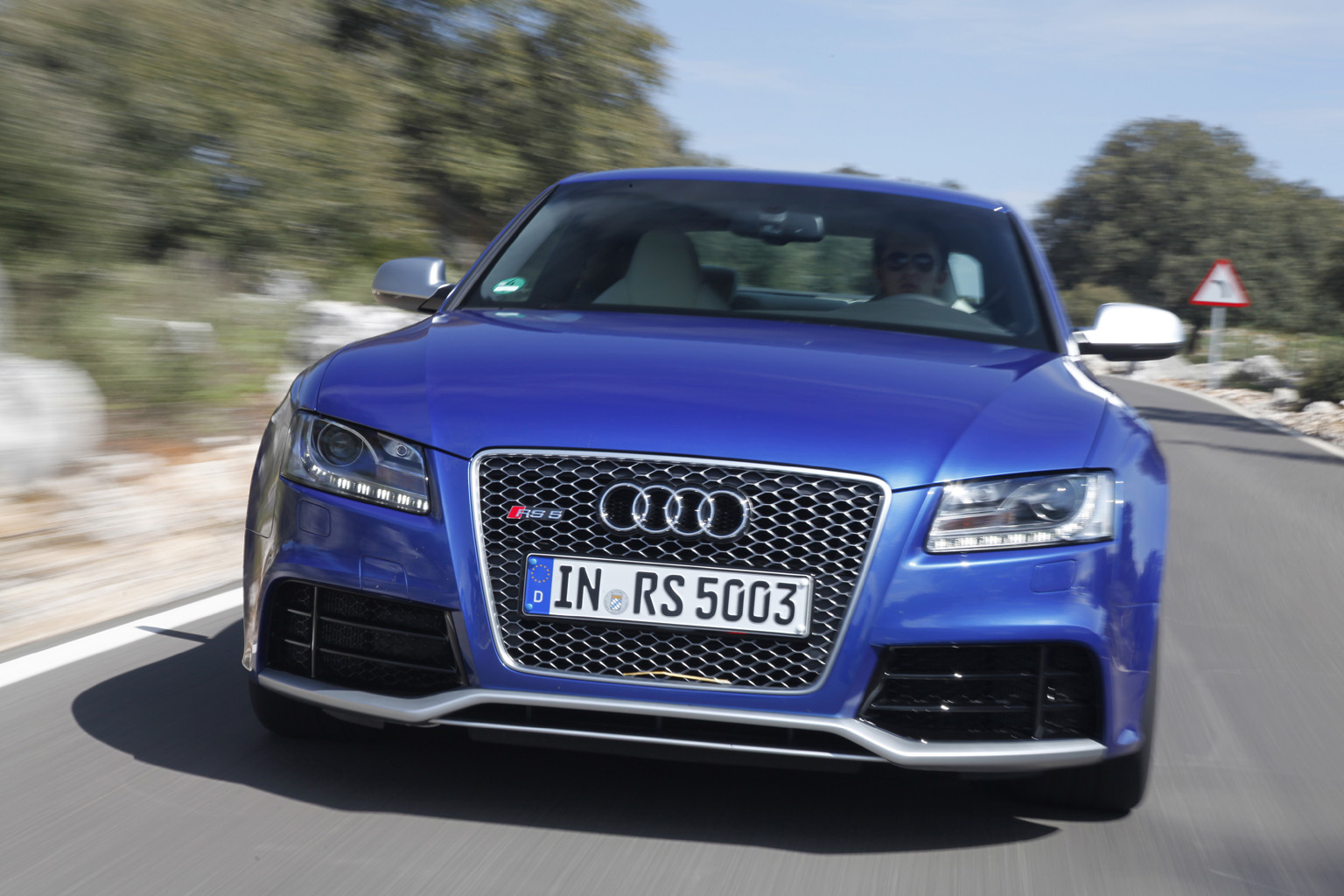 —Marbella, Spain
The Audi RS5 coupe really has everything going for it if we stare it down while it's sitting still or if we study the spec sheet. How can you go wrong, after all, with a 444-horsepower, latest-generation, 4.2-liter FSI V-8 with all that power maxing out at the 8250-rpm redline? The torque comes out to assist nicely, too, at 317 maximum pound-feet between 4000 and 6000 rpm.
That's not all, of course. The RS5's driveline incorporates the very latest version of the Quattro all-wheel drive's center differential which finally makes it possible to have up to 85 percent of torque going to the rear axle and up to 70 percent sent to the front axle, the whole fourth-generation system with its dual-crown wheel design now weighing nearly 14 pounds less than the existing Torsen C-coupled system. Another standard dynamic ingredient here is the added ESP software feature of torque vectoring that, as non-intrusively as possible, sends juice to the outer wheels and slows the inner wheels as needed to get rid of notorious Quattro understeer during high performance curvaceous maneuvers. Torque vectoring can also chime in to make your oversteer episodes more manageable and regret-free.
And the RS5 coupe sits four-tenths of an inch lower than the S5 (which in turn sits four-tenths lower than the A5), which helps maximize everything the standard Audi Drive Select adaptive dynamics system can do.
This all sounds sooo great and we already want to love it before we even throw ourselves in to the unsurprisingly impeccable RS5 interior. But, as with all Audi RS models, we are predisposed to look closely at how hulking heavy the car may be. The RS5 coupe—according to the European scales—has a curb weight (i.e. all fluids, 90 percent fuel, a standard human body, plus a gym bag filled with sweaty clothes) of 3970 pounds. That's a weight to power ratio of 8.94 pounds per horsepower. A 451-horsepower Mercedes C63 AMG sedan (the C coupe is on its way, they say) registers 8.70 pounds per horse, while the 414-horsepower BMW M3 coupe shows 9.35 pounds per. Estimated 0-60 mph acceleration on all three, however, is more or less 4.5 seconds, but the Mercedes in real-world testing has pretty much established itself as the performance leader so far among German nationals.
Can the RS5 coupe honestly stand up to these other guys? After eight hot laps at the Ascari circuit in southern Spain and an outbound and inbound rip along the legendary Ronda Road, we say yes, it can. If we could have all three of these manly Germans in their most basic form and for an entire day of thrash-it-out acrobatics, then we could give you the definitive answers. For now, we'll say the Audi RS5 coupe that we were handed comes easily closer to the C63 AMG than does the M3 coupe. We really, really want a New Age, 450-horsepower, CSL powerhouse version of the M3 and as soon as possible. We'll try out the GTS M3 in June, so our BMW connections tell us, and that'll put our grumblings to bed.
We qualify the statement again, saying that the Sepang Blue RS5 coupe we were handed was loaded to the gills with dynamic goodies—for one, the ADS system was enhanced with the onboard MMI-based Dynamic Steering and we could calibrate all factors of the ADS (suspension, steering, throttle, transmission) at will through this interface. We also had the optional twenty-inch wheel and tire sets, the rear Sport Differential, Dynamic Ride Control, chromed Boysen sport exhaust system, and the carbon ceramic brake discs. Mix all of this with the lowered stance, torque vectoring, and improved Quattro traction setup, and we were having one of those days where there was that sense of total security and feeling free to toss the RS5 wherever we wanted it to go.
This is easily the best Audi RennSport-level experience we've yet had. The RS6 Avant and sedan, the TT RS, and former-gen RS4 lineup, have all been like pushing really fast pigs around when it came to serious dynamically demanding situations. This new Quattro center coupling working more nimbly and sending more oomph to where it needs to go fore and aft, plus the hyperactively quick torque vectoring electro-hydraulics, makes it all possible. And you must have the Sport Differential on your RS5 as well, since it's even faster at dealing with the rear wheels' needs under all circumstances—to the point that when there's this better diff on board, the torque vectoring can concentrate exclusively on the front axle. Then the Dynamic Ride Control is sweet icing on the cake, keeping us level through squealing hairpins and the like.
In the Dynamic mode of the ADS system, the ESP automatically goes to higher thresholds. A good pal on the track crew at this event, however, opened the passenger side door before our last two laps and rigged some setup via the glove compartment. Flashed on the center digital display was a wonderful message: "ESP Sport" and it also showed the symbol for Stability Control Off. This allowed our final laps to be real tear-ups. We were feeling the chassis of the new Quattro RS trim doing what it has been engineered to do at its limits and the drifts were monumental yet completely controllable. Our smile by the end was like the smile we get after a classic rollercoaster ride. We were far from making "fast pig" comments like we regularly have up until now and coffee was not needed the rest of the day for added energy.
It's nice to get back in a hot Audi again, too, that uses the seven-speed S-tronic transmission with its automated dual multi-plate clutches. (We are not big fans of the automated R-tronic single-clutch gearbox without torque converter.) The shifts are buffered yet quick, so there's a lot of mechanical and software fairy dust sprinkled over this tranny. The reaction of the performance exhaust on our test car was brilliant, too, with the V-8 coming really close to a big scream at 8250 rpm. It's great when an able system encourages us to stay between 6000 and 8000 rpm for the absolute best shifts.
But not only is the RS5 technology aboard finally getting us closer to the RS-ness we keep whining about wanting, but the RS5 coupe's positioning of the driver and cabin is ideal for that elusive added sense in our inner ears of spatial equilibrium under every dynamic scenario you can imagine. And when the rain decided to hit on the Ronda Road, we were still doing things with the RS5 Quattro that would no doubt have been less possible in the C63 Merc or M3 Bimmer.
This perfect orientation of the driver position in the RS5 coupe also has the happy benefit of rendering the car absolutely gorgeous to our eyes. That Audi cheats a little and uses more eye-popping colors on occasion is just fine, too.
Audi Quattro marketing bosses confirmed for us at this Spanish event that the RS5 coupe will be coming to North America as well. There had been some doubt on this, just because Audi North America worries over the small-volume risks of two-door expensive sports cars scaring away the American public. But they can trust this one. The RS5 coupe could still weigh 300 pounds less and that would make it even better than it is for our racing brains, but even as is, it is a gem.
Can you wait until September 2011? It'll be worth it. Ours come fully loaded with every option we mentioned above, too. Because we're worth it.
2011 Audi RS5 Coupe
Engine: V-8, 4.2 liters, 32v
Output: 444 hp / 317 lb-ft
0-60 (est.): 4.5 seconds
Top Speed: 155 mph*
Weight: 3970 lb
Base Price (est.): $69,500
As Tested (est.): $82,000
*optional sport setting to 174 mph