Driven: 2010 Volkswagen Golf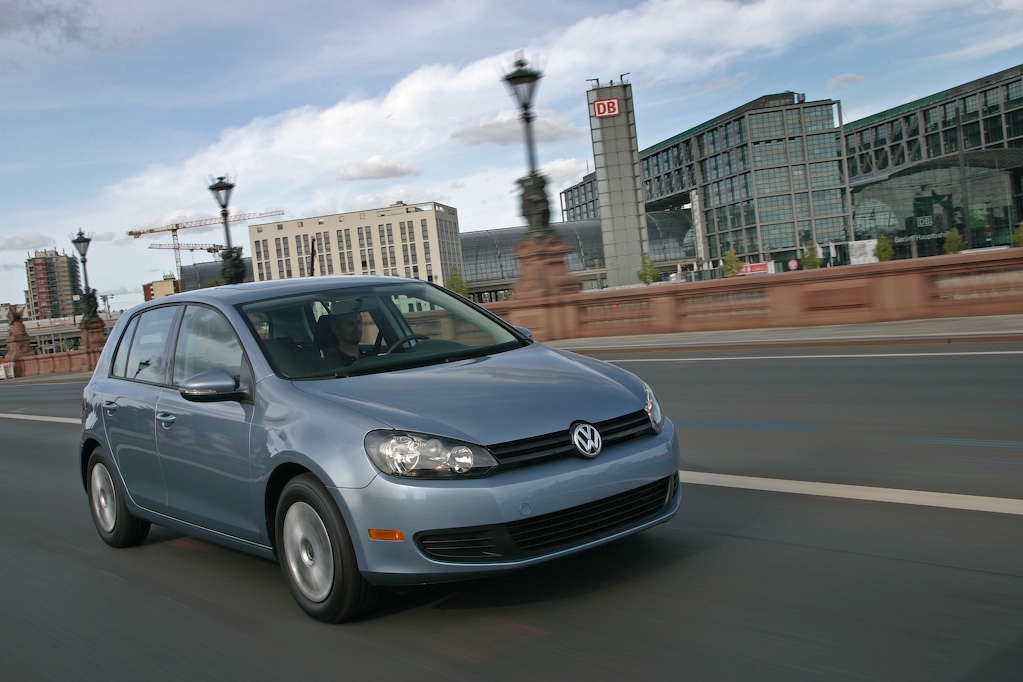 Driving enthusiasts of a certain age can perhaps remember the mid-1970s arrival of Volkswagen's first front-wheel drive offering, the groundbreaking Rabbit. Compared to the rear-engine, air-cooled Beetles, Fastbacks, and Squarebacks that preceded it (cars that, while virtuous, were also quirky and past their prime), the Rabbit seemed as modern as tomorrow—a car that emphasized yet redefined VW's core values. On one hand the Rabbit was perfectly sensible and practical, as the best VWs always are, yet it also had a soulful side, appealing to drivers with its taut handling, communicative steering, responsive drive train, and jaunty personality. Though not the least expensive "economy car" of its time, the Rabbit arguably offered more substance and value than its lower-priced competitors, serving up serious German automotive craftsmanship at an Everyman price.
Now fast forward a couple of decades to consider VW's 2010 Golf and you have a car that, in very many ways, feels like the conceptual and spiritual successor to that first-generation Rabbit. While the Golf does not break molds or stake out new technological turf the way the original Rabbit did, it does serve up disproportionately large helpings of practicality, quality, and sheer driving enjoyment given its modest price. While you can find less expensive economy cars that are very good (see the Honda Fit or Nissan Cube, to name just two), you may be hard pressed to match the Golf's combination of virtues for anywhere near its price. Here's why.
At first glance, the Golf seems well made yet humble and unassuming. It offers compact dimensions with clean, handsome lines accented by traditionally superb VW paint quality, but its small fifteen-inch steel rims, nondescript wheel covers, and 195/65R15 radials conspire to make the car seem almost too modest for its own good. But slip behind the wheel and you'll find that first impressions can be deceiving; this is, in fact, a very impressive little car.
The first thing you'll notice is that the basic, plain vanilla Golf comes with superbly supportive front seats that feel like they have been lifted straight out of VW's more costly GTI. Next, sweep your eyes around the interior and note that wherever you turn, high quality materials, excellent fit and finish work, and tasteful small décor touches (such as the brushed metal trim rings surrounding front panel air vents) abound. In fact, if you swapped out logos, we suspect the Golf's interior could easily pass for that of an Audi A-something-or-other, complete with astonishingly ample back seat leg and headroom. As with the original Rabbit, the Golf pulls off the trick of seeming larger on the inside than it appears from the outside. Pop the rear hatch and the magic trick continues, because out back you'll find a cargo hold that seems almost impossibly large in light of the Golf's compact exterior dimensions.
On paper the Golf's drivetrain at first seems mundane, featuring VW's time-tested but not necessarily very inspiring 2.5-liter inline-five-cylinder engine (170 horsepower, 177 pound-feet of torque) mated to a six-speed Tiptronic automatic transmission (a no-charge option). But once you take the car out for a drive surprises soon begin to unfold. Having driven 2.5-liter/Tiptronic VWs in the past, several things struck us as different about the implementation found in the 2010 Golf. First, VW has managed to retain the 2.5-liter five's fundamentally torque-centric character while also tuning the engine to make it feel significantly more eager, responsive, and freer revving. Second, VW has also given the engine something it never had in the past: namely, a subdued but pleasantly purposeful exhaust note that exudes a just-right hint of a snarl as the tach needle swings upward. Third, the Tiptronic transmission seems to have taken shifting lessons from VW's excellent DSG electronic manual, meaning that it responds to driver inputs more rapidly and intuitively than before. Put these factors together and you have a really satisfying general-purpose drive train package—one that offers a smooth, punchy burst of torque off the line plus healthy surge of midrange and top-end power that makes trips to redline rewarding, too.
Performance-minded drivers will observe that the 2.5-liter five is down about 30 horsepower and 30 pound-feet of torque relative to the 2.0 turbo four found in VW's GTI—differences you would mostly notice higher up in the rev band as boost fully comes into play. But while the 2.0T may be the better engine for sporting applications, many drivers might find the 2.5's superior low-end thrust that makes it the more responsive motor for cut'n'thrust city driving scenarios.
Steering is light, accurate, and communicative, giving drivers the ability to place the Golf with precision within highway lanes or on back road curves. Suspension action is compliant yet reasonably taut—giving a plush but certainly not "mushy" ride, even on sketchy pavement surfaces. Braking is surefooted and adequately powerful, though not quite up to GTI standards. Overall driving dynamics are very refined so that my only complaints are that the Golf could use more roll stiffness and a better tire/rim package. As things stand, grip is reasonably good, but there is somewhat more body roll than we would like, and initial turn-in is not as crisp and decisive as it could be. Both these minor deficiencies, however, can easily be addressed through aftermarket upgrades.
The bottom line is that the Golf is an "entry level" car that, in many respects, behaves like a vehicle costing thousands more. While you'll pay a little extra to get into the Golf in the first place (our sample, which had the sunroof and Cold Weather Package options, stickered for $21,165), the car's excellent interior, well-sorted drive train, space efficient design, and all-around refinement are gifts that will keep on giving over time. In fact, one Winding Road staff member commented that the Golf provided a day-to-day driving experience, "Not all that different" from a 3-Series BMW, which gives you some idea of just how special this little car really is.
2010 VOLKSWAGEN GOLF
Engine: Inline-5, 2.5 liters, 20v
Output: 170 hp / 177 lb-ft
Transmission: Six-speed automatic
0-60 MPH: 8.1 seconds
Top Speed: 125 mph
Weight: 3023 lb
Base Price: $17,490
Price as Tested: $21,165