Driven: 2010 Mercedes-Benz E550 Coupe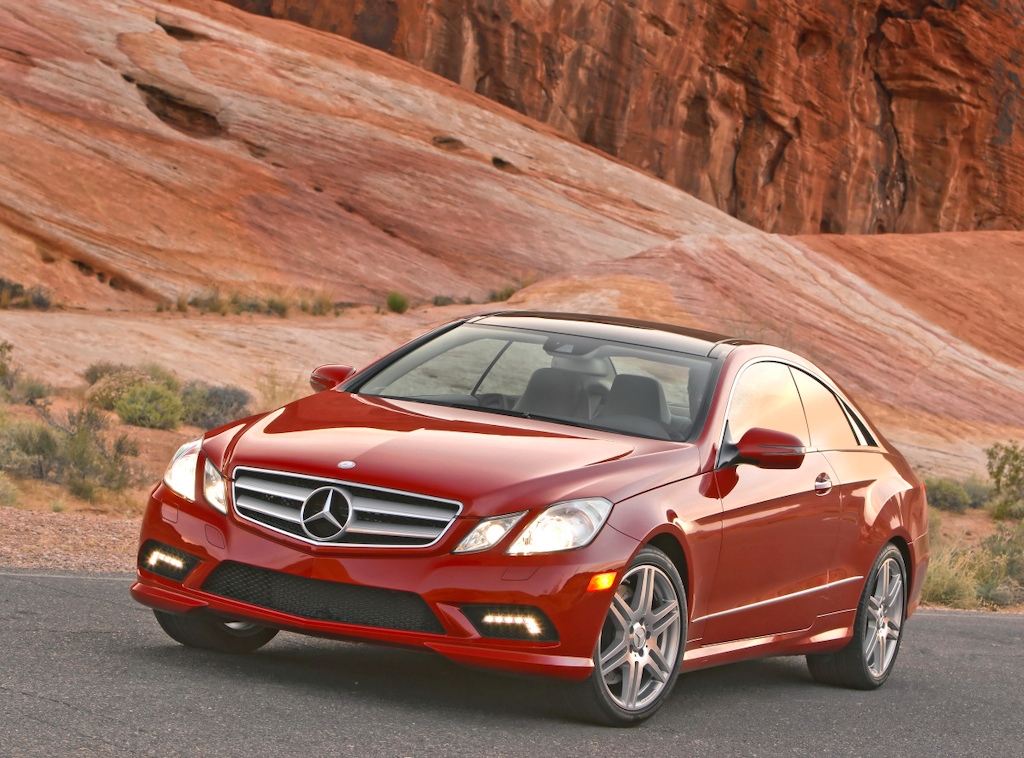 The last time we got behind he wheel of the 2010 E-Class Coupe, the car in question was the V-6-powered E350. Tom Martin found that iteration of the car to be great-looking but too soft, underpowered, and pretty isolated. Not exactly the pick of the driver's car litter then. So, when the opportunity arose to try out the higher-power E550, that of the 5.5-liter, 382-horsepower, and 391-pound-feet of torque V-8, we were excited to see if the result was any more sporting.
Of course, the bigger, V-8 engine answered one of the E350's major problems almost immediately by adding a lot of power. The E Coupe was really quick, in fact—a far cry from the "barely strong enough" V-6 car. The Mercedes motor builds power progressively as the revs rise, with a nicely matching engine note to compliment the budding speed.
The extra power from the engine, along with the adjustable, seven-speed transmission's Sport setting, fixed the issues that we encountered with the E350's poor shifting, too. With Sport selected, we were able to rip off paddle shifts that encouraged enthusiastic driving. The transmission's unwillingness to hold the gear we were in (it'll shift up automatically if you get very near the redline) was slightly less good, though we understand why the choice was made for this car—holding those final, loud revs will hardly be necessary for the typical E-Class coupe owner. Comfort mode was a lot more laid back, seemingly engineered to suit low-pace cruising, but we found the setting's hurry to get into top gear to be pretty annoying when employed in city-type driving.
Though softly sprung in comparison with many sports coupes, the E550 was not completely unwilling to exploit the curvier portions of our test drive, with handling that tended toward neutral unless it was really pressed, at which point it would default to understeering. Certainly, if one were to ever subject the beautiful Benz to anything so undignified as a hot lap at the local track, we'd guess that it would start to feel pretty nose-heavy and pushy. As it stands though, and for it's intended purpose, the coupe's performance envelope is perfect for warmed up road driving.
Road or track use, however, will find this steering system wanting. The power steering boosting is far to high, with the final effort level being silly light for a car of this weight. A bit more weight wouldn't kill anyone in parking situations, and it would add a huge dose of confident feel on the road.
Even with its dynamic shortcomings, we really enjoyed this big coupe. Enjoyed it more, in fact, with every hour that we spent behind the wheel. Once used to the idea that it would not behave like any kind of sports car, we could really appreciate the easy pace and graceful demeanor of the thing. Mercedes is pretty masterful at allowing its cars to give a truly supple ride, even at really high speeds, without the driver feeling as though he's floating over the surface of the road. The E550 felt most at home here, crushing motorways and making us wish that speed limits were double Michigan's stodgy 70 miles per hour.
$60K (or thereabouts) can buy a lot of interesting metal in the coupe world, but the E-Class really does seem to have the luxury/performance sliver nailed down here. For that price, one could opt into a much more sporting, but far less comfortable (or roomy), Corvette or BMW M3. Audi's S5, which is smaller (though comfortable), has less power. Dodge's Challenger SRT8 has a similar story in terms of power and size for a coupe, but it's obviously aimed at a buyer with very different tastes.
2010 Mercedes-Benz E550 Coupe
Engine: V-8, 5.5 liters, 32v
Output: 382hp/391 lb-ft
0-60: 5.0 sec
Top Speed: 130mph
Weight: 3720 lb
Base Price: $54,650
Price As Tested: $63,345