Driven: 2010 Mazdaspeed3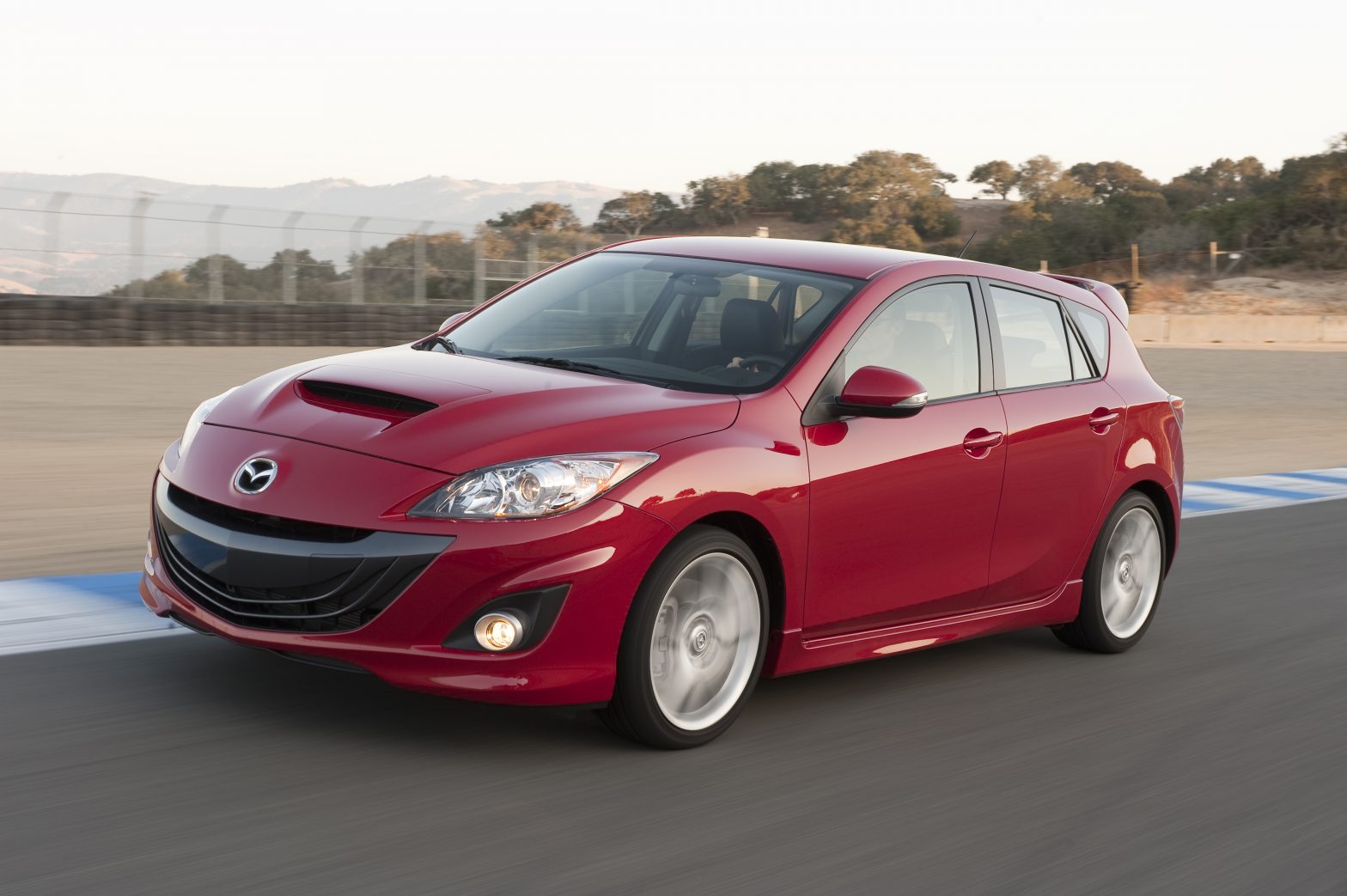 Our love of the Mazdaspeed3 can be traced back with a very exact timeline, as it first bloomed about 30 seconds after we ignited the engine on our maiden voyage in it. Back in October of 2006 we lauded the first generation Speed3 as, "The most complete front-drive compact yet," and were left certainly stunned at the car's combination of price and performance. Three years and one generation on, and we're tempted to conclude that Mazda still has the best thing going in the hot hatch game, by a long shot, though clearly not a car that is all things to all people. Which is probably a good thing.
Realistically, the 2010 Mazdaspeed3 is a car that is without peer in North America. The Subaru WRX and Mitsubishi Lancer Ralliart might be the closest to the Speed in terms of ability, but those cars have extra cost, extra weight, and extra driven wheels. Oh, and they're both slower and less powerful. The Volkswagen GTI and Civic Si don't have the sheer cojones to keep up with the MS3, as both are down hugely in the power and torque departments. The only car that offers a similar power-to-dollar equation is the 285-horsepower, front-drive Dodge Caliber SRT4. Sadly, the Caliber suffers from the same haphazard fit and finish as the rest of Dodge's cars, is far more crude in its handling, and still costs more money than the all-new Mazda. On the face of things, being able to buy a 263-horsepower car for a starting price of just over $23K is a mind-blowing value, but it's also a deal that does come with a fair number of trade-offs.
Company engineers were quick to point out in the Speed3 technical briefing that they had intentionally left an element of torque steer unchecked in the car, as they were hoping to maintain a level road feel through the steering wheel that they consider elemental to any Mazda. To their credit, the purely electrical assist to the steering rack does allow a more communicative experience than we'd have expected, but the torque steer issue is no joke. We're not the kind of sanitized drivers that won't put up with a little fussing from the steering in return for a big dollop of power, but the MS3 is pretty over the top in this regard. Even when expecting the wheel to jump, there were times when we were still hard-pressed to keep both hands firmly stationed at ten and two when pulling hard out of a bend or off of the line. 280 pound-feet of torque is not nothing while running through two front wheels, and drivers of this car should expect to feel every ounce of it.
Once the wheel is under control, however, there is a lot to love about Mazda's 2.3-liter DISI turbo engine. This is basically the same powerplant that was found in the last Speed3, with no changes to output, as the Mazda folks guessed that added power wasn't actually what potential buyers were looking for. We agree. Instead, Mazda focused on re-spacing its gear ratios (second through fifth are all taller) and tweaking the engine management system to give more even delivery of power across the revs. That work has paid good dividends, as the 2.3 pulls strongly, even from low rpm, and never really feels out of breath at the top end. It also sounds fantastic through its sport-tuned dual exhaust—throaty, and robust, and just loud enough to stand your hair up when you're approaching truly silly speeds.
And they do feel silly, at times. A top speed of 155 miles per hour may be impressive for a sub $25K car, but it's the accelerative experience that's the most memorable. With so much torque on tap, the car not only screams away from a standing start, but it has no problem tapping its reserves for a high-speed pass. Ignoring the numbers, the Speed3 actually feels as quick from the jump as something like an Evo X, which is no mean feat.
Mazda has also done a fine job sorting the suspension of its hot hatch. The car may understeer (more on that later) through a corner, but there's very little body roll. Speed3 feels quite stiff and pointy, and was a willing and sure-footed companion on the broken, and wandering roads we traversed around Monterey. The more rigid hatch was rarely rough, however, and managed an exceptional balance between feedback and over stimulation from the chassis. This subtlety was almost on par with what we'd expect from BMW (near-masters of suspension tuning) and frankly, a little out of character with the hell-or-high-water nature of the rest of the car.
Given the high-performance of the new Speed3, it was only natural that Mazda cut us loose with the car on its home track, Mazda Raceway Laguna Seca. (For most of you the Laguna name is all that's needed by way of description, but having poured any number of branding resources into the track complex, the Mazda folks are pretty adamant about the "proper" name here.) Your author, having spent countless hours of his otherwise productive life mastering the digital version of Laguna in multiple iterations of the Gran Turismo franchise, was pretty excited to have a first go at the track in its physical manifestation. It's an experience not to be missed, let us assure you. The course is a remarkable one for new drivers, as it is really wide with great visibility in most corners (the completely blind Corkscrew at turn eight being a well-documented exception). Because of this, one doesn't lack for speed through the corners, as long as you can summon the courage, and have faith enough in the car to keep your right foot in 'till the last moment. This was well illustrated by our at-speed demo lap with a member of the Skip Barber team driving, followed by our own, slightly slower, first-hand impressions.
The Speed3 was a fair performer on the legendary road course, though it's safe to say the car is far more impressive out in public than on the track. A natural tendency towards understeer was far more pronounced on the circuit than the street, and the Mazda plowed pretty wide when asked to turn the corner at great speed. Likewise, the car's brakes (12.6-inches in front, 11-inches out back), though plenty grabby in normal driving, got cooked rather quickly at racing speeds. We were caught out by the slightly too-long throw of the gearlever a couple of times, too. Thankfully, we aren't expecting the average Mazdaspeed3 driver to be doing a lot of circuit work with the five-door—autocrossing is probably more this car's speed, as it were. And, despite its dynamic failings, there's no question that the Mazda was very capable of a quick lap at Laguna, just not racing car quick. Zoom-Zoom has its limitations.
Our time on the track did serve as a great way to crystallize our sort of muddied view of the new MS3. The fun and the flaw of the car are both down to the fact that this is essentially a very well done tuner special. In its effort to keep the price point down and the grins up, Mazda has again delivered a car that is just a little too powerful for its own good. That means that if you come to the Speed3 table with expectations of a sports car, the rowdy nature and certain bad manners are going to let you down. But if you approach the car like a kind of Nuevo, front-drive muscle car for the Millennial-set, you're likely to think of it as perhaps the greatest car ever made. It's a lot more complex than we expected, riotous to drive, and utterly unique in the marketplace. So while the Speed3's shortcomings may keep it off the list of "pure" driver's cars, they're not enough to keep it from being an instant heart-warmer for Winding Road. Trust us, you'll see more of this car in our pages before the third Mazdaspeed3 shows up.