Driven: 2010 Mazda3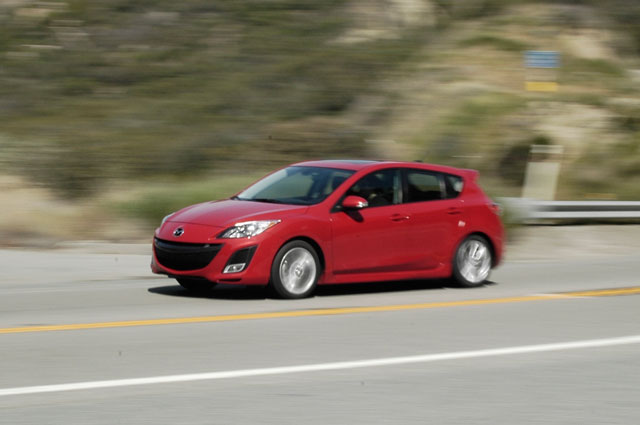 (Photo credit: Steven J. Ewing)
—Laguna Beach, California
When you think about driving along the mountain roads of southern California, your brain immediately fixates on images of Lotus Elises and Porsche Boxsters as potential quick-footed dance partners for a day of driving fun. But in reality, any car with nimble steering, a taught suspension, and a bit of pep in its step can give similar pleasures. Take our 2010 Mazda3, for example. We spent many hours throwing it through a seemingly endless series of back-and-forth, left-and-right turns, and walked away feeling quite satisfied. The previous generation 3 was seriously fun in these conditions. We're happy to report that the new car is too.
There's an old saying that kept circulating through our minds process when pondering the second-generation Mazda3: "If it ain't broke, don't fix it." Even as the first-gen car turned five years old, we still praised it for being one of the best driver's cars available at the $20,000 mark. Why mess with success? As it turns out, the Mazda engineers felt the same way—no major overhauls were done to the 3's platform—and the suits in charge frequently referred to the new car as, "Evolutionary, not revolutionary." What's more, the 3's overall price points haven't been affected too much, and in certain trim levels, the 2010 model is actually less expensive than the outgoing car. So far, so good.
The exterior styling has been slightly revised with a silly grin up front, a cleaner rear end, which integrates dual exhausts, and some sporty-looking wheel choices. Mazda's Nagare design language is clearly present on the 3, and trust us when we say that photography does not do the overall appearance proper justice. After spending a few days surrounded by 2010 Mazda3s, we grew to like the new shape, no matter how "dumb blonde" the front end may appear at first glance.
The big story with this Mazda3 is the larger four-pot engine's bump in displacement from 2.3 to 2.5 liters. (A smaller 2.0-liter four is also available—carried over from the previous model.) Those paying close attention will see that this new engine is the same one used in the larger Mazda6 sedan, and the output numbers of 167 horsepower and 168 pound-feet of torque have not been changed. A six-speed manual transmission is standard fare, though a five-speed autobox can be had for consumers who want the additional legwork done for them. We became quite friendly with a five-door Grand Touring model on our mountain road run, finding the manual shifter to be very enjoyable. We were able to execute quick, smooth shifts with minimal effort, and found the gearbox to be tighter and more engaging than in its Mazda6 application. Sure, we wish the transmission were more akin to the smaller MX-5 or RX-8, but it's still worlds better than the sloppy sticks of Ford's Focus and Nissan's Sentra.
The Mazda3 is surely no slug off the line, but there's a noticeable lack of power in the lower-mid range of each gear. Rev high in third and you'll have plenty of strength for exiting turns, but we never dared leave the car in fourth gear, as we would have needed to stomp on the far right pedal to power out of swooping corners. And when it comes time to halt, the brakes are solid and sure-footed with no front-end chatter during quick stopping maneuvers.
Perhaps most impressive is the 3's steering, which has been extensively tuned and calibrated to virtually eliminate any instance of understeer. That funny little nose goes exactly where pointed, with a steering feel similar to some of our favorite Honda vehicles. Turn-in is precise, the steering rack is easy to modulate, and we were able to execute lock-to-lock turns with minimal juggling. In fact, the front wheels have so much grip that this Mazda would more easily oversteer than understeer—sort of a back-handed compliment for a front-drive car. In fact, the rear multilink suspension setup occasionally didn't feel confident enough to handle all of our enthusiasm, and we noticed that the 3's cute little butt had a tendency to become quite floaty while being tossed about. Even so, our drive routes along California's Ortega Highway proved enjoyable, and we're betting that the rear suspension on the upcoming Mazdaspeed3 is more akin to handling all of the tough turns. Our Grand Touring 3's seventeen-inch wheels were wrapped in Yokohama Avis all-season tires, and if our test car were outfitted with some sticker rubber, some of these handling issues might not have cropped up as much.
Inside the cockpit, there are a host of technological gadgets and gee-whiz functions which all work well. Push-buttons and control switches all fall right to hand, and Mazda's interactive lighting illuminates the center stack whenever the volume or HVAC temperature is raised or lowered. Navigation, a multi-function information interface, and Bluetooth can be had for additional costs. Sport and Grand Touring models benefit from supportive seats, trimmed in standard cloth or optional leather, and we didn't find ourselves fidgeting about in the front buckets after long stints of sitting. The rear bench will seat two people comfortably (three passengers would be a tight squeeze) with plenty of legroom and headroom for average-sized adults. The rear seats split at a 60/40 interval and fold completely flat, boasting quite a capacious cargo bay for whatever hauling tasks the 3 may be faced with.
The latest and greatest Mazda3 may not have been toiled over for countless months like most "all-new" vehicles are, but we firmly believe that this slight evolution will still be a big hit with small car buyers. It is still a fun-to-drive, well-rounded package with an attractive price point and loads of technological functions that keep up with the automotive times.
So while this car isn't a drastic departure from the model it replaces, we don't think anyone is going to complain. After all, it's not supposed to be a revolution, and that's just fine by us.
2010 MAZDA3 S GRAND TOURING 5-DOOR
Engine: Inline-4, 2.5 liters, 16v
Output: 167 hp/168 lb-ft
Transmission: Six-speed manual
Top Speed: 117 mph (electronically limited)
Weight: 3005 lb
Base Price: $21,500
Price as Tested: $24,750