Driven: 2010 Lexus IS350C F Performance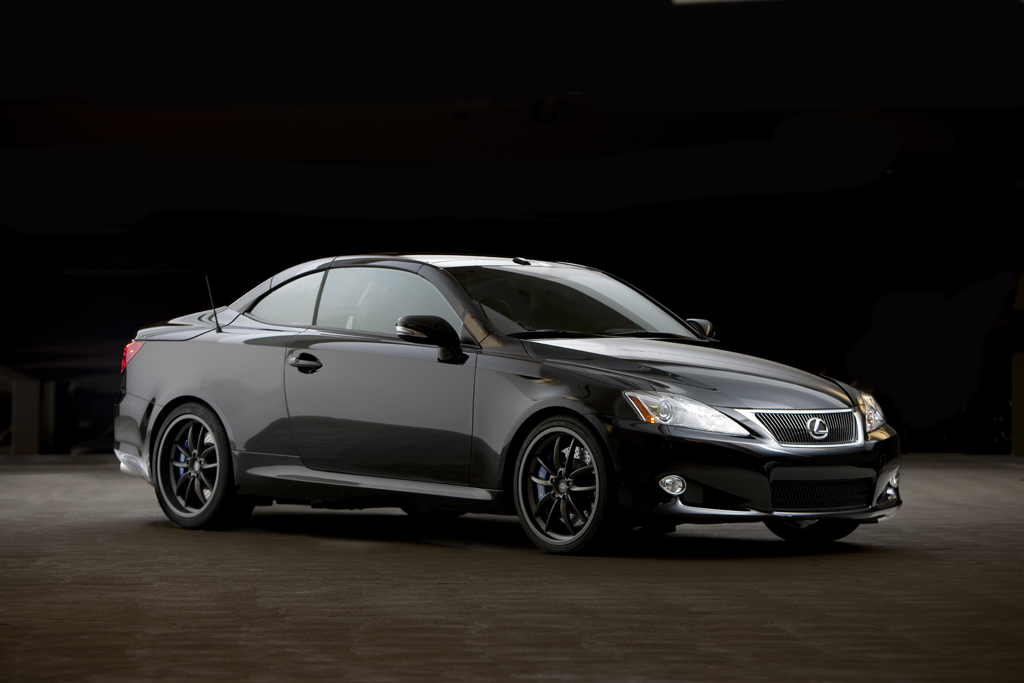 I'm going to go out on a fairly robust limb and say that there are plenty of drivers who a) like convertibles and b) like performance cars and c) would love to find convertible performance cars that are basically as good as their coupe siblings. Unfortunately, with the exception of cars like the Porsche Boxster that are designed from the outset as roadsters, mostly this doesn't happen. Instead, physics intervenes, and the process of adding the convertible feature adds weight, raises the center of gravity, and reduces torsional rigidity. None of those changes improve driving dynamics. Of course, different manufacturers manage these tradeoffs with differing levels of artistry, but it's not nice to (try to) fool Mother Nature.
So, as long as we're going out on limbs, let's try a bit smaller one. I'm going to say that most of the time convertibleness is more important to driver involvement than the loss of dynamics described in our little physics lesson above. I know, I know, you're thinking, "Sacre bleu!, Vaht kind of crahziness is zeehs?" But really, in most street cars, the dynamic loss is modest because you don't drive at the limit regularly, and the gain from getting closer to the elements is quite big. Acoustically, especially, the better sport vehicles are simply more rewarding with the top down.
Case in point, the Lexus IS350C with F Performance parts. The IS sedan, at least among Lexus models below the IS-F, is a decent car. It looks good and is moderately entertaining to drive. Sure, it isn't a 3-Series or an Evo, but it isn't bad. On the other hand, it probably doesn't get your heart moving faster either.
Now consider the IS convertible. If it has the F Performance exhaust and an F Performance suspension, as our test car did, and you put the top down, the IS becomes a pleasure to drive. Not that it suddenly loses its Lexus DNA, but it just isn't an isolation chamber anymore.
First off, the exhaust makes nicely balanced—not too loud, not too soft—sounds as you run through the gears. You wouldn't choose this sound over a small-block V-8 with side pipes for pure hair-raising impact, but then again you might not want to pick up your girlfriend in the latter. And, anyway, you can't get that car from the dealer with a warranty, as you can with the F Performance Lexus.
Secondly, the ISC's suspension, while a bit brittle on broken pavement, gives it a pleasantly firm ride and flat handling. The communication through the wheel is still heavily filtered, but the chassis movements are articulated rather than mumbled. Of course, removing the top means some of those chassis movements are unwanted, but with the top down you won't be as bothered as you would be if this same car were a coupe.
Driving up and down the Pacific Coast Highway around Los Angeles in this IS was very enjoyable. Of course, that climate is close to ideal for convertibles, but really with wind management as well done as it is here, top-down motoring is workable in most states for enough of the year to pay off. With the top up, the IS went back to being a mundane coupe with a little too much NVH.
Certainly, there are competitive cars that would pull this open-top trick off even better. I came to think that the problem isn't so much that the IS is a Lexus, but that the IS is a rather old car, technically. The audio, nav, and HVAC controls seem primitive and the body structure should be more solid. When a new IS appears in the not-too-distant future, it should correct those issues. If Lexus releases the F Performance parts at the same time, you'll have a worthy luxury convertible for drivers.
2010 Lexus IS350C F Sport
Engine: V-6, 3.5 liters, 24v
Output: 306 hp/277 lb-ft
0-60 MPH: 5.8 sec
Top Speed: 141 mph (est)
Weight: 3880 lb (est)
Base Price: $57,500