Driven: 2010 Kia Forte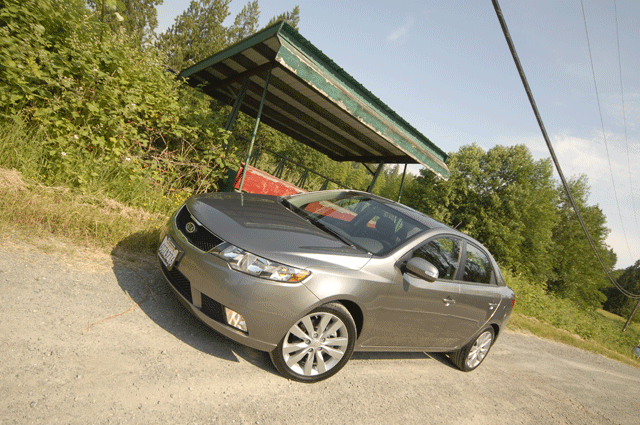 —Seattle, Washington
While sitting around a candlelit table at Chandler's Crabhouse in downtown Seattle, we talked with other journalists about our recent drive in Kia's all-new Forte sedan—the replacement for the long-running Spectra. We discussed our generally lukewarm driving impressions, but still resolved that the Forte is a good competitor in the compact segment. One colleague said, "If I only write about the drive experience, it could come off as a bad review—but it isn't actually a bad car at all." So stay with us here, because while there may not be any juicy, exciting, sports-car-type bits about the Kia Forte, it's still a perfectly adequate player in a segment that needs to appeal to the widest variety of shoppers. Think about the Nissan Sentra, Toyota Corolla, and Ford Focus sedans—these cars are tragically vanilla, but they still sell in droves. And so the Kia Forte comes to town, bringing with it a bigger pile of standard equipment, attractive design, and a very low price point. None of these cars are particularly exciting, and the Forte still manages to seal up the whole compact sedan package better than these aforementioned competitors.

We all know that the compact segment exists to serve a very real purpose—offer a simple, ergonomic package of useful features while not being overly harsh on the pocketbook. And while some of these cars are remarkably fun to drive (this means you, Mazda3), the majority of the choices rely on their bargain price points and non-offensive styling to wrangle customers. This is an area where the Forte could easily take top honors, what with its $14,390 starting price, and its wealth of standard equipment, including Sirius satellite radio and Bluetooth connectivity. We find the Forte to be a good-looking little sedan, with attractive, yet simple lines, an aggressive front fascia, and clean, almost Audi-like taillights. Even the standard fifteen-inch wheels look good, and the optional sixteen- and seventeen-inchers look even better. When we showed photos of the Forte to a current-generation Honda Civic sedan owner, their response was, "It looks sort of like my car, only not as funky and weird. I like it."
But here's where things get a little sticky. Kia has been quick to trumpet the Forte as being more powerful than any other car in the class, which may be true, but it's still not as engaging to drive as a Honda Civic or Mazda3. The base engine, a 2.0-liter four with 156 horsepower is a fine unit, mated to a standard five-speed manual or a choice of four- and five-speed automatics. The larger, 2.4-liter engine (only available in SX trim) does produce a healthy 173 horsepower and can be had with a six-speed manual, but we actually preferred the base engine to the larger powerplant. The 2.4's non-linear power delivery was a bit frustrating at times, since we found ourselves doing a lot of extra downshifting to try and pull out the full oomph of this engine. Yes, there are 168 pound-feet of torque available with the 2.4, but they don't fully come on until 4000 rpm. So while this engine may be more powerful than the Mazda3's 2.5-liter mill, the Mazda's setup is better tuned for low-end power delivery.
To be honest, we found the 2.0-liter engine with optional five-speed automatic to be the best choice amongst the Fortes. The four-speed autobox proved to be a bit coarse, as we noted on the Kia Soul that we tested a few months back, but this five-speed unit is smooth and doesn't jump through the gears too much. The six-speed stick is a very odd transmission for this car. The gearbox itself is slushy and non-engaging, and the clutch take-up versus throttle response took some getting used to. One driver stalled the Forte on the first go, and we too had some trouble achieving smooth shifts for the first couple of miles. What's more, the 2.0/5AT combination allows for fuel economy numbers of 27 miles per gallon in the city and 36 on the highway. That's even better than some smaller offerings like the Honda Fit or Nissan Versa.
Now, before we go and shoot ourselves in the foot, keep in mind that while the Forte may have more standard equipment, more power, and better fuel economy than a Honda Fit, Mazda3, or any other car in this segment, it's not nearly as good to drive from an enthusiast's perspective. Like the Soul, we like that Kia has dialed in a good amount of steering feel without it feeling overboosted, though we found the racks in the LX and EX models to be a bit heavy to modulate through quick turns. The SX, with its upgraded rack-and-pinion steering, stiffer suspension, and larger wheels is a bit more engaging to throw around, but it's still not as clever and fun-to-drive as a Honda Fit, Civic, or Mazda3. Even so, the Forte isn't trying to be a sports car, and Kia isn't marketing it as such. It's a good, all-rounder perfect for people who don't really give a hoot about precise handling and fantastic driving ability. But even with that in mind, we still find the Forte to be much more fun to pilot than a Ford Focus or Toyota Corolla.
Another big win for the Forte is its interior refinement. Even at such a low price point, the cabin materials look and feel good, though we much prefer the cloth seats as opposed to the optional leather-trimmed chairs. There's a lot of room inside the Forte, too, and as Kia pointed out, there's actually more room inside its compact sedan than in the larger Nissan Maxima. Sitting in the driver's seat, there are good sight lines from all angles, and the six-way adjustable chair was well-liked by drivers of all different heights. There are ample amounts of headroom and legroom for both front and rear occupants, and the Forte's 14.7 cubic feet of cargo space is pretty capacious for a car this size. We'd really like to see a useful five-door arrangement of the Forte (think Spectra5), but Kia says that they have no plans to introduce any sort of hatch configuration in the future.
So while there may not be a whole lot to brag about in the fun-to-drive category, there's still a lot to love about the Forte. This smart sedan is definitely worth a look for buyers in this segment, and we feel more comfortable about recommending the Forte than we ever did about the Spectra. Looking to the future, the two-door Forte Koup will be hitting the streets later this year, set to do battle with the likes of the Scion tC and Honda Civic, but it's probably a safe bet that the Koup will retain all of the sedan's same driving characteristics. We highly doubt that the Forte will steal away any Mazda3 patrons, but compact car buyers should indeed take note of the Forte. The low price, high quality, and impressive warranty (Kia's famed ten-year, 100,000-mile deal) make it a very attractive option for those who need simple, basic transportation with a bit of style thrown in. Kia isn't trying to shake up the whole segment here, and in doing so, they've created one hell of an overall value.