Driven: 2010 Kia Forte Koup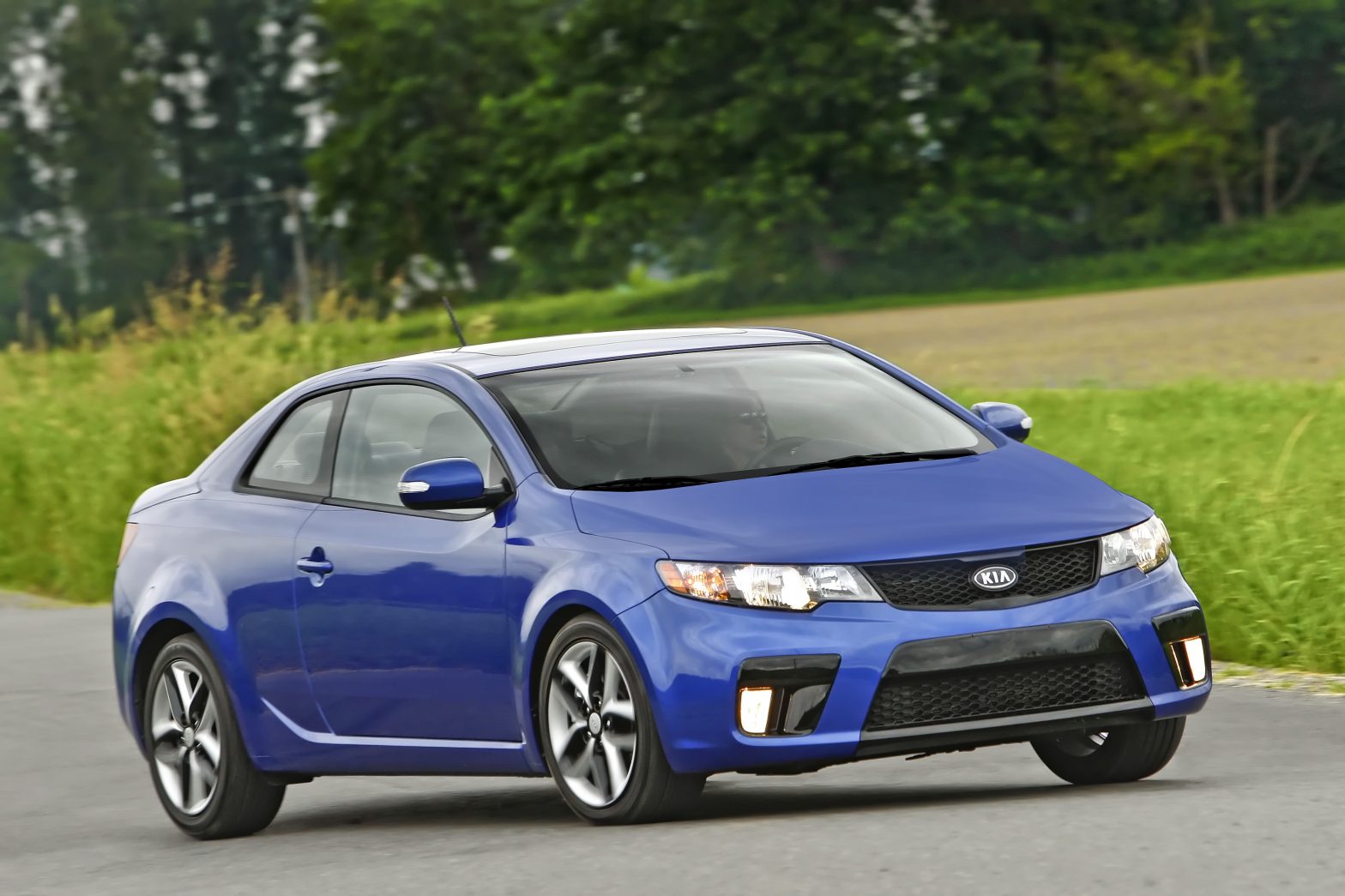 The "Americans hate hatchbacks" myth has been shoved down our throats an awful lot in the past year, especially as automakers put a stronger focus on small cars. But when you look at the automotive landscape in the United States, there sure do seem to be an awful lot of cute three- and five-door cars making up the majority of the under-$20,000 segment. We at Winding Road are firm believers in hatches, as they are immensely functional and practical without sacrificing any part of the overall drive experience. In fact, nine times out of ten, we—as well as other enthusiasts—prefer a hatch to a coupe. But the coupe body style has always sat well with the larger spectrum of consumers in this country, and it's somewhat surprising to see how few two-door models are available on the cheap.
Not long after the launch of the Forte sedan, Kia now introduces the Forte Koup—a sleek entry into a class of vehicles dominated by the Honda Civic, Ford Focus, and Scion tC (which has lost a lot of its youthful Scion luster in recent years). Based on the same good-to-do groundwork as the four-door, the Koup adds a bit more charm and slightly better dynamics to the Forte package; and without spoiling the rest of this review, it's safe to say that Kia may have just built the best coupe available for under $20K.
For starters, it's easily the best-looking affordable coupe on the market. We like that Kia left the shiny black trim on the front end and integrated it into the alloy wheel design. It looks a bit concept-y, and we rather like it. In fact, on more than one occasion during our weeklong stint with the car, friends and strangers alike kept commenting about the Forte's design. "I didn't know Kia made sexy cars," said one. "I wish my Civic looked like this," said another. The flat-ish roofline, low ground clearance, and wheels pushed well out to all four corners all work together to give the car a very striking stance on the road. It really looks more like a performance car than a naturally aspirated economy car, and while we recently took issue with this in our list of cars that seem to be all bark and no bite, we soon found that the Kia is a pretty potent little performer.
Power comes from a 2.4-liter four, producing 173 horsepower and 168 pound-feet of torque. This engine is standard on SX trim level models, whereas EX-badged cars make due with a less-powerful 2.0-liter mill. And while the base engine is a perfectly capable powerplant for most drivers (fuel economy is a big win here), we like the more gutsy, larger 2.4, even if it can be a bit thirsty when driven hard.
With a six-speed manual transmission on hand, we enjoyed piloting the Koup SX through all sorts of driving situations. The rack-and-pinion steering is a bit light on center, but feels good through the turns. It's a very close match for Honda's magic rack in the Civic, and worlds better than Ford's rather uninspiring setup in the Focus. The Koup inspires a lot of driver confidence while pushing through bends, mostly because the involving steering is matched with a wide track, meaning the Forte is incredibly stable through corners. The sport-tuned suspension means there's a lot of grip at speed, too, yet the ride quality is never crashy or harsh.
However, due to the odd ratio of clutch takeup versus throttle response, it is quite easy to experience some hefty understeer due to an overabundance of power being delivered right as each gear is selected. We mostly found this to be a problem upon initial acceleration, and the Koup is prone to a bit of wheel spin if first gear isn't smoothly engaged. It's a somewhat nerve-wracking experience, especially upon first take. The gear shifter could be better, too, as we found this unit to be a bit notchy and uninspired overall.
But that niggle aside, the Koup is a peppy machine. It has more oomph than any of its competitors, though we wish the power band were more geared toward low-end acceleration. The 2.4-liter engine doesn't mind being revved into the high range of each gear, but for a car that boasts 168 pound-feet of twist, we'd like it if more were delivered below 4000 rpm. Still, this car feels quicker than any other sub-$20K coupe we've tested, and while we won't go so far to say it's a bargain version of the lovely Civic Si, it's a whole lot of car for only $17,500.
The fact that the Forte Koup is such a good value is really no surprise, as that core quality is really the bread and butter behind the entire Kia lineup. Our test car did not come with any optional accessories, yet still had things like foglamps, seventeen-inch alloy wheels, Sirius satellite radio, Bluetooth connectivity, a power sunroof, and USB/AUX input jacks. A leather seating package is available, which also adds heated front chairs, but we much prefer the cloth buckets, as they genuinely feel more supportive and comfortable overall.
Kia hopes that consumers will see the strong value proposition as a huge selling point for the Forte Koup. But for budget-minded enthusiasts, here's another strong factor to consider: This car is honestly fun to drive. Combine these two factors, and Kia has created quite an impressive package here.
We just wish it also came as a hatchback.
2010 KIA FORTE KOUP SX
Engine: Inline-4, 2.4 liters, 16v
Output: 173 hp / 168 lb-ft
Transmission: Six-speed manual
Weight: 2859 lb
Fuel Economy, city/hwy: 22/32 mpg
Base Price: $17,500
Price as Tested: $18,195