Driven: 2010 Hyundai Tucson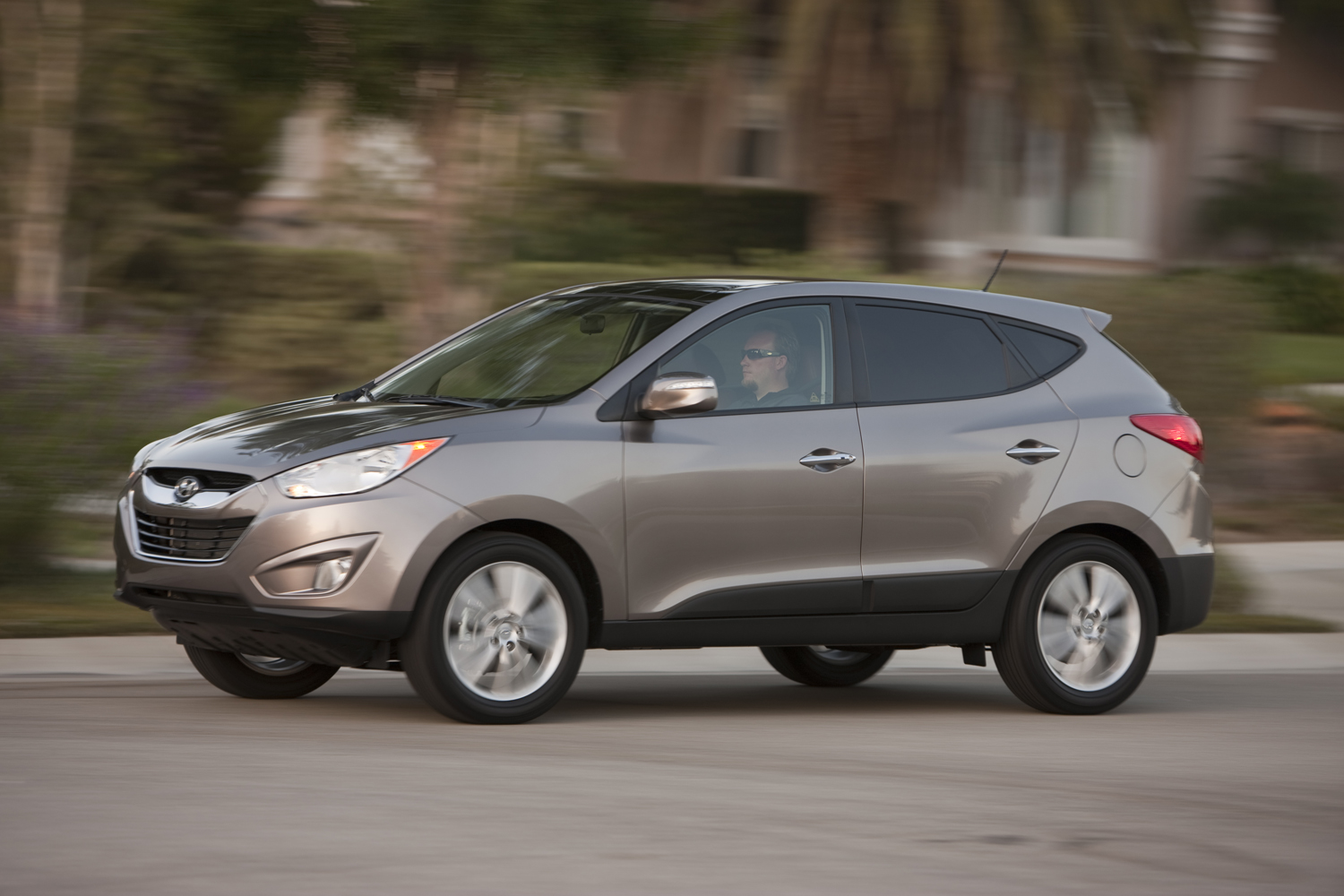 —Beverly Hills, California
The canyon roads in and around Beverly Hills, California, provide some of the best driving scenarios in the country. Long stretches of tight corners mixed in with rapid elevation changes make for a challenging and fun day of motoring, and give us the ability to really wring out our vehicle of choice—immediately pointing out any flaws in suspension tuning, balance, power delivery, shift fluidity, and overall grace. You really want a Lotus Elise for times like this.
You can imagine our surprise when Hyundai chose these roads as the testing grounds for the all-new 2010 Tucson crossover—the successor to the all-but-forgotten Tucson that sold from 2004 to 2009. That vehicle was little more than a rebadged version of the popular-ish Kia Sportage. We spent hours steering the sexy new crossover along the fabulous Mulholland Drive and Topanga Canyon Road, and at the end of the day it became very clear to us that the Tucson is not a canyon-carver. The steering requires too much effort, there isn't enough low-end power, and the front-drive models are prone to very noticeable body roll and general front-end sloppiness in the tricky bends. A Genesis Coupe would have felt at home on these roads, but not the Tucson. Not many small crossovers.
But we like the Tucson. In fact, we really like the Tucson. Keep in mind—90 percent of this vehicle's target audience won't be thrashing Hyundai's newborn around canyon roads. This vehicle is designed and engineered for suburban environments, while still able to handle occasional backroad cruising—not the terribly challenging stuff. And in this world, the Tucson is a big success.
All Tucsons, whether in the base GLS or upmarket Limited trims, are powered by a 2.4-liter inline-four, producing 176 horsepower and 168 pound-feet of torque. Unlike the outgoing model, no V-6 is available, but Hyundai engineers were quick to point out that this new engine is not only more powerful than the old six, but is substantially more fuel efficient, as well. Front-drive models will net 23/31 miles per gallon city/highway, with all-wheel-drive Tucsons pulling 21/28 mpg. Six-speed automatic transmissions are standard across the board, with only the bottom-end GLS available with a do-it-yourself stick. We drove both transmissions, finding the automatic to be a really smooth-shifting unit, though it does have a tendency to hunt around for the proper gear at highway speeds. Still, the shifts are barely noticeable, and the autobox is always willing to kick down. This ensures that most of the 176 ponies are available most of the time. Surprisingly, the manual shifter is actually quite fun to use. The clutch pedal would benefit from some more weight behind it, but the shifter itself is really pleasant for gear-stirring—throws aren't too long, and gear engagement is really solid. It's a shame that Hyundai expects less than 10 percent of all Tucson sales to be had with the stick-shift.
We spent a good portion of the day driving around in the GLS/manual Tucson and find it to be a really complete package for an asking price of only $18,995. It's not as numb as a base model Toyota RAV4, and it certainly has more pep than a Honda CR-V. Riding on smaller, sixteen-inch steel wheels does allow for a bit less overall stability in the corners, but again, it's still a better experience than competitive vehicles. It's the closest thing we've driven to the first-generation, manual-box Honda CR-V, which was a charming little all-rounder. We like that the base model challenges you to drive it well—it takes more effort to drive smoothly—and while that might seem like a bad thing, we'll have to admit that we rather enjoyed ourselves in this GLS tester.
On the other end of the spectrum from the GLS, we drove an all-wheel-drive-equipped Limited model, which proved to be a very confident and well-balanced package for everyday use. Larger seventeen-inch alloys give the Tucson a more stable feeling on the road, and the all-wheel drive eliminates any sort of front-wheel slip that we occasionally experienced off the line in the GLS. What's more, Limited models come packed with optional goodies like a panoramic sunroof, leather seats (though we much preferred the cloth buckets in the GLS), and Hyundai's latest touch-screen interface which houses the navigation system, Bluetooth, XM functions, and more.
The one niggle about the Tucson's driving experience—whether it's the base GLS or Limited AWD—is the steering. Hyundai has fitted electronic power steering rather than a hydraulic unit, and it comes with a couple of quirks. First, the steering feels very light and tossable at immediate on-center position, but as soon as the wheel is turned to the left or right, it instantly starts to feel heavier, but in a somewhat fake way. We relate this to the sort of "fake involvement" that Toyota has dialed into a lot of its new steering racks, and it's a really weird feeling. Additionally, the whole steering process takes a lot of effort, and executing quick back-and-forth turns requires quick hands and a bit more work than we'd like. No automaker in this segment can seem to match the Honda CR-V's excellent steering feel, and even though we find some faults with Hyundai's setup, it's still better than a RAV4.
The whole Tucson range benefits from exceptional interior refinement for the class. The key thing we noticed about the base GLS is that it doesn't feel like a "stripped out" car, but instead is made up of high-quality fabrics and plastics, and the overall interior design looks rather upscale, no matter what trim level you've optioned for. Sure, Limited models feel more plush and look a bit nicer, but we were very impressed with the Tucson's interior across the board. We especially like how the center stack's design sort of mimics the vehicle's front fascia. If you didn't notice that before, it's worth a closer look.
So while our initial driving challenge with the Tucson may have been a bit more than the little Hyundai could handle, it has only helped reassure that the Tucson is one of the best-driving and best all-round crossovers currently on the market. It's good-looking, the most fuel-efficient in its class, and stands to be one of the best value propositions in the small crossover market. We've driven the lot of small four-cylinder crossovers, and when it comes down to overall intuitiveness and character, the Tucson is a real winner. And if Tucson is the type of car that's right up your alley, do yourself a favor and test drive the base model with the manual box. Just stay away from the mountains.
2010 HYUNDAI TUCSON
Engine: Inline-4, 2.4 liters, 16v
Output: 176 hp / 168 lb-ft
Transmission: Six-speed manual or automatic
Weight: 3179 lb (GLS M/T)
Cargo Capacity: 55.8 cubic feet
Fuel Economy, City/Hwy: 22/30 mpg (GLS M/T)
Base Price: $18,995