Driven: 2010 Ford Flex EcoBoost Hauls Ass And More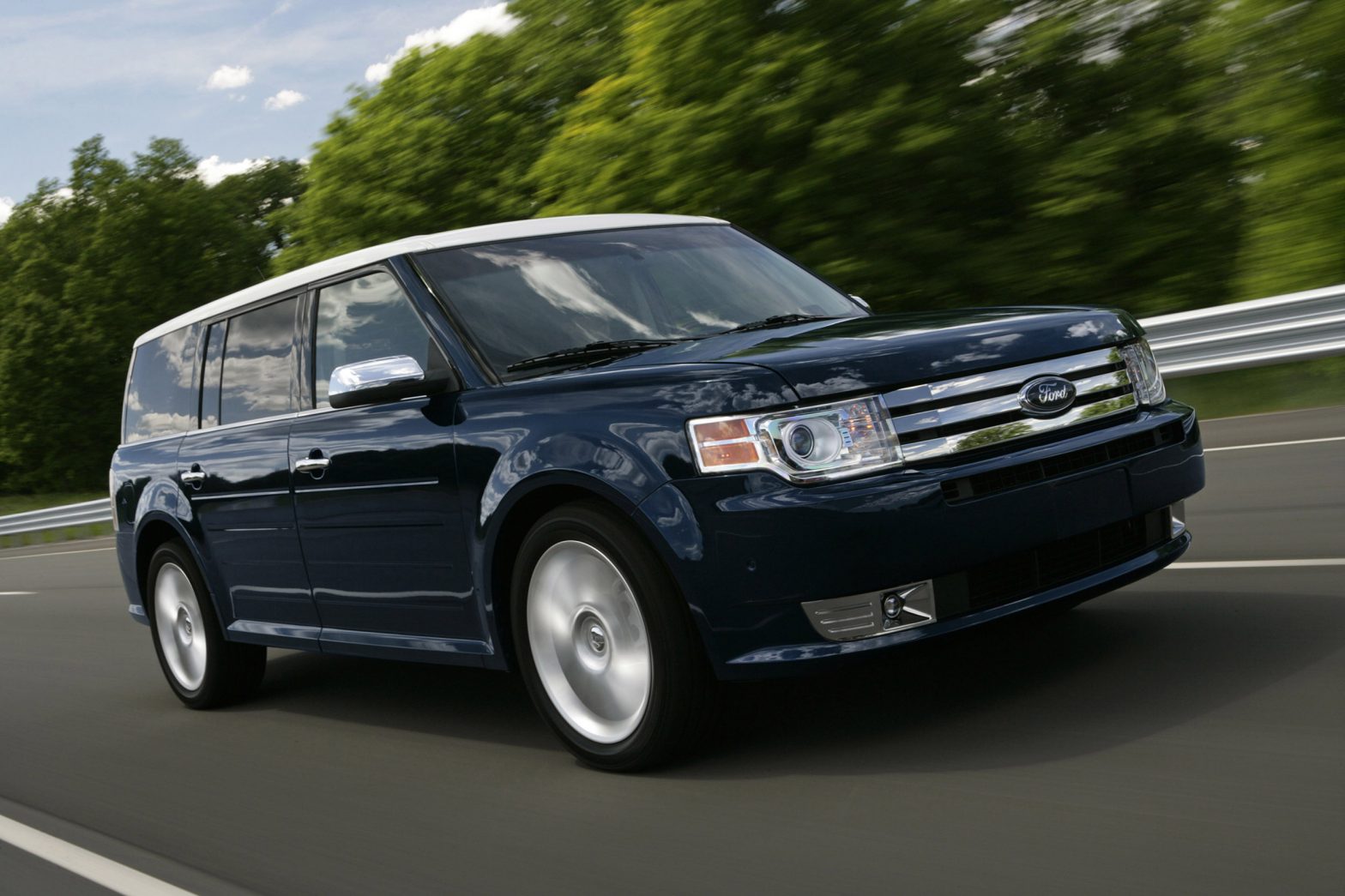 When we first drove the all-new Ford Flex just over one year ago, we shot a video where we depicted the Flex being used as a people- and stuff-hauler perfect for a group of musicians going out for a rehearsal. A quaint idea, indeed. Well, I'm in a band, we had a show this weekend, and I needed to drive something that would not only be comfortable and roomy for myself and some passengers, but would be able to haul the new (used) drum kit that I had recently purchased. So when it came time to choose cars for the weekend, I immediately grabbed the keys for the 2010 EcoBoost Flex.
In our earlier review, we discussed how the EcoBoost Flex is a great vehicle for people looking to downsize from larger SUVs and crossovers. It's roomy, it's comfortable, and it's very, very fast. In fact, during some very informal 0-60 runs, we clocked ourselves running to 60 in just 7.5 seconds. Not bad for an all-wheel drive, 4800-pound seven-seater. So in this new day and age of crossovers ruling the world, is it actually possible to make a vehicle that is truly fun to drive, useful to haul all sorts of equipment, comfortable for passengers, and priced to compete? I was ready to find out.
When I first started to load up my drum kit, I folded both rows of seats, which creates a lovely flat load floor. Not only that, but because the Flex is so low to the ground, it's easy to lift heavy objects into the cargo area. The loading area is tall, wide, and doesn't have any funky grooves or curves to it to compensate for design. Then again, the Flex's rear end is about as aerodynamic as a phone booth. And because this is such a long vehicle, I didn't need to fold both rows of seats — just about everything fit behind row number two. I could have squeezed more back there, but I didn't want to run the risk of scratching those gorgeous, sapphire blue drums. I've tried to move similar drum kits in BMW crossovers, Toyota SUVs, and an array of hatchbacks, but nothing compares to the Flex in this regard. So far, so good.
But cargo space aside, what really impressed me was how good the Flex is to drive from an enthusiast's standpoint. It's not only quick off the line, but has relatively good steering feel and response, and is decently composed on twisty roads. It's surely no sports car, but it's easily more engaging than just about any other seven-seater that comes to mind. The twenty-inch wheels may seem a bit excessive, but the ride quality is smooth and pleasant on all road surfaces. The Flex never felt floaty or disconnected, yet was never crashy — even over rough stretches of pavement. It's really quite fun.
Our mid-range SEL model wasn't outfitted with the nice, perforated leather seats, it didn't have Ford's latest and greatest navigation system, and it lacked the multi-panel Vista Roof. Still, everyone who sat in the Flex praised the immense amounts of headroom, legroom, and general comfort. The Flex really feels like a more upmarket vehicle than one might expect, and the whole package is really affordable. Our test car rang in just below the $40,000 mark, and everyone on the Winding Road staff felt that was an absolutely fair price to pay for such a useful, interesting vehicle.
The only niggle came in the way of fuel economy. Admittedly, we drove the Flex a bit harder than most consumers will, but we still only managed to achieve 17 miles per gallon on average.
So, for those of you keeping score, the Flex EcoBoost is (1) great for hauling, (2) good to drive, (3) comfortable and passenger-friendly, and (4) reasonably priced. In this form, the Flex meets the demands of just about any potential shopper, and from the perspective of someone who has no need for a crossover in his life, I was really impressed. As far as seven-seat vehicles go, the EcoBoost Flex is easily one of the best I've driven in recent times, and Ford has once again set the bar for stylish, useful family vehicles.