Driven: 2010 Ford F-150 SVT Raptor, Tread Lightly My Ass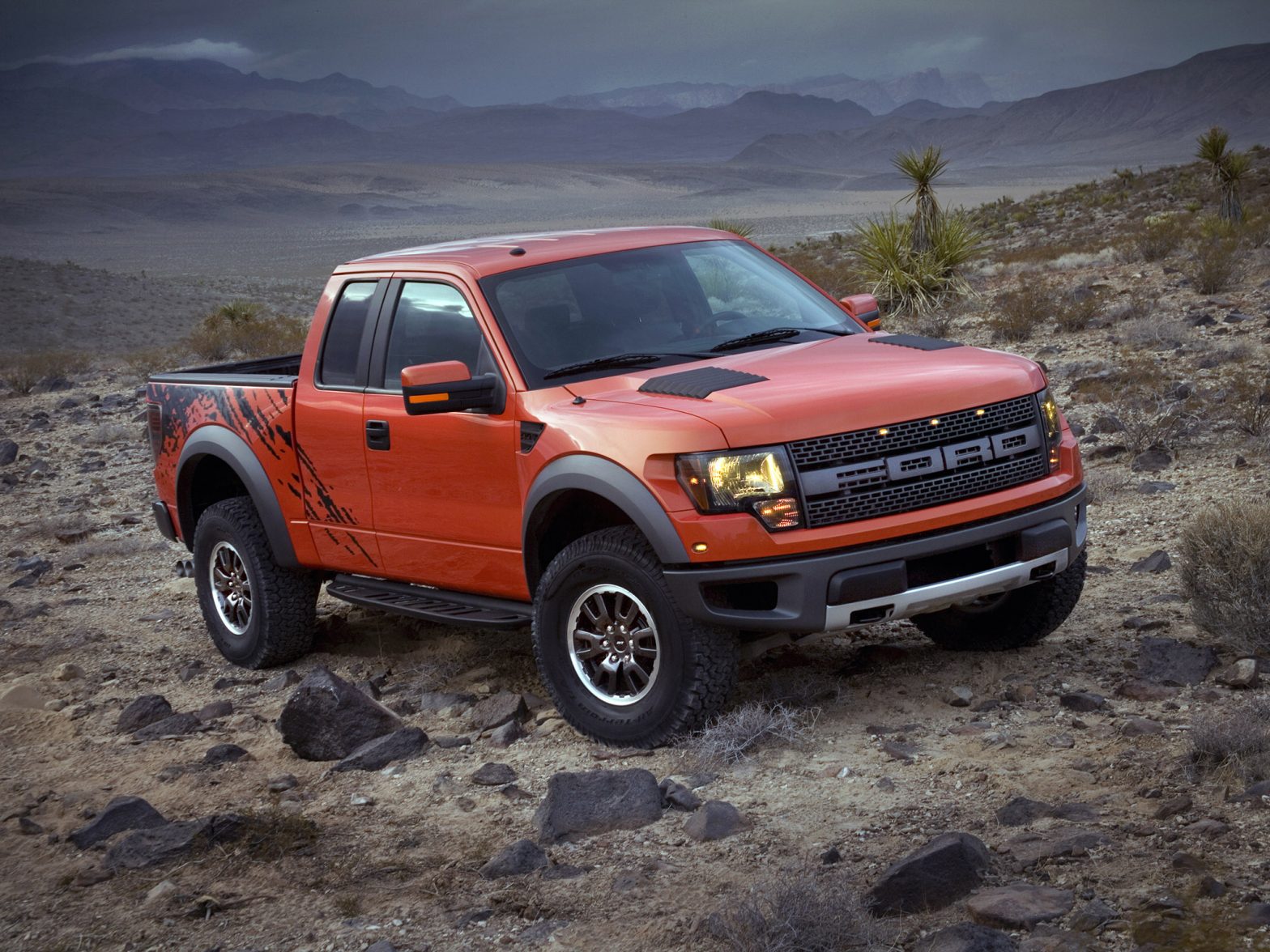 As subtle as an IED going off next door. As indulgent as making out on a park bench with a pretty woman. As offensive as wearing a baby seal fur coat to a PETA convention.
This is the 2010 Ford SVT Raptor.
In these sickeningly PC times, we're grateful that Ford mustered the guts to introduce the Raptor. Not only is this a full-size pickup, but it's a purpose-built machine designed for high-speed off-road running…not exactly what the Tread Lightly organization had in mind. This truck won't win many friends in Washington, DC or at the local Sierra Club.
The Hardware
Manufacturers have offered off-road packages for decades. Equipment usually includes skid plates, bigger tires, differently calibrated dampers, and maybe some extra driveline cooling. Packages like these often improve low-speed off-roading capabilities, but compromise higher-speed on-road driving with mushy steering response and floppy wheel control.
Not so in the SVT Raptor. The Special Vehicle Team's goal was to create a truck that could be driven off road like a Baja pre-runner while retaining civil, if not exemplary, on-road ride characteristics.
Suspension travel is key to running at high speeds off road. To achieve nearly a foot of travel for the front and rear suspension, Ford widened the track of the base F-150 Super Cab by seven inches, allowing for greater articulation with stock suspension pick-up points. The new, longer, lower front control arms look as thick as frame rails. The front suspension uses double wishbones. Coil springs surround the shock absorbers. Raptor-specific leaf springs suspend the live rear axle.
Off-road damper specialist FOX Racing Shox partnered with Ford to develop the front and rear dampers. Regular production shock absorbers overheat and go flaccid after a few miles of washboard roads. Their pencil-thin, non-pressurized construction can't handle such inputs, which are mild compared to racing across the desert.
The Raptor's unique FOX units are as thick as mortar cannons and substantial enough to literally go off-road racing. (Ford ran a prototype Raptor in last year's Baja 1000.) Pressurized with 200 psi of nitrogen, these three-stage units have vast reserves of expensive and effective oil coursing through their internal passageways, helping ensure top performance. Plus, their aluminum finish looks cool deep within the Raptor's wheel wells.
Spring rates have actually dropped compared to stock F-150s. The combination delivers genuinely outrageous off-road performance with an on-road ride that is smoother and more livable than many premium trucks with high-end 20-inch rims and low-profile tires.
Huge BFGoodrich 35-inch tires surround 17-inch alloy wheels that measure 8.5-inches wide. The TA/KO 315/70-17 tires feature a special tread compound and pattern that provides surprisingly great feel, a completely unexpected characteristic.
Other special hardware includes substantial skid plates, an electronically locking rear differential, a seriously recalibrated stability control program, and practical hill decent control.
The wider stance necessitated a new body that is eight inches wider than a base F-150. At 86.3-inches, it nearly matches the width of HUMMER H1, and requires additional marker lights to comply with DOT regulations. The front clip is made from SMC polymers, as are the rear fenders. The front bumper is hydroformed steel. The roof and inner box are carryover pieces.
The semi-Frenched headlights showcase the truck's width, which it wears well. The big FORD grill even looks reasonable in this setting.
Inside, the excellent front seats that were new on the 2009 F-150 provide even more comfort and lateral support. Bigger bolsters work to keep you in your place whether you're shooting off-ramps or dry riverbeds.
Room in the rear of the extended cab isn't commodious, but it's adequate for shorter trips or for carrying extra gear. The trickest interior piece is the leather-wrapped steering wheel with the red stripe at twelve-o'clock high. This visual is especially helpful when off-roading when the wheels are so crossed up that you can't tell when the fronts are pointed straight.
On-Road

I must admit that I harbored personal ambivalence toward the SVT Raptor, and it began immediately upon the truck's debut at the 2009 Detroit auto show. I thought it was a waste of precious engineering talent that Ford could have better put toward something more practical. My presumption was that the Raptor's performance might be fine for walking-pace off-roading, but would be a lazy lump in the city and a lethargic hog on the highway. The world didn't need another traditional off-roader.
Oh me of little faith.
Keying the familiar 5.4-liter Triton V-8 to life causes a satisfying V-8 burble behind the passenger's rear wheel. Short 4.10 gears put the engine's 310 horsepower to good use, so the Raptor feels ready to strike even in city environs. The transmission, a six-speed automatic with paddle shifters, is the only gearbox. The interurban ride is surprisingly comfortable.
On the highway and two-lanes, the SVT's engineering magic becomes more evident. The Raptor can be bent enthusiastically through corners. It neither falls on its face nor understeers off the outside of canyon roads.
Most amazing was the way the tires and steering communicated what was happening at tread level. It is not hyperbole to say that a deft pilot can discern the granularity of the asphalt by reading the information telegraphed up through the steering wheel. This quality becomes even more important when running fast off-road.
Also important to everyday life is the noise of the big BFGs. They're as quiet as a standard on-road truck tire, which given their huge size and aggressive tread pattern, comes most unexpectedly.
Our only significant complaint about the Raptor's on-road ride is endemic to this type of pickup body style. The wide body-side opening and wheelbase (shorter than the limousine-like crew cabs) can't fully eliminate giggly secondary ride motions that get annoying on some surfaces.
Off-Road
Prior to driving the Raptor, my not insubstantial off-road experience was relegated to rock crawling and back woods trail riding. Scaling steep granite escarpments or slogging through thick Indiana mud could do nothing to prepare my senses for racing across the desert at 80 mph.
At least when you're running on an unfamiliar racetrack, there are turn-in cones and you can usually see the exit of each corner. When you're a novice blasting across the desert, there aren't any cones or gator bumps to guide you, and you're totally at the mercy of your navigator who's giving commands like, "Bear a little right just pass the second bush up there." And be warned, all the freakn' bushes look the same when you're negotiating wash in a full-on power slide.
Ford's makeshift demonstration course ran through public land set aside for vehicular recreational use in Southern Californa's Borrego desert. The high-speed "track" traversed 22-mile loop of dry riverbeds and flats with surfaces ranging from loose silt to hard-packed sand. For these conditions, we chose two-wheel-drive hi-mode, locked the rear differential, and switched the stability control system into its off-road mode.
The off-road mode shuts off yaw control and recalibrates the ABS to allow the wheels to lock some, shortening stopping distances and improving steering response.
It takes a while to get used to driving fast on sand. Lifting throttle and turning in slightly to get the back end to rotate helps, and our course rewarded being heavy on the throttle. The locked rear axle lets the aggressive driver steer with the throttle, and the suspension keeps the wheels in contact with the desert floor … a good thing if you want to stop or change directions.
The suspension proved its mettle several times, including when I missed a turn-in at one ubiquitous creosol bush. The error and resulting power slide put the tires on a 45° collision course with what looked to be a substantial ridge created by a recent storm runoff. I braced for the impact and quickly wondered how many times the truck would barrel roll after the tires were knocked off their rims.
My navigator and I felt the impact. It was literally nothing. The Raptor couldn't have cared less. The suspension absorbed the shunt with no change in direction or upset to the chassis.
Ever watched the Baja 1000? It felt like that. The SVT Raptor wins yet another convert.
About SVT
There was a time only a few years ago that Ford's Special Vehicle Team was doomed. The 2010 Shelby GT500 and SVT Raptor clearly signal that SVT is back.
After talking with Jamal Hameedi, SVT's chief nameplate engineer, it seems that SVT will continue to focus on V-8 Mustangs and F-150s. The RS group, an internal partner to SVT, will likely address smaller cars like the upcoming Fiesta and Focus.
Coming This Winter
Ford announced that the SVT Raptor will also be available with a 6.2-liter V-8 that is expected to produce 400 horsepower and 400 lb.ft. torque. The engine is a shorter stroke, bigger bore block, so it promises to be a quick revver.
Weighing in at a substantial 5,863 lbs., the Raptor will put the newly available power to good use.
Conclusions
Attempting anything akin to our Raptor's romp in the desert with a normal four-wheel drive truck would be ill advised. Its suspension would beat itself to pieces and major driveline components would spin themselves into tangled masses.
But so what? Hovercrafts are cool, too, but there aren't many of them around.
The Raptor is a truck almost nobody asked for. If you're a HDRA/SCORE racing fan, or a desert rat who is already into ATVs or buggies, consider yourself an almost infinitesimal fraction of the truck-buying public. And lucky. The 2010 Ford SVT Raptor is your dream truck. Use it daily and then bomb around the desert on weekends.
The base SVT Raptor starts at $39,000…just $2500 more than a similarly equipped F-150 SX4 that doesn't have nearly the same off-road capabilities or style. Plus, the Raptor can still tow 6,000 pounds, so none of a regular F-150's practical capacities are compromised.
The trouble is, as good as the Raptor is, most of us don't live near a desert. This environ is about the only place where the Raptor's incredible performance can shine. What a shame. Once exposed to its performance, you'll risk being hooked and catch yourself looking up desert real estate on eBay. Don't forget your seal coat.